Co-Writers, A Beautiful Day in the Neighborhood
By Stephanie Ferrarie AB '18
The partnership of Micah Fitzerman-Blue '06 and Noah Harpster, the writers and executive producers behind the Fred Rogers movie A Beautiful Day in the Neighborhood, began thirteen years ago with Jon Krakauer's book, Under the Banner of Heaven. Each spoke to their respective college friends (Noah attended UC Santa Barbara) about the book, and those friends, who were dating, set them up on a "creative blind date." At that initial coffee meeting, Micah and Noah quickly started throwing ideas around, and for the next two years, they continued to grow their friendship and write together while pursuing their own projects. Then they "made it official" and have been working together exclusively ever since, notably on Amazon's Transparent and feature film Maleficent 2. 
The idea for a Mr. Rogers movie was generated ten years ago when Noah, then an exhausted father to a newborn and a toddler, put on Mr. Rogers' Neighborhood for his toddler. He noticed that, miraculously, the show and Mr. Rogers held his two-year-old's attention. He called Micah, compelled to write about this man who spoke the secret language of toddlers. They set off on research, quickly realizing that Mr. Rogers was not a great subject for a biopic because "he was unwaveringly awesome for 74 years, which doesn't lend well to a three-act structure."
Instead, they focused on the effect that Fred Rogers had on others, explaining that they wanted a main character with highs and lows shaped by his relationship to Mr. Rogers. 
Micah and Noah optioned Tim Madigan's 2006 memoir I'm Proud of You: My Friendship With Fred Rogers to adapt. Big Beach, which ultimately produced the film, became interested in the script, which landed on the Black List in 2013. From there, they got into contact with the Fred Rogers estate, who told them that "there is never going to be a Fred Rogers movie."
Nevertheless, Micah and Noah persisted and eventually met Joanne Rogers, who granted them access to the Fred Rogers archive, which contained thousands of letters and papers. Among these papers were five years' worth of letters between Fred Rogers and Tom Junod, whose Esquire article "Can You Say Hero?" they had come across during their research. It became clear from Junod's letters, which discussed his insecurities about being a father as well as the complicated relationship with his own father, that Micah and Noah had a new main character. From there, Big Beach optioned the Esquire article, secured Tom Junod's life rights, and Micah and Noah wrote a new script. 
To direct the feature, they chose Transparent director Marielle Heller. They noted that she was committed to protecting the parts of the script that they most cared about, such as the emotional minute of silence in the Chinese restaurant and the last frame of the film. As producers, Micah and Noah were aware that the screenplay was the first part of making the movie, and that it had to change, but it was left in good hands with Heller to ensure that the essential parts were executed.
In fact, when Heller asked them who they wanted to play Fred Rogers, she even delivered on that. Attaching Tom Hanks, to Noah and Micah, was unrealistic, but Heller reached out to Hanks with the script and he loved it. They would have to wait a year to accommodate Hanks' schedule, but to Micah and Noah, after having spent eight years to build the project, "What's another year?"
On set, Noah and Micah were executive producers—but Noah also had a small part in the film, and Micah opens the door for Matthew Rhys when Lloyd first meets Mr. Rogers, without which, they joke, there would not otherwise be a movie. On working with Tom Hanks, they praise him as a "marvelous collaborator." They vividly describe the experience of watching Hanks do 40 takes of the opening sequence of the movie: singing the TV program, hitting his marks, straight to camera, all on the recreated WQED set with Fred Rogers' wife watching him, in character. Watching Hanks work was an embodiment, a "microcosm" of the labor Micah and Noah had put into the film themselves for the last ten years, which was quite validating. 
The strength of Micah and Noah's relationship is clear when speaking to them. Never talking over one another, nor piggybacking on the other's answers, it's clear why they get along so well. They are both grateful to have another person to write with, because the process is a conversation that turns into an outline, a draft, and then another draft. The two have a shared joy behind the grind of being professional writers and appreciate having another person off whom to bounce ideas and to debrief pitch meetings—Micah is usually the more optimistic one. Their partnership works well for many reasons, but their similar inclination to write about "a slice of life" or a specific event, citing Frost/Nixon as "their" favorite movie, probably helps. They also cite the top-down 2018 Morgan Neville documentary, Won't You Be My Neighbor?, as a good companion piece to their slice-of-life movie, though they didn't expect the documentary to come out before their Mr. Rogers movie.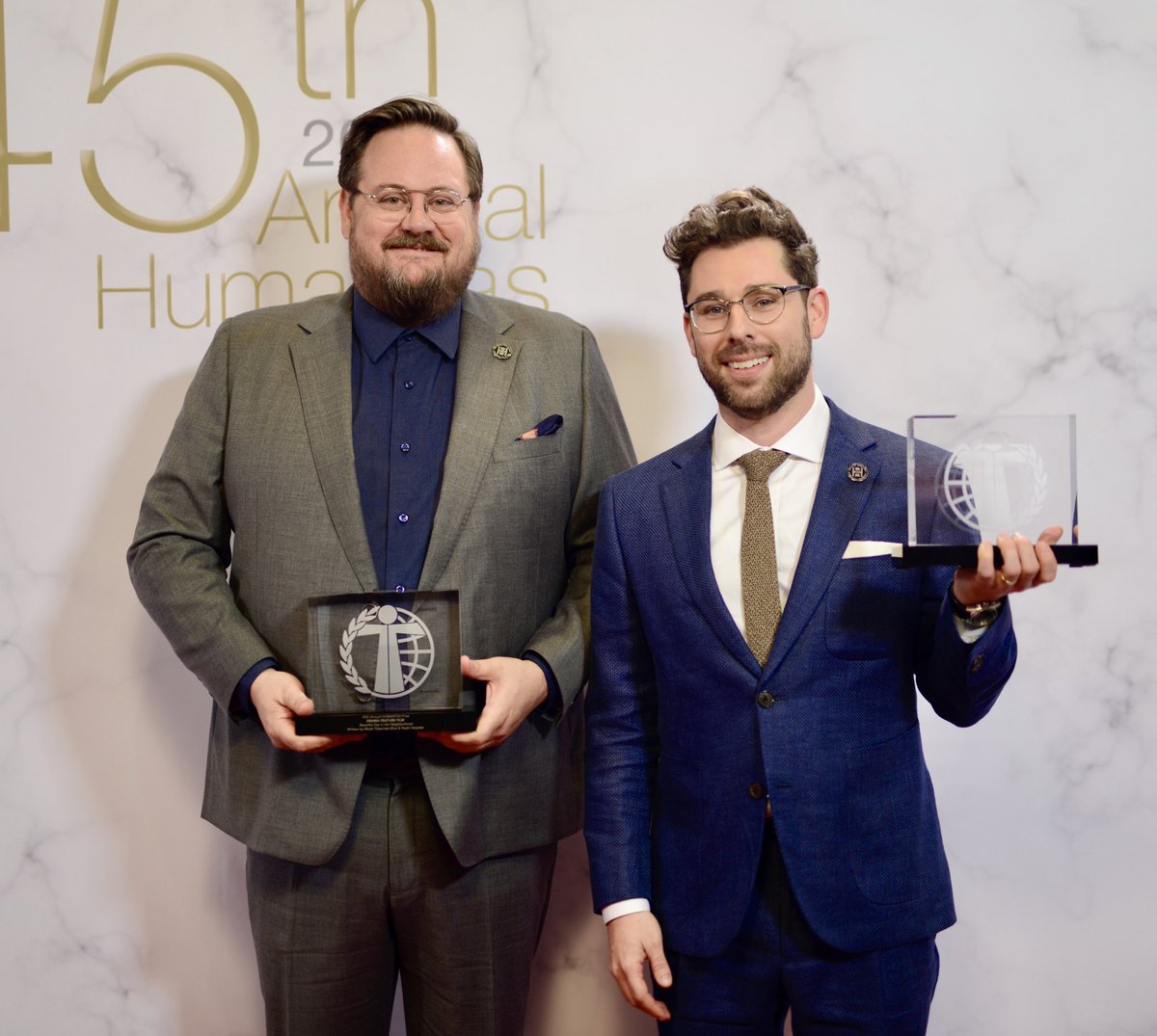 Beautiful Day has garnered critical acclaim, earning Micah and Noah nominations for Best Adapted Screenplay from the WGA and Critics Choice Awards. They also won The Humanitas Prize in recognition of achievement in film and television writing that "explores the human condition in a nuanced, meaningful way which brings the global community closer." The prize includes "two fancy statues" and a $10,000 cash prize for a nonprofit of their choice. Naturally, their winnings went to the Fred Rogers Center for Early Learning at St. Vincent's College in Pennsylvania, where the archives and museum are located. The Learning Center's mission is an extension of Fred Rogers': to help children to deal with negative feelings in positive ways. 
Micah and Noah reflected on the cyclical nature of their decade-long writing process. Going through life's major moments—raising children, losing parents—with the guidance of Fred Rogers' wisdom helped to shape their film. They were writing about themselves: like Lloyd, recipients of Mr. Rogers's radically optimistic philosophy to guide them through their lives.
In this way, it's easy to see why the film resonates so deeply with audiences: the spirit of Mr. Rogers symbolizes the possibility of growth, of emotional and spiritual improvement, which is hopeful and exciting in a time where it seems the world lacks "heroes" like Fred Rogers.
Do you like this post?