Author, Loveboat, Taipei
By Joel Kwartler AB '18
Author Abigail Hing Wen AB '99 is not Catholic, but the one time she observed Lent she gave up Fantasy books, just to see what it was like. She missed them. She came right back.
When it comes to storytelling, Wen knows that she's "pretty obsessed." It shows: on top of her thriving full-time tech law career, her debut novel, Loveboat, Taipei, comes out on January 7th.
Wen did not expect to end up a writer. At Harvard, she started as a chemistry concentrator before switching to government. Yet it was obvious, even in college, she loved stories: one time her roommate interrupted her raving about Harry Potter to admit, "I don't love it as much as you do." It was the first time someone had reflected her devotion to fantasy back to her. "I realized, okay, I guess I am really obsessed."
Nonetheless, she did the DC circuit for two years, working on the presidential exploratory committee and the Senate Judiciary Committee. She went to Columbia Law School – "I was wrestling between business and law school and ended up going to law school by default" – for finance law. Her first law article was about "an esoteric piece of law governing the servants of sovereigns in the United States." In non-legalese? "It was as close as I could get to writing a fantasy novel." Instead of ideas for future law articles, her head kept filling with stories.
So, when her husband's Google job brought them to the Bay Area, it was a happy coincidence for both her law career and her writing obsession. She started in venture capital law at Intel, liking that tech has as much impact as politics. More importantly, becoming an in-house lawyer meant "stepping off the treadmill of a law firm" and getting the emotional time and space to write. 
Her new novel, Loveboat, Taipei, tells the story of when high schooler Ever Wong is sent to a cultural immersion program in Taiwan by her strict parents, taking advantage of her new freedom for better and worse. The program is known as the Loveboat, for all the dating and drama that comes from putting a thousand young adults together in another country for a summer.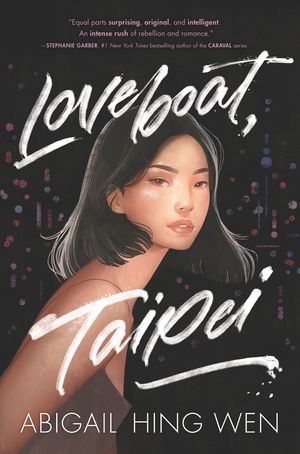 The Loveboat is a real program, run by the government of Taiwan since the 1960s to instill a sense of international community in overseas Chinese students. Wen attended the summer after her freshman year. Other alumni include Congressman Judy Chu (D-CA) and Fresh Off the Boat's Eddie Huang. Yet, "No one's written a book about it until now." 
Wen's young-adult novel is fiction, "but the internal journeys are true." Other true experiences slipped in: a typhoon the year she went; a typhoon in the novel. Drinking snake-blood sake. Clubbing.
"I love the young adult genre because there are no boundaries. You can combine all the genres." She believes the genre is having its well-deserved moment: "This is the golden age of young adult literature, and I think that's because it's exploring a lot of firsts. It brings people back to that moment of firsts, like first love or first expression of identity."
Loveboat, Taipei is an 'overnight success,' in the sense that it was written over nights for three consecutive years. "When the kids go to sleep and the tea kettle is on, that's my trigger to start writing." Before those three years were an additional seven years' worth of nights writing two other novels and getting an MFA.
She spent the first three years writing a fantasy novel and sent it to agents. One sent it back for revisions, then passed. It nonetheless encouraged her. She wrote a second novel, got an agent, and almost sold it. After that, "I felt like I'd hit a wall where I just did not grow anymore." 
So, five years into "taking writing seriously," she began the MFA from the Vermont College of Fine Arts, a distance writing program, using money she'd set aside from her law school days. It gave her a full seven-tile scrabble-rack of degrees: AB, JD, MFA. "They taught me how to get to the heart of my scenes, my characters, how to hone my craft." In a word, she found it "revolutionary." 
But the MFA taught her something even bigger: "I really did not think I was allowed to write an Asian-American main character. Only when I went to this program and I had conversations with people [did I believe] this was a story-worthy story." In her earlier novels, she'd had Asian-American side characters or love interests. They got notes like "Oh, I don't resonate with this character," or "I'm not sure this is marketable." 
There's a story from fifteen years ago, she says, about someone who tried publishing a novel with an Asian-American male character, who was told it would only be published if the character was changed to be white. "She was so close… So she did it. She agreed. She said it was like taking a spoon to her heart."
Wen describes her book differently depending on the audience. There's the young adult audience, drawn to the travel adventure and love triangles. There's the Asian-American audience, especially the Loveboat alumni, drawn to the topic and characters. And there's her parents – for whom she redacted some of the steamier pages before letting them read.
Even when talking about her success, she warns, "Don't write unless you have to. It's heartbreaking." Why does she have to? She pauses. "I've always written." She's kept a journal since the fourth grade. She tells stories to her younger siblings, twins. She says – again, admirably, obviously – "I'm obsessed."
For more proof: she wrote 31 drafts of Loveboat, Taipei. "It took me a while to figure out who's supposed to be the main character on this journey." She sent some of the drafts to old college roommates for feedback. Her drafting system comes from her clerkship for a judge; they'd go back and forth writing opinions, starting a new draft whenever changing something they might want to return to later.
Mostly, though, she had to unlearn her legal skills to write creatively. "Creative writing is so economical – you need to make your points crisp. Legal writing is about overwriting... for the purposes of future litigation."
Her tech background is also absent from her writing, although she's thought about how they might combine. "Will [AI] ever replace creatives? I think it's a great tool. But I think art at its core is meant to express the human soul. And AI can't do that – it's not human." Then again, that doesn't stop humans from feeling like it can. "A big part of the artistic experience is the completion by the consumer...that is still true for AI art. What does it mean to capture the soul in AI art?" 
People told her to quit her tech job when the book started to take off, but she loves it too much. Now that she's embarking on a book tour, she balances her Intel work with the help of a "fantastic" manager (one who graduated from Harvard six years before she did) who believes, "if you're happy outside of your job, you're happy inside your job." 
In short, her split between tech and writing will continue. "We need creative people in every sector of society. I don't think tech and arts are mutually exclusive at all."  Naysayers matter not. "'You can't do this; it's never been done before:' I hear that as a challenge." So she's working on a second spin-off novel while balancing a book tour and her Intel job. She is – obsessed.
Do you like this post?