(Co-Creator & Showrunner, Castle Rock, Manhattan)
By Adrian Horton AB '17
When Castle Rock premiered on Hulu in July, it was familiar ground for Sam Shaw, its co-showrunner, along with college friend Dustin Thomason AB '98. Castle Rock weaves together characters and plotlines from Stephen King's multiverse in the fictional town of Castle Rock, Maine—a place Shaw imagined long before he dreamed of a career writing for television.
Writing in some form, however, has been a recurring theme in Shaw's life since he scrawled story ideas on the cardboard backs of his dad's dry-cleaning pads. Growing up in Brooklyn Heights, New York, as the son of two lawyers, Shaw was drawn to creative output at an early age. His parents "had a lot of big yellow legal pads that they'd bring home, so I spent a lot of time when I was a little kid writing what I could call novels, but were basically the scrawlings of a six- or seven-year-old lunatic," he says.
As a kid, he was fascinated by language and, around the time of elementary school, by the work of horror writer H. P. Lovecraft (whose writing, he admits, now seems "turgid"—"he didn't age well"). "I was super into those stories, and part of it was like the discovery of this unknown continent of words and language," he remembers.
Shaw attended St. Ann's School in Brooklyn, where he was engrossed by theater and thought of becoming an actor ("that seems completely insane to me now") and then Milton Academy, outside Boston, where he was devoted to jazz music (a former career idea that is "probably the only leap professionally that seems crazier and more of a folly than trying to make a living as a writer.")
At Harvard, where he studied English, Shaw frequently returned to his original interest in writing, particularly prose fiction. He wrote a novel as a creative thesis, after a summer roadtrip across the country introduced him to the humor and cadence of Don DeLillo. "Basically what I was writing was bad DeLillo fan fiction," he jokes, "and that became my thesis."
The thesis may not have been DeLillo's greatest tribute, but it did receive some positive feedback from the English department and, for Shaw, solidified an inkling of pursuing writing as a career. The thesis "was definitely a point where I fell in love with a certain experience of writing.... It was the moment when I started to nurse the idea that I could make a living writing.
"I wanted to be a writer but I didn't really know what that meant or how to pursue it."
With the road to writing fiction unclear, he went for what seemed fiction-adjacent: a job in advertising in New York following graduation in 1999, where he "thought a lot about what it would be like to be a writer, but I didn't write a lot."
This was in 2000 and 2001, in an office four blocks from the World Trade Center. He wasn't at work on September 11th, but "when we were finally able to go back to our office, all of downtown had this terrible, burnt, acrid smell of tragedy everywhere, and it was like an alarm clock went off. I knew I had to try to do something else."
So he got enough writing together to apply to several MFA programs, and was accepted into the Iowa Writer's Workshop for fiction.
Shaw "adored" Iowa—the city, the program and faculty, the authors he'd never read before, the fact that there was always a person waiting to hang out at the bar at the end of a writing grind. Mostly, though, he adored the "intensely social experience" of learning among a community of writers. "I just fell in love with a whole bunch of my classmates—one of them literally, and we now have two children. But some of our dearest friends on the planet are friends that we made at Iowa."
The MFA program also helped him explore the "intermediary space" of others' work in progress—unfamiliar territory if you're confined to the poles of rough drafts and others' polished, published work. "For the most part, when you're trying to become a writer, most of the work you do is pretty mediocre, which can be a confusing experience. Every day you're confronted with the huge gulf between the stuff you love that inspires you to try to do the work in the first place, and the work that you are producing and are capable of producing."
Iowa helped narrow what journalist Ira Glass calls the "taste gap," and Shaw graduated still intending to write prose fiction. He went back to New York with his now-wife (they were married in 2010). While she worked as a fact-checker at the New Yorker, he worked on a novel and short stories. But the experience of writing outside the social sphere of the writers' workshop turned out to be "soul-crushingly lonely," he says.
Working from home and detached from the normal 9-5 career rituals of life in New York, Shaw began to feel "a little bit like a ghost." He picked up some nonfiction work for Harper's and This American Life, "honestly so that I would have the occasion to talk another human being during the day."
And then television came knocking.
Dusty Thomason, his friend from college, was out in Los Angeles by then, following up on the success of his "Da Vinci Code-esque" novel The Rule of Four with a cop show on ABC called The Evidence. Thomason needed help with some of the show's writing—would Shaw be interested?
"I had no idea what a police procedural was," Shaw said. "My wife and I were checking out CSI DVDs from the library and trying to see how they worked." Nevertheless, he spent several months gathering writing credits on the show, as well as a new series pitch with Thomason for FX.
"At a certain point, I realized that the most lucrative work I was doing and the work that I loved best was all happening on the West Coast." So in March of 2011, Shaw and his wife packed up and moved permanently to LA.
By this point, Shaw had already spent several years writing, researching, and re-writing a pilot script for his own show based on the Manhattan Project, the top-secret development camp for America's nuclear bomb in Los Alamos, New Mexico, during World War II.
He started working on the script for what would become the WGN series Manhattan around 2007, as a practical tool to book more TV jobs. He didn't get distracted by chasing TV trends at the time; instead, he says, "I just set out to write a show that I would love to watch, a show that would interest me"—a period drama based, in large part, around the very accessible topic of nuclear physics.
But Shaw found more than enough emotional and ethical inspiration in his extensive research for the script. The more he looked into the Manhattan Project, the more it "started to feel like this odd skeleton key that unlocked a whole bunch of contemporary questions. And it started to feel like an origin story of a whole bunch of problems, from the relationship between secrecy and democracy, civil liberties, freedom versus a sense of security, and politicizing science."
He filled his house with out-of-print books about nuclear physics, the contractors who built temporary housing in New Mexico, site floorplans, war-time ration reports. And then he wrote draft after draft. "For a bunch of years, my kind of second job and my obsession was rewriting this pilot. And in some ways, I think I learned to write TV by writing and rewriting the pilot of Manhattan."
By the time Shaw relocated full-time to LA, the strength of the Manhattan script landed him a steady job writing on the first season of Showtime's Masters of Sex. Despite his TV writing experience, Masters of Sex was the first time Shaw spent significant time on set, hearing actors speak his lines and working through each stage of bringing a period drama off the page.
Showrunner Michelle Ashford and producer Amy Lippman AB '85 "were both really generous in giving me exposure to a whole bunch of aspects of the prep process, the production process, and the post-production process, too—how do you cut a show, how to you work with editors."
After one season at Masters, Shaw left to launch Manhattan. A meeting with legendary TV director Tommy Schlamme of West Wing fame, arranged through their mutual agent, led to a creative partnership and show deal with WGN.
Manhattan premiered in 2014, and Shaw remembers the collective endeavor fondly. With television, he comments, "it almost never happens that everybody is personally invested in the project and everybody is also really great and really smart. But that was the case with this show." With brilliant writers, producers, crew, and an "extraordinary murderers' row" of actors, the show was a creative dream.
Thus, its cancellation after just two seasons was "a huge drag."
"There was definitely a period of denial. It just felt impossible that we wouldn't have the chance to continue... you learn so much about how to make a show while you're making it, and it just felt like such a crime that all the institutional knowledge of how we were going to do it and do it well was lost."
The surprise cancellation left him "a little bit dazed and directionless," but eventually, he and Thomason started batting around ideas again, and they circled back to his old loves of H.P. Lovecraft, Stephen King, and other suspense writers. "I was interested in the geography in those writers' work, and the idea that these were these small towns that were kind of these lightning rod towns, that were the site of not just one nightmare or disaster, but were the site of Biblical reigns of terror that beset them for decades or centuries."
The pair made an overture to J.J. Abrams and his company, Bad Robot, about interpreting some of King's creations for a TV series about Castle Rock. With their support, they approached King for his approval. "We were thrilled, we were very gratified" for his support," Shaw says. "He's been very generous with the license that he's given us."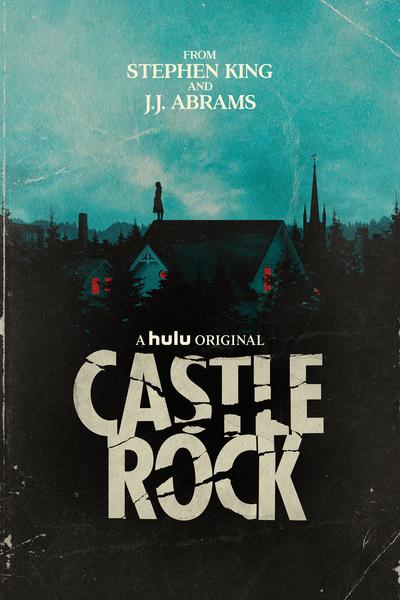 With Castle Rock now on the air, Shaw is resting comfortably in the lull between production seasons. But soon he'll be back to the madness of showrunning, in which "you sort of lead a life of triage. And always feel as if there are three or four tasks that go unanswered in any given day because you're just hustling."
One of the main challenges of running a show, he said, is carving out writing time from an already full juggle of other tasks. The one thing that is "absolutely crucial" is to have a good script ready for the director on the first day of prep. "If there's nothing to shoot, the train runs off the rails—that's the one sacrosanct rule."
He said he's deliberate about protecting writing time—through strong boundaries, help from assistants, or the classic cutting out some sleep to write from 11 p.m. to 2 a.m. Luckily, writing for TV provides the unrelenting pressure to "disengage, just by necessity, some of the mechanisms of self-doubt that otherwise can make writing difficult, for me at least. You just don't have the luxury to second-guess."
His advice for aspiring creatives is twofold: practically, read as many scripts as you can—Shaw used to read two to three per day, and often camped out at the Writers Guild library to develop a deep familiarity with the form.
But the most influential advice he's received, though he doesn't remember who said it, is to "stop thinking about my writing as art, and start thinking about my writing as work. I'm not saying that's great advice for everybody—I still harbor all sorts of romantic ideas about the art of writing. But it was really important to me to begin to focus on the practice of, practically, sitting down and doing the work, rather than harboring some kind of ideas of my muse and my art."
In the end, Shaw concludes, "You've got to write the books and spend the time to do the work.
"That's been the great differentiator in people I know who have gotten traction in either fiction writing or TV, and people who maybe haven't been as successful—who has the drive for it?"
Do you like this post?