TV Writer & Actor (Fuller House)
By Henry Johnson AB '18
Scott Weinger AB '98 has worked in entertainment for a long time.
When he roams the soundstage where Netflix's Fuller House is shot, Weinger likes to joke with colleagues that "I'm so old, I remember when these were all orange groves."
It was on the original Full House—shot on that same stage—that Weinger earned America's adoration as Steve, D.J. Tanner's high school sweetheart. But he had been acting long before then.
"I was always a hammy kid," says Weinger, "and I loved putting on shows for adults."
At age eight, Weinger mimicked Loony Tunes characters well enough to win a talent show. He realized his passion could become a profession in third grade, when an actor visited his Hollywood, Florida elementary school for career day. Weinger raved to his parents, "He does what I do, except it's, like, his job!" They agreed to take him on auditions in the area.
After working consistently as a child actor in Miami, Weinger scored a development deal with Thomas Miller and Robert Boyett, whose productions dominated the TV listings of the eighties and nineties. The deal led him to The Family Man, a CBS sitcom that ran for 22 episodes starting in 1990.
Weinger had roles in several pilots and, at age 16, joined the cast of Full House during the show's fifth season. The opportunity to act professionally at such a young age was a thrill for Weinger.
"I was always the one driving it," he says. "I was terrible at sports, but acting was my thing. It was my extracurricular."
Fueled by this enthusiasm, Weinger's success in Hollywood continued, with more than 50 Full House episodes and a voice role as the title character in Disney's Aladdin. His next move was a passion project he had been considering for some time: enrolling in college.
"I really wanted to go to college, and it was important for me to get the holistic experience. I knew that for every peak there would be a valley, and I wanted to be prepared for the future."
Weinger speaks glowingly of time spent in Eliot House and late nights at the Tasty. He concentrated in English but found a passion for French, and even took a semester in Paris to work on his thesis. Weinger says his decision to attend Harvard was difficult but ultimately the right choice. "I still have close friends from school. I would say it changed my life in every way for the better."
After graduating with honors in 1998, Weinger briefly considered working as a journalist. He turned down a spot at the Columbia School of Journalism to pursue television writing, the field in which he has spent most of his career. At first the transition from acting to writing was difficult, says Wenger: "I thought people would perceive me as a dabbler, as some actor who thought he could write."
"I didn't have many TV writing connections," he says, "but I sent my Scrubs spec to a director I knew." The director encouraged Weinger to enter the writing world as an assistant. It would help him learn about the process in an active way and, just as importantly, show that he was more than just an actor who thought writing was easy. His on-camera experience has since proved valuable in the writers' room. "On some shows, I'm the actor whisperer," he says.
These days, no one can doubt Weinger's writing prowess. He's written for shows such as The Muppets, Black-ish, and Galavant, and he has now produced more episodes of TV than he's acted in. Weinger describes himself as "the annoying guy in the writers' room who's still excited to be there at 2 AM."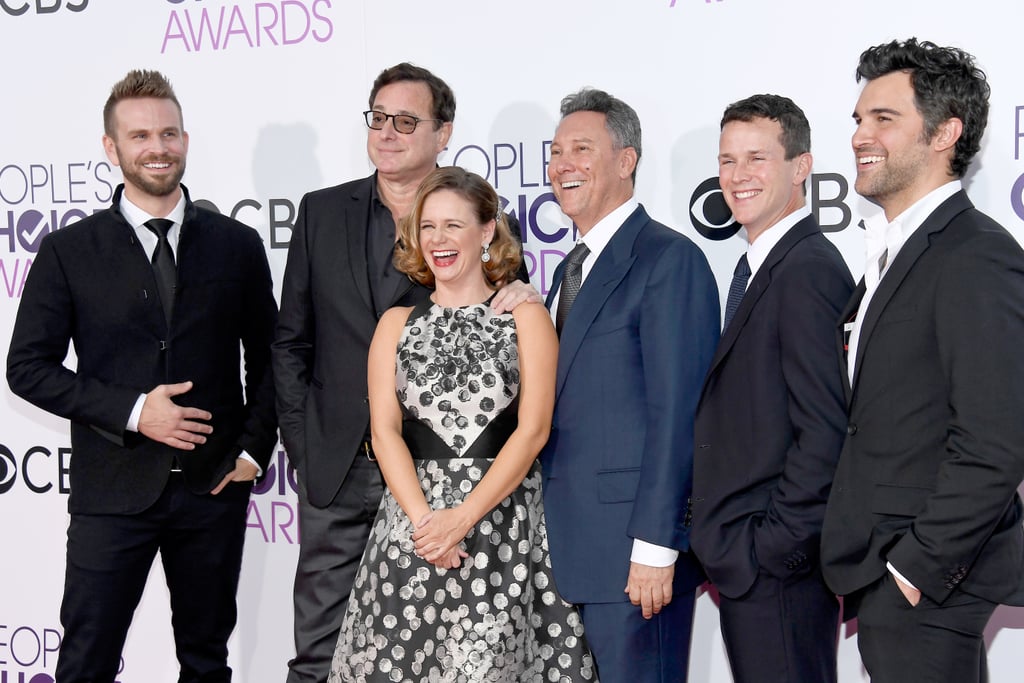 For now, he's back in front of the camera, reprising his role of Steve for Netflix's Fuller House. The reboot came as a pleasant surprise to Weinger, who had been away from acting for so long that he lacked headshots or a proper agent. He's happy to be back at his old workplace, noting that "there's nothing like being on a set at the crack of dawn, drinking coffee and chatting with the actors. I love every aspect of it."
He jokes that it was easy to get back into character as Steve because Full House fanatics are always rehashing the show's history. Weinger is enjoying acting as a departure from his usual work, but he also "looks forward to being back in the writers' room complaining about lunch."
Lunch may have to wait, however, as Fuller House was recently picked up for a third season.
Weinger is also in the process of developing a TV comedy, the genre for which he prefers to write. "I've had the fortune to write for so many funny actors who have helped make funny characters." He spent four years as a writer and producer for 90210, which he calls a great learning experience, but he's happy to be back in comedy.
One of Weinger's biggest takeaways of his career is the importance of being up for any opportunity that comes along. "Things completely fall out of the sky," he says, "and the anxiety and the joy both come from the pursuit of one thing that leads to something completely different."
It's his unmistakable positivity and flexibility that he hopes to pass on to aspiring writers. "Don't let your first couple of rejections cause you to give it up," he says. "Keep pursuing it. It seems so outlandish, but people are doing it, and they're just people."
Weinger has had a front row seat to the evolution of TV since the nineties, and he believes times are as good as they've ever been for those trying to enter the field. "The business has changed so much," he says. "There were really only a handful of networks, so the ratings were bigger but the opportunities were fewer. We're living in a golden era in terms of both opportunities and content." Noting how his acting experience helped him as a writer, he encourages all writers to try doing theater and taking improv classes.
He also says that, clichéd as it sounds, today's aspiring performers have an unprecedented opportunity to make roles for themselves. "Everyone always said you can make your own thing, but it didn't feel real. Now you really can!"
If Weinger's encouragement isn't enough to keep young artists going, his adoration of the industry is.
"I still love it, and I can't believe I get to do this," says Weinger. "Maybe someday I'll get sick of it, but for now, it feels new every single day."
Do you like this post?