Bette Midler says she's "one of the funniest people I know." Garry Shandling told her, "You write like a guy." Her words have come out of the mouths of President Barack Obama, David Letterman, Homer Simpson, Sheryl Sandberg, and Kermit the Frog. 
You've almost certainly laughed at Nell Scovell's jokes—you just didn't know it until now.
For over thirty years, writer, producer and director Nell Scovell AB '82 has worked behind the scenes on some of TV's most iconic shows, including The Simpsons, Late Night with David Letterman, Murphy Brown, Monk, NCIS and The Muppets. She was the creator and showrunner of Sabrina the Teenage Witch and later teamed up with Sheryl Sandberg AB '91 on the blockbuster book Lean In, which resulted in a worldwide movement.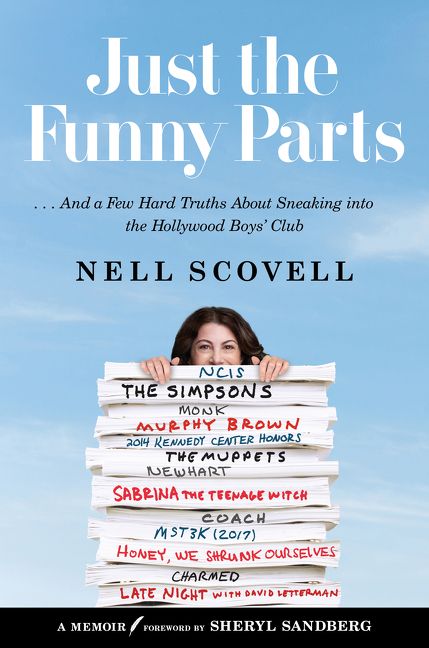 In JUST THE FUNNY PARTS: … And a Few Hard Truths About Sneaking into the Hollywood Boys' Club, Nell dives deep into three subjects that she loves: comedy, writing and equality. Readers will get first-hand accounts of what it's like to work with some of Hollywood's stars while getting hard-earned advice on the TV creative process from writing jokes to directing movies.
---
On the evening of April 18th in Los Angeles, attend this intimate discussion with Nell, who will be interviewed by Harvardwood Co-Founder Mia Riverton Alpert AB '99. Nell will be sharing stories that did not make it into the book... book signing to follow the event.
Advance registration is required, as seating is limited and we need all attendees' names in advance to be added to the security list.
---
JUST THE FUNNY PARTS takes a candid look at a highly-competitive and male-dominated entertainment industry, raising unavoidable discussions about gender dynamics in the workplace. Nell shares both her early lucky breaks and hard-won successes; encounters with heroes like Albert Brooks, Gloria Steinem, Robert Altman, Lily Tomlin, and Bob Newhart; the kindness and inspiration of mentors and collaborators including Arthur Penn, Joel Hodgson, James L. Brooks and Penn Jillette. As Sheryl Sandberg writes in her foreword, "Her story is inspiring, not because Nell was unstoppable, but because when she did get stopped, she found ways to keep writing, continue being creative, and always but always, laugh."
"This clear-eyed account of 30 years in a profoundly flawed industry is the funniest, most unflinching book I've read in a long time. I laughed out loud so many times. If you've ever watched TV, you should read this book. And if you've ever read a book, you should read this one, too." — John Oliver
***
Mia Riverton Alpert AB '99 is the co-founder of Harvardwood, a nonprofit Shared Interest Group (SIG) of the Harvard Alumni Association focused on strengthening ties between the arts, media, entertainment and education through community programs and online resources. Mia has also worked as an actor, writer and producer, appearing in TV shows including The Mentalist, Leverage and Curb Your Enthusiasm and in films including Spare Parts for Lionsgate. She co-created a TV pilot for CBS based on Red Doors, an award-winning independent film that she starred in and produced. Stage work includes Voices We Remember at the Geffen Playhouse and the Ovation-Award-winning world premiere of Bare.
Originally from Indianapolis, Mia was named a Presidential Scholar by Bill Clinton and graduated cum laude and Phi Beta Kappa from Harvard University. While in college she ran the Mission Hill Afterschool Program, which provides educational support and mentorship to socioeconomically disadvantaged elementary and middle school students in the Roxbury area of Boston. She currently serves on the Board of Advisors for the UCLA Lab School. Mia lives in Los Angeles with her husband, producer David Alpert, and their two children.
---
Attendees have the option of pre-purchasing a hardback copy of Just the Funny Parts through Harvardwood; your copy can be picked up at the event for Nell to sign after the talk.
MEMBERS AND FRIENDS
$10.00   Admission Only

$28.00   Admission + Hardcover Book 
If you can't access the RSVP button for dues-paying Harvardwood members, make 
sure you're logged in. If you still have issues accessing the page, your membership 
has lapsed, so renew your dues as a Full Member or Friend of Harvardwood.
NON-MEMBERS