In This Issue:
NEWS
Featured Member Posting: Assistant to Co-Head of Movies (Amazon) - LA
THANK YOU: We met our Student Fund goal!
Reopening application period for 2020 Heroes community service grants
Seeking a cover designer for the Harvardwood Publishing anthology
FEATURES
Exclusive Q&A

with Poet Eleanor Boudreau AB '07 (Earnest, Earnest?)
Industry Successes
New Members' Welcome
Alumni Profile: Kelly Goode AB '83 (VP of Current, Warner Bros. Television)
CALENDAR & NOTES
Calendar
Become a Harvardwood member to take advantage of virtual programming in 2020-2021
---
Message from Harvardwood
September already? Ah, well, I suppose most of us are eager to let this year slip by as quickly as possible. Harvard was able to welcome to campus a number of students this semester. At Harvardwood, we want to pitch in and do all we can to support all of our students. The Harvard Alumni Association is spearheading a social media campaign to support the incoming Class of 2024 using hashtags #WelcomeToHarvard and #Harvard24, so please share your messages and notes of encouragement on Twitter and Instagram! Please also tag @harvardalumni, @harvardcollegealumni, and of course, @harvardwood!
- Dona
Featured Member Posting: Assistant to Co-Head of Movies (Amazon) - LA

Amazon Studios seeks a dynamic, self-motivated Creative Assistant to support the Movies Department.
The ideal candidate would bring a daily passion for film, and a fierce hunger to learn both the business and the creative process. They will need to effectively multi-task, have the ability to complete administrative tasks and projects quickly with little to no guidance, react with appropriate urgency to situations and events that require quick response or turnaround, and efficiently and creatively solve difficult or complex problems that affect people within the group or other related groups. Must have great attention to detail while still meeting tight deadlines, have great organizational skills and have the ability to switch gears at a moment's notice, all the while retaining a proactive and anticipatory focus on priorities. At all times they should be able to maintain a positive and engaged attitude.
Key responsibilities include:
• Manage complex calendar and scheduling requirements.
• Organize meetings and events.
• Coordinate travel.
• Create weekly development reports and track metrics.
• Manage submission logs and internal department documents.
• Update & maintain various task lists (To Read, To Watch, To Meet, To Invite, To Do, etc.)
• Act as a liaison to other Amazon Studios departments.
• Perform additional administrative tasks as needed.
• Track talent; manage corresponding grids and lists.
THANK YOU: We met our Student Fund goal!
Thank you to all of our generous donors who helped us exceed our $5,000 goal for our Student Fund. Because of you, Harvardwood will continue to provide membership support for current students who are on financial aid.  During this pandemic, Harvardwood is the only contact many students have with others who are interested in entering the arts, media, and entertainment fields, as well as with potential mentors and employers.
Thanks to our donors' incredible generosity, this year Harvardwood will be able to accommodate any student who wishes to participate in our programs, regardless of their financial need.
It's not too late to make a gift! Any remaining funds will be rolled over to benefit students next year. As we continue to expand our online programming, Harvardwood is reaching more students and young alumni than ever. As always, we are grateful for your generosity and support.
Reopening application period for 2020 Heroes community service grants
Every year, Harvardwood traditional accepts applications to receive a community service grant in the spring. Given that Spring 2020 was particularly tumultuous due to the pandemic and the first wave of lockdowns, we are reopening submission period to the Heroes program. Through this program, we award grants of at least $500 each to four individuals who have demonstrated a distinguished level of service to their organizations of choice. Every year, grant winners are determined by the strength of their proposal. They will receive the first $250 upon announcement of the winners and the balance of the grant upon submission of a final essay six months later.
The deadline to submit your service proposal is September 30, 2020.
This is our EIGHTH year of awarding grants via the Heroes program—read about the community service work that past Heroes have performed!
You do not need to be a Harvardwood member to receive a Harvardwood Heroes grant (applicants must be current students, alums, staff, or faculty), although Harvardwood members and/or applicants whose service project is arts-related will receive priority consideration.
Launched in 2013, the Harvardwood Heroes grant program aims to spotlight and support Harvard students, alumni, faculty, and staff who have made an exceptional contribution to the community. These Heroes exemplify the mission of Harvardwood by demonstrating the power and purpose of the arts, media, and entertainment in the betterment of our communities.
NOTE: If you applied earlier this year, in Spring 2020, you do not need to reapply; your application will be considered along with the applicants from this same round.
Seeking a cover designer for the Harvardwood Publishing anthology
We've selected the excellent short stories and poems to be featured in Harvardwood Publishing's second anthology, Once Upon a Fairytale, and we are now working on the anthology's publication. The manuscript is ready to go to the publisher, and the final step is finding an illustrator to assist us with the cover design.
If this is a project that interests you, please contact Patricia Danaher at [email protected] to learn more.
We're excited to showcase these talented writers and their works in Once Upon a Fairytale, and we thank you in advance for helping us bring the anthology to print!
Exclusive Q&A with Poet Eleanor Boudreau AB '07 (Earnest, Earnest?)
Poet Eleanor Boudreau AB '07 is a Kingsbury Graduate Fellow at Florida State University, where she is currently completing her Ph.D. Her first book, Earnest, Earnest?, will be published on September 8th; the book has also won the Agnes Lynch Starrett Poetry Prize. Boudreau's work has appeared in American Poetry Review, Tin House, Barrow Street, and other journals. Follow Boudreau on Twitter, Instagram, and Facebook!
Q. When did you first start writing and then decide to pursue writing as a career? Did your experience as an undergrad at Harvard factor into that decision?
A. I took my first poetry writing workshops at Harvard. I had wanted to take classes like that in high school, but they hadn't been offered. The only problem was, at Harvard, you had to apply to get into the creative writing classes—you had to submit a number of pages of poetry—and I didn't have any poetry to apply with. What I did have was a notebook where I'd written down images. It was mostly filled with things I'd seen while driving. I would drive with the notebook open on the passenger seat, then when I saw something I wanted to record, I would describe it in words in the notebook without ever taking my eyes off the road. I'm righthanded. Had I been lefthanded, this likely would not have been possible. Even so, my handwriting was atrocious. But I could read it. I typed up a few pages from my notebook and inserted line breaks, and it was good enough to get me into the beginner poetry workshop with D. A. Powell my first semester at Harvard (fall of 2003). I learned a great deal in that class and I wrote a few things that could more properly be called poems. I used those poems to apply and get into more poetry workshops. 
Q. You received an M.S. in broadcast journalism at Columbia and worked at NPR, before pursuing your current Ph.D. in creative writing. What led to the turn from journalism to poetry?
A. It is more precise to say that I turned from poetry to journalism (because I needed to make money and I wanted to do something good for society), then back to poetry again when I got stuck creatively. I knew from a relatively young age, say 11 or 12, that I wanted to be a poet. I just didn't know how I would be able to support myself writing poetry. And I still don't know that. But I guess I've decided that life is too short and too painful—you have to at least try to pursue the thing you are most passionate about. For me, that's poetry. 
Q. What does your daily writing practice look like?
A. If you use the same process, you will arrive at the same poem. You have to change how you write poems in order to arrive at different poems. Part of my practice is avoiding doing the same thing. And now that Earnest, Earnest? is complete, I have tried to change my practice even more, so that I can avoid writing the same book twice. 
An analogy I find helpful—sculptors have two methods, either carve small pieces individually and mold them together, or start with a large block and carve the negative space around the figure. Earnest, Earnest? is the former, but now I am beginning with large prose-blocks and carving the negative space (the line-breaks and stanza-breaks) into those blocks to make poetry. 
Industry Successes
Game designer Jonathan Hamel AB '91 is thrilled to announce the long-awaited launch of Ready At Dawn's multiplayer, virtual reality game, Echo VR, on Oculus Quest this month. Echo Arena and Lone Echo were awarded Immersive Reality Technical Achievement and Immersive Reality Game of the Year at the 21st Annual D.I.C.E. Awards when they were originally launched on Oculus Rift in 2017, and Ready At Dawn was acquired by Facebook in June 2020. Echo VR is a gorgeous new version of Echo Arena that runs on the standalone Oculus Quest platform: no wires, no PC needed. In the game, players compete on two teams trying to throw a disc through the opposing team's goal in zero-gravity: sort of like a futuristic game of Ultimate Frisbee in space. There's also a thriving, fan-created eSports community. Sure, you can hang out with your Harvard classmates on Zoom during quarantine, but can you voice chat while wearing a customized robot body, give hugs and fist bumps, play catch, and grab onto your friends while you all float around in zero gravity?
Ed Zwick AB '74 will direct upcoming romantic comedy The Making Of, which he also wrote and is producing with Marshall Herskowitz. The film stars Richard Gere, Diane Keaton, Blake Lively, and Lin-Manuel Miranda. 
Red Hour (Nicky Weinstock AB '91) is producing HBO Max anthology series Verbatim, based on a New York Times Op-Docs digital series by Brett Weiner. Production is expected to begin this fall. Red Hour Films is also producing feature comedy Girlworld, which was recently sold to Amazon from a script Weinstock developed with GLOW star Kimmy Gatewood and Parks and Recreation actress Alison Becker (Deadline).
David Heyman AB '83 and Issa Rae are teaming up to produce Tanya Smith's upcoming memoir, The Ghost in the Machine, as a feature film with Netflix. "The film will follow [Smith's] extraordinary story of creating a sophisticated wire fraud scheme and outwitting the FBI and prosecutors, who underestimated her intelligence for years, before her life ultimately fell apart, leading to two prison escapes and finally serving 13 years of a 24-year sentence – at the time, the longest sentence handed down to any white-collar criminal" (Deadline).
Magnolia Pictures recently acquired worldwide rights (excluding Canada) to the documentary feature debut Some Kind of Heaven by Lance Oppenheim AB '19. The documentary was produced by Darren Aronofsky AB '91 and is expected to be released early next year. "Some Kind of Heaven is a remarkable achievement from a striking new voice in film," said Magnolia President Eamonn Bowles. "Lance Oppenheim demonstrates an incredible command of his craft and more importantly, a clear-eyed vision of the world around him. It also makes me want to learn pickleball."
Writer, producer, and showrunner Thania St. John AB '83 recently signed with APA. St. John's credits include Roswell, Eureka, Drop Dead Diva, Grimm, and Covert Affairs. Most recently, she served as co-executive producer on Project Blue Book (History). She is developing an adaptation of graphic novel Scarlet by Brian Michael Bendis at Showtime.
A TV series based on the 1995 movie Clueless, from Jordan Reddout AB '10 and Gus Hickey AB '11, is currently in development at Peacock.
Director Anna Remus AB '13 released a new short action film, "Keeper," which was featured on both Film Shortage and Indie Shorts Mag! You can view it here (warning: graphic content).
Justin Monticello AB '09 won the Los Angeles Press Club Award for Best Non-Entertainment Personality Profile/Interview with his video, "'One Child Nation' Exposes the Tragic Consequences of Chinese Population Control." The judges' comment: "Monticello's exploration of the consequences of China's "one-child" rule described in a documentary makes for terrific viewing."
Dr. Courtney R. Baker AB '93 published a chapter on the "queer poetics" of Raoul Peck's 2017 documentary essay film on James Baldwin, I AM NOT YOUR NEGRO. The e-book, published in June by Routledge Press, is available for free in its entirety for a limited time here.
SNKRHDS ("Sneakerheads"), a half-hour workplace dramedy by Ian Steaman AB '91, was recently selected for development by the Canadian Broadcasting Corporation. In addition, Ian was also recently selected for the Banff World Media Festival CORUS Writer's Apprentice Program for placement in the story department of a Canadian primetime TV series and also the Toronto Screenwriting Conference's Telefilm New Voices Award.
Betty Shamieh AB '96, RDI '06 was named a Mellon National Playwright in Residence at the Classical Theatre of Harlem.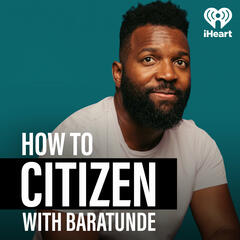 How To Citizen with Baratunde (Thurston AB '99) is now available! The new podcast "reimagines 'citizen' as a verb and helps reclaim our collective power." Watch the podcast trailer and subscribe here.
Cathie Saadeh JD '94 was elected President of the Board of Directors of Women in Film & Video, a non-profit serving film, TV, and media professionals in the Washington, D.C. area. Saadeh is an entertainment attorney providing business, production, and intellectual property law advice to producers, filmmakers, writers, musicians, and creative businesses through her law firm, Saadeh P.C., which she founded in 2018. Prior to opening her firm, she served as General Counsel of ACA Compliance Group, a financial technology and consulting company, for nearly nine years.
Thiago Oliveira ALB '19 recently became Senior Vice President Management and Creative Affairs at MoJo Global Arts. Congratulations, Thiago!
Bender, the feature directorial debut of John Alexander AB '11 (Dir, Crook & Nanny Productions), has been acquired by Epix to stream on the company's platform, as well as Amazon and Hulu. Based on the little-known true story of the 'Bloody Benders,' America's first serial-killing family, Bender is a chillingly spare interpretation of true crime in 1870s Kansas. Featuring Oscar nominee Bruce Davison (X-Men) and the late horror icon James Karen (Return of the Living Dead), among others, Bender won a Golden Strands Award for Outstanding Ensemble Cast before enjoying a growing presence in the international cult and horror scenes, with sales in Europe, Africa, Asia and the USA. Epix's acquisition was announced three years after the film's North American release by Screen Media Ventures, following the festival and critical success of Alexander's award-winning documentary, This Is Love.
Strath (Ben Strathmore AB '18) released his 10th single "The Peak" this month and teamed up with classmate Jack Goldfisher AB '18, who directed the music video. It features a haunting opening narration from Miles Fisher AB '06. Watch it here and listen on Spotify.
Campfire, a writers' program run by Thinking Hat (Craig Turk AB '93, JD '98) and Rideback (Dan Lin AB '99), is teaming up with CBS Television Studios for its second year, after developing and selling two projects to CBS in its inaugural run. From Deadline: "Our vision for Campfire is to support exciting creative voices using the power of collaboration, in particular by introducing the writers room dynamic from day one," said Dan Lin, CEO of Rideback, which also runs the diversity-driven Rideback TV Incubator.... Added Turk. "This is a process we wish we'd had when we were starting out. By providing a solid foundation for success with the support of experienced, world-class executive producers, these very talented writers will be free to explore every aspect of their creativity."
Together with Team Downey, Adam Perlman AB '04 is executive producer (and showrunner) of a new drama that Apple has ordered straight to series. The series is based on a Toronto Life article, "The Sting," by Michael Lista. From Variety: "Perlman was most recently a writer on Billions, on which he eventually rose to the rank of executive producer. His other credits include The Good Wife and The Newsroom. He is also developing the Sports Illustrated article "This Hockey Mogul Was 17. Got a Problem With That?" into the feature The Trashers."
Lisa Joy JD '07 (Westworld) will executive produce upcoming HBO drama series Sphere, based on a Michael Crichton novel of the same name, alongside Jonathan Nolan and showrunner/writer Denise Thé. Joy and Nolan's company, Kilter Films, is "currently in pre-production on The Peripheral, the series adaptation of William Gibson's 2014 sci-fi thriller novel that follows a woman in a near-future America in which technology has started to subtly alter society. They have also partnered with Bethesda Game Studios to develop Fallout, a television show for Amazon based on the worldwide best-selling video game franchise" (Deadline).
We love receiving testimonials from our members!
"Harvardwood has been my summer school this summer! I love being able to access virtual sessions to expand my knowledge of the industry and consider future avenues where I could bridge my Harvard education into the creative economy. It has been motivating me to create 'white space' in my life for writing, dreaming and filming. Thanks for all the inspiration."
— Chrissy Horansky EdM '07
New Members' Welcome
Harvardwood warmly welcomes all members who joined the organization last month:
Heather Alanis, College, Other U.S.
Grace Allen, College, BOS/Campus
Kate Anderson, GSD, DC
Maribeth Arena, College, BOS/Campus
Ali Astin, College, LA
William Becket, College, LA
Kim Bendheim, College, NY
Laurence Bouvard, College, UK
Asa Bush, College, LA
Eric Cornell, Ext., NY
Ron DeShay, HBS, LA
Jane Fujita, A.R.T., NY
Sarah Garfinkel, GSE, SF/Bay Area
Phil Gillen, College, NY
Skylar Goldman, HBS, BOS/Campus
Aurelia Han, College, BOS/Campus
Daniel Huang, College, BOS/Campus
Stephanie Johnson, College, BOS/Campus
Danielle Johnson, HLS, DC
Rodney Marks, KSG, Int'l
Reetu Mody, KSG, SF/Bay Area
Betty Anne Richardson, College, BOS/Campus
Jordan Roe, College, BOS/Campus
Noémi Sárog, FOH, LA
Ethan Simon, College, LA
Alyssa Turner, College, Other U.S.
Essete Workneh, HLS, NY
Sabrina Zearott, College, BOS/Campus
Pieter Zenner, College, LA
*FOH = Friend of Harvardwood
Alumni Profile: Kelly Goode AB '83 (VP of Current, Warner Bros. Television)
By Carly Hillman AB '15
Kelly Goode AB '83 was a teenager when she learned a secret about working in entertainment: "Hollywood work is not glamorous." That realization came while she was fetching coffees as a Production Assistant for her father, who had transitioned from a career in education to directing commercials and public service spots. 
"I watched him being a leader, but also being incredibly resourceful because he was working on lower-budget projects," she recalls. "They weren't huge productions." 
Now, Goode does work on huge productions—but that appreciation for hard work and resourcefulness has stayed with her. As Vice President of Current Programming at Warner Bros. Television, she acts as the liaison between the producers of a show and its network or streaming service. She hears season pitches, sees story areas, reads scripts, and, when a show is in production, looks at the dailies and rough cuts. "You're in the trenches with everybody as a partner," she shares with me.
Goode is a team player. Even when I asked about her proudest career moment, she expressed gratitude for the longevity of her career rather than narrowing in on a specific achievement of her own.
"I feel grateful that I've been able to have a career that has stretched across many years," she says. "It is a bit of a marathon."
The marathon started when she decided to move east for college. When she reflects on her time at Harvard, it's the small moments that stand out most.
"I just have really nice memories of sitting out in the courtyard or studying in the library," she told me, eating in the Lowell dining hall, and maybe sitting with people you don't know so well." Those moments added up to something significant: "[Harvard] opened my eyes to different kinds of possibilities for where you could go in your life."
After graduation, she was still struggling to narrow down those possibilities. Goode applied to law school, while also looking for jobs in both journalism and entertainment. Eventually, she landed at Columbia Pictures TV with a paid internship. There, she learned about lesser-known jobs in the TV industry.
"A regular person may be more familiar with working as a writer or a director, but not that there are executives who work in both development or in current programming television," she explains. "That internship was my introduction… and there was kind of this big 'ah-ha' moment for me." She loved the idea of working on content, all while "helping other people, by helping to support their vision."
Goode went on to work at CBS, but after a year, feared she might be back to square one. The team that hired her was replaced, and she didn't know if she would still have a job under the new leadership. The new boss told her they could work together for a couple of months and "see how things go." 
After just a week, he hired her full-time. "That was, in hindsight, one of the most generous things that somebody did," she says. "They took a chance on me." Goode deemed it an act of generosity, but I wondered how her old boss saw it; he might tell the same story as an example of how she proved herself quickly. 
She stayed at CBS for nine years, before continuing on to jobs at Lifetime, The Game Show Network, ABC Family, and, now, Warner Bros. In her role, she works on nine current shows: Westworld, Shrill, Batwoman, The Kominsky Method, Bob Hearts Abishola, Stargirl, Titans, The Flash, and B Positive. 
The shows span genres, shooting styles, and even fictional universes. But for Goode, there is a common thread: "Whether you're working on something that has hardcore action, comedy, or drama, everything still comes down to the character dynamics. What are the emotional stakes for these characters? What are you invested in? What do you care about? What are you worried about for them?" She continues, "Everything else around that is the bells and whistles."
The job comes with an unexpected side effect—superhero fandom. Warner Bros. owns DC comics, and four out of the nine shows Goode currently works on involve caped crusaders. "I couldn't ever claim to call myself a superhero geek" she jokes. "I am still a beginner compared to the people who live and breathe it. But I am a very happy fan of DC."
When I asked if she had a favorite character or superhero, she took a minute to think, then laughed about the fact that she just couldn't narrow it down. But when I asked who her real-life superheroes are, Goode had an answer right away: the civil rights icon Congressman John Lewis, who passed away in July. Goode pointed out that he might have been a superhero fan himself, as he had attended Comic Con—where he cosplayed as his 25 year-old-self crossing the Edmund Pettus Bridge in Selma.
Lewis spent his life teaching people "to make some noise by speaking up and speaking out," a lesson Goode understands firsthand. "There were definitely many times when I was the only Black person or person of color in the room," she notes, as she reflects on her decades working in the television industry. "You felt like you had an obligation to speak up when there was content or material that wasn't ringing true." 
The entertainment industry has a long way to go when it comes to diversity and inclusion, but Goode is hopeful about the future. She's grateful that the conversations are being had and believes the most recent push for diversity in Hollywood is building on the progress of the last few years.
"It's nice to see lots of other faces coming up through the ranks and to see directors, writers, and showrunners in far different numbers," Goode says, "although we are not there yet."
Carly Hillman is a segment producer at The Late Show with Stephen Colbert.
Calendar
Harvardwood Presents Showrunner PK Simonds AB '83 (BEAUTY & THE BEAST, DOOGIE HOWSER) - Thurs., Sept. 3
What is a showrunner and why are they such an important part of the world of television? Join P.K. Simonds AB '83, the acclaimed executive producer of such broadcast hits as PARTY OF FIVE and GHOST WHISPERER, for a discussion of his journey from staff writer to showrunner. Learn how a TV writers' room is staffed and structured, as well as the changes currently underway in Hollywood.
P.K. Simonds was born and raised in New York and New England. He graduated from Harvard with an AB in English in 1983. After moving to Los Angeles he spent twenty-plus years writing and producing TV shows. Credits include CBS's "Beauty and the Beast" starring Linda Hamilton and Ron Perlman; ABC's "Doogie Howser, M.D." starring Neil Patrick Harris; FOX's "Party of Five" starring Matthew Fox and Neve Campbell; CW's "Reign"; AMC's "Paradise Lost"; and many others. He has served as Executive Producer, head writer and "showrunner" on multiple series. His writing has won recognition ranging from Humanitas to Prism awards, while his series have won Emmy, Golden Globe and Saturn awards. P.K. currently lives in Massachusetts with his family.
Harvardwood Heads To... Alumni Variety Show featuring Dr. Cornel West and more hosted by Freedom Fundraiser - Sun., Sept. 6
Join the Freedom Fundraiser in our first Alumni show. The Freedom Fundraiser is a new organization that was started in May 2020 that exists to fundraise for Black-led organizations involved in the Black Lives Matter movement. The Freedom Fundraiser Collective distributes 100% of its donations to these underfunded organizations and collects none of the proceeds from our shows, which are free to attend.
This show features performances from Harvard Alumni, including speakers like professor Dr. Cornel West, TEDx Speaker Doll Avant, and National Youth Poet Laureate Amanda Gorman.
Harvardwood Heads To... WGF: Writers on Writing with Caroline Thompson - Wed., Sept. 9
Over the last few months, the WGF has been hosting free Zoom panels about craft and all things relevant to writers. For this session, the WGF goes one-on-one with screenwriter Caroline Thompson, the scribe behind macabre yet beloved features such as The Nightmare Before Christmas, Corpse Bride, The Addams Family, and Edward Scissorhands as well as literary favorites such as The Secret Garden and Black Beauty. We'll hear about her writing process, her approach to character development, and what draws her to specific themes.
Harvardwood Heads To... Harvard Alumni Association's Shared Interest Groups Showcase - Sept. 14-17
Harvard Alumni Association Shared Interest Groups (SIGs) are thriving alumni communities that connect alumni to each other and the University through shared interests, identities, and affiliations. The SIG Showcase events will take place from September 14-17, 2020. They will provide an opportunity to hear from each of the listed SIGs, followed by optional conversation with alumni who are active with the SIG of your choice.
A Third Reconstruction: Race, Reconciliation, and How Hollywood Can Help Make it Happen with HLS Professor Alan Jenkins '85 JD '89 - Wed., Sept. 16
Join HCSC and Harvardwood for a timely discussion with Harvard law professor Alan Jenkins on the need to fight racism and build a just society emphasizing the role entertainment industry professionals can play. This event is brought to you by the Club's Anti-Racism Committee.
Alan Jenkins is a Professor of Practice at Harvard Law School where he teaches courses on Race and the Law, Communication, and Social Justice. Before joining the Law School faculty, he was President and Co-Founder of The Opportunity Agenda, a social justice communication lab dedicated to the idea that our nation can and should be a place where everyone enjoys full and equal opportunity.
Jenkins's prior positions have included Director of Human Rights at the Ford Foundation, where he managed grantmaking in the United States and eleven overseas regions; Assistant to the Solicitor General at the U.S. Department of Justice, where he represented the United States government in constitutional and other litigation before the U.S. Supreme Court; and Associate Counsel to the NAACP Legal Defense and Educational Fund, where he defended the rights of low-income communities facing exploitation and discrimination. He previously served as a Law Clerk to U.S. Supreme Court Justice Harry A. Blackmun and to U.S. District Court Judge Robert L. Carter.
Jenkins is a frequent commentator in broadcast and print media, including CNN, the New York Times, MSNBC, and the Huffington Post. He serves on the Ad Council's Advisory Committee on Public Issues and as an Advisor on Anti-Poverty Strategies to the JBP Foundation. His past Board service includes New York Public Radio, the Center for Community Change, the Legal Action Center, and Futuro Media Group, as well as the Board of Governors of the New School for Public Engagement. He has also served on the Selection Committee for the Sundance Documentary Fund.
Jenkins holds a J.D. from Harvard Law School, an M.A. in Media Studies from the New School for Public Engagement, and a B.A. in Psychology and Social Relations from Harvard College.
Harvardwood Presents: Your Story & Your Pitch with Margot Leitman - Thurs., Sept. 24
Your personal story is an invaluable part of both a strong pitch and a general meeting. Join us as bestselling author, Margot Leitman and storytelling instructor, shares practical tips and methods to improve the content, delivery and emotional impact of your personal anecdotes. 
Please come prepared with your personal story! We will have time for Margot to help a few volunteers from the audience to hone their personal stories right on the spot. Your story can either be the introduction to a pitch, or the story you tell when an exec asks, "So tell me about yourself?"
MARGOT LEITMAN is the author of the best-selling book LongStory Short: the Only Storytelling Guide You'll Ever Need, What's Your Story? & Gawky: Tales of an Extra Long Awkward Phase. She has written for DreamWorks TV, the Hallmark Channel, and the Pixl Network and worked for "This American Life" as the West Coast story scout. She is the founder of the storytelling program at the Upright Citizen's Brigade Theatre and is a five-time winner of the Moth Storyslam and a winner of the Moth Grandslam, receiving the first ever score of a perfect 10. She travels all over the world teaching people to tell their stories. 
Anti-Racism in Hollywood: A Talk with Andrew Coles AB '09 (The Mission Entertainment) - Wed., Sept. 30
Harvardwood is partnering with the Harvard Club of Southern California on a series of entertainment-industry conversations around anti-racism and what Hollywood needs to reflect upon to create systemic change. The aim is to provide the Harvard community with opportunities to hear from experts, participate in workshops to recognize one's own complicity, and engage with one another over these issues.
Please join us for a conversation with Andrew Coles of The Mission Entertainment for a discussion on the development process: how film and television projects are greenlit and cast, and how to amplify diverse voices and avoid the either/or mentality of profit over representation.
Become a Harvardwood member to take advantage of virtual programming in 2020-2021
A new academic year, despite these unusual circumstances, signifies new opportunity! Harvardwood has some exciting announcements on tap this fall—developments that will enable us to continue building out robust virtual programming. We've been thrilled to see the number of new members, event attendees, and program participants who have reached out in recent months to engage with us. As always, in 2020-2021, we will strive to meet the professional needs and interests of our members: YOU! To help us get a better sense of how Harvardwood can be of service to you, please consider joining Harvardwood and becoming an active member of our arts, media, and entertainment community! 
---
DISCLAIMER
Harvardwood does not represent or endorse the accuracy or reliability of any of the information, content or advertisements (collectively "Materials") contained on, distributed through, or linked, downloaded or accessed from any of the services contained in this e-mail. You hereby acknowledge that any reliance upon any Materials shall be at your sole risk. The materials are provided by Harvardwood on an "AS IS" basis, and Harvardwood expressly disclaims any and all warranties, express or implied.
Do you like this post?