In This Issue:
NEWS
Featured Member Posting: Creative Assistant (Amazon) - LA
Donate to Harvardwood for #GivingTuesdayNow - May 5th
Seeking volunteer alum profile writers
Missed an event? Visit the Harvardwood Channel
FEATURES
Winner of the 3rd Annual Harvardwood Prize: Luke Gardiner

Artist Showcase: Michael Blumenthal AB '11 (Performing Artist & Musician)
Industry Successes
New Members' Welcome
Alumni Profile: Megan Goldstein AB '05 (VP of Synch Licensing, BMG)
CALENDAR & NOTES
Calendar
Renew your membership for access to virtual events
---
Message from Dona
We're liiiiiiiiiive!
That's right—we've successfully shifted over to a full slate of virtual programming, and we have a variety of event offerings, ranging from music to acting to podcasting. Visit our calendar to RSVP to each event!
We are also going LIVE tomorrow, May 2nd, in our first-ever storytelling show together with Harvard Alumni for Education LA, and First Generation Harvard Alumni LA. Livestream the show by visiting Harvardwood's Facebook page tomorrow, May 2nd, at 7pm PT. I'll be moderating the comments section, so come say hi!
- Dona
Featured Member Posting: Creative Assistant (Amazon) - LA
Amazon Studios seeks a dynamic, self-motivated Creative Assistant to support the Movies Department. The ideal candidate would bring a daily passion for film, and a fierce hunger to learn both the business and the creative process. They will need to effectively multi-task, have the ability to complete administrative tasks and projects quickly with little to no guidance, react with appropriate urgency to situations and events that require quick response or turnaround, and efficiently and creatively solve difficult or complex problems that affect people within the group or other related groups. Must have great attention to detail while still meeting tight deadlines, have great organizational skills and have the ability to switch gears at a moment's notice, all the while retaining a proactive and anticipatory focus on priorities. At all times they should be able to maintain a positive and engaged attitude.
Donate to Harvardwood for #GivingTuesdayNow - May 5th
Harvardwood is participating in #GivingTuesdayNow through May 5th! Please consider donating to Harvardwood this weekend and supporting all of the online programming we are offering. This is an unprecedented time for all of us, but we can make a difference to the students who have been impacted by the covid-19 crisis with lost opportunities for internships this summer.
Seeking volunteer alum profile writers
Harvardwood seeks volunteer writers to cover monthly profile pieces showcasing established Harvard alumni in the arts, media, and entertainment industries.
Responsibilities include researching, interviewing the subject(s) via telephone or in person, and writing a 1000-1200 word profile piece. Writers should be familiar with both the Harvard community and the entertainment industry, and may suggest profile subjects of interest. Some reporting and/or interview skills are required, and most importantly, poise and a discreet manner. 
This is a great opportunity for someone trying to build their portfolio of clips and/or are interested in the entertainment industry. Profile writers receive three (3) free months of Full Membership to Harvardwood, with a maximum of one (1) full free year per calendar year. Writers can work from any city, and both current students as well as alumni are welcome.
If interested, please first review a few sample profiles to get a feel for how they are written.
Then email [email protected] with the subject line HIGHLIGHTS WRITER. Please write a brief cover letter explaining your interest and any relevant writing or interviewing experience in the body of the email. An attached writing sample (preferably under 1000 words) is preferred although not required.
Missed an event? Visit the Harvardwood Channel
Moving online has enabled us to reach a broader audience, but our international community is spread across many timezones. Moreover, our members are keeping busy! So you might not be able to attend every single Harvardwood event (and there are a ton more lined up this month, view the calendar below), but you can always catch up with our recordings. Just make sure that (1) your membership is current and (2) you are logged in to the website. The page below is accessible only to Harvardwood members. You can always join or renew your membership!
View recordings of past Harvardwood events!
Winner of the 3rd Annual Harvardwood Prize: Luke Gardiner
Join us in congratulating Luke Gardiner, currently a junior at The Hotchkiss School! The aim of the Harvardwood Prize is to recognize and celebrate the artistic accomplishments and potential of high school students who exemplify our mission. Given Harvard University's robust arts communities and arts education opportunities, the Prize is meant to encourage high school students to apply to Harvard College and is awarded annually to a high school junior (rising senior) who will apply for admission to Harvard in the upcoming fall and who has demonstrated excellence in their dedication to the arts, media, and entertainment and its power to enact positive social change.
About Luke
Luke Gardiner is a writer, director, producer, and editor whose love for film began in fifth grade when he created his first film for submission to the Montclair Film Festival Emerging Filmmakers Competition; his films Dominoes and Imperceptible were awarded the Grand Jury Prize in their categories of the competition in 2015 and 2017 respectively.
Luke, now a junior at The Hotchkiss School, has always challenged himself as a student, person, and artist. At Hotchkiss, Luke has seized the many opportunities offered by studying with a diverse peer group and learning from a dedicated faculty. He was awarded the Photography Book Prize in 2018 and 2019 and has served the community through class counsel, acting as a proctor in a dormitory and leading the Hotchkiss Film Club and GSA (Gender-Sexuality Alliance). 
Luke is a well-balanced member of his community but acknowledges that his passion lies in filmmaking. Working with his film teacher Ann Villano, Luke has studied film and created two pieces: Underneath My Skin and Burning. Underneath my Skin, which won the top prize at the Hotchkiss Film Festival in 2019, follows a boy who experiments with makeup. Burning, which was recently completed, explores the destructive nature of microaggressions towards the Jewish community.
In addition to Luke's short films, for the Hotchkiss 2019 spring production of 1984, Luke wrote, directed, and edited ninety-four minutes of propaganda footage used during the show. This experimental project won a Halo Award for Best Special Effects. For the Hotchkiss 2020 winter production of The Tempest, Luke delved into animation to create a special effects vision for the show. Outside of Hotchkiss, Luke has assisted documentary filmmaker Tom Piper with his recent projects and worked as a production assistant on the indie film Songs For a Sloth. 
Artist Showcase: Michael Blumenthal AB '11 (Performing Artist & Musician)
In 2011, I completed my Harvard undergraduate studies in Government and Islamic Studies. I then joined the Navy and served as a SEAL officer. Since finishing active duty, I've moved to Nashville where I work as a performing artist and musician. This April I released my first single on all streaming services, "Mirror Mirror" (Spotify, Apple Music, and YouTube). The song is an introspective reflection, and an acknowledgement of how some of our complicated personal traits—like envy, ambition, and desire—can be the common threads that connect our experiences, careers, and aspirations.
Industry Successes
Jodi Redmond EdM '08 was recently on ABC7 News discussing homeschooling and college prep/admissions amidst the COVID pandemic. She also appeared on Fox News to discuss college and education, and the full video will air Sunday morning on Fox 11 Los Angeles at 9:00am PT.
The Breakbeat Poets Vol. 4: LatiNext, co-edited by José Olivarez AB '10, has been published by HaymarketBooks! This anthology celebrates the embodied narratives of Latinidad. Olivarez also appeared in an April 28, 2020 interview discussing LatiNext.
At a Black History Month presentation sponsored by the Harvard Club of Southern California and the Harvard Black Alumni Society, Terrence Franklin JD '89 performed the story of his coming to understand his mission to "Bend the Arc of History Towards Justice" through storytelling. "The Last Will of Lucy Sutton" is the name of the performance, the ten-part limited series for TV in development, and the novel on which the series if based. Terrence was also named one of the "Most Influential Minority Attorneys in Los Angeles" by the Los Angeles Business Journal for the second consecutive year.
Annie McGrath AB '13 has launched the new industry podcast "What's a Grip? The Below-the-Line Podcast." McGrath, a development executive, is joined by script supervisor Jillian Terwedo in interviewing a variety of on-set and studio-side employees of the film & television industry, shining a light on roles in the filmmaking ecosystem that are often overlooked or misunderstood. The podcast is available to listen on Spotify, Stitcher, and others.
TV writer Racheal Seymour MPP '97 wrote an episode of ABC drama The Rookie that was the most-watched hour in the series' two-year history!
Playground Zero by Sarah Relyea AB '80 is coming soon. 1968: it's the season of siren songs and loosened bonds—as well as war, campaign slogans, and assassination. When the Rayson family leaves the East Coast for the gathering anarchy of Berkeley, twelve-year-old Alice embraces the moment in a hippie paradise that's fast becoming a cultural ground zero. Read more about the book at Relyea's website.
Sara Seyed A.R.T. '18 wrapped on the first season of Netflix original Young Wallander back in December 2019, and the project release date has been delayed from April to August 2020. She has also worked alongside Emmy-winner Shohre Aghdashloo as the lead "Leili" in 12th's Fools Day, a Persian feature film released on Manoto TV. Seyed also played the role of Sarah (Ibrahim's wife) opposite the award-winning actor Nicolas Mouawad in a biblical rendition of prophet Ibrahim's life (Genesis 22). This feature is in post production. 
From Emmy-Award winning writer Greg Daniels AB '85 (The Office) comes Upload, a new sci-fi comedy series set in a technologically advanced future where hologram phones, 3D food printers and automated grocery stores are the norm. Most uniquely, humans can choose to be "uploaded" into a virtual afterlife when they find themselves near-death. Watch it on Amazon now!
Congratulations to Charles Hirschhorn AB '79, President of AEG Television, who has been appointed the new President of Otis College of Art and Design in Los Angeles beginning June 1st! Hirschhorn also sits on the boards of Berklee College of Music, Harvard College Office of the Arts, and Wilshire Boulevard Temple.
ICYMI, Bashir Salahuddin AB '98 & Diallo Riddle AB '97 discussed their Comedy Central show, South Side, about two community college grads working at a rent-to-own store in Chicago's Englewood neighborhood before pursuing their dreams of VC.
HBO has renewed hit series Westworld, co-created by Lisa Joy JD '07, for a fourth season. Let the fan theories abound!
Former HRO cellist Beong-Soo Kim AB '94, JD '99 and his wife, Bonnie Wongtrakool AB '94, JD '00, have been bringing joy to their Pasadena neighborhood in quarantine with their porch performances. From the LA Times: "I think it's just our very tiny way of saying to our neighbors and any passersby, 'We're in this together, and we'll get through it together,'" Kim says later of the concerts, which they have been performing at scattered times for the last month, ever since L.A. County's Safer at Home order took effect. "Music has a way of connecting people in that way."
Brad Pitt's company Plan B Entertainment, run by Pitt, Dede Gardner, and Jeremy Kleiner AB '98, has inked a first-look deal with Warner Bros.!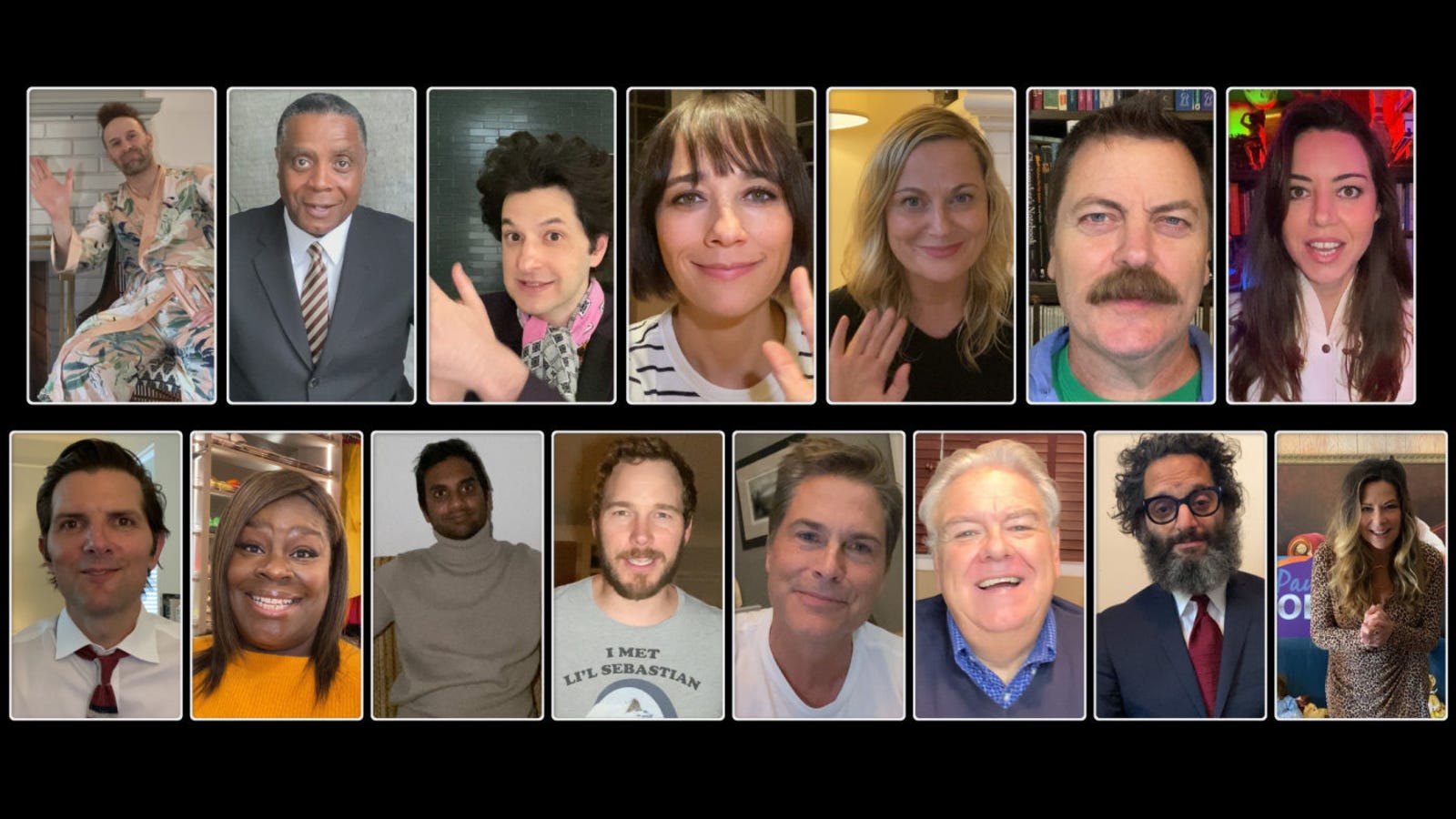 Last night, NBC aired a brand-new and widely-acclaimed Parks and Rec episode (created by Mike Schur AB '97) for COVID-19 relief, bringing together cast members Amy Poehler, Rashida Jones AB '97, Chris Pratt, Nick Offerman, Rob Lowe, Aziz Ansari, Adam Scott, Aubrey Plaza, Jim O'Heir and Retta.
Neal Baer GSE '79, GSA '82, HMS '96 has just signed with Echo Lake Entertainment (and TV Lit Manager Zadoc Angell AB '03)! His first project with Echo Lake is a timely thriller, The Edit, about CRISPR medical technology.
Announced just yesterday, The Simpsons s
howrunner Al Jean AB '81 has signed with Gersh Agency. From Deadline: "Jean has been on Fox's The Simpsons since the 1989 pilot and, with brief breaks in the 1990s, for the iconic comedy's 21-season run to date. He has been a sole showrunner since Season 13. With The Simpsons, Jean has shared nine Animation Program Emmy Awards and a Peabody Award. He also was co-writer and producer on The Simpsons Movie, which grossed over $500 million worldwide, and on The Simpsons-themed Oscar-nominated animated short film The Longest Daycare."
Donal Logue AB '88 stars alongside Anna Kendricks in the comedy Dummy, which is out NOW on Quibi! 
New Members' Welcome
Harvardwood warmly welcomes all members who joined the organization last month:
Doll Avant, College, ATL
Macy Berg, HBS, BOS/Campus
Vince Biagiotti, HLS, LA
Nick Cruz, HLS, NY
Alan Jenkins, Faculty, NY
Nicole Kreutter, HBS, BOS/Campus
Benjamin Kultgen, College, LA
Tomo Lazovich, College, BOS/Campus
Jeeyoon Lee, College, DC
James Poage, GSAS, BOS/Campus
Lindsey Ruggles, College, NY
Simi Shah, College, NY
Gretchen Shoenberger, College, BOS/Campus
Steven Simon, HMS, Other U.S.
Laura Snell, A.R.T., NY
Rachel Stephens, College, Other U.S.
Hugh Strike, College, NY
Sharlee Taylor, A.R.T., NY
Franklin Tennyson, GSE, NY
*FOH = Friend of Harvardwood
Alumni Profile: Megan Goldstein AB '05 (VP of Synch Licensing, BMG)
By D. Dona Le
Before college, Eagle Rock native Megan Goldstein AB '05 "was determined to go to New York City. I really wanted to go to Columbia, and if Columbia didn't work out, I was going to New York University. Then when I got into Harvard, I thought, 'Whoa. Yeah. Okay.'"
Today, Goldstein still lives in Northeast Los Angeles and is currently Vice President of Synch Licensing at BMG, a position that perfectly marries her training as a musician and her love of film and television.
"I am a musician and I've always felt like a musician, but it's not that I wanted to be a clarinetist in a symphony," Goldstein says. "I just always thought of myself as a musician. I made music every day and practiced every day—that was the fabric of my life."
Upon entering Harvard, Goldstein initially decided, "I'll do something responsible." For many students, "something responsible" refers to a career in law or finance. But she quickly gravitated back to her passion for music and film.
"Harvard had Visual and Environmental Studies, but it had no film concentration. The most film classes I could find were in anthropology, so I double concentrated in music and anthropology." 
Even after taking as many anthropology film classes as she could and writing a senior thesis on film, Goldstein wanted to do more. She returned to Los Angeles and enrolled in the Cinema & Media Studies graduate program at USC. Goldstein credits her grad school experience as being integral to her career. She enjoyed her USC experience so much that "I wish it were a three-year program. My biggest feeling at the end of it was that two years wasn't enough. I loved the production classes, I loved the theory classes, and I loved the people I met. After USC, I did a lot of work with those people and I actually still get to work with them. I'd take a job on their crew just to stay in the scene, or I've worked on music for their projects."
To those who are unsure whether film school is the right path, Goldstein assures, "I made contacts that have been valuable in terms of what I want my career to look like."
But even after film school, identifying a clear career path was elusive. "I thought it'd be really great to find a job at the intersection of music and film, without having a word for that or knowing what that was. This was before 'music supervision' was as buzzy as it is now."
Like many young grads seeking to break into the industry, Goldstein found her first job through a combination of fortuitous timing and personal connections. It happened in a Starbucks.
"I was studying for a final in grad school, a world film class and something I was studying was about Peruvian cinema. The person I ran into at Starbucks was reading a travel book for Peru; we were reading about the same country. So we struck up a conversation and it turns out we had mutual connections, and he was looking for an assistant at Warner [Music Group]."
The assistant role was substantive—not "answering phones and getting someone's coffee. It was a content job."
After one year, one of Goldstein's bosses at Warner Music Group got a job at a competing company and suggested that Goldstein apply for her opening. So that initial assistant position led to a six-year stint at Warner.
Goldstein credits her years at Warner for giving her a wealth of experience that helped to round out the team at BMG, her current company. "I was going to a publishing company from a company that works on the master side; I came with all this record label experience. Even throughout the interview process, it helped me to be immediately seen as someone with a lot to offer [at BMG]."
She speaks candidly of the potential challenge that comes with staying at one company for a long time.
"As much as I felt respected [at Warner] and grew a lot, it's hard to shake the perception of being the junior person," Goldstein explains. "Even though I was the only person in our department who went to grad school, and even though I got promoted very quickly there, and then stayed for a long time, it's hard to fully shake the image of being the newbie."
Ultimately, Goldstein's experiences at Warner Music Group and BMG are complementary, giving her a uniquely holistic and in-depth understanding of the music industry and synchronization licensing. Goldstein works with music supervisors, filmmakers, and film studios and TV production studios to negotiate deals for the use of commercial music in their projects. On the day to day, Goldstein interacts with these content makers and the artists, artist managers, and attorneys whom she represents, "looking at which projects they want to do creatively, and what those deals actually look like—what rights we're actually going to give, how much money we're going to charge."
In the first half of her career, at Warner, Goldstein primarily worked on deals for master recordings that had been commercially released by Atlantic Records, Warner Bros. Records, Nonesuch Records, Bad Boy Records, Elektra Records, and more. "Rhino represented a huge and amazing catalog that I was lucky to work with, and we represented that entire family of record labels for film and TV."
"Warner handled some publishing," Goldstein adds, "but it was through unusual deals and mostly through ADA, for indie bands that didn't have representation and so they signed with us for both master and publishing."
When Goldstein moved to BMG, the company's focus was on publishing and working on behalf of writers. 
"Instead of representing master recordings, BMG represents the composition. We have many of the same clients, so the same music supervisors and film studios that I worked with at Warner are the same people that BMG works with. Devo ("Whip It"), ZZ Top, The Pretenders—I represented those bands on the master side at Warner. When I came to BMG, I worked some of those same bands, but on the publishing side."
Today, BMG has accumulated more master recordings and has a growing record label arm.
Goldstein's job also puts her in close collaboration with major film studios, such as Warner Bros. Pictures, Universal Pictures, and Disney/Fox—"probably one of the more exciting but also challenging parts of my job. Studios are highly visible, and large amounts of money are at stake."
"I get to work on [the studios'] different levels of projects and see the inner workings of how they view their indie projects or their prestige stuff, how they fund those or don't fund them," Goldstein says. "Any project at Universal Pictures comes to me; it doesn't matter if it's a $2 million project or a $180 million project, I'm going to work on all of that. You have a bit of a window into how sociopolitical elements affect project development."
BMG also engages in work-for-hire deals with film studios that are a bit of a different animal. They're "high-risk, high-reward." See Exhibit A: Fast and Furious 9.
A work-for-hire deal is when a songwriter is hired to write new music for a film that's being released—music that will be branded by the film.
In the case of Fast and Furious 9, Goldstein explains, "a producer from Warner may work with a songwriter from BMG or Kobalt, or both. Universal will say, 'We need a hit song for Fast about power and masculinity and fast cars.' They write a song and then we negotiate those deals, which are unique in that the film company gets some ownership. So we give something up: a writer is giving up some of their ownership of the song in exchange for extra publicity. It's an interesting window into another part of the landscape of studio film."
Though Goldstein admits that she enjoys the glamour of her job, that's not why she loves it. 
"The emotional payout of working on a giant film [like Fast & Furious 9] is not because it's exciting for me to go to the theaters and see music that I've worked on in the film, though that is a reliable perk. It's more fascinating to see the inner workings of how a project that big with that much money behind it gets made, how many people are involved, and what that looks like."
Goldstein also has extensive experience working with TV shows that are "fun and feel good to work on because you're excited by the material."  Nonetheless, Goldstein admits some projects can be frustrating when their budgets do not align with the creators' expectations regarding music.
"A lot of projects aren't properly funded, or the people involved in making them don't leave money for music, even when they've decided that clearly music is an important part of their project. Some TV shows are responsible and only request music they can afford; they're not asking for recognizable songs because they know they can't afford them. But others continue to request recognizable songs and offer no money to use them."
There are other ways that projects try to cut corners on music. It takes years of work experience, years spent honing your instinct to recognize those situations. Goldstein has plenty of both to inform her decision making. 
Interestingly, Goldstein also receives script pages, footage clips, or even entire film screeners to review before considering music placement. This generally happens for one of two reasons.
"One reason is that there is something potentially worrisome about the scene, like intense violence, intense sexuality, intense drug use—something where people are concerned that it's going to be hard to find music that will clear. Or maybe someone's making fun of the song and being derogatory toward the music. Or maybe the use is just incredibly extensive—multiple uses, or high-profile singing or dancing involving the song."
And the other scenario?
"The other reason is when they've identified exactly what they want and it's a hard sell for whatever reason. They know they really want a certain song, but they definitely can't afford it, so they're asking, 'Can you please work with us? Here's the film.'
"When I'm looking at stuff like that, it's fun, but you're basically guessing based on your experience. I can give them several options I think might work and say, 'Are any of these of interest? I can explore them for you.' I'm working with the music supervisors and the studios to try and solve a problem."
Chatting with Goldstein makes clear how much she loves her job—a love that boils down to her lifelong love of music and film. One of her favorite aspects of synch licensing is "being exposed to catalogs and musicians that you didn't know of or learning about a hit that was huge in 1976 and then totally dropped off."
It's that thirst to learn and to deepen her knowledge that propelled Goldstein through her early years of musical training, a double concentration at Harvard, and a rigorous graduate film program—and that will no doubt propel her through the rest of her career.
D. Dona Le is a features and TV writer in Los Angeles and currently serves as Harvardwood's Executive Director. She was recently selected to be a 2020 CAPE (Coalition for Asian Pacifics in Entertainment) New Writers Fellow.
Calendar
Harvardwood, HAE, & First-Gen Harvard Alumni Present: Storytelling by Harvard Alumni - Sat., May 2
Come see five LA-based Harvard alums tell stories about the various trials and triumphs of life in this FREE virtual show co-sponsored by Harvardwood, Harvard Alumni for Education LA, and First Generation Harvard Alumni LA. The show will be livestreamed to Harvardwood's Facebook page at 7:00pm on Saturday, May 2nd.
We've also created a Facebook event where you can RSVP to let others know that you will be in the audience.
Harvardwood Online Salon: How to Impress—or Be—a Network Exec - with Adam Wolman AB '88 - Wed., May 13
On the evening of May 13th, attend an intimate conversation with Adam Wolman, AB '88, a former current & development executive at ABC and MTV who co-ran the Disney-ABC Writing and Directing Programs. These days Adam is a documentary producer, creative consultant, and Harvardwood board member to boot!
Interested in learning what network execs are really thinking about when you're pitching, about his time at HBO Digital, or any insights he may have from being married to a showrunner? Sign up now!
Adam consults for companies and individuals creating content for all media. Comedy, drama, reality, documentary — name the format and Adam's tried to be of service in helping tell a compelling story. Sometimes this turns out great and other times meh, but so far, happily, nothing he's worked on has been a total disaster.
In his first outing as a documentarian, Adam recently produced and co-wrote Tested, a film about the controversy over diversity at NYC's specialized high schools (Stuyvesant, Bronx Science, Brooklyn Tech). The film premiered at DOC NYC and was named one of the best of the fest by the Village Voice, then screened at the White House. Unfortunately the screening did not convince our then-president to ignore the 22nd Amendment and run for a third term, so here we are.
As the #2 exec at HBO Digital, Adam developed short-form series for HBO's digital platforms. As Executive Consultant, Disney/ABC Television Group, he was brought on to help launch ABC's award-winning Micro-Mini Series; the position was expanded to include sharing oversight of the Disney/ABC Writing and Directing Fellowships and other programs designed to find and mentor diverse talent. Previously, Adam was VP, Original Series, Current and Development for MTV, where he was exec in charge of production on several series. He also served at ABC Entertainment as Director, Comedy Series Programming, and as Program Analyst at CBS Productions despite his childhood fear, still simmering today, of the CBS eye logo.
Before moving to L.A., Adam worked as an independent producer in Boston and in Massachusetts politics as a lobbyist and speechwriter for Mass Citizen Action. At Harvard he was a WHRB radio news editor/anchor who sometimes got to partner with the far-more-talented Scott Horsley, now NPR's White House correspondent. Adam sang in the Glee Club and with the Din & Tonics. He also acted in a couple of shows, including that Hasty Pudding thing, before exiting stage left with a degree in Linguistics and Psychology.
Back to the future: These days Adam still sings, tries to fight the power as VP Communications for the Pali Dem Club, co-chairs Human Rights Watch L.A.'s film club committee, and lives more or less harmoniously with his TV writer/producer wife Eileen Heisler and their twin boys and their two cats.
Harvardwood Author Talk: Elizabeth Little AB '03 (DEAR DAUGHTER, PRETTY AS A PICTURE) - Thurs., May 13
Writing doesn't have to be a totally solo exercise. Writers thrive in supportive communities, learning from one another's experiences and successes. Harvardwood is fortunate to be joined by Los Angeles Times bestselling author Elizabeth Little AB '03 for this exclusive talk. She will share about her writing process, how she's gotten her thrillers published, and where she finds inspiration for future works! Don't miss this event with Little, and purchase her latest work, Pretty as a Picture, to read in advance of the event!
Elizabeth Little is the Los Angeles Times–bestselling author of Dear Daughter, Pretty as a Picture, and two works of nonfiction, Biting the Wax Tadpole: Confessions of a Language Fanatic and Trip of the Tongue: Cross-Country Travels in Search of America's Languages. Her writing has also appeared in the New York Times, McSweeney's, and the Los Angeles Review of Books, among other publications.
Dear Daughter, her debut thriller, was nominated for the Barry and Macavity Awards for Best First Novel, longlisted for the CWA John Creasey Dagger, and won the Strand Critics Award for Best First Novel. Pretty as a Picture is now available from Viking.
Elizabeth lives in Los Angeles with her family.
About the Book
An egomaniacal movie director, an isolated island, and a decades-old murder—the addictive new novel from the bestselling author of Dear Daughter.
"A twisty story, a cinephile's delight, a knockout of a heroine. I loved it." –Laura Lippman
"A fun and fact-paced thriller loaded with cinematic flourishes." –Kirkus
Marissa Dahl, a shy but successful film editor, travels to a small island off the coast of Delaware to work with the legendary–and legendarily demanding–director Tony Rees on a feature film with a familiar logline.
Some girl dies. 
It's not much to go on, but the specifics don't concern Marissa. Whatever the script is, her job is the same. She'll spend her days in the editing room, doing what she does best: turning pictures into stories.
But she soon discovers that on this set, nothing is as it's supposed to be–or as it seems. There are rumors of accidents and indiscretions, of burgeoning scandals and perilous schemes. Half the crew has been fired. The other half wants to quit. Even the actors have figured out something is wrong. And no one seems to know what happened to the editor she was hired to replace. 
Then she meets the intrepid and incorrigible teenage girls who are determined to solve the real-life murder that is the movie's central subject, and before long, Marissa is drawn into the investigation herself.
The only problem is, the killer may still be on the loose. And he might not be finished.
A wickedly funny exploration of our cultural addiction to tales of murder and mayhem and a thrilling, behind-the-scenes whodunit, Pretty as a Picture is a captivating page-turner from one of the most distinctive voices in crime fiction.
Purchase Pretty as a Picture to read in advance of the event!
Harvardwood Webinar: Creating Narrative Podcasts - Thurs., May 21
Learn what's involved in creating and producing a hit narrative podcast series, with Christy Gressman JD '06 (Night Vale Presents), Marshall Lewy AB '99 (Wondery), and Steve Raizes AB '96 (Viacom)!
Christy Gressman is Vice President and Executive Producer, Podcasts, at First Look Media, where she leads Topic Studios' podcast vertical, overseeing all aspects of creative, production, and business strategy alongside the studios' film, TV, and non-fiction verticals. She also shares oversight of podcasts at The Intercept with editor-in-chief Betsy Reed. First Look's podcasts include Missing Richard Simmons, John Cameron Mitchell's Anthem: Homunculus, and the ongoing shows Intercepted with Jeremy Scahill and Deconstructed with Mehdi Hasan. Christy was formerly Partner and Executive Producer in the podcast network Night Vale Presents, co-founded by the creators of the genre-defining fiction podcast Welcome to Night Vale, where she oversaw network-wide show development, production, and distribution. She is also the producer, executive producer, and/or co-creator of a number of original podcasts, including the critically-acclaimed fiction podcasts The Orbiting Human Circus and Adventures in New America, I Only Listen to the Mountain Goats, and the award-winning Conversations with People Who Hate Me with Dylan Marron. 
Marshall Lewy is the Chief Content Officer at Wondery, the largest independent podcast publisher. Marshall oversees all of Wondery's original series, as well as its pipeline of television adaptations. Award-winning hit podcasts he's overseen include "Dr Death," "Business Wars," "The Shrink Next Door," "American Scandal," and "Over My Dead Body." Twenty-six of Wondery's shows have reached #1 on Apple Podcasts, and 13 are being adapted for television, including "The Shrink Next Door" for Apple, starring Will Ferrell and Paul Rudd. Prior to Wondery, Marshall wrote and directed the feature films "Blue State" and "California Solo," and has contributed to This American Life. Marshall was also a partner at Adaptive Studios, and is an Emmy nominated producer for HBO's "Project Greenlight." He was Harvard class of 1999.
Steve Raizes is responsible for leading the strategy, marketing, operations/P&L and, in partnership with each brand, creative development for all podcasting across Viacom. He holds the same role for Live and Experiential Events across Comedy Central, CMT, Logo, MTV, Paramount Network, TVLand, and VH1. His audio team launched the Comedy Central Global Podcast Network and produced award-winning, "best of 2018" podcasts including The Daily Show: Ears Edition Podcast (fastest late night podcast to reach 1M downloads). His team was also responsible for the creation of Comedy Central Presents Clusterfest, a 3-day 45,000 person Comedy festival in San Francisco that has featured Jon Stewart, Amy Schumer, Kevin Hart and interactive IP celebrations of iconic shows such as South Park, Seinfeld and It's Always Sunny in Philadelphia.
In his previous role Raizes oversaw Home Video and Consumer Products for Comedy Central, Spike TV and TVLand. During this time he focused on expanding the brands from linear screens to the real world through projects such as putting Lip Sync Battle across a cruise fleet and placing South Park's Cheesy Poofs in every Wal-Mart in America (a crowning achievement). Raizes also ran Comedy Central's DVD division, and during his tenure it became the #1 TV on DVD Comedy brand.
Raizes began his career in the entertainment industry as an assistant to Scott Rudin.
He holds an MBA from New York University's Leonard N. Stern School of Business with a specialization in Entertainment, Media and Technology and earned a BA in Sociology from Harvard University.
Harvardwood Webinar: Best Practices for Self-Taped Auditions - Tues., May 26
Casting director Lisa Beach AB '80 (co-owner of Beach/Katzman Casting) will share tips for actors on best practices for auditioning. You'll get an overview of what casting directors expect to see in self-taped auditions, both pre- and post-pandemic. This webinar will help you improve your audition skills and film a great self tape.
Lisa Beach's extensive credits as a casting director span more than 20 years and include many classics and timeless characters. Some of the films Lisa has cast include: We're the Millers, Election, Wolverine, Logan, Horrible Bosses, 3:10 to Yuma,  Walk the Line, Wedding Crashers, White Chicks, About Schmidt, Girl, Interrupted, and Scream 1, 2, and 3. Lisa is also credited and original casting for a number of TV shows such as Men in Trees, V and Hung. 
Harvardwood Panel on Hollywood in the Post-COVID Landscape: A Conversation about the Changes Ahead - Wed., May 27
A candid, in-depth conversation about the medium- and longterm effects of the COVID-19 pandemic on the entertainment industry, with panelists Richard Cusick AB '92 (MarketCast) and Ken Williams AB '78 (Entertainment Technology Center at USC).
Richard Cusick has a track record of innovation and repositioning companies for rapid growth, with two successful exits – Gemstar and Gracenote.  Richard currently leads the TV and Digital Groups and MarketCast, a leading entertainment marketing services company.  Prior to MarketCast, Richard was CEO of CollegeHumor, a top-20 YouTube channel and IAC portfolio company, where he launched a new OTT service with over 100,000 net subs in its first-year of operation.  Richard was the co-founder of the modern Gracenote, formulating a business plan to transform a legacy data business into the world's largest provider of entertainment search and discovery services.  While at Gracenote, Richard built and scaled international operations on four continents.  Prior to Gracenote, Richard drove digital transformations for several legacy media brands.  Richard grew TV Guide Magazine's digital presence to become the largest independent entertainment website (and ultimately a larger reach than the print publication).  Richard developed an e-commerce business for DailyCandy that drove significant revenue and contributed over half of DailyCandy's incremental users.  Richard launched a co-branded video production between CBS's The Insider and Yahoo! Celebrity, which became a top entertainment web series.  Richard has deep mergers and acquisitions experience, starting his career as an investment banker at Bear Stearns and Lehman brothers.
Ken Williams currently serves as Executive Director and CEO of the Entertainment Technology Center at USC, a technology think tank which brings together the top entertainment, technology and consumer electronics companies to better understand and collaborate on the impact of new technology on all aspects of the entertainment industry.
A media industry veteran, Williams, spent 18 years with Sony Pictures Entertainment including Treasurer of Columbia Pictures Entertainment and Executive Vice President, Sony Pictures Entertainment, culminating as President of Sony's Digital Studios Division.
He was president and CEO of Ascent Media Group, which was at that time the world's largest independent provider of media content services to film studios, broadcast and cable networks, advertising agencies and other media creators and distributors.  Previously, Williams had also been President of Technicolor Digital Cinema and Vice President of Chase Manhattan Corporate Banking Division for filmed entertainment lending.
Most recently Williams has been an investor and President/CEO of Health Club Media Network, the largest operator of media in over 4,000 health club facilities nationwide.  Williams currently serves on the Boards of several companies, including World Health Networks, Inc. and Digital Fusion.
Williams is a graduate of Harvard University and holds an MS in Business Policy from Columbia University.  He is a voting member of both the Academy of Motion Picture Arts and Sciences and Television Arts and Sciences.
Renew your membership for access to virtual events
Harvardwood has found a wonderful silver lining in the current situation facing the world, and that's our ability to connect with more members than ever before and to help them in their careers. We've opened up a whole new avenue of events and programs through virtual meetings, and in doing so, we have been thrilled to meet so many new faces who aren't necessarily based in one of our established chapters. To be part of this community and take advantage of the resources we provide, join Harvardwood today!

---
DISCLAIMER
Harvardwood does not represent or endorse the accuracy or reliability of any of the information, content or advertisements (collectively "Materials") contained on, distributed through, or linked, downloaded or accessed from any of the services contained in this e-mail. You hereby acknowledge that any reliance upon any Materials shall be at your sole risk. The materials are provided by Harvardwood on an "AS IS" basis, and Harvardwood expressly disclaims any and all warranties, express or implied.
Do you like this post?