In This Issue:
NEWS
Featured Member Posting: Script Coverage Reader (Ink Factory) - LA
Companies, recruit a Harvard intern for Summer 2020
Boston & LA writers, apply now to the Spring 2020 Writers Program
Connect with Harvardwood at SXSW 2020
Harvardwood 101: The 2020 Recap
FEATURES
Exclusive Q&A with Ben Zauzmer AB '15 (Author, Oscarmetrics)
Industry Successes
New Members' Welcome
Alumni Profile: Micah Fitzerman-Blue AB '05 & Noah Harpster (Writers, A Beautiful Day in the Neighborhood)
CALENDAR & NOTES
Calendar
Job-hunting? Get access to Harvardwood's Career Center
---
Message from Dona
Harvardwood's Board members convened just a couple of nights ago for our Q1 meeting, and we have put together a very ambitious calendar for 2020. I am continually awed by the dedication and creativity of our volunteers, so the next time you see a Harvardwood leader at an event, please take a moment to say hello and thank them!
This year, Harvardwood is also engaging in some exciting new partnerships, starting with our Feb. 6th joint event with London School of Economics alumni! We're also looking forward to our first masterclass of the year, led by Angie Sun AB '03, who will discuss the nuances of board-driven versus script-driven development in animation.
Finally, I hope you'll all pitch in at the next Harvardwood Helps event, where we'll be teaming up with SELAH Neighborhood Homeless Coalition to provide and serve dinner to 50 people!
- Dona
Featured Member Posting: Script Coverage Reader (Ink Factory) - LA
Los Angeles film and tv production companies looking for efficient and observant readers. The Ink Factory and Character 7 Films both opened their doors in London, but have more recently expanded into Los Angeles. Known for character-strong narratives surrounded by a world of espionage and political intrigue, both companies receive several book and script submissions which need a well-tuned eye to find potential cinematic value. Readers must provide detailed coverage on these submissions, including a complete summary and thoughtful commentary on the material. 
Companies, recruit a Harvard intern for Summer 2020
If your arts, media, or entertainment company offers summer internships and would like to receive applications from current Harvard College students, we invite you to participate in the 2020 Harvardwood Summer Internship Program (HSIP)! Companies can recruit current Harvard students directly by posting their internship opportunities to Harvardwood FOR FREE.
HSIP provides a list of internship opportunities in the arts, media and entertainment to Harvard undergraduates and also coordinates career-related events over the summer for program participants in LA, NYC and other cities. If your company would like to list an internship via HSIP, please fill out our brief participant form by February 15th to reach the largest number of potential candidates.
Boston & LA writers, apply now to the Spring 2020 Writers Program
The Harvardwood Writers Program in Boston is being revived for Spring 2020! Join us to read and discuss members' scripts and strengthen your writing skills. Regular biweekly meetings will begin on Tuesday, February 11. Members should expect to read an average of two script excerpts per meeting and come prepared with notes and a willingness to engage in constructive discussion. This group will be focused on both TV and feature film projects. For further information and to apply, visit this page. The deadline to apply is Feb. 7th.
Through the end of today, we are also accepting applications to the Spring 2020 semester of The Jeff Sagansky Harvardwood TV Writers Program (HWP-TV)! HWP-TV uses peer review, guest speakers and workshops to foster a motivating and supportive environment for each participant's writing. Participants of the HWP — TV Modules may be considered for the annual Harvardwood Most Staffable TV Writers List (see below). All writers must be based in LA and Harvardwood Full Members. Apply by Feb. 1st, LA TV writers!
Connect with Harvardwood at SXSW 2020
SXSW 2020 is just around the corner, March 13-22, 2020! If you're attending, guest speaking on a panel, presenting a film, or anything of that nature, let us know! We're happy to connect all Harvardwood members and friends in Austin so you can meet one another.
This year's SXSW lineup includes Harvard alumni Greg Daniels, Vera Sola, Jen Wong, Eliah Seton, Edgar Thornton, and Daniel Cantagallo. Let us know if you'll be there too!
Harvardwood 101: The 2020 Recap
Every January, our flagship program, Harvardwood 101, brings over two dozen Harvard College students to Los Angeles to learn about careers in entertainment. Harvardwood organizes a week-long intense bootcamp, followed by the option of short-term J-termships at entertainment companies. The program has skyrocketed in popularity in the past few years, and we strive to give all Harvard undergrads the opportunity to participate before graduation. Just like last year, the 2020 Class of 101ers was comprised entirely of current Harvard seniors!
The value the students gain from Harvardwood 101 would simply not be possible without the participation of all the Harvard alumni and friends who volunteer their time, industry insight, and hospitality to our students every year, including (in order of event):
Timmy Haehl, Kiran Deol, Michael Robin, Rob Cain, John Day, Mark Kelsey, Nicole Bronstein, Peter Litzow, Brad Hubsch, Kaveh Motamedy, Sarah Zia,  Catie Rose Pate, Kianna Lassiter, Trey Many, Jefferson Rogers, Dahlton Hubbard, Sofia Pasternack, Andrea Lyons, Mark Gill, Leah Bleich, John Bowman, John Brancato, Yule Caise, Gerry Daley, Carleton Eastlake, Tori Elliott, Jon Fernandez, Charles Hirschhorn, Jean Huang, Sierra Katow, Max Pross, Maiya Williams Verrone, Patric Verrone, Adam Shulman, Luke Rivett, Ryan Schwartz, Sandra Chang, Howie Sanders, Steph Ferrarie, Couper Samuelson, Megan Goldstein, Jay de Hoyos, Elizabeth Zavitsanos, Carolyn Wang, Chris Guo, Justin Reynolds, Rob Millock, Nick Groff, Daniel Sena, Michelle An, Andrew Ibea, David Niemen, Jimmy Meyer, Max Weinberg, Hunter Simmons, Danny Herrle, Chris Salvaterra, Morgan Kruger, Ghia Godfree, Joey Siara, Racheal Seymour, Giselle Legere, Steve Harper, Amy Retzinger, Steph Gruber, Erin May, Jeremy Summers, Carolyn Cassidy, Nicky Weinstock, Franklin Leonard, Meredith Bagby, Sia Farahani, Milorad Dragicevic, James Kearney, Laura Roenick, Amy Brenneman, Jon Steinberg, John Lithgow, Zoe Neary,
and
Stewart Strandberg.
In addition to the Harvardwood supporters above, 101 is possible only thanks to the tireless hours, dedication, and energy of program directors Amit Samuel Ext. '05 and Ansley Rubinstein AB '10. THANK YOU, Amit and Ansley!
Finally, Harvardwood is grateful to the Office for the Arts at Harvard and the Harvard Office of Career Services for their support of the program, and we were glad that Harvard OCS staff member Amy DiGiovine was able to join us for the 101 bootcamp week!
What did our 2019 101 students take away from the program?
"Harvardwood 101 taught me so much about multiple aspects of the industry. From learning about music to agencies to writing to production, I now feel like I better understand what goes on each day in the office. I got to meet more Harvard students with the same interests that I never knew at school, and every day I learned something new. I had hoped that Harvardwood 101 would help me refine my focus in entertainment and guide me towards a certain path. Instead, the program showed me how fascinating and exciting multiple different industries are, and I'm so glad I attended the program! Harvardwood 101 was one of my favorite (and definitely most informative) college experiences."
- Lucy Golub AB '20
(January 24, 2020: J-termship students on the set of The Old Man)
"Harvardwood was one of those things that sounds too good to be true, and then shockingly exceeds your expectations. My week in LA is something I think I will reference for the rest of my career. I received a wealth of knowledge and thoughtful advice from industry veterans about making it in the entertainment industry. I met dozens of Harvard alumni who recounted their long and engrossing roads to success in the industry. They spoke candidly about packing up and moving to LA, often without a job, after graduation, risking the approval of those who expected them to follow a certain path with their Harvard degree. These testimonies helped give me the confidence I needed to fully commit to the career path I want to pursue.
I also learned that the industry has an incredibly long way to go in terms of giving equal voice to people of color, queer people, and women. This fact, among others, led me to my most important realization of the week: there is no industry I can work in besides entertainment.
The stories we see in music, television and film reflect the world around us. This industry desperately needs a diversification of voices, and along with my peers, I plan to be one of them. I thank Harvardwood for confirming my passion and giving me the confidence I needed to pursue this!"
- Cahleb Derry AB '20
Exclusive Q&A with with Ben Zauzmer AB '15 (Author, Oscarmetrics)
By Hyejee Bae AB '20
Ben Zauzmer AB '15 is a Baseball Operations Analyst for the Los Angeles Dodgers and also the author of Oscarmetrics: The Math Behind the Biggest Night in Hollywood. Originally from the Philadelphia area, Zauzmer studied Applied Math at Harvard with a focus in government, where he nurtured his trifecta passion for math, movies, and sports. During his freshman year at Harvard, he devised a statistical model that could calculate the chances a nominated movie would win the Academy Awards. When he's not on the road with the Dodgers, he is busy utilizing his mathematical approach to forecast Oscar winners and sharing his statistical predictions on Twitter. In 2018, Zauzmer correctly predicted 20 out of 21 of the Oscar nomination winners.
Q. Let's begin with a brief introduction. Starting from where you are from, to where you are now, could you give a short history of your life? 
A. I'm from the Philadelphia area and I graduated high school in 2011. From there I went to study Applied Math at Harvard with a focus in government. My Oscars work got started my freshman year during the 2012 Oscars, and I graduated in 2015. Shortly thereafter I moved out to LA to work for the Los Angeles Dodgers.
Q. Tell us the story of how you got into predicting the Oscars through statistics. Where did the idea come from?
A. The Oscar prediction work started my freshman year in college. I was sitting at the IOP, after an event there, getting some work done on my laptop after the event had cleared out. Being a big movie fan and a big Oscar fan, my mind started wandering towards the Oscars that year, which were rapidly approaching. Naturally, I found myself wondering who was going to win. As a budding applied math concentrator, I assumed that somebody out there must have used statistics to determine this, to figure out the probability of what nominee would win. It was something I had loved following in baseball, and something I loved following in politics with the 2012 election season coming up. Surely someone on the internet had done the same for the Oscars. But when I went on Google, I couldn't find anything! So, I decided to do it myself. I practically parked myself in Lamont Library for a good month my freshman year, for the most of February. I gathered as much data as I possibly could, built statistical models, and threw the results of these models onto a quick WordPress website. That became the first year I predicted the Oscars. 
Q. Can you give a brief explanation of the math behind your prediction formula and give an example of how it works?
A. I start by gathering data on previous years of the Oscars. And by data, I mean other award shows, which categories a film is nominated in, what the betting marks say, or what Rotten Tomatoes says. Really anything that I can put a number on I gather on all of the previous nominees. Then I use statistics to predict which of these predictors have done the best job of predicting each category in the past. If you've done a better job of predicting a category, you get more weight. Then I can take those weights and apply them to this year's nominees, and this gives me the probability that each of this year's movies will go on to win a category.
So as an example, take this year's Big Picture race. You have Parasite, which won the Best Ensemble Award at the Screen Actors Guild. Once Upon a Time in Hollywood won the honor of the Critics' Choice Award and one of the two Golden Globes. 1917 won the other Golden Globe, the Directors Guild, and the Producers Guild. All of these awards get different weights in the model based on how predictive they've been in the past. That gives me the chance that each film wins Best Picture. 
READ THE COMPLETE Q&A WITH BEN
Industry Successes
Huge, huge news from Megan McDonnell AB '14, our new Director of the Harvardwood Writers Program - TV Modules. Megan has been tapped to write Captain Marvel 2! Congratulations, Megan!
Jessalyn Gilsig A.R.T. '95 will star alongside John Stamos in an upcoming series from David E. Kelley. From Deadline: "The 10-episode series follows a temperamental college basketball coach (Stamos) who gets fired from his job and must take a teaching and coaching job at an elite all-girls private high school. Gilsig will play Holly, the school's good-humored and down-to-earth assistant basketball coach."
Alongside Brad Pitt and Dede Gardner, Jeremy Kleiner AB '98 received the David O. Selznick Achievement Award in Theatrical Motion Pictures at the PGA Awards last month. 
Harvard alumnae Kiran Deol (Sunnyside) and Karen Chee AB '17 (Late Night with Seth Meyers) were recently named by Entertainment Weekly as 11 of the top Asian American comics to watch!
ABC has picked up the sequel series to Thirtysomething (called Thirtysomething(else)), from original creators Marshall Herskowitz and Ed Zwick AB '74.
Kathryn Busby AB '84 has been named EVP of TriStar Television, where she will lead the company's TV label and report to the co-presidents of Sony Pictures Television Studios. Busby was previously SVP of Development at SPT's boutique production unit for lower-cost TV series Gemstone Studios and SVP of Development for SPT's international networks. She has also worked in development at TNT and TBS, was SVP of Production at New Line Cinema, and served as Head of Development of Carsey-Werner. 
This June, Carolyn Cassidy AB '99 will step into her new role as President of 20th Century Fox TV, replacing Howard Kurtzman. 
RJ Cutler AB '83 will executive produce a musical drama series from Showtime, "which centers on an emotionally complex family story that spans generations and threatens the fabric of the community in present-day Milwaukee" (Deadline). The untitled series will be written, directed, and executive produced by John Ridley.
AMC Networks' hit musical comedy Sherman's Showcase, co-created by Diallo Riddle AB '97 and Bashir Salahuddin AB '98, has garnered a bigger slot on the network when it returns for an hour-long Black History Month Spectacular special later this year. We can hardly wait!
Feature documentary Afterward, produced by Jack Riccobono AB '03 and edited by Michael J. Palmer AB '03, is now available on Apple TV and On Demand. Watch it now!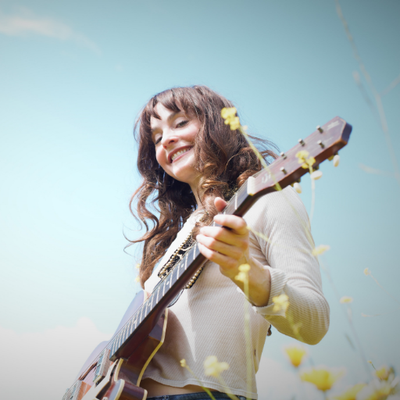 "Rather Have You," a new single from singer-songwriter Sara Melson AB '90, premieres via Glide Magazine on Valentine's Day, and her new video for "State of Ease" premieres via Popdose.com on February 21st. Follow her on Spotify / listen on Apple Music, Pandora, or wherever you stream!
Boston/Campus Chapter Head Adam Pachter AB '92 is pleased to announce the debut of Activized, a short documentary he helped produce. Activized follows the inspiring stories of ordinary citizens around the country who decided to get off the sidelines and make a difference in areas like gun safety, voting rights, and family separations at the border. 
Klaus, featuring the voice of Rashida Jones AB '97 (Angie Tribeca, Parks and Recreation), has been nominated for an Academy Award in the Animated Feature Film category. Keeping our fingers crossed on February 9th!
February 7th will be the debut of Locke and Key, the highly-anticipated new series from Carlton Cuse AB '81 (Jack Ryan, Lost). Stay tuned for details about a Harvardwood event in March with Carlton. In the meantime, watch the Locke and Key trailer and make sure you've got a Netflix subscription!
ICYMI, a few days ago, Deadline covered the premiere of documentary feature Some Kind of Heaven by Lance Oppenheim AB '19, a young director described by Darren Aronofsky AB '91 as having "tremendous potential." The documentary was a production by Aronofsky's company, Protozoa Pictures. 
Also at this year's Sundance Film Festival, I Carry You With Me, produced by Mynette Louie AB '97 (The Tale, Swallow, The Invitation), has been widely lauded by both critics and audiences. Sony Pictures Classics and Sony's Stage 6 Films will join forces for the global release of this feature narrative debut from Heidi Ewing, previously known for her extensive documentary work. Show in Mexico, I Carry You With Me is based on a true story and follows the romance between two men, an aspiring chef and a teacher, as they immigrate to the United States. But that's not all from Mynette—she has also recently joined forces with producers Derek Nguyen and Mollye Asher to launch a new production company, The Population!
Whatever you're watching these days, we hope you've checked out the recent premieres of:
Comedy Central's Awkwafina Is Nora from Queens, from writer and executive producer Teresa Hsiao AB '07
ABC's Station 19, where Emmylou Diaz A.R.T. '07 (Charmed, Girlfriends' Guide to Divorce) is staffed
Apple's anthology series, Little America, executive produced by Alan Yang AB '02 (

Master of None

)
New Members' Welcome
Harvardwood warmly welcomes all members who joined the organization last month:
Benjamin Ades, College, BOS/Campus
Natasha Alford, College, NY
Padraic Aubrey, Ext., LA
Wanda Virginia Bailey, GSE, Other U.S.
Nora Bartosik, College, NY
Carissa Chen, College, LA
Jack Genberg, College, NY
Catherine Helgoe, GSE, BOS/Campus
Ryan MacLennan, College, NY
Tristen Mejias-Thompson, College, LA
Melvin Moore, GSAS, LA
Andres Perez, College, BOS/Campus
David Pines, College, BOS/Campus
Tiffany Quach, HLS, NY
Brent Renaud, FAS, NY
Connor Riordan, College, BOS/Campus
Roy Ryniker, College, NY
Bill Sargent, College, BOS/Campus
Jonathan Sethna, GSE, NY
David Shayne, College, NY
Mimi Sheng, HBS, NY
Jiwon Simpkins, College, NY
Eric Tarlin, College, BOS/Campus
Philippe Willems, FOH, NY
David Wiltenburg, FOH, NY
Annie Wyman, GSAS, LA
Winnie Yeung, College, LA
Mikhail Zaborskiy, HBS, TOR
*FOH = Friend of Harvardwood
Alumni Profile: Micah Fitzerman-Blue AB '05 & Noah Harpster (Writers, A Beautiful Day in the Neighborhood)
By Steph Ferrarie AB '18
The partnership of Micah Fitzerman-Blue '06 and Noah Harpster, the writers and executive producers behind the Fred Rogers movie A Beautiful Day in the Neighborhood, began thirteen years ago with Jon Krakauer's book, Under the Banner of Heaven. Each spoke to their respective college friends (Noah attended UC Santa Barbara) about the book, and those friends, who were dating, set them up on a "creative blind date." At that initial coffee meeting, Micah and Noah quickly started throwing ideas around, and for the next two years, they continued to grow their friendship and write together while pursuing their own projects. Then they "made it official" and have been working together exclusively ever since, notably on Amazon's Transparent and feature film Maleficent 2. 
The idea for a Mr. Rogers movie was generated ten years ago when Noah, then an exhausted father to a newborn and a toddler, put on Mr. Rogers' Neighborhood for his toddler. He noticed that, miraculously, the show and Mr. Rogers held his two-year-old's attention. He called Micah, compelled to write about this man who spoke the secret language of toddlers. They set off on research, quickly realizing that Mr. Rogers was not a great subject for a biopic because "he was unwaveringly awesome for 74 years, which doesn't lend well to a three-act structure."
Instead, they focused on the effect that Fred Rogers had on others, explaining that they wanted a main character with highs and lows shaped by his relationship to Mr. Rogers. 
Micah and Noah optioned Tim Madigan's 2006 memoir I'm Proud of You: My Friendship With Fred Rogers to adapt. Big Beach, which ultimately produced the film, became interested in the script, which landed on the Black List in 2013. From there, they got into contact with the Fred Rogers estate, who told them that "there is never going to be a Fred Rogers movie."
Nevertheless, Micah and Noah persisted and eventually met Joanne Rogers, who granted them access to the Fred Rogers archive, which contained thousands of letters and papers. Among these papers were five years' worth of letters between Fred Rogers and Tom Junod, whose Esquire article "Can You Say Hero?" they had come across during their research. It became clear from Junod's letters, which discussed his insecurities about being a father as well as the complicated relationship with his own father, that Micah and Noah had a new main character. From there, Big Beach optioned the Esquire article, secured Tom Junod's life rights, and Micah and Noah wrote a new script. 
To direct the feature, they chose Transparent director Marielle Heller. They noted that she was committed to protecting the parts of the script that they most cared about, such as the emotional minute of silence in the Chinese restaurant and the last frame of the film. As producers, Micah and Noah were aware that the screenplay was the first part of making the movie, and that it had to change, but it was left in good hands with Heller to ensure that the essential parts were executed.
In fact, when Heller asked them who they wanted to play Fred Rogers, she even delivered on that. Attaching Tom Hanks, to Noah and Micah, was unrealistic, but Heller reached out to Hanks with the script and he loved it. They would have to wait a year to accommodate Hanks' schedule, but to Micah and Noah, after having spent eight years to build the project, "What's another year?"
On set, Noah and Micah were executive producers—but Noah also had a small part in the film, and Micah opens the door for Matthew Rhys when Lloyd first meets Mr. Rogers, without which, they joke, there would not otherwise be a movie. On working with Tom Hanks, they praise him as a "marvelous collaborator." They vividly describe the experience of watching Hanks do 40 takes of the opening sequence of the movie: singing the TV program, hitting his marks, straight to camera, all on the recreated WQED set with Fred Rogers' wife watching him, in character. Watching Hanks work was an embodiment, a "microcosm" of the labor Micah and Noah had put into the film themselves for the last ten years, which was quite validating. 
The strength of Micah and Noah's relationship is clear when speaking to them. Never talking over one another, nor piggybacking on the other's answers, it's clear why they get along so well. They are both grateful to have another person to write with, because the process is a conversation that turns into an outline, a draft, and then another draft. The two have a shared joy behind the grind of being professional writers and appreciate having another person off whom to bounce ideas and to debrief pitch meetings—Micah is usually the more optimistic one. Their partnership works well for many reasons, but their similar inclination to write about "a slice of life" or a specific event, citing Frost/Nixon as "their" favorite movie, probably helps. They also cite the top-down 2018 Morgan Neville documentary, Won't You Be My Neighbor?, as a good companion piece to their slice-of-life movie, though they didn't expect the documentary to come out before their Mr. Rogers movie.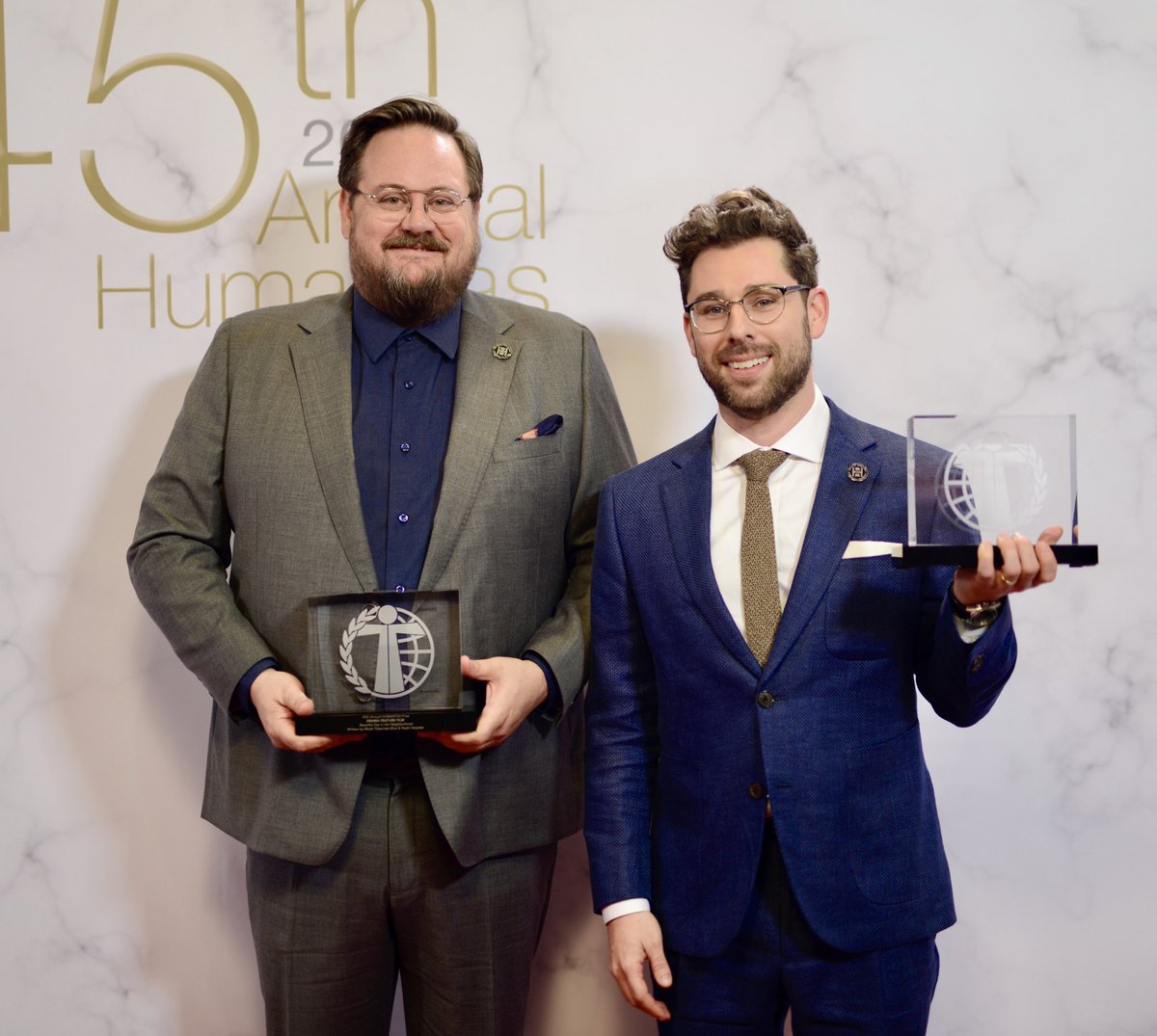 Beautiful Day has garnered critical acclaim, earning Micah and Noah nominations for Best Adapted Screenplay from the WGA and Critics Choice Awards. They also won The Humanitas Prize in recognition of achievement in film and television writing that "explores the human condition in a nuanced, meaningful way which brings the global community closer." The prize includes "two fancy statues" and a $10,000 cash prize for a nonprofit of their choice. Naturally, their winnings went to the Fred Rogers Center for Early Learning at St. Vincent's College in Pennsylvania, where the archives and museum are located. The Learning Center's mission is an extension of Fred Rogers': to help children to deal with negative feelings in positive ways. 
Micah and Noah reflected on the cyclical nature of their decade-long writing process. Going through life's major moments—raising children, losing parents—with the guidance of Fred Rogers' wisdom helped to shape their film. They were writing about themselves: like Lloyd, recipients of Mr. Rogers's radically optimistic philosophy to guide them through their lives.
In this way, it's easy to see why the film resonates so deeply with audiences: the spirit of Mr. Rogers symbolizes the possibility of growth, of emotional and spiritual improvement, which is hopeful and exciting in a time where it seems the world lacks "heroes" like Fred Rogers.
Steph Ferrarie AB '18 is an aspiring producer of theater, film and television. She currently works in the Media Rights department at Anonymous Content.
Calendar
FEATURED EVENT | Harvardwood Helps: Wednesday Night Dinner with SELAH (NY) - Wed., Feb. 19
Harvardwood Helps is planning a volunteer event this month in partnership with SELAH Neighborhood Homeless Coalition. We'll be serving a hot meal to people experiencing homelessness and people in need in the Silver Lake area. It's an easy volunteer activity and it's a great way to connect with our community. You can sign up to prepare a food item and/or sign up to volunteer. We'll set up, serve, chat with attendees and then clean up. The whole thing is less than three hours and it's really a rewarding event.
We will need about 10 volunteers to cover the following for 50 people:
Main course

Main course

Vegetable

Vegetable

Side dish

Side dish

Side dish

Dessert

Dessert

Beverages
If you can volunteer to provide and serve food on Feb. 19th, please sign up on this Google doc.
Los Angeles, CA
Harvardwood Heads To... Pitch & Present Like a Pro: How to Have the World Say YES! to You & Your Ideas - Sat., Feb. 1
In this 4-hour workshop-style masterclass, you will learn how to present your ideas in a way that your life will become an avalanche of YES coming at you from all directions. This is a master class on real-world infuence and persuasive power by two seasoned professionals.
Your instructor for the first half is Brant Pinvidic - Hollywood producer, pitch master, and author of the new book The 3 Minute Rule: Say Less to Get More from Any Pitch or Presentation (Amazon rating: 5.0/5.0 stars!). He has sold more than three hundred TV shows and movies, runs a TV network, and helmed one of the largest production companies in the world with smash hits like The Biggest Loser and Bar Rescue. In his nearly twenty years of experience, he's developed a simple, straightforward system that's helped hundreds—from Fortune 100 CEOs to PTA presidents—use top-level Hollywood storytelling techniques to simplify their messages and say less to get more.
Harvardwood & LSE Alumni Mixer - Thurs., Feb. 6
Join Harvardwood members and  the London School of Economics Los Angeles Alumni Chapter at our joint happy hour on February 6, 2020. Bring friends, or come solo—all are welcome to this networking event! Please RSVP below to attend. We are excited to see you at The Wellesbourne!
Harvardwood Heads To... Mia and Allison invite you to meet a local LA candidate hosted by Henry Myers - Thurs., Feb. 6
Mia Riverton and Allison Kiessling invite Harvard alums to meet LA City Council candidate Sarah Kate Levy. Bring your concerns, ask about the issues that matter to you, and learn more about how this great city works! This FREE informational event is hosted by:

Jessica Ritz & Henry Myers
at their home in Windsor Village in the Larchmont area (just south of Wilshire near Rossmore)
Address given upon RSVP.

DISCLAIMER: This email is provided to you as a courtesy. This is not a Harvardwood event.  This is a private informational event that has no relationship or involvement with Harvardwood.
Harvardwood Heads To... IVY Entertainment's Oscars Viewing Party - Sun., Feb. 9
Get ready for the big awards show of the year: it's our 12th Annual Academy Awards Viewing Reception and we're rolling out the red carpet for you! We had so much fun dressing up and watching the show together, we're looking forward to more of the fun this year at a new venue. We'll also cheer on and toast IVY nominations at the Oscars. Dress up (optional): black tie for guys, cocktail dress for ladies. Drink specials. Network like crazy during the commercial breaks!
Harvardwood Heads To... Pre-Valentine's Day Party by TIPS - Wed., Feb. 12
Love is in the Air at Skybar this February. Meet someone new with The Ivy Plus Society at this West Hollywood staple that keeps you coming back for more. Have a date or you're single? Doesn't mean we can't mix & mingle! Steal hearts this Valentine's Day by wearing your finest cocktail attire while taking in breathtaking views and drinking Skybar's delicious specialty cocktails. After meeting the finest achievers in SoCal you'll be on cloud 9.
Harvardwood Masterclass - Writing for Animation: Board-Driven vs. Script-Driven - Tues., Feb. 25
Writers, animators, and story developers: attend the next Harvardwood masterclass featuring Angie Sun AB '03 of Glen Keane Productions. Angie will discuss the nuances of board-driven versus script-driven development in animation.
This masterclass is only open to dues-current Harvardwood Members & Friends. You must be logged in to the site to access the RSVP link below. 
Angie Sun AB '03
(Creative Producer, Glen Keane Productions)
Angie Sun is a story developer and creative director who works with production companies, individual directors and writers, and brands to create compelling stories in all mediums, including film (feature, short, documentary / animated, VFX, live-action), mobile games, and even children's books. She loves bringing creative ideas to life. Her projects have won many awards, including Emmy's, Webbys, Cannes Lions Grand Prix, Annie's, among others. 
Harvardwood Heads To... TIPS: Party at Phoenix - Wed., Feb. 26
Rise once again because the wait is finally over. Meet us at what UrbanDaddy awarded "Outstanding Achievement in Naming Your Drinking Establishment," Phoenix LA. This vintage-chic bar will be the place for you to meet someone new in 2020. Join The Ivy Plus Society on February 26th at their stylish patio for a night of networking you won't forget.
New York, NY
Harvardwood Presents: A Burgundy Dinner with Jeannie Cho Lee - Mon., Feb. 3
Burgundy produces some of the most breathtakingly beautiful red and white wines made anywhere on the planet. But it can seem a complex and confusing region. In this event, over a lavish 5-course dinner, with at least 5 extraordinary and memorable wine pairings, Jeannie Cho Lee will guide us through the mysteries of Burgundy.
Registration has closed for this event.
Harvardwood Presents Actress & Broadway Star ANITA GILLETTE - Tues., Feb. 18
Anita Gillette has had one of the great careers: She's appeared in 14 Broadway shows, starting with the original production of Gypsy, and including Irving Berlin's Mr President (yes, that's a photo of her laughing backstage with Mr Berlin), Chapter Two (Tony nomination), Cabaret, Don't Drink the Water, They're Playing Our Song, and Brighton Beach Memoirs, as well as countless off-Broadway and regional productions. On film and television, she was Mona the Mistress in Moonstruck, Tina Fey's mother in 30 Rock, and Jack Klugman's wife in Quincy, to mention only a few from a long, long list. She appeared on Johnny Carson's Tonight Show more than 50 times. She's performed her one-woman show After All at Birdland and Feinstein's in New York, and at the St James Theater in London.
Foster Hirsch will interview Ms Gillette. Hirsch is Professor of Film at Brooklyn College and is the author of 16 books on film and theater, including the classic study Film Noir: The Dark Side of the Screen, as well as Harold Prince and the American Musical Theatre, and, most recently, Otto Preminger: The Man Who Would Be King.
In addition to the interview, Anita Gillette has graciously agreed to perform a few songs for us, with Paul Greenwood at the piano.
Washington, DC
Harvardwood DC Screenwriters Meet-up - Wed., Feb. 12
Join your fellow writers at the DC Screenwriters Happy Hour. It's free and open to the public (cash bar), so spread the word. Come to discuss the craft of screenwriting and enjoy the drinks and the company. You never know who you might meet! When you arrive, please ask the host for the Harvardwood DC Screenwriters Group. We look forward to seeing you there!
Boston, MA
Harvardwood Heads To... An Evening with Sutton Foster - Sat., Feb. 1
With her irresistible blend of show-stopping talent and effusive charm, vocalist & two-time Tony winner Sutton Foster is Broadway royalty. Sutton Foster is an award-winning actor, singer and dancer who has performed in 11 Broadway shows – most recently the revival of Violet – and originated roles in the Broadway productions of The Drowsy Chaperone, Little Women, Young Frankenstein, Shrek The Musical, and her Tony Award-winning performances in Anything Goes and Thoroughly Modern Millie.
Sacramento, CA
Harvardwood Heads To... Copyright Law for Creatives by C.L.A. - Thurs., Feb. 6
When it comes to the law, there are many issues artists should know about in order to protect their work and avoid legal pitfalls. Join our Copyright Law discussion as attorney Stephen Davis presents an overview of many of these issues, including: What is intellectual property? How do I legally protect my work?What are Moral Rights and what is VARA? Who owns mural art... the artist or the building owner? Can an artist use images of people in their artwork? How do you know if you are an independent contractor, work for hire or freelance artist?,  and many other issues related to Copyright Law. There will be a Q and A at the end of the presentation. 
J

ob-hunting? Get access to Harvardwood's Career Center
Wondering what to do after graduating from Harvard this spring? Or are you transitioning mid-career? Whatever professional stage you're in, you can avail of Harvardwood's Career Center as a Full Member. New members also have the opportunity to join the quarterly Lowdown call to chat with Harvardwood leaders about how to break into the industry and ask them personalized questions. Become a Harvardwood member today!
---
DISCLAIMER
Harvardwood does not represent or endorse the accuracy or reliability of any of the information, content or advertisements (collectively "Materials") contained on, distributed through, or linked, downloaded or accessed from any of the services contained in this e-mail. You hereby acknowledge that any reliance upon any Materials shall be at your sole risk. The materials are provided by Harvardwood on an "AS IS" basis, and Harvardwood expressly disclaims any and all warranties, express or implied.
Do you like this post?