In This Issue:
NEWS
Featured Member Posting: Assistant to Executive Producers (1891 Productions) - Austin, TX
For companies: Meet & host Harvard interns in January 2020 — LA
Donate an item or gift certificate to the 2019 Holiday Auction
Looking for event hosts in Boston/Cambridge
Join Harvardwood's 20th Anniversary Campaign!
FEATURES
Message from the Outgoing and Incoming HWP-TV Directors

Industry Successes
New Members' Welcome
Alumni Profile: Jill Dickerson AB '91 (SVP of Programming & Development, OWN)
CALENDAR & NOTES
Calendar
Become a member for discounted tickets to Harvardwood events
---
Message from Dona
After running the Harvardwood Writers Program - TV Modules for the past couple of years, Joey Siara EdM '14 and Todd Bartels AB '06 are stepping down as program directors, and we're so sad to see them go! I've had the pleasure of participating in TV Modules with both Joey and Todd, and since then, we've done a lot of work together as part of the Harvardwood Board. They're not only great writers, program leaders, and volunteers—Todd and Joey have become great friends of mine as well. Be sure to give them big hugs and thank them for all their hard work at the LA holiday party next month!
Also, as we head into the holiday season, the Harvardwood Board asks that you consider our organization in your annual giving plan! We're closing in on a year of celebrating Harvardwood's first two decades, and we are planning ahead for the next decades and more. Your birthday gift to Harvardwood will help us continue to celebrate and support lives in the arts, media, and entertainment for the Harvard community and beyond!
- Dona
Featured Member Posting: Assistant to Executive Producers (1891 Productions) - Austin, TX
We are seeking an Assistant to Writer-Producers for an upcoming Television Documentary Series produced by Richard Linklater, Bill Guttentag and Nayeema Raza. The position is full-time and Austin based, commencing in November 2019. The role will involve research and standard office-based administrative duties, as well as time in the field.
Responsibilities include:
Managing calendars of the executive producers, including balancing and booking frequent producer travel (NY-AUS, AUS-LA/SF)
Handling administrative duties, including scheduling meetings, rolling calls, taking meeting notes, tracking and filing expenses, office runs, etc.
Liaising with assistants at network, agency, etc.
Providing production support for director/writer/producers in the field
Contributing to story research and fact-checking
Ideal candidates will have desk and/or production experience as well as a healthy amount of initiative, strong judgement and a positive attitude. Familiarity with Austin and Central Texas is a huge plus.
For companies: Meet & host Harvard interns in January 2020 — LA
READ ON if your arts, media, or entertainment company has offices in Los Angeles and you're interested in:
Having Harvardwood 101 students visit your office;
Hosting a company informational;
Interviewing current Harvard students for summer internship opportunities
Having a Harvard intern for two weeks in January
Since 2010, Harvardwood has assigned students J-termship opportunities during the last two weeks of the January term, so students can further explore their area(s) of professional interest. J-term-ship opportunities might include such experiences as shadowing an alum, doing an intensive 2-week "internship" at one or more companies, observing on a film or TV set, assisting with project research, etc.
Find out how your company can engage with Harvard students. If you are interested in providing a "J-term-ship" opportunity for one or more students, please complete this form.
Donate an item or gift certificate to the 2019 Holiday Auction
Become a champion of the Harvard arts, media & entertainment community by donating an item from your business or service in support of Harvardwood's education events, professional programs, and service initiatives. All donations are 100% tax-deductible and auction proceeds will go to the Harvardwood Fund.
All Harvardwood donors are crucial to aiding Harvardwood in equipping a community of bright and talented artists and art enthusiasts to ultimately serve the world with their talents and resources. Harvardwood donors will receive special recognition on our website, as well as recognition at selected events and programs throughout the year. They will also receive invitations to periodic exclusive VIP Harvardwood events.
In addition to getting exposure via our online silent auction, promoted to our 10,250+ members worldwide, this is a great way to promote your product/service at our annual holiday bash on Thursday, Dec. 12th in Los Angeles!
We are currently seeking tax-deductible items valued at $100 or above to be donated for the auction, such as:
Gift certificates (spas, yoga, stores, restaurants, etc.)
Recording or editing time in a professional studio (audio or video)
Gift baskets (holiday or general)
A walk-on role on a film or TV show
Lessons in your area of expertise (golf, tennis, yoga, voice, acting, etc.)
A visit to a set or studio
Meet and greet with film or TV show cast
T-shirts or other merchandise from a film or TV show
Event tickets (concerts, wine tastings, etc.)
Free tax preparation
Airline miles
Jewelry
Free weekend at a vacation property
...and more!
If you have an item or items valued at $99 or below to donate, please also submit it using the form below for inclusion in our annual raffle at the 2019 holiday party.
Please submit your item for consideration below by Sunday, Nov. 23rd for maximum auction exposure.
Looking for event hosts in Boston/Cambridge
Harvardwood's Boston/Campus Chapter is looking for a member willing to open their home a couple times a year for Harvardwood Salons. These events are one of Harvardwood's most enjoyable and educational traditions: small group gatherings to hear from engaging speakers in a wide variety of entertainment industry positions. In the past, local salons have featured an entertainment lawyer, screenwriter for Hallmark, and the head of a TV festival.
The ideal host will have an apartment or home in the Boston/Cambridge area that can comfortably host the speaker and about a dozen guests and either has convenient parking or is accessible to public transportation. If interested, please contact Adam Pachter, Boston/Campus Chapter Head, at [email protected]. Thank you!
Join Harvardwood's 20th Anniversary Campaign!
This fall marks the 20th anniversary of Harvardwood's founding. So much of our success has resulted from the dedication and participation of our membership, whether it has been by attending events such as workshops, masterclasses, or salons, or by stepping up to lead one. 
This year, we are excited to announce that Harvardwood has the opportunity to build a strong financial foundation to ensure the next 20 years will be as successful as the first. We are embarking on this effort in order to keep pace with Harvard University's increasingly diverse student body, to provide more opportunities for students and alumni entering the industry, and to broaden our service initiatives and outreach into local communities. Harvardwood engages in an increasing number of philanthropic initiatives to strengthen and give back to local nonprofits in the communities in which our members live and thrive.
We are pleased to announce our new mission statement:
Celebrating and supporting lives in the arts, media, and
entertainment for the Harvard community and beyond.
A select group of alumni has already seeded our 20 for 20 Anniversary Fund, and now we are reaching out to our membership and friends to ask for your contribution. 
Harvardwood has grown from an informal email list of alumni moving to Los Angeles to having chapters around the world, and we support Harvard students and alumni in all arts and media fields, from poetry to classical music, from storytelling in visual form to the printed page.
"Through Harvardwood, I was able to connect with mentors that were generous with their time, advice, and care. Whether eating pizza with talent agents at Paradigm to listening to Robert Kraft, the program provides amazing opportunities to learn the industry landscape, from fellow students to famous producers. I was most surprised by how welcoming and encouraging that these mentors were—they really want the best for you, and will go to great lengths to help you navigate a career in this perilous industry. For that, I am so grateful to Harvardwood for organizing these events and taking the time to invest in us. These are people who believe in you! Don't miss out!"
"Harvardwood 101 is an excellent introduction to the entertainment industry. As a hard science concentrator, I had no experience whatsoever in entertainment. All I knew was that I loved TV and film, and I had a hobby for writing. If you want to figure out whether or not you want a career in the entertainment industry or if you want to make contacts to get your foot in the door or to learn how to enter the industry, this is the career exploration trip for you!"
- Jason Gomez AB '16
"I applied for a Harvardwood Heroes Grant because I wanted to be able to make a larger contribution to communities that could do with more color. A lot of my previous murals have been for enterprises—like hostels, bars and cafes—as they had the ability to pay the supplies. With my Harvardwood Hero grant, I have been able to pick schools that didn't have the capacity to pay for paint. It also allowed me to tackle larger murals, bigger than I had dreamed of before, because I had budget to buy the paint required for artwork of that scale.... In Kenya, I did three wall murals at Mekealas Academy. The primary school had burnt down completely when the thatch roof had caught on fire last Easter. They had rebuilt the classrooms by Christmas, and my murals added some rainbows to this resilient school."
- Margot Leger AB '13
"Through the generous support of the Harvardwood Heroes Fund, one of our students will be awarded an academic scholarship in order to continue their studies after high school. For our students, this scholarship is incredibly important, as many of them may not be able to access federal funding due to their immigration status. Furthermore, Art & Resistance Through Education (ARTE) believes it is important for our students to feel empowered as individuals. We want them to understand that their voice matters and that they are capable of making positive change in their communities, particularly on pressing human rights issues that directly affect them."
- Marissa Gutiérrez-Vicario EDM '13
The passion and commitment of our members and donors have made it possible for Harvardwood to bring over 500 Harvard undergraduates to Los Angeles for our 101 and HSIP programs, and to provide writing workshops for hundreds of writers, resulting in dozens of staffing jobs and original screenplays being optioned and sold—not to mention the amazing Harvardwood Heroes grant recipients who perform arts-focused community service around the world. 
Your gift is vital for us to extend these opportunities to the next generation. We all were that new grad once, embarking on an uncertain career path and taking the first step of adulthood far from the cocoon of Harvard. 
Your gift makes that path less uncertain for the Class of 2020, and the ones to follow. Please give today!
Message from the Outgoing and Incoming HWP-TV Directors
For the past four years we've had the pleasure of leading the Harvardwood Writers Program - TV Modules. During that time, we've had approximately 150 budding Harvard alum writers participate in weekly peer-review workshops (aka "modules"), various writer/exec/showrunner panels, mock pitching opportunities, and post-panel drinking hangs at our favorite watering holes, Stout and Trejo's Tacos. We always like to say HWP-TV provides two things: deadlines and community. The latter is what has meant the most to us—we've truly made lasting friendships and know that others have too. We can't stress enough how much we love our community and hope that it continues to expand and bring folks together. 
We couldn't have done any of this without the Harvard Hollywood community at large. First, thanks go to all the alumni writers, execs, agents, and managers who joined us as panelists, generously giving their time and sage advice on the art and business of TV writing. These include Colleen McGuinness, Glenn Kessler, Kayla Alpert, Jon Collier, Sam Shaw, Jonathan Steinberg, Mark Goffman, Sam Baum, Dan O'Keefe, Michael Narducci, Grainne Godfree, Craig Turk, Warren Hsu Leonard, Allison Kiessling, Nelson Greaves, Sam Chalsen, Danny Chun, Ethan Drogin, Teresa Hsiao, Roberto Patino, Steve Tompkins, Alison Rich, Gus Hickey, John Blickstead, Trey Kollmer, Jordan Reddout, Brian Polk, Ava Tramer, Yalun Tu, Erin May, Zadoc Angell, Ryan Halprin, Jaime Davila, Cliff Murray, Scoop Wasserstein, Josh Clay Phillips, Alex Zimbler, and Felipe Tewes. We'd also like to give a proper shout-out to our "module" leaders over the years, the awesome Adam Parker, Julie Wong, Jill Dickerson, Jason Lazarcheck, Jennifer Hsu, Alex Burger, Rachel Harner, Alison McKenzie, Ryan Slattery, Robert Vanover, Mitch Iverson, Jackie Canino, Braxton Brooks, Megan McDonnell, Megana Rao, Patrick Cheung, Reuben Fernandes, Richard Scott, Daniel Gale-Rosen, Dona Le, and Jennifer Hoelzer. Finally, we received a ton of support from the Board, most of all from Dona Le and Allison Kiessling (who really are captains of the whole Harvardwood ship) as well as Mia Riverton Alpert, Stacy Cohen, and Adam Fratto (without whom there would be no ship at all)—THANK YOU ALL!!!
A few months ago we agreed that four years was a good run and it was time to pass the torch. So we did. We couldn't be happier that Megan McDonnell and Megana Rao accepted. They've been stars of HWP-TV for years. They're both super smart, terrific writers, and they're cool—frankly a lot cooler than we are. We're excited to see what they do with the program, and if they ever need us, we'll be around, cheerleading from the sidelines. 
With much love, 
Todd and Joey
---
Megan McDonnell AB '14 is a TV writer and has been a participant in the Harvardwood Writers Program since 2016.
Originally from Dayton, OH, Megana Rao AB '14 graduated from Harvard with a degree in Human Evolutionary Biology. She worked in tech for several years before moving to LA. She currently produces the podcast "Scriptnotes" on screenwriting. 
Fun fact: Megana and Megan met during their Freshmen Expos class at Harvard!
Joey and Todd have done such a wonderful job of directing HWP—they've left us impossibly large shoes to fill! From the content of the panels to the weekly assignments in the small groups, they've been so thoughtful in their leadership and have inspired so many great samples from the modules. We feel so grateful to have found such incredible friendships in the Harvardwood TV Writing Program and am excited to continue to foster Joey and Todd's culture of community and creativity within the program.
- Megana & Megan
The latest documentary feature that Zoë Morrison AB '11 co-produced, The All-Americans, opens in select theaters November 8th. The All-Americans is a film about immigration, community, and football. Home to the nation's largest Latino immigrant population, East Los Angeles sits squarely in the crossfire of debate about American identity. Yet every November, this community comes together for a distinctly American event, drawing 25,000 proud locals to one of the country's fiercest high school football rivalry games: The East L.A. Classic. Watch the trailer!
Isaac Pope: The Spirit of an American Century from Paula Caplan AB '69 has won yet another award: the Award of Excellence from WRPN Women's International Film Festival. Congrats, Paula!
Filmmakers John Alexander AB '11 and JC Guest AB '11 were interviewed by VoyageLA (photo below).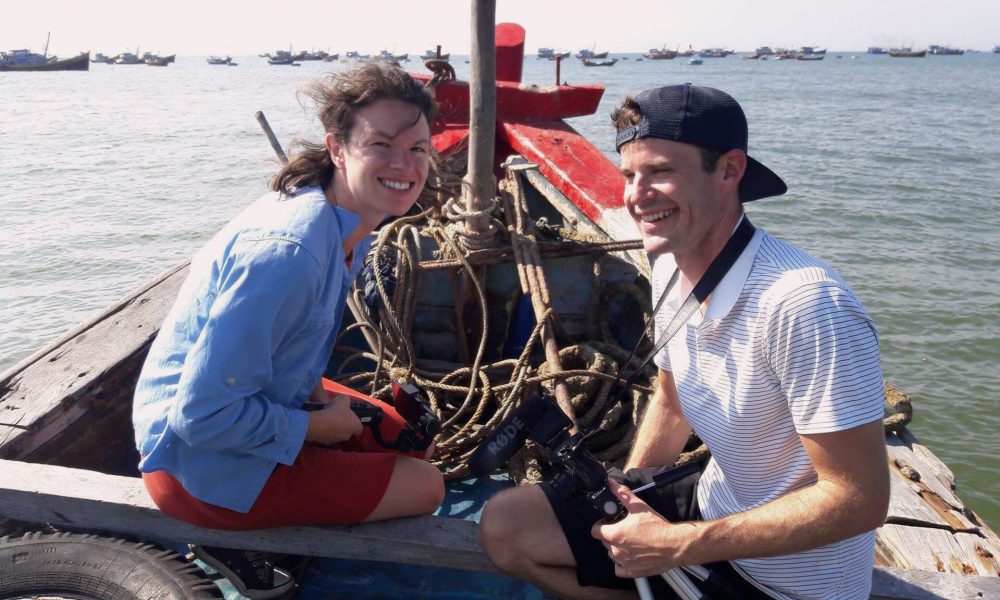 Jennifer Joel AB '98 has been named new Co-Head of the Publishing Department at ICM Partners, where she will serve alongside longtime Publishing Department Co-Head Esther Newberg.
Congratulations to W.A.W. Parker AB '07, whose debut novel The Divine Proportions of Luca Pacioli was just published.
Victor Buhler AB '95 is producing HBO's upcoming NXIVM documentary series to be directed by Jehane Noujaim AB '96 (The Square, The Great Hack) and Karim Amer.
New Members' Welcome
Harvardwood warmly welcomes all members who joined the organization last month:
Sara Cami, College, BOS/Campus
Anthony Chin-Quee, College, LA
Sophia Claman, College, BOS/Campus
Taya Cowan, College, BOS/Campus
Tom Denison, College, NY
Itay Dvir, College, BOS/Campus
Ekemini Ekpo, College, BOS/Campus
Robert Friedman, Ext., NY
Lacey Hines, College, BOS/Campus
Caitlin Holt, College, BOS/Campus
Alejandra Iglesias, College, BOS/Campus
Rufaro Jarati, College, BOS/Campus
Mustapha Khan, College, NY
Frances Lee, College, BOS/Campus
Austin Lentsch, College, BOS/Campus
Melinda Li, College, BOS/Campus
Katja Lierhaus, College, BOS/Campus
Matthew Miyasaka, College, NY
Joy Nesbitt, College, BOS/Campus
Esteban Ortiz, College, NY
Kai Potter, College, BOS/Campus
Pranjal Singh, College, BOS/Campus
Alexander Spencer, College, BOS/Campus
Linda Steele, GSE, NY
Nia Talley, College, BOS/Campus
Jenny Tram, College, BOS/Campus
Joselyn Vera, College, BOS/Campus
*FOH = Friend of Harvardwood
Alumni Profile: Jill Dickerson AB '91 (SVP of Programming & Development, OWN)
By Emily Oliveira AB '18
Jill Dickerson AB '91 is the SVP of Programming and Development at OWN: Oprah Winfrey Network. Since joining the network in 2009, she has overseen programs including but certainly not limited to Welcome to Sweetie Pie's and For Peete's Sake. She began her industry career as a story editor on MTV's The Real World: Hawaii and later worked as consulting producer and head writer on subsequent seasons of the show. Her producing career spans reality programming on TLC, VH-1, and ABC's The Bachelorette, among others.
When I spoke with Jill on the phone, she had evacuated her home less than three days prior due to the fires burning in Los Angeles County at the time. When she first moved out to L.A. in 1998, Jill felt a relatable amount of pressure to justify decisions like studying Social Anthropology at Harvard, watching soap operas, or even attending Harvard to "just" work in television. Still, Jill—who grew up on a college campus—had the blessing of her mother, a college dean, to "do what she loved, and the money would come."
Jill's experience working on MTV's The Real World emerged from a letter she wrote to the producers about her great interest in the show, which brought a diverse group of young people together to live together in close quarters, shedding light on contemporary issues relevant to the lives of young adults. The producers happened to be in New York City at the time, and when her letter led to a conversation, Jill jumped at the opportunity to be vulnerable and let her passion carry her "to the next step."
In that interview, Jill recounts, "who I was mattered": her passion for "stories, American, women, and people with different experiences," to name a few, was more important that the fact that "she didn't know how to story edit," which she readily admitted on the spot. As she has learned, the "best opportunities [didn't] come from jobs that were ever listed," but rather from reaching out to people whose work she aspired to.
Real World is an experimental show that, after a point, led to the evolution of television in which non-celebrity, or 'real-world', participants increasingly delivered performances. Before Real World, shows like Survivor, Shark Tank, American Idol, and The Voice didn't yet exist, though many of these shows tended towards or belong to a "lifestyle fantasy" category of reality TV. Unscripted shows such as Cops were already on the scene, but shows featuring people who lived outside of the public eye in soap storytelling formats were not.
Bringing Real World into its final aired state involved bringing narrative structure out of many, many hours of footage. Jill's "work in a genre that was evolving" also changed her perception of what it meant to have an industry network. Initially resistant to having "cocktail conversations," early-career Jill figured there would be a tipping point at which she was no longer paying her dues in Hollywood. Ultimately, though, she advised me, a recent graduate, that the most important aspect of a network is the relationships developed along the way through real "connection, not just opportunities."
As the SVP of Programming & Development at OWN: Oprah Winfrey Network, Jill stepped into a role that operated within an established brand that, between a talk show, radio program, and magazine, reached many different audiences of primarily women. Part of her work involves taking a closer look at "who shows up on different nights" and really considering "why [they're] telling a story" at any given time. Her work is motivated by "better serving the people who are watching" their content and conveying story in a way that creates empathy in viewers, which starts by aligning her team's intentionality behind the story with that of producers. Jill's early work for an African-American documentarian "making films about the black experience" was simply one foundation behind telling stories on OWN about black marriage and the "hard work required to make it work."
At Harvard, Jill lived in Dunster House. She remembers appreciating walking through the beauty of the campus architecture itself. Her freshman seminar on painting was but one example of a class whose passionate professor encouraged her to see the "areas of connection between every class she took."
Jill describes her 25th reunion experience as being "seen as a person striving by people who were young with [her]," in the sense that her peers were celebrating milestone accomplishments through the lens of appreciating the challenges presented by human life in general. Her graduate studies in ethnographic film at NYU were similarly important in the conversations they sparked about representing cultures apart from your own, especially in unscripted content—particularly in a way that empowers them. In speaking with Jill, I appreciated and will remember her natural tendency to draw a narrative, and in turn draw meaning and grounded advice, out of her own experiences.
Emily Oliveira AB '18 is reflecting on her first year of living in Los Angeles, which has included working at a gelato shop along Hollywood Blvd. and at the Manhattan Beach Studios lot where Avatar is being filmed.
Calendar
FEATURED EVENT | Paul Taylor Dance Company + Backstage Tour & Q&A with Madelyn Ho AB '08, MD '18 (NY) - Thurs., Nov. 14
Join Harvardwood for an evening of PAUL TAYLOR AMERICAN MODERN DANCE this fall. The program will be Paul Taylor: Celebrate the Dancemaker, featuring the Paul Taylor Dance Company in a tribute to its founder, who died in 2018. The engagement marks PTAMD's first Lincoln Center Season under Artistic Director Michael Novak. Highlights include 19 Taylor masterworks, and commissioned works created on PTDC by Mr. Abraham (World Premiere) and Guest Resident Choreographers Ms. Gillis and Ms. Tanowitz (Lincoln Center Premieres).
What's even better—following the November 14th program, Harvardwood members can take an exclusive backstage tour and Q&A with dancer Madelyn Ho AB '08, MD '18. 
Madelyn Ho AB '08, MD '18 is from Sugar Land, Texas. She graduated from Harvard College with an AB in Chemical and Physical Biology and was awarded the Harvard Artist Development Fellowship. After graduation, she toured and taught with Taylor 2 and then left to attend Harvard Medical School with an interest in dance medicine. She continued dancing while in Boston with Urbanity Dance and a guest artist for Alison Cook Beatty Dance. She joined Paul Taylor Dance Company in Spring 2015, performing Paul Taylor's masterworks internationally and domestically.
Los Angeles, CA
Harvardwood Salon with Actor Andrew Burlinson AB '97 - Thurs., Nov. 14
Let's talk about the things that acting classes don't usually talk about. Let's talk about the strange intersection of art, commerce, passion and endurance that is life as a working actor. Actor Andrew Burlinson AB '97 (Parks and Recreation, Just Add Magic) talks about his nearly twenty-year career as a character actor and the challenges of navigating between work in theater, film, television, new media and commercials. Whether you're fresh out of acting school or fighting career burnout, Andrew will share his experiences to help you keep your eye on the big picture while keeping your finger on your own artistic pulse.
Andrew Burlinson is a seasoned actor whose professional career spans nearly twenty years. He is currently a series regular on the Amazon Prime Original JUST ADD MAGIC. He had a recurring role on PARKS AND RECREATION (NBC) and has appeared on SILICON VALLEY (HBO), CASUAL (Hulu), BROOKLYN NINE-NINE (NBC) and CRIMINAL MINDS (CBS). He will appear next in the feature film FORD VS. FERRARI from director James Mangold (WALK THE LINE, LOGAN) which stars Christian Bale and Matt Damon.
Originally from Larchmont, New York, Andrew graduated cum laude with a degree in English and American Literature from Harvard University where he was active in the theater and improv scene. At Harvard, Andrew was a four year member and President of the Hasty Pudding Theatricals.
After college, Andrew studied acting in New York and eventually won a coveted spot as a Blue Man in the world famous BLUE MAN GROUP. He performed for thousands of theater goers in New York, Boston, Chicago and Brazil over the course of his nearly seven year tenure as a Blue Man.
Andrew has also appeared in highly visible commercials for Hyundai, Volkswagen, Ford, Tamiflu, Verizon Fios, Comcast, Avis, Vizio, and AT&T among many others. Andrew has appeared in so many commercials, he was once recognized at Dodgers Stadium as "that guy" from "that thing" on "my TV."
For more info, head over to www.andrewburlinson.com.
Harvardwood Heads To... Can I Say That? A Screenplay Workshop - Tues., Nov. 19
Writing a screenplay inspired by a true story? Penning the next fantasy epic? Inventing alternative histories? This C.L.A. (California Lawyers for the Arts) workshop covers potential sticky situations that may arise when adapting real events or commercial titles for the big screen. Attorneys from CBS and Showtime will lend their expertise regarding defamation, clearances, and trade infringement.
Whether it's a biopic or science fiction, a screenplay needs to be combed over for potential legal conflicts. Did a President really pass that controversial law? Is the story perhaps a little too inspired by Game of Thrones? Depicting real people and events, adapting a book, or writing stories closely related to popular titles needs to be handled with finesse and care.
Harvardwood Co-Hosts Los Angeles: The H-Y Game Telecast - Sat., Nov. 23
Join your fellow alumni (and yes, some Yalies) at Barney's Beanery in Westwood on November 23rd to cheer on the Crimson. We anticipate kickoff at 10:00 AM, with doors opening at 9:30 AM. We will even provide expert in-game commentary from former Harvard and Yale football players, and a raffle of Harvard and Yale memorabilia.
The event is $5 for Harvardwood members and $10 for non-members. If you're not a Harvardwood member, join today! Ticket includes juice and coffee, as well as one raffle ticket.
Washington, DC
Harvardwood DC Screenwriters Meet-up - Wed., Nov. 13
Join your fellow writers at the DC Screenwriters Happy Hour. It's free and open to the public (cash bar), so spread the word. Come to discuss the craft of screenwriting and enjoy the drinks and the company. You never know who you might meet! When you arrive, please ask the host for the Harvardwood DC Screenwriters Group. The happy hour is usually 5:15pm to 8:00pm, as folks come and go throughout the evening.
Tokyo, Japan
Harvardwood Heads To... 9/11 Artist JANAI-AMI - Wed., Oct. 30
The 19th JAPAN International Art Exhibition and Competition, curated by Katsu Shimmin. At the National Art Center of Tokyo. Opening on November 27, 2019 as seen in ART IN AMERICA and ARTILLERY MAGAZINES (November 2019). This is the largest International Exhibition/ Competition of its kind in 2019.
Janai-Ami, who began painting in response to 9/11 and had no formal training as a fine artist, returns in the style that made her known with her initial 3, 047 unique contemporary floral paintings in memory of the victims of 9/11.  Her debut at an International Art Auction in Los Angeles (featured on Paddle 8) in August 2019 proved that her passionate florals are even more sought after today, so much so that even her non-original work is commanding high prices with a Limited Edition print  of ENCHANTED selling in the thousands.
The TOKYO MUSEUM show will be the first showing of an original in several years. The artist rarely parts with her originals anymore. This time the artist's pain of loss will once again be translated into a beautiful rendition of remembrance as noted parenthetically in the title "In Memory of Sam." The work is called "BELONGING." The artists ability to turn her heartache into something beautiful and translate that raw emotion, passion and love into an image, is provocative.  She has asked that the invitation to the Opening be extended to all members of the Harvard and Harvardwood community that are living in or visiting Tokyo in November/ December. 
Formal attire.
Boston, MA
Harvardwood Heads To... The Challenging Legacy of "West Side Story": A conversation with Adriana Colón AB '12 - Fri., Nov. 1
Join actor, director and voice actor Adriana Colón and the cast of West Side Story -- presented by Harvard College TEATRO! -- for a conversation about the cultural issues embedded in the beloved musical composed by Leonard Bernstein '39, with lyrics by Stephen Sondheim and book by Arthur Laurents. Colón's artist residency Oct. 25-Nov. 3 includes working with the cast and creative team of the show in rehearsal and advising on theatrical practices of cultural sensitivity. The event on Nov. 1 is the only public event of her residency, and is free and open to the public. It's a great way to prepare for the production of West Side Story, running Nov. 14-17 at Farkas Hall. All are welcome. 
Become a member for discounted tickets to Harvardwood events
One of the major perks of being a dues-paying member of Harvardwood is getting discounted tickets to our events! That's not including other key benefits, such as program eligibility and access to our career center online. In just the next few weeks, Harvardwood members can save over $30 in event tickets. Given that dues are just $48/year ($4/month!), it only makes sense for you to join today!
---
DISCLAIMER
Harvardwood does not represent or endorse the accuracy or reliability of any of the information, content or advertisements (collectively "Materials") contained on, distributed through, or linked, downloaded or accessed from any of the services contained in this e-mail. You hereby acknowledge that any reliance upon any Materials shall be at your sole risk. The materials are provided by Harvardwood on an "AS IS" basis, and Harvardwood expressly disclaims any and all warranties, express or implied.
Do you like this post?