In This Issue:
NEWS
Featured Member Posting: Comedy Development Coordinator (Amazon) - LA
We "Cannes" share your Cannes premiere with the Harvardwood community
Rep Harvardwood at the Arts First Mixer and Reunions Weekend Get-Together
Host a summer intern in your home in LA or NY
FEATURES
Congrats to Juliette Boland, Recipient of the 2nd Annual Harvardwood Prize
Industry Successes
New Members' Welcome
Alumni Profile: Kelley Nicole Purcell AB '02 (Senior Director of Member Outreach, The Recording Academy

)
CALENDAR & NOTES
Calendar
Congratulate your grad with a Harvardwood certificate
---
Message from Dona
I can hardly express how excited I am about the May 7th Books and Publishing event in Los Angeles! We have an incredible lineup of speakers, including several Harvard alumnae, who will discuss topics related to the book and publishing industry in all genres, including young adult fiction, nonfiction, literary fiction, and picture books. Find out how to break in, establish a career, and parlay your success to other venues!
Our calendar has really bloomed this spring with a full slate of events in New York, Boston, and DC too! See what's happening near you in the next few weeks. I will also be heading back to Harvard for Reunions this year and am excited to spend time with our Boston/Campus Chapter members!
- Dona
Featured Member Posting: Comedy Development Coordinator (Amazon) - LA
Amazon Studios is seeking a dynamic, self-motivated Development Coordinator to support the comedy/half hour department. The successful candidate will be able to effectively multi-task; have the ability to complete administrative tasks and projects quickly with little to no guidance; react with appropriate urgency to situations and events that require quick response or turnaround; and efficiently and creatively solve difficult or complex problems that affect people within the group or other related groups. The candidate will also have great attention to detail while still meeting tight deadlines, have great organization skills and have the ability to switch gears at a moment's notice.

Key responsibilities include:

• Create weekly development reports and track metrics.
• Manage complex calendar and scheduling requirements.
• Organize meetings and events.
• Coordinate travel.
• Act as a liaison to other Amazon Studios departments.
• Perform additional administrative tasks as needed.
• Evaluate incoming submissions and the quality of script coverage, and give specific feedback to improve coverage as needed.
• Track talent; manage corresponding grids and lists.

We "Cannes" share your Cannes premiere with the Harvardwood community
The Cannes Film Festival runs from May 14th to May 25th this year. If you plan to attend or your film is screening at Cannes, get in touch via email to tell us all about it. As we've done for other major film festivals, we'll connect all the Harvardwood members and friends who respond to each other, so you can meet up and make new friends.
Speaking of, A Hidden Life, a World War II drama directed by Terrence Malick AB '65 and produced by Lizzy Bentley AB '87, will premiere at Cannes this year! Previously titled Radegund, the film features August Diehl, Valerie Pachner, and Matthias Schoenaerts, as well as the late actors Michael Nyqvist and Bruno Ganz in their final roles. Based on the life of Franz Jägerstätter, a conscientious objector who refused to fight for the Third Reich in WWII and was executed in 1943.
Rep Harvardwood at the Arts First Mixer and Reunions Weekend Get-Together
The first round of Harvardwood shirts has been shipped! We got ours in the mail—and we hope you've received yours too, just in time for this Friday's Arts First Mixer in Boston. It's May, it's spring, and Harvard's Arts First Festival is happening now. Check out the complete schedule of events at the website of the Office for the Arts at Harvard.
We will also bookend this month with more Cambridge festivities! Many alumni will be returning to campus not just for Commencement, but also for their Harvard Class Reunions. It's a special year for Harvardwood, and we're excited to celebrate our 20 years at Harvard with friends old and new, near and far, all gathered at Charlie's Kitchen to bond over their shared love of the arts, media, and entertainment. RSVP for the Reunions Mixer and don't forget to pack your Harvardwood shirt before you go. And if you haven't purchased your Harvardwood 20th-anniversary shirt yet, you still can!
Host a summer intern in your home in LA or NY
Harvardwood seeks hosts to provide discounted or even free housing for participants of the 2019 Harvardwood Summer Internship Program (HSIP). HSIP provides a list of summer internship opportunities in the arts, media, and entertainment to interested Harvard students and facilitates career-related activities throughout the summer for participants. Because these internships are often unpaid, most HSIP participants are in need of free or discounted accommodations to help defray the costs of accepting these opportunities.
If you have a spare couch, futon, or room(s) you can provide to a student or students (either free or discounted) for an extended period of time this summer, get in touch! Most internships run from early June through mid-August. In addition to our undying gratitude, you will receive a free year of Full Membership to Harvardwood and you will be invited to attend special HSIP activities. Hosts are NOT expected to provide transportation, meals, entertainment, etc. If interested, please email us with detailed info about your sublet and discounted rates. Thank you in advance for your generous hospitality. Our students are deeply appreciative!
Congrats to Juliette Boland, Recipient of the 2nd Annual Harvardwood Prize
Join us in congratulating Juliette Boland, currently a junior at Orange County School of the Arts! Founded last year, the aim of the Harvardwood Prize is to recognize and celebrate the artistic accomplishments and potential of high school students who exemplify our mission. Given Harvard University's robust arts communities and arts education opportunities, the Prize is meant to encourage high school students to apply to Harvard College and is awarded annually to a high school junior (rising senior) who will apply for admission to Harvard in the upcoming fall and who has demonstrated excellence in their dedication to the arts/media/entertainment and its power to enact positive social change.
About Juliette
Juliette Boland is an award-winning journalist for The Anglophile Channel, a worldwide streaming network dedicated to British entertainment, and a junior at Orange County School of the Arts in the Musical Theatre conservatory.

As the host of The Timey Wimey Fandom Show, Juliette became the youngest recipient ever to be honored by The Los Angeles Press Club with the National Arts and Entertainment Journalism Award for Best Entertainment Reporting, beating out college journalists in several categories.

Juliette has been seen on many high-profile red carpets, including Pre-Emmy Award/Pre-Golden Globe Award events for BAFTA/LA, Oscar Celebrations for British Consulate Los Angeles, The BAFTA Britannia Awards, Britweek, Comic-Con, and a multitude of press junkets and film premieres. Her interviews have included legendary industry veterans such as: Sir Kenneth Branagh, Dick Van Dyke, Peter Fonda, as well as the casts of many hit shows, including The Crown, Stranger Things, Sherlock,Doctor Who, and Supernatural. 

Juliette served on the planning team for the Third Annual Anglophile Channel Awards hosted by Her Majesty's Consul General Chris O'Connor OBE at the British Consulate Residence and honoring Downton Abbey's Gareth Neame and Julian Fellowes. 

As a junior at the very competitive Orange County of School of the Arts, Juliette has excelled and shined in many areas. As the Vice-President of "Watch What Happens OCSA" (the school's web-show featuring students and their talents) Juliette has brought an unprecedented amount of experience, for someone so young, in the areas of producing, filming, editing and hosting. She is also a member of the Thespian Honor Society and was honored with a Superior rating at the California State Thespian Festival for her solo performance in the Musical Theatre category. Honor societies include: National Honor Society and California Scholarship Federation. 

Juliette attributes her easily adaptable personality to the fact that she spent a majority of her early life on the road with her entertainer parents. At the tender age of two-months old, Juliette—with passport in hand—began accompanying her parents on their international travels aboard many luxury cruise lines. Juliette's early education was spent being schooled around the world and, as a result, gave her exposure to and an appreciation for different cultures and customs which she holds dear to this day.

Juliette currently hosts, produces, writes, and edits her own webseries dedicated to fandoms and recaps popular television shows such as BBC's Doctor Who. Juliette was invited to the set of the BBC show Poldark to cover the show and participate as a performer. She is also a newly recruited writer for the Los Angeles Times High School Insider. She enjoys volunteering through Assisteens of South Bay, a philanthropic organization, and her favorite charity is Bloom Where Planted, which provides clothing and school supplies for children to attend school and receive an education in under-served areas of Africa. 
Industry Successes
May 17th is the release date for A Dog's Journey, the sequel to 2017 film A Dog's Purpose. The sequel is co-written by Maya Forbes AB '90 (The Polka King; Infinitely Polar Bear). 
The following week, on May 22nd, The Tomorrow Man starring John Lithgow AB '67, Ar.D. '05 will hit theaters.
Last month, cellist Yo-Yo Ma AB '76, DMU '91 took his Bach Project to the border and performed in both Laredo, Texas, and Nuevo Laredo, Mexico (sister cities). NPR covered his performance, and PBS transcribed a powerful interview in which he discusses the importance of culture and telling stories.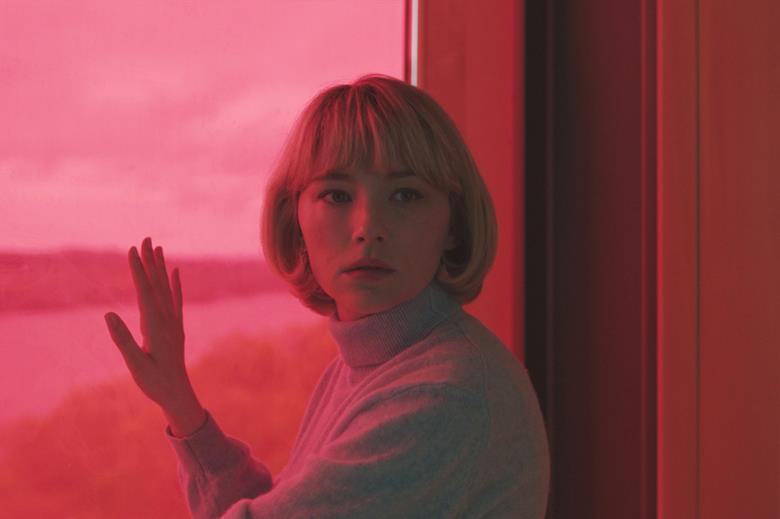 Swallow, produced by Mynette Louie AB '97, recently premiered at Tribeca to rave reviews! Watch for more buzz about the film. Per Variety: "A pregnant woman (Haley Bennett) develops an unquenchable urge to consume dangerous objects in this off-beat fairy tale. It's the stylish directorial debut of Carlo Mirabella-Davis, and the gonzo premise and broadside against the patriarchy mean that attention will be paid."
Matt Walker AB '16 was nominated for a Lucille Lortel Award for Best Featured Actor. The awards honor off-broadway productions and performances. Other 2019 nominees include Tom Sturridge, Joel Grey, Jackie Hoffman and Carey Mulligan. He was also recently profiled in the New York Times about his leading role in The Play that Goes Wrong in New York and his day job doing neurobiology research at Columbia University under Nobel Laureate Martin Chalfie. 
Jeff Melvoin AB '75 (Designated Survivor, Alias) heads across the pond to executive produce Season 3 of hit series Killing Eve! 
Veep fans, be sure to check out the WGA East podcast featuring showrunner David Mandel AB '92 on all things writing.
Composer Sam Wu AB '17 was one of this year's recipients of the Morton Gould Young Composer Awards, which encourage talented young creators of concert music ranging in age from 10 to 30. He has also been selected for the American Composers Orchestra's EarShot Readings and received Harvard's Robert Levin Prize.
Alec Nevala-Lee AB '02 has been nominated for a 2019 Hugo Award for his book, Astounding: John W. Campbell, Isaac Asimov, Robert A. Heinlein, L. Ron Hubbard, and the Golden Age of Science Fiction. Get the book on Amazon
!
Intelligence, a one-hour original TV pilot based on the true beginnings of the CIA and written by Maera Siddiqi ALB '12, won Quarterfinalist in the 6th Annual ScreenCraft Screenwriting Fellowship and is in consideration for the Semifinalist round.
New Members' Welcome
Harvardwood warmly welcomes all members who joined the organization over the past month, including:
Jenna Albezreh, College, LA
Adam Allan, College, NY
Jace Anderson, College, LA
Nicole Araya, College, LA
Yama Bassam, Ext., Int'l
Elisabeth Bentley, College, LA
Christina Bianco, College, NY
Claudia Brodsky, College, NY
Emily Brother, College, BOS/Campus
Constance Cannon, KSG, NY
Rebecca Dolan, College, NY
Tiffani Driscoll, College, LA
Lev Grossman, College, NY
Peter Kellogg, College, ATL
Arthur Kokot, HLS, NY
Sheridan Marsh, College, LA
Aileen McKenna, HBS, NY
George Melas-Kyriazi, College, NY
Corine Morain, GSD, BOS/Campus
Sara Osman, GSE, BOS/Campus
Kyle Paul, GSE, LA
Christina Schlesinger, Radcliffe, NY
Ariel Shpigel, HLS, LA
Carl Sibley, College, BOS/Campus
Kathleen Tarr, HLS, SF Bay
Jennifer Wollan, College, NY
Roger Wood, HBS, LA
*FOH = Friend of Harvardwood
Alumni Profile: Kelley Nicole Purcell AB '02 (Senior Director of Member Outreach, The Recording Academy)
By Steph Ferrarie AB '18
Kelley Nicole Purcell '02 let her love for music guide her path to be a singer, artist, and champion for the artistic community—including our own Harvardwood community! (She served as the Executive Director of Harvardwood from 2009 to 2013). Now the Senior Director of Member Outreach for the Recording Academy, Kelley has toured in Africa with the band Soulfege, released multiple EPs as a solo artist, and now attends the GRAMMYs annually. She also performs in Shattered Glass, a musical-poetry hybrid performance piece surrounding the healing power of art.
While growing up in Teaneck, New Jersey, Kelley's interest in music was a constant; she sang in school choirs while focusing on athletics as a kid. Describing herself as "too shy" to perform solos, she preferred to be in the background, in a group, like the choir. At Harvard, Kelley continued running track, but she realized that music was her true passion. Music became a bigger part of her life—she was a part of the Kuumba Singers, the Radcliffe Choral Society, Sisters (Kuumba's a cappella group) and the Black Arts Festival. She spent her breaks traveling internationally and all over the United States with Kuumba and RCS, creating some of her "best memories" from college. In fact, Kelley's best friends from Harvard were through Kuumba, her "family on campus."
Performing with Kuumba was also the first time Kelley began performing solos, further stoking her love of music. By junior or senior year at Harvard, Kelley confesses, her classes were more of an annoying formality. The bulk of her time and interest was invested in her extracurricular life. She found that her interests in the arts, humanities, and the human experience went beyond her chosen Economics concentration. For Kelley, music was a vital avenue of self-expression; she once joked with her choral director, "Can't I just sing and travel and play music for the rest of my life?"
Ultimately, the answer to that question was "yes." After graduation, Kelley deferred her consulting job offer for one year so she could pursue music instead. She lived at home in New Jersey while working on an EP with her manager, with whom she had collaborated since senior year, and took auditions in New York City. Kelley also interned at Def Jam Records in New York, learning about the business side of the music industry. Meanwhile, she found that her first post-grad year was difficult because of the lack of structure, and she longed to create music collaboratively, as she had in Kuumba. Kelley returned to Boston frequently to work with a band of other Kuumba alums, and when she moved back to Boston to begin her consulting job, she was able to perform regularly with Soulfege.
Soulfege was a "world fusion" band—the leader being from West Africa—and also combined elements of R&B, rap, pop, and reggae: "the Fugees meets No Doubt, but with a world sound." Kelley and the band played gigs in Boston and recorded music, all while she worked full-time as a consultant. After one year, however, Kelley quit her day job, longing for more time to be an artist.
Then, a conversation with Jack Megan, the Director of the Office for the Arts (OFA) at Harvard, serendipitously turned into a day job at the OFA as his assistant. This position enabled Kelley considerable flexibility in her schedule, so she could continue making music and gigging with Soulfege. She also learned a lot about arts administration and took ownership of large-scale events on campus, such as a celebration of Leonard Bernstein's work and the annual Arts First festival.
After two years at the OFA, Kelley left her job because Soulfege started to take off. The band had toured internationally to West Africa, recording music and a music video there. When they returned stateside, major Boston press was interested in their story, and the band sought representation in Los Angeles. Kelley, a self-described "east coast girl," had envisioned the band moving to New York and getting a deal at a record label there, but the band leader took meeting after meeting in Los Angeles, staying longer and longer each time.
So in October 2006, Kelley moved to Los Angeles with Soulfege, under the impression that her stay would be a six-month or year-long stint before her inevitable return to New York. She has since lived in Los Angeles for 13 years! Like many performance artists, the band experienced ups and downs: the management company that had brought them out to Los Angeles did not pan out as expected, and Kelley felt lonely and isolated. In 2008, she left Soulfege but remained in Los Angeles, having found a new church through a Kuumba friend. There, she joined the Praise and Worship team, a choir with rehearsals on Monday nights, and it became a refuge while she sorted out her life in Southern California. Kelley became fast friends with the keyboardist, a funny guy named C-Aye (pronounced like the initials, C.A.) who is now her husband. After joining the church and meeting more like-minded people through C-Aye, Kelley's L.A. life brightened. 
In the meantime, Kelley had joined Harvardwood back in 2003, the organization's early years, and had employed Harvardwood's resources to promote her shows and to help navigate her career. In 2009, she came across an opening on the Harvardwood Career Center for an executive director—of Harvardwood! Kelley's work at the Harvard OFA and her extensive experience as a performing artist made her uniquely qualified for the role.
According to Kelley, becoming so deeply involved with Harvardwood made her realize how many artists were coming out of Harvard, just like her. She had initially felt like the odd one out, graduating from Harvard and pursuing music, but Harvardwood validated her career aspirations. Kelley also remarks on how much she enjoyed being involved in Harvardwood 101 from an administrative side and hearing students' differing insights about their (prospective) careers in entertainment after participating in the program. Some students understood the sacrifices they might have to make, but were so passionate about their artistic goals that they did not care, while others elected to pursue different career paths.
Serving as Harvardwood's Executive Director gave Kelley the flexibility to work from home and, more importantly, to work on her music. At this point, she was writing her own music and collaborating with C-Aye on piano and as a producer. In 2011, she released another EP of her own music and was booking her own gigs around Los Angeles, New York, and Boston. Though Kelley is extremely proud of that record, the process of self-producing and self-promoting it had been exhausting. Instead of getting back into the studio immediately, Kelley diverted her attention to some other projects.
Shattered Glass is a performance piece inspired by a book of poetry written by her friend Shaunelle Curry, and it follows a woman's use of art to overcome a traumatic experience. Kelley and Shaunelle had in-depth discussions about performance, music, and poetry, and the show evolved from those collaborative talks into a 4-act musical play. Kelley's original music became the perfect complement to Shaunelle's poetry, and the show was performed across the United States at numerous colleges and women's shelters, where the story is especially resonant. Today, Shaunelle and Kelley still perform Shattered Glass—in fact, they had two shows this April!
Kelley wasn't looking for a job when she received a LinkedIn message with the word "GRAMMY" in it. She almost deleted the message—but instead, she opened it. "A real person" had contacted her, asking if she would be interested in becoming the Executive Director of the Los Angeles Chapter of the Recording Academy (her first position at the Academy). Kelley's impressive resume in arts administration, as a recording artist herself, and as the creator of Shattered Glass made her an excellent candidate for the role, one aim of which was to support artists in making music.
At first, Kelley was concerned that taking a job as an executive might temper her ability to be creative. But she spoke with a Harvardwood Advisory Board member, Robert Kraft AB '76, an executive at Fox who had helped Kelley build Harvardwood's music programming, including Harvard ROCKS. Kraft told her: "You never stop being an artist; you just translate." He encouraged her by sharing that he had found creative inspiration in his position as an executive. So Kelley accepted the position at the Recording Academy in 2013, supporting membership, recruiting, doing advocacy and charity work through MusiCares, and celebrating members at the annual GRAMMY Awards.
Kelley describes her career as one of many twists and turns, but its throughline has been her faith that the hope, passion, or desire behind each major career change would grow into a worthwhile endeavor. To new alumni seeking creative career paths, Kelley recommends taking a breather after Harvard to pursue their artistic projects—while also keeping their LinkedIn profiles up to date! As evidenced by her tenure with Harvardwood, not to mention her work before and since, Kelley is a fierce advocate of the artistic community.
Steph Ferrarie AB '18 is a recent graduate and aspiring producer of film, TV and theater. 
She currently resides in Los Angeles. She loves dogs and ice cream.

Calendar
FEATURED EVENT | Harvardwood Presents Tasting Paradise: A Historical Dinner with Harvard History Professor Joyce Chaplin (LA) - Thurs., May 16
Throughout human history, people have been dreaming of a perfect world. And it should be no surprise that these dreams of a perfect world have often included dreams of perfect foods. What may be surprising though is that some of those perfect foods have turned out to be spectacularly delicious!
Harvard History Professor Joyce Chaplin has teamed with the Down Town Association's new—and superb!—Chef Joel Reiss to devise a menu of some of the most delicious of these, ranging from the French Revolution through the Congress of Vienna, and all the way to Chez Panisse (a Utopian project in its own right)—even the bread, Pain Levain (first made in 1789) will have its historical significance. And, as we enjoy a very special dinner, Professor Chaplin will guide us through the history of what we're enjoying.
Joyce Chaplin is Harvard University's distinguished James Duncan Phillips Professor of Early American History. Her books include The First Scientific American: Benjamin Franklin and the Portrait of Genius, which won the Annibel Jenkins Biography Prize. Evan Thomas calls her "a great historian with a fresh eye and a sure touch. She is a story teller with keen insight, command of the material, a sense of whimsy, and a flair for portraying human drama." Of her most recent book ROUND ABOUT THE EARTH: Circumnavigation from Magellan to Orbit, Walter Isaacson wrote, "Joyce Chaplin shows the interplay of aspirations and technology, from sail and steam to jets and rockets. More profoundly, she explores what it means to circle our globe, act on a planetary scale, and encompass, both figuratively and literally the whole earth."  She is the co-editor of Food in Time and Place.
Los Angeles, CA
Harvardwood Books & Publishing Panel - Tues., May 7
Join us for our LA Harvardwood Books & Publishing Panel on Tuesday, May 7th!  We will be speaking with alum authors, agents, and publishers on various topics related to the book and publishing industry in all genres, including young adult fiction, nonfiction, literary fiction, and picture books. Find out how to break in, establish a career, and parlay your success to other venues.
Moderator
Nancy Redd AB '03 is a New York Times and USA Today best-selling author and ghostwriter. Her debut children's picture book is due out in 2020 (Random House), and her most recent adult nonfiction book, Pregnancy, OMG! (Macmillan, 2018), is the first-ever photographic guide to pregnancy, with OK! calling it "the ultimate how-to for anyone who's got a bun in the oven." Her first book, Body Drama (Penguin 2008), was heralded as "a book of liberation" by Eve Ensler. Her writing has been featured in Glamour, Cosmopolitan, The New York Times, Marie Claire, Good Housekeeping, and more. She lives in Los Angeles with her husband (Rupak Ginn AB '05) and their two children, August and Baby Nancy.
Featured Panelists
Helen Estabrook AB '03 is an Academy Award-nominated film and television producer. For many years she ran Right of Way Films, the production company of director Jason Reitman. Her career started with Reitman's Up In The Air, starring George Clooney, Vera Farmiga, and Anna Kendrick. She then went on to executive produce the Duplass brothers' Jeff, Who Lives at Home, Jean-Marc Vallee's Demolition, and Reitman's Young Adult and to produce Reitman's next four films, including Tully from a script by Diablo Cody and The Front Runner starring Hugh Jackman. Helen spearheaded Whiplash from Damien Chazelle AB '07/'08, producing first the 'proof of concept' short film and then the feature film. Whiplash won many awards, starting with the Grand Jury Prize and Audience Award at Sundance for the short and culminating in three Academy Awards (with five nominations, including Best Picture). She started her work in television with the Golden Globe-nominated series Casual for Hulu, and she currently has a television deal with HBO, under her banner, A Thousand Ships.
Romina Garber AB '06 is a New York Times & internationally best-selling author who originally hails from Buenos Aires, Argentina. Her four-part ZODIAC series is a young adult space opera that's been published by the Razorbill imprint of Penguin Random House & translated in eight languages. Romina has presented ZODIAC at major book festivals in Argentina, Mexico, Spain, France, and all across the United States, including Book Expo America & Comic Con in San Diego & New York. As a Harvard undergraduate, Romina penned a nationally-syndicated Sunday column for the Miami Herald called "College She Wrote" & produced the Hasty Pudding Theatricals. She is currently under contract with St Martins Press (Macmillan) for a new young adult series due out in 2020. 
Arianne Cohen AB '03 is the author of the upcoming Don't Have Kids, And What To Do If You Did (Gallery/Simon & Shuster, 2020), for which she will become an internet lightning rod. Her features have appeared in Elle, Marie Claire, The Guardian, The New York Times, New York Magazine and Vogue, among many others, and she was founding editor of New York Magazine's Sex Diaries. She is the author of The Tall Book: A Celebration of Life from On High (Bloomsbury, 2009), and The Sex Diaries Project (Wiley, 2012), and executive produced of "The Sex Diaries Project" for O Network (2013). She lives in Portland, Oregon with her two children and Funbar the Goldendoodle. 
Maggie Shipstead AB '05 is the New York Times-bestselling author of the novels Astonish Me and Seating Arrangements, which won the Dylan Thomas Prize and the L.A. Times Book Prize for First Fiction. A third novel,Great Circle, will be published in 2021, with a short story collection to follow. She is a graduate of the Iowa Writers' Workshop and a former Wallace Stegner Fellow at Stanford. A regular contributor to Travel + Leisure,Condé Nast Traveler, and Departures, Maggie has also been published many other places, including Outside, the New York Times, the Washington Post, the Guardian, and The Best American Short Stories, and she has twice been a National Magazine Award finalist for fiction.
Jen Bilik is the founder of Knock Knock, independent makers of clever gifts, books, and whatever else we can think up. Since 2002, she's helmed the company's in-house creative team and overseen the growth of its products into over 20,000 stores in the U.S. and some 45 countries internationally. In 2018, Knock Knock joined forces with Emily McDowell & Friends (another woman-owned, L.A. company!) to form the Who's There Group, of which Jen is now CEO. Also in 2018, Jen's book, This is Not L.A.: An Insider's Take on the Real Los Angeles  was published to good acclaim and robust debate.
Elise Capron is an agent at the Sandra Dijkstra Literary Agency, established 40 years ago, which is known for guiding the careers of many best-selling fiction and non-fiction authors, including Amy Tan, Lisa See, Maxine Hong Kingston, Eric Foner, Steve Hahn, Roshani Chokshi, and many more. A graduate of Emerson College, Elise holds a BFA in Writing, Literature and Publishing, and has been with SDLA for 15 years.
On the fiction side, Elise is interested in character-driven literary fiction with unforgettable writing, a terrific narrative voice/tone, and memorable characters. She aims to work with writers who are getting their work published regularly in magazines and who have a realistic sense of the market and their audience. Some of her representative fiction clients include Tiphanie Yanique, Howard A. Rodman, and Courtney Brkic. On the non-fiction front, Elise is looking primarily for well-written narrative histories in the areas of cultural studies, science, medicine, or the environment. She is keen to work with journalists and historians. Some of her representative non-fiction clients include Cynthia Barnett, Meera Subramanian, Jonathon Keats, and Jack Shuler.
Harvardwood Heads To... The Spring Fling by TIPS - Thurs., May 9
Have a fling this Spring when you join The Ivy Plus Society at The Room Santa Monica! Planted in the middle of Santa Monica district, The Room's darkly lit features is the perfect spot to meet a new admirer. Mix & mingle this May at the swanky hideaway lounge that's been called one of the best bars for dancing by The Infatuation.
Harvardwood Salon: Eileen Heisler (THE MIDDLE, HOW I MET YOUR MOTHER) - Mon., May 13
Join us on May 13th for an intimate dinner with a powerhouse of television production—Eileen Heisler. Come learn from the best in the business and ask your questions about all things TV.
Eileen Heisler is Co-Creator and Executive Producer of the critically acclaimed hit comedy The Middle for Warner Bros., which just completed a nine-year run on ABC. The show was nominated for a 2018 Critics' Choice Award (Best Comedy Series), the most recent of several noms over the years, and won the 2017 Humanitas Prize in the 30-minute category for "The Graduate," an episode Heisler co-wrote and directed. 
Eileen's career in television spans single- and multicam comedy as well as one-hour comedy/drama, with overall deals at Disney, NBC/Universal, and Warner Bros. Television, and writing/producing credits on Murphy Brown, Roseanne, Ellen and How I Met Your Mother, among others, including six produced pilots, four of which went to series. She is a proud graduate of NYU's Tisch School of the Arts. Eileen lives in Pacific Palisades with her husband, Harvard alum and Harvardwood board member Adam Wolman AB '88, and their twin sons, Justin and Ben.
Harvardwood Heads To... Remembering William Alfred 20 Years Later - Sun., May 19
Come celebrate the memory of professor and playwright William Alfred, who died twenty years ago on May 19, 1999. We will show a funny 1-hour video of various actors—including Bill Murray, Stockard Channing, Christopher Reeve, Brian Doyle Murray, and Kathryn Walker—reading some of Bill's favorite poems. There will be drinks (including martinis like Bill served at his house), and snacks (including the sort of cookies and milk he served in his play-writing class). Feel free to contact me if you'd like to help host the event. 
Harvardwood Heads To... The 2nd Annual Moonlight Mixer by TIPS - Wed., May 22
With its stunning sights, delicious cocktails, and fabulous crowd it's no wonder that Skybar "has been one of Los Angeles' hottest nightspots from the day it opened" (The Sunset Strip). Join The Ivy Plus Society at "one of the most beautiful views of West L.A." (LA.com) for The 2nd Annual Moonlight Mixer. Mix and mingle under the stars with young alumni and professionals from tech, entertainment, finance, marketing, and more!
New York, NY
Harvardwood Presents Hanna Bachmann in Her U.S. Debut | BEETHOVEN and ULLMANN - Wed., May 8
For her very first performance in the United States, the young Viennese pianist Hanna Bachmann has put together a program filled with musical riches and delight.  Beethoven's Diabelli Variatiions is one of Beethoven's very greatest compositions, one of the two greatest sets of variations ever written.  It is almost an encyclopedia of music, ranging from playful to powerful, from parody to the 
sublime, and its physical and emotional demands on a pianist are legendary.  Bachmann will precede Beethoven's variations with Viktor Ullmann's Seventh Piano Sonata.  Ullmann was an Austrian composer of Jewish descent who (although he had grown up as a Catholic) was killed by the Nazis in Auschwitz and whose music is only just beginning to be rediscovered.  His Seventh Sonata was written in the camps only a few weeks before he was murdered.
Conductor Kirill Petrenko, the General Music Director of the Bavarian Opera writes "Hanna Bachmann plays with great musicality, creativity and technical skill.  Her delicate sound and her interpretation are a testament to a mature personality at the piano."  Bachmann has already performed in Austria, German, Hungary, Great Britain, the Netherlands, Slovakia, Liechtenstein, Switzerland, and Mexico, including performances at Beethoven House Bonn, the Vienna Musikverien, and the Schubertiade Vorarlberg, and will perform later this year at the Berlin Philharmonie.
Harvardwood Heads To... Crazy Ex-Girlfriend Live - Tues., May 14
From Playbill: Rachel Bloom, creator and star of The CW's Crazy Ex-Girlfriend, announced that the cast of the television musical comedy will perform a live show at New York City's Radio City Musical Hall May 14. Interested attendees can sign up for notifications about pre-sale at RachelDoesStuff.com.
Created by Bloom and Aline Brosh McKenna AB '89, the show has been nominated for four Emmy Awards; Bloom won the Golden Globe for her performance in the first season. Bloom stars as Rebecca Bunch, who quits her high status Manhattan law firm and moves across the country to West Covina, California, after bumping into an ex-boyfriend who lives there. Each episode features original songs by Bloom, Jack Dolgen, and Adam Schlesinger.
Harvardwood Presents NIGEL WEST: Operation OVERLORD and the Secret Intelligence Behind D Day - Thurs., May 23
D Day, the bloody Allied invasion of Europe that culminated in the defeat of Nazi Germany, was one of the moments of high drama in world history. But behind that drama, there was a second drama, every bit as suspenseful, playing out in the unseen world of espionage, with spies and double agents, secrets and deception. And nobody knows more about that hidden drama than Nigel West.
Nigel West was educated at a Roman Catholic monastery and London University. While an undergraduate, he did research for Ronald Seth and Richard Deacon, who wrote about spying and security, and this led to his own career as a writer on intelligence and espionage. Since 1981, he has averaged a book a year. The Sunday Times wrote, "His information is so precise that many people believe he is the unofficial historian of the secret services. West's sources are undoubtedly excellent. His books are peppered with deliberate clues to potential front-page stories." In 1989, a panel of other spy writers voted him "The Experts' Expert" in the Observer.
West has lectured at both the KGB headquarters in Dzerzhinsky Square and CIA headquarters in Langley, where he once lectured on counter-intelligence to an audience that included the Soviet spy Aldrich Ames. In 2003, Nigel West was awarded the US Association of Former Intelligence Officers' first Lifetime Literary Achievement Award.
This event will happen two weeks, to the day, before the 75th anniversary of D Day.
Cambridge, MA
Harvardwood Heads To... 2019 Harvard Arts Medal Ceremony: Tracy K. Smith '94 - Thurs., May 2
U.S. Poet Laurate and Pulitzer Prize-winner Tracy K. Smith '94, is the recipient of the 2019 Harvard Arts Medal, which will be awarded by Harvard University President Lawrence Bacow at a public ceremony on May 2nd in Cambridge. The ceremony, which will include a discussion with Smith, is presented by the Office for the Arts at Harvard and the Harvard University Board of Overseers. The medal ceremony is the official opening event for ARTS FIRST, Harvard University's annual community festival showcasing and celebrating student, faculty and staff creativity in the arts May 2-5, 2019.
Smith is the author of four poetry collections, including Wade in the Water (2018), which was shortlisted for the 2018 T. S. Eliot Prize. Her debut collection, The Body's Question (2003), won the Cave Canem Poetry Prizein 2002. Her second book, Duende (2007), won the 2006 James Laughlin Award and the 2008 Essence Literary Award. Her collection Life on Mars (2011) won the 2012 Pulitzer Prize for Poetry. She is the author of the memoir Ordinary Light (2015), a finalist for the 2015 National Book Award in Nonfiction, and editor for the anthology American Journal: Fifty Poems for Our Time (2018).
Harvardwood Arts First Mixer - Fri., May 3
Come celebrate 20 years of Harvardwood connecting people with a passion for putting ARTS FIRST! Meet students and alumni who share an interest in arts, media, and entertainment at this informal mixer. You'll find Harvardwood's group at the upstairs bar of Charlie's Kitchen, a local Harvard Square institution. 
Each ARTS FIRST festival is unique but every year combines the exuberance of Harvard students, faculty and affiliates who are passionate about the many art forms presented in four rousing days of performances, exhibitions and art-making opportunities. See visual art and opera, dance styles from around the world, many music genres, stand-up and improv comedy, theater, public art, poetry, experimental performances and so much more. We look forward to sharing our Harvard community with you during ARTS FIRST on May 2-5, 2019.
Harvardwood Heads To... The Poetry, Music and Spirituality of South Asian Muslim Cultures - Sun., May 5
Misaq-e-Ishq means The Covenant of Love and during Misaq-e-Ishq: The Poetry, Music and Spirituality of South Asian Muslim Cultures Ali Asani '77 (Professor of Indo-Muslim and Islamic Religion and Cultures at Harvard); Pakistani pop star and author Ali Sethi '06; and vocalist, guitarist and Grammy Award-winning producer Noah Georgeson will bring alive through musical performance, the poetic consciousness of several legendary South Asian mystic poets.
They will explore the lavishly transformative powers of love (ishq), interpreted variously as passion, devotion, ardour, commitment or just plain love. For the featured poets, love is a primordial link that connects the divine to all of creation. Tasting or experiencing the nectar of this love, they believe, is the central purpose of worldly existence. Their poetry, spanning a thousand years, responds to the exigencies of their eras with an idiom that supercedes orthodoxy and dissolves binaries. Join these thought leaders and artists as they invite audiences to understand the human and the divine through the all-encompassing lens of love.
Washington, DC
Harvardwood DC Screenwriters Meet-up - Wed., May 8
Join your fellow writers at the DC Screenwriters Happy Hour. It's free and open to the public (cash bar), so spread the word. Come to discuss the craft of screenwriting and enjoy the drinks and the company. You never know who you might meet! When you arrive, please ask the host for the Harvardwood DC Screenwriters Group. The happy hour is usually 5:15pm to 8:00pm, as folks come and go throughout the evening.
Athens, GA
Harvardwood Heads To... Free Back-to-Back Screenings of Two Award-winning Films - Fri., May 3
TWO FREE FILM SCREENINGS BACK-TO-BACK!
On Friday, May 3,  we'll screen the multi-awardwinning film "Is Anybody Listening?" about the chasms between veterans and nonveterans and a simple, powerful way to bridge them. Veterans who watch the film often say, "THIS is what I want my loved ones—and the nation—to know!" and nonveterans love the film, because they say it humanizes veterans for them and makes them feel connected to them.
Immediately afterward, we'll screen our new award winning documentary, "Isaac Pope: The Spirit of an American Century," which is about 100 years of U.S. history including racism, told through the microcosm of the life of centenarian African-American Isaac Pope, a spellbinding storyteller, activist, and inspiring force.  These are pre-events for the 40th Annual Athens Civil Rights Festival, which starts the next day and where Paula J. Caplan will speak a couple of times, including a keynote about civil and human rights, activism, and filmmaking.
Congratulate your grad with a Harvardwood certificate
Racking your brains for a unique way to celebrate the achievements of your Class of 2019 friend or relative? Look no further! Harvardwood gift certificates can be purchased in any amounts and put toward any purpose, such as monthly membership dues, program fees, submission fees to the (upcoming) Writers Competition, event tickets—you name it! To get a gift certificate for your new grad, email us with the name of the recipient and the gift certificate amount. We'll send you a digital gift certificate that is easy-peasy for you to forward on to your recipient. Congratulations, Class of 2019!
---
DISCLAIMER
Harvardwood does not represent or endorse the accuracy or reliability of any of the information, content or advertisements (collectively "Materials") contained on, distributed through, or linked, downloaded or accessed from any of the services contained in this e-mail. You hereby acknowledge that any reliance upon any Materials shall be at your sole risk. The materials are provided by Harvardwood on an "AS IS" basis, and Harvardwood expressly disclaims any and all warranties, express or implied.
Do you like this post?