In This Issue:
NEWS
Featured Member Posting: Executive Assistant (FX Networks) - LA
Apply to receive a $500 Harvardwood Heroes community service grant
Screenwriters, HWP-Features is open to submissions now
Get a limited-edition shirt commemorating Harvardwood's 20th!
FEATURES
Voting begins for Harvard's 

Board of Overseers and HAA Elected Directors

Industry Successes
New Members' Welcome
Alumni Profile: Susan Morris Novick AB '85 (Past HAA President; Writer featured in the New York Times, Food Network)
CALENDAR & NOTES
Calendar
Spread the word about your Tribeca screenings
---
Message from Dona
It was a pleasure to see many new faces at our March 21st event featuring Harvard Prof. Linda Schlossberg! Every seat was filled at Rideback Ranch, and a lively discussion followed Prof. Schlossberg's talk on dystopic literature.
This month, we hope to get as big a turnout at our annual Harvardwood Helps event. Pitch in with Harvardwood Co-Founder Stacy Cohen AB '89 and friends, and volunteer at the Great LA River Clean-up on Saturday, April 13th! I repeat, April 13th! The April 1st weekly had the incorrect date (April Fools!), so please take note of the correct Saturday date.
- Dona
P.S. If you're a Harvard undergrad looking for a summer internship, apply now!
Featured Member Posting: Executive Assistant (FX Networks) - LA
FX Networks is seeking an Executive Assistant for the programming and scheduling department. The ideal candidate must be accustomed to supporting high level executives, and be able to manage multiple tasks simultaneously in a fast-paced environment, as well as balance changing demands, a dynamic schedule and function well under pressure. A high level of professionalism and confidentiality is required.
Responsibilities
Provide administrative support to a senior executive in the department, including calendar management, meeting coordination, phone coverage, greeting guests, travel arrangements and expense reports
General office duties such as mail, filing, copying, ordering supplies and preparing routine correspondence, documents and spreadsheets as needed
Maintain acquisition program submissions and materials
Assist with special projects and other administrative duties as needed
Apply to receive a $500 Harvardwood Heroes community service grant
Launched in 2013, the Harvardwood Heroes grant program aims to spotlight and support Harvard students, alumni, faculty, and staff who have made an exceptional contribution to the community. These Heroes exemplify the mission of Harvardwood by demonstrating the power and purpose of the arts, media, and entertainment in the betterment of our communities.
We are now accepting applications to receive a 2019 Heroes grant. The deadline to submit your grant proposal is April 15, 2019.
The Harvardwood Heroes program awards $500 grants to applicants who have demonstrated a distinguished level of service to their organizations of choice. Every year, grant winners will be determined by the strength of their proposal. They will receive the first $250 upon announcement of the winners and the balance of the grant upon submission of a final essay six months later. 
Read about the community service work that past Heroes have performed!
You do not need to be a Harvardwood member to receive a Harvardwood Heroes grant (applicants must be current students, alums, staff, or faculty), although Harvardwood members and/or applicants whose service project is arts-related will receive priority consideration.
Screenwriters, HWP-Features is open to submissions now
The application period for the HWP-Features program in Los Angeles opens March 25th! The group will meet one to two times a month beginning in April, with the goal of getting your project to the next level, whether that's creating an outline, revising scenes, or finishing a full screenplay. Only Harvardwood members are eligible to apply (non Friends of Harvardwood).
After you submit your application (found here), you'll be contacted by the HWP-Features program directors. The application will ask for a short bio highlighting your writing background, relevant experience, areas of interest and specific goals while in the program.
Get a limited-edition shirt commemorating Harvardwood's 20th!
For the next twenty days only, get a limited-edition shirt commemorating Harvardwood's twenty years! You can select from a variety of styles, sizes, and colors. Check out the shirts here at Bonfire and spread the word to your fellow Harvardwood friends. Please buy a shirt in support of Harvardwood—they make a great addition to your wardrobe and are an easy gift too!
Voting begins for Harvard's 
Board of Overseers and HAA Elected Directors
Check your inboxes for an email from Harvard University with voting information for the Board of Overseers and the Elected Directors of the Harvard Alumni Association! This year's list of nominees includes Janet Echelman AB '87, an internationally known artist working in the public art sphere. Janet as deeply involved in both the performing and visual arts during her time at Harvard. 
Given Harvardwood's mission to support members of the Harvard University community who believe in the power and purpose of the arts, media, and entertainment, and to utilize the creativity and leadership of our diverse members as forces for positive social change, we are delighted by Janet's nomination and hope you will support her too!
To vote, view your email from Harvard with your unique election validation number, and then submit your ballot online.
About Janet Echelman AB '87
Janet Echelman is an artist who defies categorization. Combining ancient craft with material science and engineering, her experiential sculptures at the scale of buildings have become inviting focal points for civic life on five continents. Named an Architectural Digest Innovator for "changing the very essence of urban space," she has received a Guggenheim Fellowship and the Smithsonian American Ingenuity Award.
As a visiting professor at MIT, Echelman led a collaboration of engineering, computer science, and architecture graduate students. Next year she will teach at Princeton. Beyond academia, she seeks to address wider audiences. Her work was ranked first on Oprah's list of "50 Things That Will Make You Say 'Wow!'" Her TED talk, "Taking Imagination Seriously," has more than two million views and has been translated into 37 languages.
"Harvard opened up the world to me. When I first arrived, a 17-year-old from public school in Florida, I stumbled into my first art class by accident. Decades later, my world expanded again when I returned to Harvard as a Loeb Fellow, taking courses at Harvard's graduate Schools of design, law, business, and government. Those experiences enabled me to expand the reach of my art, to harness the potential of public space to bring people together. Now, as Harvard embarks on the largest campus expansion in its history, I am ready to serve our alma mater."
Echelman and her husband, David N. Feldman MBA '94, have two children.
Industry Successes
NYT best-selling author and comedian Andy Borowitz AB '80 is on the road with a special live show, The Make America Not Embarrassing Again Tour! See him in Los Angeles at the Dolby Theatre on April 24th, with the chance to get VIP tickets for a post-show photo op with Andy.
This month will be the PBS premiere of Reconstruction: America After the Civil War by Harvard Professor Henry Louis Gates, Jr. At Harvard, Prof. Gates is also the Director of the Hutchins Center for African and African American Research. The four-hour documentary series will begin with Part One on April 9th, followed by Part Two on April 16th. From PBS: "The series will explore the transformative years following the American Civil War, when the nation struggled to rebuild itself in the face of profound loss, massive destruction, and revolutionary social change."
Spring has brought with it two film premieres for Peter Lawson Jones AB '75, JD '80. Crshd, a comedy about romantic hijinks on a college campus in which he plays an astronomy professor, will premiere at the Tribeca Film Festival on April 30th. The Visit, a documentary that Peter co-executive produced and in which he is interviewed, premiered March 24th in Cleveland, Ohio. The film chronicles the historic and controversial 1965 speech by Dr. Martin Luther King, Jr. at a church in Shaker Heights, Ohio, believed to be his first address at an all-white church.
Amazon series The Boys starring Elizabeth Shue AB '00 will premiere at Tribeca Film Festival this April. Watch the official teaser for the show!
Underground 68, the new film by Peter Coonradt AB '68, premiered to a packed house at the Brattle Theatre in Harvard Square on February 27th. The film stars Ariel Smolik-Valles AB '17, whose senior thesis about campus opposition to the war in Vietnam leads her into the world of the 1960s counterculture, seen through the lives of artists, musicians, and activists from the Harvard Class of 1968. Co-producer is Harvard Classics Professor Richard Thomas, author of the acclaimed book Why Bob Dylan Matters. 
Kiran Deol AB '06 has been cast as one of the co-leads opposite Kal Penn in NBC series Sunnyside! Michael Schur AB '97 (Creator, The Good Place) is among the executive producers of the single-cam comedy. 
Don't miss this New York Times article by Crazy Ex-Girlfriend co-creator and showrunner Ailne Brosh McKenna AB '89. And New Yorkers, you can catch her at the live Crazy Ex-Girlfriend show at Radio City Music Hall next month!
March 31st was the premiere of the final season of Veep, helmed by showrunner David Mandel AB '92. Reviews are on fire, and David has been featured in several great interviews about the acclaimed HBO series—we wish the show didn't have to end!
Netflix has ordered to series an untitled comedy from rapper/comedian Lil Dicky, co-created alongside Jeff Schaffer AB '91 (Seinfeld, Curb Your Enthusiasm; Creator of The League). Marty Bowen AB '91 will also executive produce the series.
Nappily Ever After, a Netflix film from producer Tracey Bing MBA '01, received two NAACP Image Award nominations, for Outstanding Actress and Outstanding Independent Motion Picture. The 50th annual NAACP Image Awards ceremony was held on March 30th.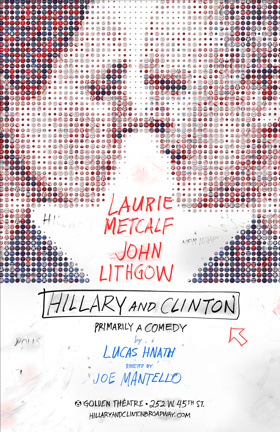 Anywhere you look, you can't miss John Lithgow AB '67, Ar.D. '05! Bleecker Street recently released the trailer to drama film The Tomorrow Man, in which Lithgow stars as a doomsday prepper; the film will be released later this spring. April 18th is the official opening night of Broadway's Hillary and Clinton, featuring Lithgow as Bill. And finally, demonstrating the breadth of Lithgow's projects, he stars in the feature film adaptation of Stephen King's Pet Sematary, set to release in just a few days!
HWP-TV module participant and leader Megan McDonnell AB '14 was featured on a recent episode of the podcast ScriptNotes, discussing the road to getting staffed!
Peter Limm AB '06 and Harvardwood 101 alum Min-Woo Park AB '16 are among the writers selected for the eighth annual CAPE New Writers Fellowship Program. This year's program mentors include Daniel Chun AB '02 (Grandfathered, Speechless). 
New Members' Welcome
Harvardwood warmly welcomes all members who joined the organization over the past month, including:
Duaa Altaee, Ext., DC
Esteban Arellano, College, Boston/Campus
Rachel Auslander, College, Boston/Campus
John Ball, College, LA
Julia Belanova, College, LA
Samantha Carrillo, College, Boston/Campus
Matthew Chang, College, Boston/Campus
Peter Coonradt, College, LA
Lily Davis, College, Boston/Campus
Tania Dominguez-Rangel, College, Boston/Campus
Jhoshua Friedman, HLS, New York, NY
Paul Georgoulis, College, Boston/Campus
Franck Germain, College, Boston/Campus
Hunter Guarino, HBS, Boston/Campus
Valentina Gutierrez, College, Boston/Campus
Shawn Hainsworth, College, Boston/Campus
Sean Hayes, College, Boston/Campus
Mireya Hernandez, College, LA
Amy Iorio, GSE, LA
La'Toya Princess Jackson, Ext., ATL
Tae (Anna) Kim, College, LA
Marc Leroux-Parra, College, Boston/Campus
Emma Li, College, Boston/Campus
Woojin Lim, College, Boston/Campus
Lisa Maley, A.R.T., LA
Lauren Marshall, College, Boston/Campus
Peter Murray, College, LA
Thomas Norman, College, LA
Phiroze Parasnis, College, NY
Nina Pasquini, College, Boston/Campus
Roger Patton, HLS, LA
Renee Rober, College, NY
Bianca Rodriguez, College, Boston/Campus
Miranda Ryshawy, College, NY
Ryan Seay, Ext., Boston/Campus
Fatima Taj, College, Boston/Campus
Lanz Aaron Tan, College, Boston/Campus
Priyanka Thapa, College, Boston/Campus
Gwen Thomas, College, LA
Vivien Tran, College, Boston/Campus
Jacqueline Walzer, College, Boston/Campus
Marilyn Wang, HBS, Boston/Campus
Kendra Wilkinson, College, Boston/Campus
Conner Williams, College, Boston/Campus
Chriss Williams, HDS, NY
Alexander "Sasha" Yakub, College, Boston/Campus
Yifan Zhang, HDS, NY
Laura Zharmukhametova, College, Boston/Campus
*FOH = Friend of Harvardwood
Alumni Profile: Susan Morris Novick AB '85 (Past HAA President; Writer featured in the New York Times, Food Network)
By Cristina Slattery

Susan Morris Novick's great passion has been the arts for many reasons, not least of which is "its role in creating empathy," she shares. This former president of the Harvard Alumni Association from 2017-2018 has spent her professional life in and around theater, film, and the arts. 
Morris Novick began her career as a talent agent for actors and writers at The Gersh Agency, eventually creating the book department in the New York office. She then chose to return to writing herself, working as a writer/producer on a restaurant travel show called Dining Around at the Food Network.
Morris Novick has since written for various magazines and newspapers, specializing in food, travel, and the arts. She was a longtime dining critic for the Long Island section of the New York Times and now writes articles for the Times' Metropolitan section as a freelancer.
Morris Novick says that her state of mind is optimistic. When asked about a person whom she admires, she cites her mother, Sybil Sternlieb, with whom she currently works as a portfolio manager and wealth management advisor for individuals in creative fields. Her new role is an evolution for her, and she has welcomed the opportunity to develop a new field of expertise.
Recently joined by Elisabeth Dewailly AB '15, they run a three-generation practice with an interest in social impact investing, including environmental sustainability, diversity, and gender equity.
"I understand the creative life, and it gives me great satisfaction to be able to help artists manage the financial and business aspects of their lives," Morris Novick says. 
Her love of the visual and performing arts began in college.
"I loved my years at Harvard," the History and Literature concentrator recalls. As an undergraduate, Morris Novick participated as an actor in the Harvard Drama Society, wrote for the Harvard Dramatic Review, and served as a dramaturgical intern for American Passion, an off-Broadway show that workshopped at the Agassiz Theater in collaboration with the American Repertory Theater. She also worked in the casting office for WGBH-TV/American Playhouse miniseries.
Now, Morris Novick is the mother of two recent Harvard graduates and would encourage young alumni to "live a creative life no matter what profession they choose" by continuing to challenge themselves, take professional risks, acquire new skills, and reinvent themselves along the way.  
"Learn to be comfortable being uncomfortable," she advises, since this is the way they will grow. Morris Novick adds that graduates should trust themselves as they move out into the wider world beyond the University.
"I'm proud to be a member of Harvardwood," Morris Novick states. She enjoys meeting with members of Harvardwood's New York chapter and had the opportunity to attend an event in California as part of her year as President of the Harvard Alumni Association.
Harvard is "where I learned how to tell a story," Morris Novick emphasizes, as well as "how to combine creative expression with critical thinking." As an alum, she values connecting with those involved in the arts and entertainment through Harvardwood.
Managua, Berlin, Lisbon, Delhi, San Francisco, and Los Angeles were all destinations to which Morris Novick traveled during her tenure as HAA President. Although she had been involved with the Harvard alumni community for many years prior to assuming that role (including as President of the Harvard Club of Long Island), Morris Novick found herself continually impressed by the over 330,000 alumni globally, noting that some of the world's most interesting people—many of whom are working to make the world a better place—are Harvard graduates.
"We all have so much to learn from one another," she remarks. Case in point: there is much to learn from Susan Morris Novick and the way she has incorporated the arts throughout her life and career.
Cristina Slattery is currently based in New York where she works as a freelance writer and educational consultant for international students. Her non-fiction articles have appeared in the New York Times, the Wall Street Journal, Newsweek Japan and on websites such as Afar.com and Words Without Borders. She has also written a Middle Grade fantasy novel and is hoping to see it published soon!
Calendar
FEATURED EVENT | Harvardwood Helps at the Great LA River Cleanup (LA) - Sat., April 13
Join Harvardwood Helps at Friends of the LA River's 30th Annual Great LA River CleanUp! We'll be working at the Glendale Narrows Riverwalk, located within the scenic 11-mile natural bottom Glendale Narrows stretch of the River. The Riverwalk is a landscaped recreational trail, perfect for pedestrians and bicyclists, running along the north bank of the River across from Griffith Park. The Riverwalk currently includes 2 small parks, an equestrian facility, and public art installations, and there are projects underway to extend the trail and even construct a bridge across the River to Griffith Park! 
FoLAR provides trash bags and gloves, but you can bring your own gloves if you prefer to use them. They will have plenty of water at each site, but please be sure to bring your own reusable water bottle! They also have some snacks for volunteers to enjoy. FoLAR gives volunteers a t-shirt and a reusable bag! However, supplies may be limited and are given out on a first-come-first-serve basis.
New York, NY
Harvardwood Presents Jim Jermanok on BEYOND THE CRAFT: What You Need to Make a Living Creatively - Wed., April 17
25 million Americans have creative dreams. Whether you've been bitten by the creative bug or are an aspiring, working, or successful creative professional, Jim Jermanok will tell you how to make your dreams a reality and how to get to the next level of your creative career without relying solely on agents, managers, producers, and other gatekeepers.
Jim Jermanok is an award-winning writer, director, producer, creative consultant, and speaker. He is currently directing a feature documentary about Oscar-winning actor Martin Landau.  He wrote and produced the highly acclaimed romantic comedy Passionada, and his recent film Em won the Grand Jury Prize at the Seattle International Film Festival.  His web series LIFEADVICE.TV has been widely praised since going live globally. Mr Jermanok is a former ICM agent, who helped to represent Arthur Miller, Shirley MacLaine, John Chancellor, Ben Kingsley, Dudley Moore, Helen Hayes, and General H. Norman Schwarzkopf, among others.
Harvardwood Presents LINDA GREENHOUSE AB '68: "And, Speaking of the Supreme Court . . . " - Tues., April 30
There is probably nobody, other than perhaps the Justices themselves, who knows more about the Supreme Court than Linda Greenhouse AB '68. One of the most widely admired journalists of our time, Pulitzer Prize winner Greenhouse spent 40 years writing for the New York Times, 30 of them covering the Supreme Court.  In addition to the Pulitzer (1998, for beat reporting), her many awards include the 2002 Carey McWilliams Award from the American Politcal Science Association for "a major journalistic contribution to our understanding of politics", and the 2004 Goldsmith Career Award for Excellence in Journalism from Harvard's Kennedy School.  Since 2009, she has been the Joseph Goldstein Lecturer in Law and Knight Distinguished Journalist-in-Residence at Yale Law School.  She continues to write a biweekly op-ed column on law for the New York Times.
Linda Greenhouse will speak about the Supreme Court and her experiences as a journalist covering it.
Cambridge, MA
Harvardwood Heads To... Uncut: Terrace Martin - By the Harvard OFA & No Label - Thurs., April 4
Among the most versatile musicians and producers of his generation, Terrace Martin has worked extensively with  Snoop Dogg, Lalah Hathaway and Herbie Hancock. Martin is grounded in hip-hop but learned to appreciate jazz through his father, a drummer. After playing keyboards for several years as a teenager, Martin picked up the saxophone and within a few years landed a gig with P. Diddy. Shortly thereafter, he began a long-term association with Snoop Dogg and gained a college scholarship via Jay Leno after The Tonight Show Band's Kevin Eubanks heard his playing.
This event, which is free and open to the public, is a collaboration between the Office for the Arts at Harvard and No Label, a creative collective of college students whose broad mission is to create a community that sees beyond ascriptive labels. Read more about No Label here. 
Harvardwood + Harvard College Film Festival Mixer - Sun., April 28
Attend our networking mixer for attendees of the 2019 Harvard College Film Festival and Harvardwood members and friends! Light refreshments will be served. Film lovers, students, and community members are all welcome! The event will be held at Ticknor Lounge in Boylston Hall (Harvard Yard). The 2019 Harvard College Film Festival will run from April 25-28, 2019.
Los Angeles, CA
Harvardwood Heads To... Andy Borowitz AB '80 Live: The Make America Not Embarrassing Again Tour - Wed., April 24
The New York Times best-selling author and comedian who has written for The New Yorker since 1998 is taking his satirical news column on the road to The Dolby Theatre. Join Andy Borowitz AB '80 for an evening of conversation & storytelling as we get down to addressing what the @#$ is going on! 
Borowitz has been called a "Swiftian satirist" (the Wall Street Journal), "America's satire king" (the Daily Beast), "the funniest human on Twitter" (the Times), and "one of the funniest people in America" (CBS News' "Sunday Morning"). In 2001, he created the Borowitz Report, a satirical news column that has millions of readers around the world, for which he won the first-ever National Press Club award for humor.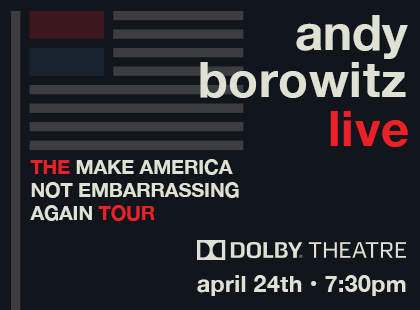 The Borowitz Report was acquired by The New Yorker in 2012. He has published two recent best-selling books: "The 50 Funniest American Writers," which became the first title in the history of the Library of America to make the Times best-seller list; and a memoir, "An Unexpected Twist," a No. 1 best-seller, which Amazon named the Best Kindle Single of 2012. His Twitter feed, @BorowitzReport, has more than half a million followers and was voted the best Twitter feed of 2011 in a poll by Time. In 1990, Borowitz created "The Fresh Prince of Bel-Air" which aired for six seasons on NBC. As a comedian, he has performed sold-out shows around the world and has made countless television and radio appearances, on National Public Radio, VH1, and Comedy Central, among other places.
A limited number of VIP gold circle seats will be available that also includes a post-show photo op (no autographs) with Andy.
Harvardwood Heads To... TIPS: The 2nd Annual Double Agent Gala - Friday, April 26
You only live twice so there's no time to waste. Your Mission: Go back to the '60s and revel in the world of counterintelligence when you join us at Andaz's legendary Riot House. Wear your finest formal attire for The 2nd Annual Double Agent Gala and meet the brightest at the rock n' roll lounge of Sunset Strip. The Riot House will be private to our agents from 8-10pm. We won't stop when we're tired, we'll stop when we're done.
Italy
Harvardwood Heads To... Tuscan Art Retreat - April 28 - May 5
This art retreat is open to all levels, from beginner to advanced artists, who would like to experience the creative inspiration of sculpting the figure in clay. The human form has been a core source for the creative communication of our existence since the dawn of history. Working in clay, from a live model, this course will explore the figure and methods for creating from it. Students will work both short and long process studies, learning how to develop ideas about the figure. Classes will also feature practical technical instruction and the possibility for finished pieces to be cast in plaster, bronze or even carved into marble, for an additional fee. Arriving on Sunday, April 28, classes start on Monday, April 29 and continue to Sat May 4th, with departure on Sunday, May 5th (6 days tuition, 7 nights accommodation).
This Retreat takes place at Almora, a 17th-century Tuscan farmhouse converted into a charming Inn and sunlit Sculpture Studio, located in the Valdicastello region of Pietrasanta. We will have exclusive use of Almora's facilities for the Art Retreat. The studio workshop is located next to the Inn in a secluded olive grove. The Inn is supplied by its own running well of pure spring mineral water, built by monks during Renaissance. All the linens, products and food served by the Inn are organic and naturally sourced. The open form Italian style studio workshop provides a wonderful creative atmosphere and you are sure to have an inspiring experience. The Pietrasanta Retreat is limited to 10 workshop participants.
Tribeca Film Festival
Harvardwood Heads To... Tribeca: THE BOYS Premiere - Mon., April 29
The Boys is a fun and irreverent take on what happens when superheroes abuse their superpowers rather than use them for good. Based on a comic by Garth Ennis and Darick Robertson. After the screening, stay for a onversation with series stars Karl Urban, Jack Quaid, Antony Starr, Erin Moriarty, Jessie T. Usher, Laz Alonso, Chace Crawford, Karen Fukuhara, Elisabeth Shue AB '00 and executive producer/showrunner Eric Kripke.
Harvardwood Heads To... Tribeca: Premiere of CRSHD - Tues., April 30
Crshd, a comedy about romantic hijinks on the college campus, will premiere at this year's Tribeca Film Festival.  The film features Harvardwood member Peter Lawson Jones (College '75, Law School '80) in the role of an astronomy professor.  Following are the dates, times and venues where the film will be screened:
04/30/2019, 6:30 PM at Village East Cinema - 1st Screening

05/01/2019, 7:00 PM at Regal Battery Park - 2nd Screening

05/04/2019, 5:00 PM at Regal Battery Park - 3rd Screening 
Spread the word about your Tribeca screenings
Are you heading to Tribeca 2019 and presenting a film? Let us know so we can share screening info and other details with the Harvardwood community. We love to support our members and their endeavors in the arts, media, and entertainment—whether it's by serving as a fiscal NPO sponsor in the early stages of a project or by promoting your concerts, exhibits, or screenings via the Harvardwood Heads To... calendar.
This year's Tribeca Film Festival is slightly later, running from April 24 through May 5, 2019.
Email us if you have or you know of Harvard-affiliated films that will be featured in the 2019 Tribeca Film Festival this spring.
---
DISCLAIMER
Harvardwood does not represent or endorse the accuracy or reliability of any of the information, content or advertisements (collectively "Materials") contained on, distributed through, or linked, downloaded or accessed from any of the services contained in this e-mail. You hereby acknowledge that any reliance upon any Materials shall be at your sole risk. The materials are provided by Harvardwood on an "AS IS" basis, and Harvardwood expressly disclaims any and all warranties, express or implied.
Do you like this post?