In This Issue:
NEWS
Featured Member Posting: Casting Assistant (Showtime) - LA
High school juniors: Apply to receive the Harvardwood Prize
March Mania Membership Drive for new members
2019 Harvardwood Summer Internship Program listings now online
FEATURES
Harvardwood receives the HAA Award for 

Outstanding Club & Shared Interest Group Contribution!

Industry Successes
New Members' Welcome
Alumni Profile: Grant Thompson AB '98 (Actor, Writer, & Producer, McFarland, USA, Up at Noon with Greg Miller)
CALENDAR & NOTES
Calendar
Celebrate #HW20 years by tagging photos and shoutouts of your #HWMemories!
---
Message from Dona
Spring is still a few weeks away, but Harvardwood is in full bloom this month! We're hosting can't-miss events in Cambridge (March 4th), DC (March 6th), New York (March 18th), and THREE events in the Los Angeles area! On Thursday, the 21st, welcome Harvard Professor Linda Schlossberg to the west coast to deliver a talk about dystopic literature. The following Thursday, March 28th, our masterclass brings you working actor Andrew Burlinson AB '97. Finally, we wrap the month with a networking breakfast, co-hosted with the H4A, featuring comic writer Amy Chu MBA '99.
And if you're Austin-bound this month, have a blast at SXSW and check the calendar for events featuring Harvard alumni!
- Dona
Featured Member Posting: Casting Assistant (Showtime) - LA
The Talent and Casting department at Showtime is seeking an Executive Assistant to perform an array of administrative duties which include:
Assist the SVP, Talent & Casting and support the Director, Talent & Casting

Assist with coverage on all Showtime Series and Pilots

Administrative duties: Heavy email correspondence and high volume of calls, schedule and maintain calendars, organize and submit monthly expense reports, arrange travel accommodations (flights, cars, event/hotel reservations)

Administrative liaison between: Casting Directors, Partnering Studios, Executive Producers, Production, Business Affairs, Publicity, and Agents/Managers

Help facilitate network tests and organize packets with information on actors testing and those who have been cast

Edit and upload actor demos/reels/auditions on MAC and PC

This position requires someone to be adaptable and flexible to support the needs of the Casting department.
High school juniors: Apply to receive the Harvardwood Prize
We are now accepting applications from high school juniors to receive the Harvardwood Prize, founded to recognize and celebrate the artistic accomplishments and potential of high school students who exemplify Harvardwood's mission:
Harvardwood is a nonprofit organization for members of the Harvard University community who believe in the power and purpose of the arts, media and entertainment. By providing professional resources and service opportunities, Harvardwood strives to utilize the creativity and leadership of our diverse members as forces for positive social change.
In light of Harvard University's robust arts communities and arts education opportunities, we hope the Harvardwood Prize will encourage high school students to apply to the College. The Prize will be awarded annually to a high school junior (rising senior) who plans to apply for admission to Harvard College in the fall of their senior year and who has demonstrated excellence in their dedication to the arts/media/entertainment and its power to enact positive social change.
Find out how to apply here and feel free to forward the link to colleagues, friends, and relatives whose high school students might be interested!
March Mania Membership Drive for new members
It's baaaack: we're running a March Mania Membership Drive this month for *new members!
If you begin your membership subscription between now and March 31st, we'll give you a one-time use $20 certificate for "Harvardwood cash" that can go toward anything: program fees, entry to the annual Writers Competition, event registration, etc. After all, it seems fitting to celebrate Harvardwood's twenty years with a $20 gift to new members.
Before you join Harvardwood, feel free to reach out if you're unsure of your eligibility or your current membership status.
2019 Harvardwood Summer Internship Program listings now online
The 2019 Harvardwood Summer Internship Program (HSIP) list of opportunities is now available!
Started in 2003, HSIP provides a list of summer internship opportunities in the arts, media and entertainment to interested Harvard students. In addition, HSIP facilitates career-related activities throughout the summer for participating students and companies in NYC and LA. Past program events have included film screenings, company visits, industry panels, and speaker series.
The earlier you apply, the better, so read on for more information about HSIP.
Program Guidelines
To access and apply to HSIP

 

opportunities, you must be a current student at Harvard College.
Internship applicants must have a Harvardwood account in order to access the HSIP list of opportunities. If you are not a Harvardwood member and are on financial aid at Harvard, please

 

contact Ruth Wilson

 

of the Harvard OCS.
After securing an internship, students can sign up to participate in HSIP activities and to attend HSIP events in the summer.

 

Even if you did not find your arts/media/entertainment internship through the HSIP listings, you can still participate in HSIP as long as you a current Harvard College student

.
Harvardwood receives the HAA Award for 
Outstanding Club & Shared Interest Group Contribution!
Harvardwood was honored to receive the Harvard Alumni Association's annual award for Outstanding Club & Shared Interest Group Contribution, in recognition of exceptional efforts resulting in outstanding and innovative programming.
Officially founded in 1999 by Mia Riverton Alpert AB '99, Stacy Cohen AB '89, and Adam Fratto AB '90, Harvardwood is especially excited to receive this HAA award during the celebration of our 20th anniversary. Today, Harvardwood runs on the volunteer manpower of President Allison Kiessling Ed.M. '05 and our Board of Directors.
The award was presented to Harvardwood at the 2019 Alumni Leadership Conference awards dinner, and Executive Director D. Dona Le AB '05 was in attendance to accept the award on behalf of Harvardwood.
We share this honor with all of the hardworking, dedicated Harvardwood Board of Directors, Chapter Heads, and volunteers who keep our programs thriving. In addition, the vibrant and nurturing Harvardwood community we've built would not be possiblew without the passion and participation of all of our members and supporters.
Harvardwood is deeply grateful to the University and the Harvard Alumni Association for their longstanding support of our organization. We are thrilled to be a part of the HAA community, among all the other Shared Interest Groups and local Harvard alumni clubs worldwide! We thank the HAA for this great honor, and we look forward to many more years of collaboration on such invaluable programs as Global Networking Night and the annual Speakers Bureau program.
Finally, Harvardwood recognizes HAA Executive Director Philip W. Lovejoy and the team of HAA staff members who work tirelessly on campus and travel to Harvard Clubs/SIGs near and far to strengthen Harvard connections beyond campus.
Industry Successes
Cynthia Wachtell AM '92, PhD '98 recently published The Backwash of War: An Extraordinary American Nurse in World War I, an edited and expanded version of a brilliant "lost classic" that was immediately banned in England and France after the original's publication in 1916, then censored in wartime America. The time has come to recognize it among the seminal works of war writing and celebrate its extraordinary author: Ellen N. La Motte, a trained nurse, suffragist, socialist, self-proclaimed anarchist, lesbian (partnered with a prominent American heiress and art-collector for over 45 years), journalist, world-renowned anti-opium advocate, member of the extended DuPont family, and much more! 
The Storyteller, Jim Henson's 1980s anthology series, is getting a television remake with The Jim Henson Company (headed by Lisa Henson AB '82-'83), Fremantle, and Neil Gaiman! The original was inspired by Lisa Henson's studies of folklore and mythology at Harvard. As Deadline reports: "'The Storyteller has always been a special project for me, having worked so closely with my dad on the original concept,' said Lisa Henson."
John Lithgow AB '67, Ar.D. '05 was celebrated in fine fashion at last month's 2019 Roundabout Theatre Company Gala, where he received his award from Annette Bening (photo by Joseph Marzullo/WENN). This spring, Lithgow will be featured in the highly-anticipated Broadway play, Hillary and Clinton.
Ali Imad Fadlallah EDLD '17 of ClefNotes was awarded a Voqal Fellowship, which provides the resources and mentoring needed to bring early-stage ideas focused on progressive and social change to life. Fadlallah received a $30,000 stipend and has six months to build out his idea for ClefNotes, which will create visual albums (songs and music videos) that provide in-depth analyses on key social justice books.
Racheal Seymour MPP '97 is among the eight writers selected to participate in the 2019 Disney ABC Television Writing Program! "Created in 1990 with the Writers Guild of America West, the one-year program's goal is to help participants secure their first staffing assignments via Disney-ABC Television series" (Deadline).
February was a busy month for Aaliyah Williams AB '02! Netflix has greenlit bilingual dramedy Gentefied, originally a web series created by Marvin Lemus and and co-written with Linda Yvette Chávez. In addition to executive producing Gentefied, Williams just launched her own production company, Just a Rebel, and inked a one-year first look deal with Macro!
New Members' Welcome
Harvardwood warmly welcomes all members who joined the organization over the past month, including:
Jose Antonio Bengochea, College, LA
Danielle Davis, College, Boston/On-Campus
William Goulston, College, LA
Audrey Hansen, College, NY
Daniel Mahoney, College, Boston/On-Campus
Corey Powell, College, NY
Camille Schmidt, College, NY
Katharine Strobos, College, NY
Martha Swetzoff, College, Other U.S.
Qingling Wang, HLS, Boston/On-Campus
Najya Williams, College, Boston/On-Campus
Allenda Witzel, Ext., DC
Angela Wu, College, NY
Hamza Zaman, Ext., NY
*FOH = Friend of Harvardwood
Alumni Profile: Grant Thompson AB '98 (Actor, Writer, & Producer, McFarland, USA, Up at Noon with Greg Miller)
By Stephanie Ferrarie AB '18
The career of Grant Thompson AB '98 is varied and broad, much like his interests. A native of Gainesville, Florida, Thompson grew up playing sports, writing and acting in his high school drama club, and contributing to sketches for homecoming. While well-rounded, he didn't consider himself a TV or film buff, and until he took Math 21A, he was planning to study math at Harvard. Instead, he studied history.
Meanwhile, he played basketball from freshman through junior year, in addition to being a member of the Phillips Brooks House Association. Thompson recounts his first year at Harvard living on the fifth floor of Weld, where he and his roommates, with whom he remains friends, had a water balloon launcher that they'd use to fire projectiles collected from the dining hall out their window onto the steps of Widener.
As an undergraduate, Thompson's creative endeavors ebbed and flowed—his first performance was in the sketch show Real Class of '98, inspired by an earlier project by Paul Cabana AB '96. The show revolved around life at Harvard for the freshman class and took place in the Freshman Union's theater (Thompson's class was the last year to eat in the Freshman Union before Annenberg opened for freshman dining). Thompson says that this experience "whet my appetite" for performing. During the spring of that first year, in fact, he was cast during Common Casting, only to be forced to drop the opportunity due to a broken collarbone sustained while snowboarding.
After three years on the basketball team and an internship on Wall Street the summer before, Thompson's senior year began with an inclination to pursue more creative projects that fall. He acted in a senior thesis musical by Derrick Ashong '97, and he participated in a dance battle with Baratunde Thurston '99. Additionally, his blockmates and other cast members of the Real Class of '98 sketch show revived it in the Leverett Library Theater during their senior spring. 
Thompson attributes an on-campus presentation by producer Chris Moore '89 as one of the motivators that compelled him to move to Los Angeles. At the presentation, during the fall of 1997, Moore asked, "How many of you know who know who Matt Damon and Ben Affleck are?" After no one did, he said, "Well, you're about to."
With the release of Good Will Hunting later that year, Moore's Matt Damon example deeply bolstered his ambition to pursue a career in the movies.
After graduation, Thompson decided to defer a consulting job offer from McKinsey and instead moved to Los Angeles to act. While moving, Thompson got back in touch with Moore and after some phone tag and a 20-minute wait on the line, Thompson impressed the producer with his patience. Moore invited him to the Beverly Hills Y for a Wednesday night basketball league. Thompson played in that league for 12 years alongside others in the industry, though he's quick to say the players did not indulge in "shop talk."
During his first few years in Los Angeles, Thompson focused on acting but continued to write on the side. Despite deferring the McKinsey job (spoiler alert: he never went!), Thompson also worked on cases for another consulting firm while taking acting classes and picking up side gigs.
Thompson's big break came after a casting director found him at a showcase, and he was put up for roles on popular series such as Felicity and Dawson's Creek. From age 22 to 27, he was a working actor in TV, movies, and commercials. In fact, in 2004, he was the star of the Geico commercial "Reality Show" and was interviewed on The View as part of a segment highlighting favorite commercial stars. Recently, Geico began rerunning their greatest commercial hits and Thompson still receives calls from colleagues and friends who have only known him as a writer, asking why he was on a Geico commercial.
Despite his status as a Favorite Commercial Star, Thompson gradually stopped acting. In 2004, he was a contestant on ESPN's Dream Job, a competition that aimed to find the next ESPN sportscaster. A long-time fan and athlete, Thompson was a finalist in the competition, only to be eliminated in the final round that took place in New York City. Most of the other contestants continued careers in sports broadcasting, but Thompson decided to return to Los Angeles, where he began writing more seriously, though his interest in sports continues to influence his work.
At the age of 29, he wrote a dark script, which he describes as uncharacteristic of his current writing style, titled Corey Feldman Is My Wingman. His attorney passed the script to a literary manager, who suggested that he write something more mainstream. So Thompson began working on The Angler, a story exploring the relationship between a father and son through fishing. Thompson says The Angler captures his writing style—emotional, inspirational, character-driven stories—and that the script was the first to make him "a writer" in the eyes of studio executives, agents, and producers.
His writing break came with McFarland, USA, a true story of a coach who creates a formidable cross-country team out of a group of teenagers from a predominantly Latino high school. Gordon Gray and Mark Ciardi were brought in to produce the Disney project, and Thompson was one of the writers to whom they pitched the project.
Knowing he would need to be the first to pitch in order to get the job over more experienced writers, Thompson went through the source materials and created a detailed and thorough pitch in about a week. After his initial pitch to the producers, Thompson was brought to the VP of the studio and then presented to the studio head. (From his acting days, Thompson says that he finds pitching "fun" and much easier than auditioning).
Thompson was hired, director Niki Caro was attached, and once Kevin Costner signed on for the lead role of Jim White, the project was greenlit. The NAACP awarded Thompson "Outstanding Writing in a Motion Picture" at the Image Awards; he is proud that with its inspirational storyline, the film brings a new modern take on the American dream. Thompson designates McFarland, USA as his favorite project because it's a film that he can show to his daughters—he has three under the age of nine.
After McFarland, Thompson was hired on other projects, many in the same vein as the inspirational sports stories he'd proven to be so adept at writing. He conceived Spitfire after watching Danica Patrick become the highest-finishing women in the Daytona 500 since 1951. Curious about what had happened in 1951, Thompson visited the Daytona Beach Library and learned about female racecar driver Louise Smith, upon whom Spitfire is based. The project was sold to Lionsgate, with fellow Harvard alum Nicky Weinstock AB '91 producing, and has been in development.
Thompson was also hired to write a script in Pixar's Cars universe that was shelved, but he has since started working on a second animated movie, hopefully going to production later this year.
Though writing for animation is structurally different, Thompson explains, it keeps him focused on his strengths by writing toward themes that he can translate. "It's fascinating to see how animators can enhance your words visually."
Thompson credits his acting career for his biggest strength in writing—his dialogue has been praised for being a good blueprint for what happens on screen. Despite having written and sold five television pilots, he has chosen not to staff a TV show, though he is currently working on a one-hour drama with Warner Brothers for ABC.
In addition to writing, Thompson served as a creative adviser for JB Games, Jerry Bruckheimer's video game company, which has since dissolved. He also ran the Start Channel for IGN as their creative head. In 2012, he started the channel from scratch, gaining 275,000 subscribers, building a year's slate of programming, and overseeing the day-to-day operations of a high-content-producing YouTube channel in a world before streaming.
Ultimately, Thompson's career has been a testament to the value of varied experiences and interests that inform his longstanding passions and career prospects. From athlete to actor to sportscaster to writer, he threads together themes of curiosity and competition, inspiration and patience. Given his advice to "stick to what you're good at," it is no wonder that these themes show up in Thompson's work time and again.
Steph Ferrarie AB '18 is a recent graduate and aspiring producer of film, TV and theater. 
She currently resides in Los Angeles. She loves dogs and ice cream.
Calendar
FEATURED EVENT | Harvardwood Presents Prof. Linda Schlossberg: Dystopic Literature in the Age of Trump (LA) - Thurs., Mar. 21
Dystopic scenarios in film, television, and fiction are stunningly popular, with stories of technological control (Black Mirror), hellish playscapes (Westworld), and sexual enslavement (The Handmaid's Tale), gripping our collective imaginations. How do we understand dystopia's popularity in terms of our current political moment and cultural obsessions? How do these stories illuminate not only our fears of totalitarian regimes but also our own complicity in systems of power and oppression? Finally, what is pleasurable, exciting, and potentially liberatory about these stories? What are we hoping to see and why can't we look away?
We are fortunate to have Prof. Schlossberg travel from Cambridge to visit us, and we invite all alumni in the greater Los Angeles metropolitan area to join us on the evening of Thursday, March 21st to meet her! For many Harvard alumni, this will be a unique opportunity to feel like you're stepping back into Sever Hall or Barker Center!
Linda Schlossberg serves as Assistant Director of the Women, Gender, and Sexuality Studies Program at Harvard University, where she teaches courses in literature and creative writing. She is the author of the novel Life in Miniature and the co-editor of Passing: Identity and Interpretation in Sexuality, Race, and Religion. Her work has appeared in a variety of publications, including McSweeney's, Conduit, and Post Road. Schlossberg was the recipient of a 2019 Somerville Arts Council/Massachusetts Cultural Council Fellowship, as well as the 2016 Emerging Writer Fellowship from the Writer's Center. She is currently completing a feminist dystopian novel.
New York, NY
Harvardwood Presents JED PERL on High Culture, Pop Culture, and the Future of Culture - Mon., March 18
High Culture?  Low Culture?  Are these parts of a continuous spectrum?  Or do they exist in direct opposition--perhaps even in dynamic and creative opposition?
Jed Perl is one of the most brilliant and insightful of today's thinkers and writers about art. John Ashbery called him "an almost solitary, essential voice", and a reviewer in The Atlantic wrote that Perl "may be the finest American critic at work today in any field." Perl is a regular contributor to the New York Review of Books. Before that he was art critic for The New Republic for two decades and was a contributing editor at Vogue.
The doors will open at 6:30 pm (please do not arrive earlier) and the evening will begin with a wine and cheese reception.  The talk will begin promptly at 7 pm. Cost: $5 for dues-paying Harvardwood members (and their guests); $15 for all others.
Los Angeles, CA
Harvardwood LA: Creative Recovery & Accountability Workshop - Sun., March 10
Creatives! Trying to complete a project? Looking for an accountability partner? Looking for courage to start your passion project? Harvardwood is launching a monthly group to meet with the purpose of helping each other to unlock our creative juices and get things done. The workshop will be loosely structured around Julia Cameron's books The Artist Way and The Vein of Gold. The group is open to any current-dues members creating art: writers, singers, actors, directors, producers, sculptors, painters, musicians, etc. Join us for our preliminary meeting this March, and please RSVP by March 8th, so we can get an accurate headcount.
Harvardwood Heads To... The Ivy Plus Society's Upstairs at The Victorian - Wed., March 13
A charming brick path lined with candles and twinkle lights will lead you to The Ivy Plus Society's next cocktail social. Located in beautiful Santa Monica, we're taking you to the Upstairs at The Victorian. This one-of-a-kind experience is the perfect start to March where you'll mix and mingle with the finest and brightest achievers in Los Angeles. This exclusive Wednesday night mixer on Main Street is complete with a gorgeous, intimate patio making it the ideal location to meet someone new.
Harvardwood Masterclass: The Real Life of a Working Actor with Andrew Burlinson AB '97 - Thurs., March 28
Let's talk about the things that acting classes don't usually talk about. Let's talk about the strange intersection of art, commerce, passion and endurance that is life as a working actor. Actor Andrew Burlinson AB '97 (Parks and Recreation, Just Add Magic) talks about his nearly twenty-year career as a character actor and the challenges of navigating between work in theater, film, television, new media and commercials. Whether you're fresh out of acting school or fighting career burnout, this masterclass will help you keep your eye on the big picture while keeping your finger on your own artistic pulse.
Andrew Burlinson is a seasoned actor whose professional career spans nearly twenty years. He is currently a series regular on the Amazon Prime Original JUST ADD MAGIC. He had a recurring role on PARKS AND RECREATION (NBC) and has appeared on SILICON VALLEY (HBO), CASUAL (Hulu), BROOKLYN NINE-NINE (NBC) and CRIMINAL MINDS (CBS). He will appear next in the feature film FORD VS. FERRARI from director James Mangold (WALK THE LINE, LOGAN) which stars Christian Bale and Matt Damon.
Originally from Larchmont, New York, Andrew graduated cum laude with a degree in English and American Literature from Harvard University where he was active in the theater and improv scene. At Harvard, Andrew was a four year member and President of the Hasty Pudding Theatricals.
After college, Andrew studied acting in New York and eventually won a coveted spot as a Blue Man in the world famous BLUE MAN GROUP. He performed for thousands of theater goers in New York, Boston, Chicago and Brazil over the course of his nearly seven year tenure as a Blue Man.
Andrew has also appeared in highly visible commercials for Hyundai, Volkswagen, Ford, Tamiflu, Verizon Fios, Comcast, Avis, Vizio, and AT&T among many others. Andrew has appeared in so many commercials, he was once recognized at Dodgers Stadium as "that guy" from "that thing" on "my TV."
Harvardwood & H4A Present: A Networking Breakfast with Amy Chu MBA '99 - Sat., March 30
Harvardwood and the Harvard Asian American Alumni Alliance (H4A) are teaming up to co-host a networking breakfast with comic writer 
Amy Chu MBA '99
! All are welcome to attend, but please RSVP below so that we have an accurate headcount for the restaurant reservation.
Registration is $35 for Harvardwood or H4A members // $45 for all others. Registration covers the breakfast buffet for each attendee, plus tax and tip.
Amy Chu is a popular comics writer and graphic novelist. She has worked for Marvel and DC writing well-known characters such as Deadpool, Ant-Man, Wonder Woman, and Poison Ivy. Her runs on the classic titles Green Hornet, Red Sonja, and Dejah Thoris: Princess of Mars were critically acclaimed and well received by fans.  For rock and rap icons KISS and DMC, she created new universes and storylines inspired by their music. She has also written two children's graphic novels: Ana & the Cosmic Race, a space adventure published by Papercutz, and Sea Sirens, a mermaid tale from Viking Press available June, 2019.   She holds degrees from Wellesley College, MIT and Harvard University, and is a fan of coffee, whiskey, Lego, and women in STEM.
Boston, MA
Harvardwood Salon: All Things Hallmark with Peyton McDavitt '06 - Mon., March 4
Get a look at acting, writing, and all things Hallmark ... including the Christmas movie! Harvardwood Boston will be joined by writer & actor Peyton McDavitt AB '06 at this salon, limited to 12 attendees. Please RSVP in advance at the link above. Light refreshments will be served.
Born and raised Boston Irish Catholic, Peyton McDavitt didn't know the difference between a wedding and a funeral until she was about 12. She does, however, know the difference between their, they're, and there. She graduated from Harvard. Then she told her parents she wanted to be an actor. That went over well. After working on several movies and TV shows and perfecting the art of running in night vision goggles on camera (so hard!) she became a writer (even better). It's a funny story. Promise.
She gained entry into the New York Television Festival and subsequently won a development deal with LIFETIME A&E. She has written for THE GUYS CHOICE AWARDS for SPIKE/SONY, YOUTUBE Red, FACEBOOK TV, and MEDINAH, the first scripted show to come out of the Arabic world... for which she lived in the Middle East for a few months and even ate baby camel. She felt pretty bad about that. She is currently writing her second feature for THE HALLMARK CHANNEL.
She was awarded runner up out of over 2,000 submissions for the SCREENCRAFT Horror/Thriller competition. She was also a top 20 finalist in the SCREENCRAFT pilot competition out of over 1,700 submissions. That same pilot garnered a nomination for the 2017 WriteHer List. She is a TV consultant and has worked as part of think tank for E! Entertainment, as well as a TV and feature script editor and consultant.
Harvardwood Heads To... Harvard OFA Event: Music, Leadership and Activism - Wed., March 27
Meklit Hadero is an Ethiopian American vocalist, singer-songwriter and composer, making music that sways between cultures and continents. She will join Alicia Anstead NF '08, associate director for programming at the Office for the Arts and arts journalist, for a conversation about the role of music in civic leadership and activism. The event is free and open to the public. All are welcome.  
Washington, DC
Harvardwood Heads To... From Script to Screen: How to Create a DIY Episodic Series, Feature, or Short - Sun., March 3
Join Marc and Maria Unger, co-creators of  THESPIAN (now available on Amazon and Amazon Prime), along with THESPIAN cast members including Sasha Carrera EDM '00 for this one-day comprehensive workshop. They'll tell you what you need to know to create your own DIY indie episodic series, feature or short film, and provide practical advice and an overview of the entire process. Learn from their triumphs and mistakes. 
Harvardwood Writers Meet-up - Wed., March 6
The official monthly Black List Happy Hour has been discontinued, but in DC, we will still meet on the first Wednesday of the month. Writers of all types welcome—novelists, poets, screenwriters, TV writers, journalists—come and connect with fellow Harvardwood scribes. Do you have any suggestions for metro-accessible venues in DC -
where we could meet to socialize and even break off to write/get feedback on our writing from other attendees, or 
with a bar (and ideally food) and also comfy couches or an area suitable for small groups to settle in with their laptops
If so, please let us know at [email protected].
SXSW
SXSW 2019: Hacker Heroes and Villains - Fri., March 8
Real-world hackers team with fictional counterparts to examine hacker roles in society vs media. The audience will understand who hackers really are, who they can be, and what drives them - and will distinguish myth from reality. Featuring August Cole MBA '07.
SXSW 2019: Reneepoptosis by Renee Zhan AB '16 - Multiple Screenings
Part of the SXSW 2019 Film Screenings series: Three Renees go on a quest to find God, who is also Renee. As they traverse the great mountains and valleys of Renee, they discover all the joys, mysteries, and sadnesses of being Renee. Directed and produced by Renee Zhan AB '16.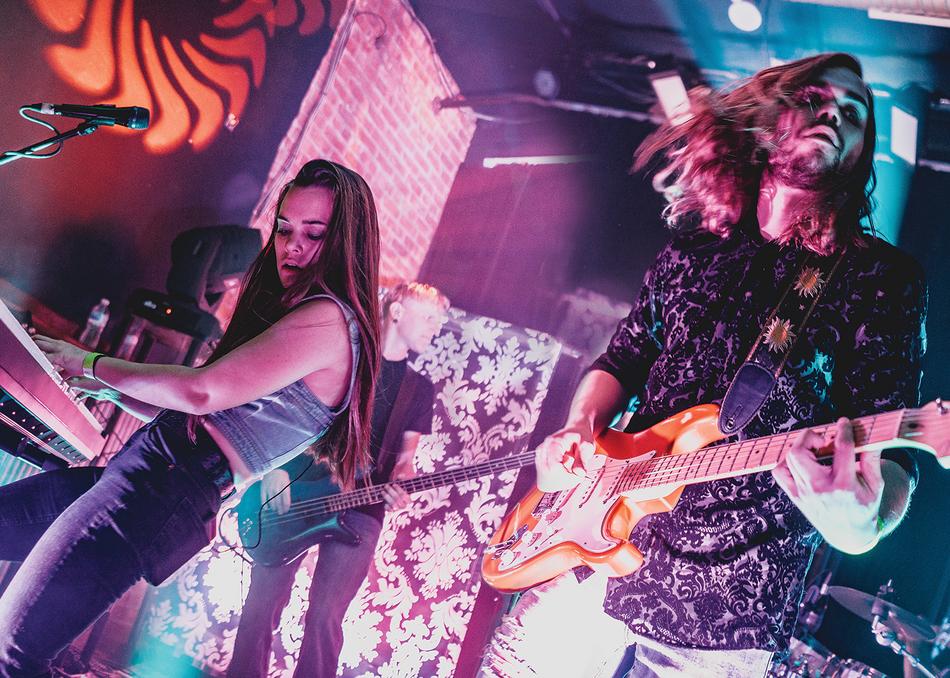 SXSW 2019: Jocelyn & Chris Arndt Band - Wed., March 13
The ties that bind any siblings vary in strength. For alt rockers Jocelyn Arndt AB '17 & Chris Arndt AB '18, those ties are made of carbon fiber. "He's my best friend," says Jocelyn. "And to be able to chase this shared dream with my best friend, well, that's everything." The Arndt's unique combination of devastatingly powerful vocals, retro-infused guitar, and entrancing lyrics creates what's best described as an alternative-leaning throwback to pure, album rock. Press includes Baeble, Paste, Huff Post, Relix, Jam in The Van, and numerous others. Jocelyn, Chris, and their band perform hundreds of shows at legendary venues and festivals coast to coast. Their albums feature guests like G Love, Gov't Mule's Danny Louis, and Cory Wong of Vulfpeck. Their single "Red Stops Traffic" cracked the Billboard Triple A Top 40 with radio airplay nationwide, while their album "Go" held the #2 position on The Jambands Top 30 Album Chart for 3 consecutive moths. Perhaps most amazingly, they've done all of this while balancing college at Harvard University. Come rock with them at SXSW!
Celebrate #HW20 years by tagging photos and shoutouts of your #HWMemories
We'll be sharing some of our favorite Harvardwood moments from the past twenty years on Instagram, Facebook, and Twitter—and we hope you'll join the fun! When you do, tag #HW20 and #HWMemories so we can share in the nostalgia and fuzzy feelings. 
---
DISCLAIMER
Harvardwood does not represent or endorse the accuracy or reliability of any of the information, content or advertisements (collectively "Materials") contained on, distributed through, or linked, downloaded or accessed from any of the services contained in this e-mail. You hereby acknowledge that any reliance upon any Materials shall be at your sole risk. The materials are provided by Harvardwood on an "AS IS" basis, and Harvardwood expressly disclaims any and all warranties, express or implied.
Do you like this post?