In This Issue:
NEWS
Featured Member Posting: Part-Time Development Officer (Harvardwood) — LA
For companies: Meet & host Harvard interns in January 2019 — LA
Apply to be matched with a mentor in 2018-19 — LA
Extension to submit to HW Publishing's Once Upon a Fairytale anthology
Attend ITVFest with Harvardwood: Special discount & mixer event
Students, get a crash course in Hollywood careers over J-term: Apply to HW101 by Oct. 19
FEATURES
Exclusive Q&A with Lillian Yu AB '11 (TV & Screenwriter, Powerless, Singles Day)
Industry Successes
New Members' Welcome
Alumni Profile: Tayari Jones RAE '12, RF '12 Author (Leaving Atlanta, Silver Sparrow, An American Marriage)
CALENDAR & NOTES
Calendar
On financial aid? Contact Harvard OCS to have your membership dues covered
---
Message from Dona
There are a couple exciting opportunities for our east coast members this month, with Harvardwood Co-Founder Adam Fratto AB '90 attending ITVFest and being a guest speaker at our ITVFest Harvardwood Mixer, and Jack Monderer AB '82 sitting down to dinner with DC-area members to talk about acquiring story rights for producers and writers. Make the most of these LA-based folks and sign up to attend these events (both free)!
DC members, please also note the location change for this Wednesday's meetup at The Black List happy hour. The updated meeting place is Teddy & the Bully Bar.
Last but not least, Harvard students, don't wait until the last minute to apply to Harvardwood 101! The deadline is Friday, Oct. 19th. We're excited to read your applications!
- Dona
Featured Member Posting: Part-Time Development Officer (Harvardwood) — LA
Harvardwood is looking for an LA-based, part-time development officer to design, develop, and implement our major gifts program. You'll be responsible for managing and cultivating relationships with existing major gift prospects, as well as identifying and engaging new prospects. The ability to help our donors accomplish their philanthropic goals through their relationship with Harvardwood by clearly communicating our mission is key. You'll be expected to energize team members (the Board & volunteers), persuade donor prospects, and persevere to the end!
Major Responsibilities:
Oversee development and fundraising efforts with an eye towards diversifying Harvardwood's funding streams 
Manage existing portfolio of donors, while maintaining updated database of donor prospects
Work with Board members to align program-specific funding needs
Perform prospect research on foundations and corporations to evaluate prospects for corporate and foundation grants
Prepare, submit, and manage grant proposals to foundation and corporate sources
Comply with all grant reporting as required by foundation/corporate donors
Maintain current records in database and in paper files, including grant tracking and reporting
Track statistics relevant to development and provide Harvardwood Board with written materials necessary for donor stewardship (visitor number and diversity, educational program attendance, etc.)
Work with Executive Director to provide development input for all written institutional materials (including Annual Report, Highlights newsletter)
Make direct (and occasionally face-to-face) solicitations and assist Board members and Executive Director with their solicitations (e.g., portfolio development support, strategic counsel, donor communications/recognition/acknowledgment)
Knowledge and Skills:
Deep understanding of Harvardwood's mission, history, and programs
Outstanding written communication skills; ability to write clear, structured, articulate, and persuasive proposals and solicitation emails
Strong editing skills & attention to detail
Experience with one-on-one outreach with major donors, as well as proposal writing and institutional donors
Knowledge of fundraising information sources, techniques, and strategies
Knowledge and familiarity with research techniques for fundraising prospect research
For companies: Meet & host Harvard interns in January 2019 — LA
READ ON if your arts, media, or entertainment company has offices in Los Angeles and you're interested in:
Having Harvardwood 101 students visit your office;
Hosting a company informational;
Interviewing current Harvard students for summer internship opportunities
Having a Harvard intern for two weeks in January
Since 2010, Harvardwood has assigned students J-termship opportunities during the last two weeks of the January term, so students can further explore their area(s) of professional interest. J-term-ship opportunities might include such experiences as shadowing an alum, doing an intensive 2-week "internship" at one or more companies, observing on a film or TV set, assisting with project research, etc.
Find out how your company can engage with Harvard students. If you are interested in providing a "J-term-ship" opportunity for one or more students, please complete this form.
Apply to be matched with a mentor in 2018-19 — LA
The Harvardwood Mentorship Program fosters meaningful professional relationships by matching Harvard graduates with more established alums in their fields of interest for a period of eight months of one-on-one career mentoring.
Mentees will connect with their mentors in three one-on-one meetings (preferred) or phone conversations over the course of the year, usually October - June. Although not required, optional experiences include shadowing a typical workday, meeting, or conference call; offering a tour of the mentor's company offices; or attending HMP events.
Topics to be discussed during meetings include the following:
- The mentor's current position, what s/he does, his/her career progression
- The mentor's company and department functions
- The mentor's industry
- Career advancement advice
- How to handle difficult professional situations
- Work/life balance
Career focus and compatibility will determine the mentor/mentee pairings, and the nature of each mentoring relationship will depend on the individuals and what they have to offer. Industry categories include: Creative, Production, Business, and Agency. Pairings will not be made between people from the same company.
Interested in being mentored? Read the program guidelines and apply by October 5th.
Extension to submit to HW Publishing's Once Upon a Fairytale anthology
We are extending the deadline to submit your short story, poem, or prose work to our upcoming anthology, Once Upon a Fairytale! The new deadline is November 1st. This second anthology from Harvardwood Publishing will feature modern retellings of classic fairytales in the form of short stories, poems, and songs. What would a contemporary version of a Cinderella, Hansel and Gretel, or Little Red Riding Hood read like if written today?
Submissions must be written in English. Open to unpublished and previously-published authors. No Harvard or Harvardwood affiliation necessary, so spread the word to all of your writerly friends and colleagues!
Attend ITVFest with Harvardwood: Special discount & mixer event
Every October, the Independent Television Festival (ITVFest) brings talented executives, creators, and fans of episodic content to Manchester, Vermont, for 5 days of panels, screenings, and networking. This year ITVFest's Executive Director Philip Gilpin, Jr., who gave a well-received Harvardwood salon talk in Cambridge, has generously offered Harvardwood members 25% off all festival tickets and passes. Just go to https://www.itvfest.com and enter HARVARDWOOD18 at check-out to claim your discount. 
We're also throwing a Harvardwood mixer at the festival on Friday, Oct. 12th, when you'll have the chance to mingle with other TV industry execs and creatives, before we hear from Harvardwood Co-Founder Adam Fratto AB '90, the SVP of Series for Reel One Entertainment, about the current shape of the TV landscape. RSVP to this free event here!
Adam is a seasoned creative executive with a proven track record in TV development, current programming, production, and feature films. Specialty in finding and developing genre programming (fantasy, sci-fi, supernatural, horror, action). History of creating profitable international business models and launching creative strategies.
Through his company, Adam has consulted with clients from tech startups to established networks, most recently for A+E Networks in 2016. Currently, Adam is Exec Producing SEA CHANGE, a backdoor pilot for Lifetime TV, based on the YA genre novel of the same name. Recently, he was co-Executive Producer of HAVEN, a supernatural drama based on Stephen King's "The Colorado Kid," airing on Syfy in the U.S. and 100+ cable channels abroad. This hit show, produced in Nova Scotia, has just concluded its sixth and final season. 
In addition, Adam spent the last five years working closely with Pukeko Pictures, sister company to New Zealand's famed Weta Workshop (LORD OF THE RINGS, AVATAR, DISTRICT 9), overseeing live-action content and developing a global slate of TV and feature projects. This includes an edgy fantasy epic called CLEVERMAN, based in aboriginal mythology, which aired in 2016 to much acclaim on SundanceTV, Netflix, Australia's ABC, and BBC3. Adam is Executive Producer of that series, along with Red Arrow Entertainment and Goalpost Pictures. 
Other projects recently developed by Adam include: an epic JOAN OF ARC series created by Craig Pearce (Gatsby, Moulin Rouge); a fantasy series based on the acclaimed LOWTOWN novels, written by David S. Goyer and Matt Fraction, for Universal TV; and a John Rogers-penned adaptation of the fan favorite comic RAT QUEENS.
Students, get a crash course in Hollywood careers over J-term: Apply to HW101 by Oct. 19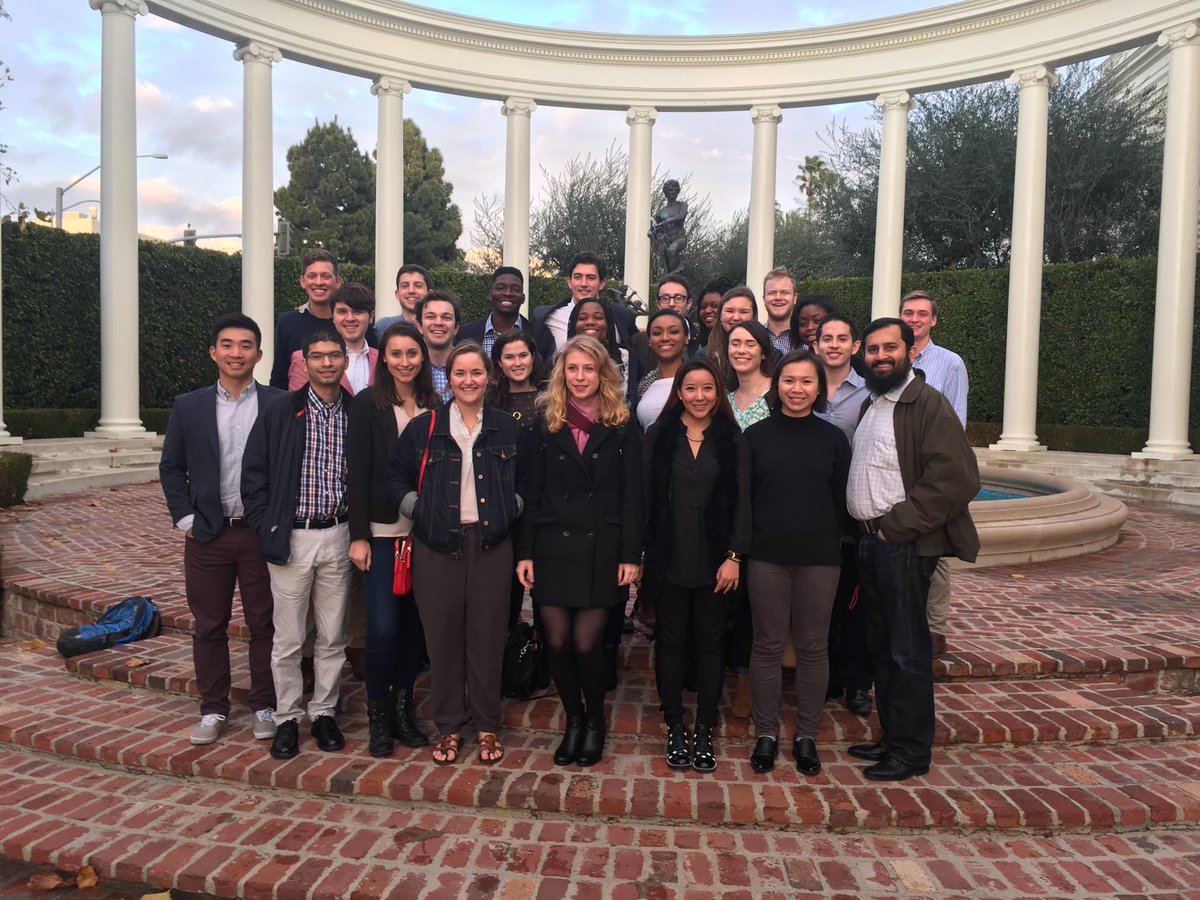 Current students, you have until Friday, October 19th to apply to the 2019 Harvardwood 101 J-termship program!
The Harvardwood 101 career exploration program brings two dozen current undergraduates to Los Angeles during the January term and provides a series of career-related activities in order to demystify Hollywood and educate them about careers in the entertainment industry. The program began in 2003 and is cosponsored by Harvard University's Office for the Arts and the Office of Career Services.
"I came into Harvardwood 101 not knowing how anything got done. By the end, I understood the way movies, TV, and music work at a basic level and no longer feel like such an outsider in the industry."
- Jack Stone AB '20
"Coming from LA, I thought I already knew everything there was to know about the entertainment industry. Boy, was I wrong. Harvardwood 101 is a priceless experience that provides an unparalleled all-access glimpse into various entertainment career paths that don't get much attention on campus. The program has provided me with personal connections that I otherwise would never have gotten the chance to make, something that is of immeasurable value in an industry primarily driven by people and relationships."
- Isabel Wagner AB '18
The upcoming Harvardwood 101 program will run from Monday, Jan. 7 to Friday, Jan. 11, 2019. This means that students will need to arrive in Los Angeles by the evening of Sunday, January 6th at the very latest.
The MANDATORY bootcamp week will run from Jan. 7-11th.
The OPTIONAL J-termship program will run from Jan. 14-25th.
This year's deadline to apply to Harvardwood 101 is Friday, October 19, 2018.
Exlusive Q&A with Lillian Yu AB '11 (TV & Screenwriter, Powerless, Singles Day)
This past summer, Lillian Yu AB '11 sold her spec feature, a romantic comedy entitled Singles Day, to New Line! In addition to being staffed on NBC's sitcom, Powerless, Lillian was also part of the writers' room for upcoming series Warrior. The period drama is set to premiere on Cinemax in 2019. Photo credit to Ashleigh Cahn Photography.
Q. What inspired you to become a screenwriter? Did you already plan on becoming a writer when you were at Harvard?
A. I've been extraordinarily lucky in that I kind of always knew I wanted to be a writer, but it was in high school when I decided to pursue it for real. I was an enormous nerd back then (and still am)—my favorite show was Futurama—and after some light internet sleuthing in ninth grade, I found out that most of the writers had written for the Harvard Lampoon. I thought, "Huh, maybe I can do that too." Before that point, my hypothetical career path was a bit more first-generationally binary: doctor or lawyer. It was mind-blowing that there might be a real, blazed trail to get to where I wanted to go. So anyways, I got my academic act together, made no friends in high school, and was fortunate enough to get into Harvard and the Lampoon.
Q. Oftentimes, new writers are adamant about being either a TV writer OR a screenwriter. But you're both! Did you always know that you were interested in working in both TV and features, or is that an unexpected development in your career?
A. The short answer is: I've always wanted to do both. My first and greatest love has always been movies. I grew up watching everything from Disney animations to Eddie Murphy talking to/as animal(s) romps to slasher flicks. I then studied film in college and fell in love with all the classics I missed in my pop culture-dominated childhood. I also worked as a feature development exec before I transitioned to writing, so I'm generally more comfortable in the feature space.
That said, I like the office-job environment & collaboration & people, so I always knew I wanted to do TV too. In many ways, I think of TV as the harder job that keeps me on my game because it involves going into a room for 8 hours a day and, depending on the genre of the show, pitching jokes/story/arcs/Reddit-breaking character deaths, etc. for those 8 hours. I've heard TV writing described as both an excruciatingly long dinner party and high-level codebreaking. I think there's merit to both of these analogies, with the thesis being that TV writing is cerebral gymnastics, which is what I love about it.
Q. So—a spec feature sale; word is, that's pretty rare these days. Can you tell us more about how this came about?
A. To be honest, I'm just really lucky that I have a stellar team (to whom I pay a sizeable portion of my paychecks). My agents strategized the right time to go out with the spec, my lawyers helped to negotiate the deal, and my managers were/still are my ongoing therapists. It takes a village.
Industry Successes
Big news from Roberto Patino AB '06, who just inked an exclusive multi-year overall deal with Warner Bros. Television, as reported by Deadline. Roberto is a writer and executive producer on HBO's Westworld, and he has written and produced Prime Suspect, Sons of Anarchy, and The Bastard Executioner. His feature Cut Bank, starring Michael Stuhlbarg, John Malcovich, Liam Hemsworth, and Billy Bob Thornton, came out in 2014. Check out Harvardwood's Q&A with Roberto from earlier this year for more.
W.A.W. Parker AB '07 had three scripts make it to the Second Round in the Austin Film Festival Screenplay and Teleplay Competition, one screenplay (Leo), one drama pilot (The Assistants), and one TV spec (The Handmaid's Tale: Odette).
John Alexander AB '11 and JC Guest AB '11 are releasing feature soul music doc This Is Love with Sinbad, George Clinton, Marsai Martin, Norman Jay and Mick Fleetwood. Fleetwood is also executive producing. This Is Love's World Premiere is at the Raindance Film Festival in London, followed by its US and international premieres beginning in October.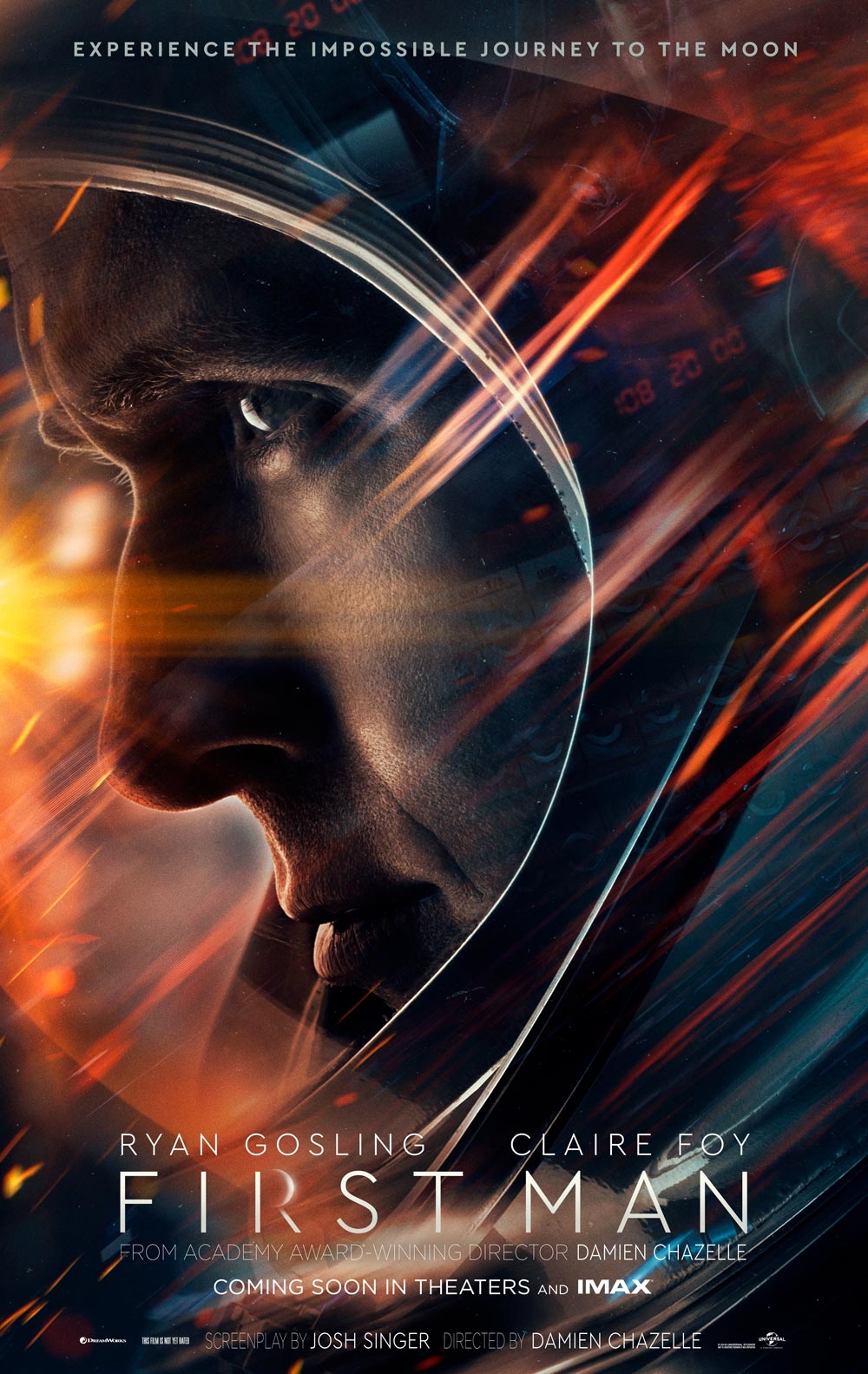 First Man, the latest feature from writer-director Damien Chazelle AB '07-'08, is out in theatres and Imax on Friday, Oct. 12th! The adapted screenplay was written by fellow alum Josh Singer MBA/JD '01 and stars Ryan Gosling as Neil Armstrong. 
As The Crimson reported last month, "Hasty Pudding Theatricals has cast six women to perform in its 2019 show, completing a co-ed shift the group vowed last semester and ending an almost two-century period during which only men could act in Pudding productions." Among the six are two Harvardwood 101 alumnae, Annabel O'Hagan AB '19 and Laura Sky Herman AB '19! The four other women selected are Celia K. Kenney AB '20, Ellen L. Shaheen AB '21, Shirley L. Chen AB '22, and Ashley M. LaLonde AB '20. Congratulations to all!
Amanda Gorman AB '20, America's first Youth Poet Laureate, was recently selected by The New York Times to be a contributor to its newsletter for college students and recent alumni, The Edit. Amanda was selected from over 20,000 applicants—read more about her via the NYTimes announcement.
New Members' Welcome
Harvardwood warmly welcomes all members who joined the organization over the past month, including:
Hayoung Ahn, College, BOS/Campus
Courtney R. Baker, College, LA
Laura Barnes, HBS, LA
Aisha Bhoori, College, LA
Andrew Cahill, GSE, BOS/Campus
Hernan Cepeda, College, BOS/Campus
Eric Cervini, College, LA
Ye Rim (Grace) Chang, College, BOS/Campus
Marcela Davison, College, SF/Bay Area
Alec DeCaprio, College, BOS/Campus
Chaffee Duckers, College, NY
Phillip Evans, College, BOS/Campus
Heather Faris, FOH, BOS/Campus
Dalen Ferreira, College, BOS/Campus
Sarasue French, Radcliffe, NY
Ethan Hamilton, FOH, LA
Julie Hartman, College, LA
Robin Hayes, FOH, UK
Erin Moss Holzman, Ext., Other U.S.
Anthony Horta, College, LA
Jongtae Jeon, College, BOS/Campus
Madeleine Joung, College, BOS/Campus
Mia Karr, College, BOS/Campus
Rebecca Klane, College, BOS/Campus
James Kyson, FOH, LA
Tiffany Lau, College, BOS/Campus
Katie McClanan, College, BOS/Campus
Hillary McLauchlin, College, BOS/Campus
Isaiah Michalski, College, BOS/Campus
Michael Miller, College, BOS/Campus
Mark O'Sullivan, Staff, BOS/Campus
Enosa Ogbeide, College, BOS/Campus
James Ethan Pardue, College, BOS/Campus
Devonne Pitts, College, BOS/Campus
Reade Rossman, College, BOS/Campus
Ben Roy, College, BOS/Campus
Nina Sapers, College, NY
Sara Seyed, GSAS, LA
Anum Shafqat, College, BOS/Campus
Liana Spiro, College, NY
Sabrina Stoll, FOH, LA
Skylar-Bree Takyi, College, BOS/Campus
Ty Turley, FOH, ATL
Luis Valencia, College, NY
Lu

cía

 Villavicencio, HDS, NY
FOH = Friend of Harvardwood
Alumni Profile: Tayari Jones RAE '12, RF '12 Author (Leaving Atlanta, Silver Sparrow, An American Marriage)
Written by Dayna Wilkinson
"I was driving in Las Vegas when the call came. She said 'hi, this is Oprah.' I pulled the car over in a not-so-great part of town. People were tapping on my windows, and I was like 'Go away, I'm trying to have the biggest moment of my life.'"
Before she wrote An American Marriage, Tayari Jones RAE '12, RF '12 had never been in the running for a major literary prize. "I never thought I would be, and that didn't bother me," she says. Now, An American Marriage is a New York Times bestseller, a 2018 Oprah's Book Club Selection and a longlist selection for the National Book Award.
"I had a neighbor in Las Vegas who spoke very little English. We liked each other but communicated mostly with gestures," Tayari says, "but after she saw the photo in Oprah's magazine, she was banging on my door saying, 'You know Oprah?!' Part of the joy of being chosen for Oprah's Book Club is that it's an honor that's legible to everyone."
Growing up, Tayari was an avid reader. "We weren't allowed to watch much television," she recalls. "When we'd visit relatives, I'd just binge on it—it was so forbidden and delightful."
The child of two social sciences PhDs, Tayari knew she wanted to live a life of ideas. "My parents are intellectuals, and I always wanted to live an intellectual life," she says. "I just wasn't sure what form that would take. You know how some people say they were inspired to write a book because they never saw themselves in one? I always had access to books and other cultural media that allowed me to see myself. I grew up in Atlanta in an all-black privileged environment, so I knew black people could be writers."
Tayari entered Spelman College at age sixteen. "I knew I liked to write, but I didn't know how a person became a writer. I had never seen a writer in real life." Then Tayari met Pearl Cleage, an author and playwright who taught at Spelman. "She was a regular person who bought groceries, taught classes and did all these things that were familiar to me," Tayari says. "She set a sterling example with her writing and showed me something to which I could aspire." Fittingly, last week they appeared together onstage to discuss mentorship and writing at an event titled "SisterWriters: An Evening with Pearl Cleage and Tayari Jones."
After earning her BA and MA in English Language & Literature/Letters from Spelman College and the University of Iowa, respectively, Tayari started what would become her first published novel while in the University of Arizona's Creative Writing MFA program. "I became aware of craft in a different way and became a better writer," she says. Her novel, Leaving Atlanta, unfolds against the backdrop of the Atlanta Child Murders, and won the 2003 Hurston/Wright Legacy Award for Debut Fiction.
Tayari's next novels, The Untelling (2005) and Silver Sparrow (2011), are also set in Atlanta. "I love the urban south as a setting because there is just so much to mine there," she says. An elected member of the Fellowship of Southern Writers (whose membership includes Roy Blount Jr. AM '64 and Katori Hall A.R.T. '05), Tayari says that she sees herself as "a black writer, a southern writer, and a woman writer, in no particular order."
For her fourth book, Tayari won a Radcliffe Institute Fellowship to do research on mass incarceration. "I knew a number of people who had been to the Radcliffe Institute, and everyone said, 'It will be the best year of your life. You'll be able to explore, think, write, use the Schlesinger Library and meet so many interesting people—it will take your mind to places you never imagined it would go," she recalls. "And it's true, I met literal rocket scientists. Not two, but three! It brought back the child-like wonder of learning."
Though Tayari had a rich experience at the Radcliffe Institute, the plot of her next novel remained elusive.
"The idea of writing about a woman with an incarcerated husband was tickling the edge of my mind but I didn't have a way in," Tayari says. "Then I overheard a couple arguing in a mall food court. They were clearly in love and clearly in trouble. The woman said, 'Roy, you know you wouldn't have waited on me for seven years.' And the man replied, 'I don't know what you're talking about—this wouldn't have happened to you in the first place.' The narrative conflict of An American Marriage was born right there."
As Tayari continues her cross-country book tour in support of An American Marriage, Oprah Winfrey is working on producing the film version. "This time next month, we should have the screenplay," Tayari says. "I met with the screenwriter and she was terrific; it'll be exciting to see how she adapted the story."
On October 10th, Tayari will learn whether An American Marriage was selected as a finalist for the National Book Award. How would that be, compared to being an Oprah's 2018 Book Club selection? "They're two very different, deeply moving honors," she says. "I'm trying to not have my eye on the next thing, I'm just trying to fully enjoy this moment."
A member of Rutgers University's Creative Writing faculty since 2007, Tayari is moving back to Atlanta to teach creative writing at Emory University—and to work on her fifth novel. "It's truly a homecoming for me as a southern writer."
Dayna Wilkinson is a proud New Yorker currently living, working
and writing in the Washington, D.C. metropolitan area.
Calendar
FEATURED EVENT | Harvardwood Co-Hosts DISENCHANTMENT: Episode Screening + Discussion with Patric M. Verrone AB '81 and David X. Cohen AB '88 - Wed., Oct. 17 (LA)
Harvardwood and the Harvard Club of Southern California are delighted to present a special screening of an episode from Netflix's Disenchantment, followed by a discussion with two of the show's writers and co-executive producers, Patric M. Verrone AB '81 and David X. Cohen AB '88! Patric and David have a long history of collaboration on The Simpsons, Futurama, and now Disenchantment, the latest adult animation hit from Matt Groening. At this event, they'll chat about how the sausage gets made, focusing on Episode 2 ("For Whom the Pig Oinks") to shed some light on the inner workings of the comedy writers' room.
The evening will begin with a screening of Episode 2 of Disenchantment. To prevent spoilers, we encourage all attendees to have already watched Disenchantment Episode One ("A Princess, an Elf, and a Demon Walk into a Bar"), now streaming on Netflix!
David X. Cohen '88 is a writer and producer of the Netflix original animated series Disenchantment.  He graduated magna cum laude in physics from Harvard College, where he also served as President of the Harvard Lampoon and delivered the class day Ivy Oration.  He went on to earn a Masters Degree in theoretical computer science from U.C. Berkeley before abandoning his long and expensive education and heading for Hollywood.  There he spent five years as a writer for The Simpsons and developed the animated series Futurama (along with Simpsons creator Matt Groening).  He subsequently served as Futurama's showrunner, head writer, and voice director throughout its long and frequently-interrupted run.  He is the recipient of four Emmy Awards, four Annie Awards, three Environmental Media awards, and zero Nobel Prizes.
Patric M. Verrone '81 is co-executive producer of the Netflix original animated series Disenchantment. He graduated magna cum laude from Harvard College in 1981 (where he was an officer of The Harvard Lampoon) and earned a J.D. from Boston College Law School. His television writing credits include The Tonight Show Starring Johnny Carson, The Larry Sanders Show, The Critic, The Simpsons, Pinky and the Brain, rugrats, Muppets Tonight!, Class of 3000, andFuturama (including all three TV incarnations and two mobile app games). He has been nominated for 11 Emmys in four categories and won three. He also has an Environmental Media Award, two ASIFA Annie Awards, a People's Choice Award nomination, and the Writers Guild's Lifetime Achievement Award for Animation Writing. He is a past president of the Writers Guild of America West, and current president of the Harvard Club of Southern California. He is married to fellow writer Maiya Williams '84. They have three children including Patric C.W. Verrone '18 whose own IMDB page is making things very confusing.
Los Angeles, CA
Harvardwood Heads To... The Ivy Plus Society's Skybar Social - Wed., Oct. 3
It's officially Fall and Halloween is just around the corner. Whether or not you need to find your partner in crime or the last member to your trio, The Skybar Social is here to fulfill all of your networking needs. Come rain, shine, or chill we're taking you back to West Hollywood's hot spot, Skybar at Mondrian. This indoor/outdoor poolside lounge is the perfect spot to socialize with LA's finest and brightest achievers, professionals, and young alumni. Don't miss out on Early Bird tickets and we'll see you there!
Harvardwood Masterclass: Where the Money Is - with Jack Monderer AB '82 (Columbia & Fox) - Thurs., Oct. 4
From Gross to Net and Everything in Between... If you think you're going to strike it rich on your first few projects in the entertainment industry, think again! There's no such thing as "profits" in this business, it's now referred to as "Net Proceeds" or "Gross Proceeds" based on defined divisions of cash inflows and outflows. Whether you are a novice writer or director entitled to Net (btw, residuals are where it's at), an agent or lawyer trying to understand what's best for your client (and your commission), or an independent producer trying to recoup costs and pay off loans (including that second mortgage on the house...)—this masterclass will give you an overview of terms, possibilities, and what to pay attention to when you need to figure out WHERE THE MONEY IS.
Jack Monderer AB '82 has spent a career in major studio business and legal affairs analyzing, advising and managing motion picture and related deals, and will familiarize members with these money flow terms and processes—and yes, there will be math in this Masterclass! 
Harvardwood Heads To... Women Photograph the World - Thurs., Oct. 4
An exhibition of the work of 6 Los Angeles Women Photographers, "Women Photograph the World". Show dates October 4th, 2018 - November 12th, 2018. Opening reception October 4th, 2018 at 5:30-8pm. The Ebell of Los Angeles is located at the corner of Wilshire Blvd & Lucerne Blvd. Enter on Lucerne Blvd. Free parking is provided. Refreshments served.
Harvardwood Heads To... IVY Entertainment's Fashion Week Salon - Sun., Oct. 14
Join IVY Entertainment for the culmination of Fashion Week with an exclusive salon curated by Antonella Commatteo. Featured in numerous magazines, with appearances on many a red carpets, the Award Winning Designer has since made a name for herself 'as the one to watch', who firmly stands by her motto of "Fashion that let's you be who you want to be".
Welcome to Your City: LA Edition - Thurs., Oct. 18
Please join us in welcoming the Class of 2018 this fall! The College Classes of 2004-2018 will be coming together for Welcome to Your City on October 18. These events are a fun, informal way for recent graduates who may be new to town to connect with other local, recent Harvard alumni. Register with your LinkedIn profile and other social media accounts to see who's coming and connect with other attendees before, during, and after the event. This event is jointly co-hosted by Harvardwood, the Harvard Alumni Association, and the Harvard Club of Southern California.
Harvardwood Heads To... The 2nd Annual Haunted Hollywood Halloween Party - Sat., Oct. 27
Face your darkest fears as you step inside the terrifyingly twisted Apt. 503 for the 2nd Annual Haunted Hollywood. This petrifying party will be private to The Ivy Plus Society from 8-10pm but stay through the night until 2am. Enjoy a devilish DJ, sinister small bites, and a costume contest that will make you scream. Don't panic... pre-sale tickets are currently available.
New York, NY
The Lambs' LORETTA SWIT: An Invitation to Harvardwood NYC - Mon., Oct. 1
Our friends at The Lambs have very graciously invited Harvardwood NYC members to their event with Loretta Swit. RSVPs are required and should be made directly to The Lambs at the email address or phone number in their announcement. When you RSVP, be sure to mention that you're a Harvardwood member.
Penntertainment + Harvardwood Fall 2018 Happy Hour Mixer - Mon., Oct. 8
Our friends at Penntertainment NYC have invited Harvardwood members to join them for a Fall Happy Hour Mixer! But you have to RSVP—we'll be sending them a list of names of Harvardwood attendees! Note that if you bring guests, they also need to be working in the arts, media, and entertainment.
Harvardwood Presents "Song & Dance Man Nonpareil" LEE ROY REAMS - Mon., Oct. 29
"Song & dance man nonpareil" (New York Times), choreographer, and director, Lee Roy Reams has long been a pillar of the Broadway musical theater. Lee Roy Reams will be interviewed about his long career and the fascinating people he's worked with, by Foster Hirsch, Professor of Film at Brooklyn College and the author of 16 books on film and theater. As a special treat, Lee Roy Reams has agreed to cap the evening for us by performing a few songs, accompanied by his Music Director James Followell.
Washington, DC
[LOCATION CHANGE] Harvardwood Meet-up at the Blacklist DC Happy Hour - Wed., Oct. 3
The Black List is creating social hubs for writers around the world where they can meet other screenwriters and discuss the craft and the reality of the screenwriter's life. So join your fellow writers at the DC happy hour! Come to enjoy the drinks and the company. You never know who you might meet!
Please note the LOCATION CHANGE to Teddy & the Bully Bar at 1200 19th St NW.
Harvardwood DC Salon with Jack Monderer AB '82 - Wed., Oct. 17
LA-based Jack Monderer AB '82 will be in Washington, DC and is happy to meet with a few local members over a casual dinner to chat about Acquiring Story Rights for Producers & Writers. With 25 years of film studio experience at Columbia and Fox, Jack managed hundreds of rights situations of every conceivable type. As a producer or writer, when and how do you initiate a rights agreement? How much of an agreement do you need? Is there any way to price a particular type of material?
Attend this Harvardwood Salon with Jack, who will share his experience and give guidance on these and other story rights issues. Dinner is limited to five attendees (six total, including Jack). The restaurant location will be selected amongst Jack and the confirmed participants. Free to attend, but each attendee will be responsible for their own food/drink at dinner.
Manchester, VT (ITVFest)
Harvardwood ITVFest Mixer feat. Co-Founder Adam Fratto AB '90 - Fri., Oct. 12
Join fellow Harvardwood members and friends for a mixer at the 2018 ITVFest. You'll have the opportunity to mingle with other TV industry execs and creatives, before we hear from Harvardwood Co-Founder Adam Fratto AB '90, the SVP of Series for Reel One Entertainment, about the current shape of the TV landscape.
FREE to attend // cash bar. Just RSVP below so we have a headcount of how many folks are coming. And if you're attending ITVFest this year and are a Harvardwood member, you can get a 25% discount off your festival pass!
On financial aid? Contact Harvard OCS to have your membership dues covered
As you know, we're now accepting applications to the Harvardwood 101 J-termship program for current students. Harvard undergrads must be Harvardwood members to apply and to attend the program. If you're a student on financial aid at Harvard, please contact Ruth Wilson at the Harvard OCS, as they are generously willing to cover Harvardwood membership dues for you.
If you're not eligible for financial aid, however, you can join Harvardwood here at just $4/month! 
---
DISCLAIMER
Harvardwood does not represent or endorse the accuracy or reliability of any of the information, content or advertisements (collectively "Materials") contained on, distributed through, or linked, downloaded or accessed from any of the services contained in this e-mail. You hereby acknowledge that any reliance upon any Materials shall be at your sole risk. The materials are provided by Harvardwood on an "AS IS" basis, and Harvardwood expressly disclaims any and all warranties, express or implied.
Do you like this post?