In This Issue:
NEWS
Featured Member Posting: Researcher, True Crime Docuseries (Delirio Films) - LA or Remote
IMPORTANT: Updated policy regarding personal data of EU residents 
Meet the winners of the Writers Competition & Most Staffable TV Writers List
Round of applause, please: Announcing the 2018 Harvardwood Heroes!
FEATURES
Exclusive Q&A with Diallo Riddle AB '97 (Writer, Producer, & Actor, Marlon, Silicon Valley)
Industry Successes
New Members' Welcome
Alumni Profile: Emily Carmichael AB '04 (Screenwriter, Pacific Rim: Uprising, Jurassic World 3)
CALENDAR & NOTES
Calendar
Welcoming the Class of 2018 to the Harvardwood fam with a membership discount
---
Message from Dona
We're entering the summer season with much fanfare! As you'll find out below, we recently announced the winners of the Harvardwood Writers Competition and Most Staffable TV Writers List, AND we also revealed the 2018 Harvardwood Heroes, each of whom will receive a $500 community service grant.
Here in Los Angeles, we had a very special evening to recognize and thank the 2018 sponsors of the Heroes program: John Bowman & Shannon Gaughan, Jenette Kahn, Aleen Keshishian & Kit Troyer, and Nell Scovell & Colin Summers. This year's grant-giving program would not be possible without their support. We're also incredibly grateful to our generous event hosts, Jonathan & Sarah Aibel, and to Los Angeles Philharmonic violist Dana Lawson, who gave a very special performance at the celebration.
Last but not least, we thank our caterer, Kelly Boyer of Paleta, for the delicious food and dessert nibbles! We'd also like to recognize Margo Liden of ICM for the in-kind donations from AquaHydrate & Zico, and Blue Lifestyle for the wine!
— Dona
Featured Member Posting: Researcher, True Crime Docuseries (Delirio Films) - LA or Remote
Seeking a tenacious researcher to come aboard a new high-end true crime documentary series. Job will entail research on both broad topics (e.g. legacies of violence in American culture) and focused goals (e.g. accessing files for specific cases) as well as building out story sheets, character profiles, and interview crib sheets. Investigative resourcefulness, story sense, and good writing are the prized skills sought for this position; direct prior documentary experience is not required. Will consider those with backgrounds in journalism, film, research, and other investigative work. Familiarity with the state of Missouri and local resources there, as well as archival research, are heavy pluses. Production company is based in Los Angeles, but we will consider candidates working remotely. 
Updated Policy Regarding Personal Data of EU Residents
We're sure you have received a spate of emails this past week concerning the European Union General Data Protection Regulations (GDPR). Here is Harvardwood's update.
In a nutshell, our updated policy is limited to those who are residents of specific European countries and includes:
The data we collect and how it is used;

How EU residents can opt out of any use or communication; and 

Whom they can contact at Harvardwood for more information about the GDPR.
View our policy here, and if you have any questions, please contact us at [email protected]
Meet the winners of the Writers Competition & Most Staffable TV Writers List
We're so pleased to share the winners of the Harvardwood Writers Competition & the Most Staffable TV Writers list (Deadline)!
The winners of the Harvardwood Writers Competition in each category are:
TV Comedy Winner:

Katie O'Hanlon - Branching Out

(Half-Hour Comedy)

TV Drama Winner:

Alison McKenzie

*

- Dirty Business

(One-Hour Drama)

Shorts Winner (tied):

Myles McDonagh - Bardo

(Animated Short)

Shorts Winner (tied):

Justin Monticello - City of Angels

(Sketch Comedy)
Additionally, writers of outstanding TV pilots incubated in the ongoing Harvardwood Writers Program are selected for the Most Staffable TV Writers list each year. The Most Staffable TV Writers are:
Eric Lu

*

- Red Market

(One-Hour Drama)

Joey Siara - Yorba Linda Hardcore

(One-Hour Drama)
*Eligible for network diversity programs
In recent years, participants in the Harvardwood Writers Program and Competition have seen unprecedented success with pilot sales to ABC, the CW, Showtime, Sony, Spike, Syfy, and TV Land, in addition to blind script deals at ABC Studios and Warner Bros. Harvardwood writers have been staffed on over two dozen shows, and current shows include: American Dad (Fox), Billions (Showtime), The Brave (NBC), Family Guy (FOX), The Flash (CW), Future Man (Hulu), Girlfriends' Guide (Bravo), Gotham (Fox), Great News (NBC), How To Get Away With Murder (ABC), Jane the Virgin (CW), Power (Starz), and The Resident (Fox). Participants have also secured representation at Apostle, Benderspink, Brant Rose Agency, Brillstein Entertainment Partners, CAA, Circle of Confusion, Echo Lake, Gersh, ICM, Madhouse Entertainment, Management 360, Original Artists, UTA, WME, and others.
The submission period for the 2018 Harvardwood Writers Competition is now open through July 31st!
Round of applause, please: Announcing the 2018 Harvardwood Heroes!
After reviewing numerous outstanding community service proposals, we are delighted to present to you the following 2018 Harvardwood Heroes. Each grant recipient will receive $500 to use at his/her discretion.
This year's Heroes are:
Jeanie M. Barnett MPA '02 | The Chicago Help Initiative

Farah Art Griffin EDM '08 | Anti-oppression Art Practice

Laura Kanji AB '19 | Mission Hill After School Program

Priten H. Shah AB '19 | United 4 Social Change
We would also like to recognize and thank this year's generous Harvardwood Heroes sponsors:
John Bowman & Shannon Gaughan
Jenette Kahn
Aleen Keshishian & Kit Troyer
Nell Scovell & Colin Summers
Exclusive Q&A with Diallo Riddle AB '97 (Writer, Producer, & Actor, Marlon, Silicon Valley)
By Brittany Turner AB '10
Diallo Riddle AB '97 is a writer, producer, and actor, currently appearing on NBC's Marlon alongside titular star Marlon Wayans. He has also had recurring roles on Silicon Valley and Rise. His writing credits include Chocolate News, Late Night with Jimmy Fallon, The Last O.G., and The Maya Rudolph Show; he has also developed two original pilots for HBO. Riddle is the co-creator (with Bashir Salahuddin AB '98) of Sherman's Showcase, a musical sketch comedy series that will premiere on IFC in 2019. Photo by Leslie Alejandro Photography.
Q. What was your Harvard experience like? Did you always know you wanted to be a writer?
A. There were parts about being there that I absolutely loved. Everything that I did before Harvard truly was childhood. As much as I succeeded academically growing up, I don't think I really grew until Harvard. I did the radio station, the Harvard Black Register, and gave tours. Freshman year, I played in the band and served on the undergraduate council. I campaigned on how to pronounce my name. All my posters said "Diallo: it's like Diablo without the b." That was a winning slogan.
But I'm kind of a weather wuss. Both Harvard and New York were hard for me. I didn't figure out that I wanted to be a writer until much later.
Q. What was your early experience out in LA like, as an executive trying to jump ship and be creative full-time?
A. I moved out to LA and I didn't know quite what I wanted to do, but everyone said to become an assistant first. I was an assistant for an executive at Paramount for about two-and-a-half years. I think I learned quickly that I wasn't going to be the studio exec that maybe I thought I was going to be; I was really a person looking for a life plan. After that, I actually became a full-time DJ for four years at The Standard. It was a great life, but at some point, I decided I wanted to get back into Hollywood proper.
So, I partnered back up with my old friend (Harvard alum) Bashir Salahuddin, who I had known from Harvard. We started writing together, and that's when we got the gig at Chocolate News. After two months, we moved to Fallon, where we were for four years. That's where we got our big break in the industry. We came back to LA and shot two pilots for three different presidents at HBO, and then I got Marlon. And after I got Marlon, there was a string of good news: we got the Comedy Central thing, the IFC thing, and things have just been going ever since. It definitely hasn't been a linear path.
Q. Do you prefer acting, writing, or producing?
A. It depends on the day of the week! On Marlon, I love the fact that I'm not one of the writers. I just get to come in, read the script, and then I also get to try my jokes while we're ad-libbing. For IFC, it's acting, directing, producing—a lot of different tasks. More than usual, that piece is a lot of conceptualizing: sitting down with musicians and comedians and really hoping this thing will come together like a well-designed music box. That's almost all of the talent I've acquired over the years combined into one show.
Industry Successes
Kelley Nicole Purcell AB '02 (Harvardwood's previous Executive Director) has had the honor of touring her show Shattered Glass around the country, and now she brings it home to Hollywood this June as part of the 2018 Hollywood Fringe Festival! She would be thrilled to have members of the Harvardwood community join her. More info and tickets here: choose from five show dates this June (6/3, 6/9, 6/15, 6/21, and 6/23).
Classical and jazz pianist Gerry Bryant AB '76 recently received a wonderful review of Interpretations, one of his many CDs, by noted orchestra conductor and classical music critic Daniel Kepl for Performing Arts Review. This review is the first of three of Gerry's primarily solo piano CDs that Kepl will be reviewing. Watch Gerry's interview with the Performing Arts Review and check out Gerry's website for info on his very recently released CD, Rhapsodic. 
Serrena Iyer MBA '18 delivered the HBS Class Day student speech, which focused on her decision to transition from financial services to the entertainment industry, and how the encouragement of her classmates and friends at Harvard Business School helped to get her to follow her dreams.
Dr. Neal Baer MD '96, one of Harvardwood's Advisory Board members, delivered this year's Class Day speech to the graduates of Harvard Medical School and Harvard School of Dental Medicine. Dr. Baer executive produced ER, Law & Order:SVU, and Under the Dome.
Tune in to Hunting Isis, a documentary limited series produced by Zoë Morrison '11 about western volunteers in the war against ISIS. The 6-part series airs Tuesdays at 10/9C on History (debuted May 29th) with an encore presentation Sundays at 10/9C on Viceland (debuts June 3rd). Read more about the series here.
Elisabeth Shue AB '86 will star as a series regular in upcoming Amazon drama The Boys, based on the comic book by Garth Ennis & Darick Robertson. The show "revolves around a group of vigilantes known informally as "the boys," who set out to take down corrupt superheroes with no more than blue-collar grit and a willingness to fight dirty" (Deadline).
This summer, the Nickelodeon classic Double Dare returns to the air! Mandel Ilagan AB '99, the network's VP of unscripted development, is helping to oversee this highly-anticipated reboot of the game show where kids face an array of mind-bending questions, messy physical challenges, and the infamous obstacle course. Forty new episodes will be produced and start airing Monday, June 25th at 8p (ET/PT) on Nickelodeon!
2017 Most Staffable TV Writer Eric Lu AB '09, MD '14 has recently been staffed on Fox's The Resident. Congrats, Eric!
New Members' Welcome
Harvardwood warmly welcomes all members who joined the organization over the past month, including:
Jonathan Beasley, Staff, Boston/Campus
Kirby Bradley, College, NY
Alexander Cohen, College, NY
Christy Colburn, Staff, Boston/Campus
Socrates Cruz, College, LA
Sriram Das, College, LA
Cahleb Derry, College, NY
Jill Durso, College, NY
Blake Edwards, ART, LA
Deborah Elliott Frieden, Radcliffe, LA
Yael Goldstein, College, Boston/Campus
Neagheen Homaifar, College, DC
Serrena Iyer, HBS, LA
Jason Markoff, ART, LA
Eugene Mont, Staff, Boston/Campus
Kathy Purnell, College, NY
Nayeema Raza, KSG, DC
Katie Rich, ART, LA
Warren Sata, GSE, LA
John Michael Schert, KSG, NY
Alana Shea, College, Boston/Campus
Alumni Profile: Emily Carmichael AB '04 (Screenwriter, Pacific Rim: Uprising, Jurassic World 3)
By Nicole Torres AB '11
It is the morning of the royal wedding between Prince Harry and Meghan Markle as I sit down to write this profile, and as my email inbox continuously pings and fills with various news outlets reporting on the royal wedding, I cannot help but think of the parallel between Meghan and Emily's stories. As Meghan Markle went from "commoner" to royalty, so too Emily Carmichael AB '04 has gone from an unknown "commoner" to Hollywood "royalty," working on some of today's hottest blockbusters with the likes of Steven Spielberg and Colin Trevorrow.
Born and raised in New York City, Emily has been writing since her high school days at Stuyvesant High School, where she graduated as the top-ranked English student in her class. During those early years, she had already received recognition for her writing, contributing two essays toOphelia Speaks, a collection of works by adolescent girls that spent numerous weeks on the New York Times Best Seller List.
But writing was just one of her artistic pursuits. Emily recalls her early exposure to and passion for the arts: "'Making things' has always been a way of life for me, really for as long as I can remember. I've always had good representational skill as an artist, and when I was a kid I'd occupy myself with drawing, painting, and especially origami and sculpting, other 3D arts like that. I got more into painting as high school progressed—maybe because it was less messy than all that gluing/folding/constructing. Maybe because making tiny houses out of cardboard is not, like, recognized as a distinct artistic discipline."
Emily's passion for English, writing, and painting continued throughout college, and she graduated from Harvard in 2004 with a dual BA degree in Painting and Literature and Visual and Environmental Studies. Emily treasures the time she had in college to develop her writing and directorial skills.
She recalls, "Harvard is where I became a director. I wrote my first play, The Impossibles, when Maggie Lehrman and Liz Janiak asked me to contribute to their short play festival. The Impossibles was the first thing I directed, and I realized immediately that I loved writing and directing more than anything. I went on to put Macbeth: The Puppet Shakespeare, an all-puppet production I did with Moss Bittner. Then I put on Stopover, which was a HUGE experience for me. After that, The Passion Sell was in a lot of ways the culmination of my Harvard theater experience. I really, really value the time I had to learn and grow as a writer and director in college."
Upon graduating from Harvard, Emily returned to New York City to pursue a career as an artist and writer. She spent years dedicating herself to her craft, writing and directing numerous short films that have appeared in festivals such as Sundance, Tribeca, SXSW, and various other international film festivals. During this time, she also attended graduate school at New York University, where she received her MFA from the Tisch School of the Arts.
Over the years, both she and her work became known in the independent and festival communities. Emily spoke to everyone she met in the industry and was not afraid to reach out to her fellow creatives; her big break ultimately came as a result of the body of work she had accumulated and the relationships that she had built along the way. One of those relationships was Colin Trevorrow, whom she met through her friend and colleague Anna Kerrigan (The Impossibilities, Five Days Gone).
Emily credits her mentor Colin Trevorrow with opening her door of opportunity.
"Colin Trevorrow is the one who gave my screenplay, Eon, to Steven Spielberg, and that was my big break that changed everything. Spielberg signed me on to write and direct Powerhouse, and after that I booked Pacific Rim 2 at Legendary and The Black Hole at Disney. On the strength of that work, I was hired to write Jurassic World 3. Colin's advocacy taught me just how much you can change someone's life if they're motivated and ready (like I was) and if you have the courage of conviction to believe in them (like Colin did). Today I'm proud to be the champion of a young writer/director named Miranda Hoyt, who just completed her latest short film called Famous Last Words. If you have the power to discover a young artist from a group that's been marginalized, and you're not using that power, you're missing out on an amazing experience that has the power to change your life."
Sometimes all one needs is a chance, and for the right person to believe in you—especially in Hollywood. But as the saying goes, luck favors the prepared and one must also be ready for opportunity when it comes knocking. Then there are the pressure and expectation that accompany success.
Emily elaborates, "I did feel pressure writing Powerhouse, since that was the first studio film I'd ever written, and in a way, it was written in the limen between my life as an indie filmmaker and my life as a studio filmmaker. The experience of writing Powerhouse gave me a chance to mend a lot of my work habits—I used to have a lot of bad writer habits and I've been able to set a lot of them aside. Today I feel no anxiety at all about writing a big tentpole film like Jurassic. My whole life has been leading up to this moment—including the work that I've done to be able to write in a more psychologically healthy way."
So what's her secret? Developing a writing style and good habits is every writer's individual journey, but Emily is kind enough to share some of her techniques.
"Here are my three magic tricks: 1. Use an app like Freedom to block Internet distractions, and, this is important, schedule it to be active for certain hours every day. Mine is active from 9am to 10pm so I'm off social media for those hours. I used to use an app called Self-Control, which is great, but it does not have a scheduling feature, and that's really where the power lies. 2. Get into Dot Journaling. Dot Journaling is just a fancy name for creating your own journal that's also a planner, and a habit tracker, and everything else that you need it to be. 3. This one might be the most important: the Pomodoro Technique. It has transformed me."
For those unfamiliar with the Pomodoro Technique, I'd recommend googling, but essentially, it's the concept of breaking work into short intervals with breaks. It is perfect for those of us that cannot sit still for very long without getting antsy or distracted, and it works: try it.
Reflecting on the industry as a whole, Emily emphasizes that anyone seeking to pursue a career in Hollywood needs to be prepared for the long game.
She states, "Remember that when you graduate college, you enter an economy of approval whose parameters are very different than you're used to. In an academic setting, your TA has maybe 75 students at a time, and is professionally bound to read a hundred percent of the work that those students submit. Compare that to your typical Hollywood gatekeeper, like a producer or an agent: they're getting thousands of submissions a month, and they're not professionally obligated to read any of them at all. Expect that it will take a long time to make a name in this new environment. It took me about ten years."
In the same vein, sustaining that long game by building a body of work requires persistence and an understanding that recognition is not likely to accompany one's first, second, or even third project. It can be difficult to motivate oneself and push forward when one has devoted all of one's energy and resources into creating just his or her's first project.
This is where Emily notes that graduate school comes in handy.
"Grad school is most helpful to you when you're making NOT your first short film, but your second. You pull all the favors you can for your first short film, you spend all of your money. Maybe your first short doesn't come out how you want it to, or maybe it comes out great, it has a great festival run, and at the end of its run, you still don't have an agent or a job in the industry. This is the moment where grad school really helps: it MAKES you get back up and make another movie. If you're not able to attend grad school, I would prepare yourself, now, for that moment when it's time to make your second short film. Get over the notion that your first short film is going to change everything for you, because it most probably won't, and you'll probably have to make another. You might find it easier to get back in the ring for your second (and 3rd through 6th) short films if you view that as part of a long-term plan and not an indication of failure—you may also be better able to budget money, resources and favors."
Ultimately, and the recurring theme time and again: a career in Hollywood takes time and persistence. Prepare for the long haul, work on your craft, build relationships, and stay positive. When lady luck eventually comes knocking, you'll be ready.
Nicole Torres is an attorney, actor, and writer living in Los Angeles.
Calendar
FEATURED EVENT | Harvardwood Presents FASHION & BEAUTY: A Tour of the Metropolitan Museum - Fri., June 15 (NY)
This tour is about everything glamorous—from the grand hairdos of Imperial Rome to the outrageous wigs of the court at Versailles, from gold ear spools in pre-Columbian America to neck rings in Africa and Southeast Asia, and from 300 years of torturous corsets to 3000 years of gorgeous cosmetics.  We'll look at fashion from head to toe, and in between as well—just what did Victorian women wear underneath those giant hoops? We'll look at men, too—what was up with those powdered wigs, white makeup, foppish ruffs, and those, um, codpieces? Why did French courtiers wear foot-high wigs? Were beauty spots really used to cover up syphilis? And how did bicycles transform how women dressed and lived?
Our guide Andrew Lear is a world authority on sex in Ancient Greece and a scholar of sexuality throughout the ages. He has taught English literature and Italian at Harvard, and Classics at Columbia, Pomona College, and NYU, and is the co-author of the definitive work on male-male love in Greek vase painting Images of Ancient Greek Pederasty: Boys Were Their Gods. Andrew is the Founder and President of Shady Lady Tours, devoted to exploring the fascinating hidden secrets behind the world's great art.
Los Angeles, CA
Harvardwood Heads To... The Sisters Rosensweig - Dinner and a Play at South Coast Repertory Theater - Sat., June 2
Come see Amy Aquino AB '79 and enjoy a Buffet Dinner, plus a pre-show conversation with one of the directors and prime seats at the South Coast Repertory Theater for the award-winning play, The Sisters Rosenweig, written by Wendy Wasserstein. Seats will be center section, P. 
The New York Times wrote of this play "…a captivating look at three uncommon women and their quest for love, self-definition and fulfillment. But underlying the comedy is an empathetic concern for the characters and for the prospects of women today." 
Harvardwood Heads To... SHATTERED GLASS - Sun., June 3
Join Harvard alum Kelley Johnson Purcell for the multimedia stage presentation, SHATTERED GLASS. In the age of #timesup and #metoo, SHATTERED GLASS tells the story of Shairi, a woman who uses her art to stand triumphant in the face of abuse, taking the audience on a journey of transcendence while capturing the resilience of the human spirit.
SHATTERED GLASS is part of the 2018 Hollywood Fringe Festival! Learn more about SHATTERED GLASS or email Kelley. Click here to purchase tickets! Attend SHATTERED GLASS on any of the following dates:
June 3 - 3pm (discount tix available for the opening show!)
June 9 - 4:30pm
June 15 - 6pm
June 21 - 6pm
June 23 - 1:30pm
Harvardwood Heads To... Meg LeFauve: A Storyteller's Master Class - Sat., June 9
You are invited to join us for "A Storyteller's Master Class" with Academy Award nominated Meg LeFauve, writer of "Inside Out" and "The Good Dinosaur." This event is a fundraiser for the CineStory Foundation. Founded in 1995, CineStory Foundation is a 501(c)(3) nonprofit organization. It is dedicated to nurturing new screenwriting talent through its annual screenwriting contest, retreat, and fellowship. These programs are aimed at writers with a high level of craft who are ready to enter the industry. 
Harvardwood Heads To... The Ivy Plus Society's Summer Wine Event - Sat., June 9
Start your summer off with a nice pour of wine at one of Santa Monica's staple spots, Bodega Wine Bar. Mix and mingle with young alumni and professionals over Bodega's delicious happy hour, exclusive for our members. This fan favorite lounge will bring together the finest and brightest in tech, finance, entertainment, education, marketing, and more.
Harvardwood Heads To... IVY Entertainment's Summer Power Networking Mixer - Wed., June 13
You are invited to mix, mingle, and celebrate the summer at an exclusive entertainment industry professional power networking mixer. Expand your network by mixing with entertainment industry professionals from Yale, Brown, Columbia, Cornell, Harvard, Stanford, Princeton, U. Penn, and Dartmouth. CEAN PRIME is a modern American restaurant and lounge from renowned restaurateur Cameron Mitchell. OCEAN PRIMEdelivers an extraordinary experience to guests: stunning settings and a vibrant energy, an impressive menu, signature cocktails, a Wine Spectator-honored wine list and truly genuine hospitality.
Harvardwood Heads To... IVY Entertainment's Production Nightmares: Stories From The Top - Tues., June 19
Join your fellow IVY Entertainment Members at Ignited Spaces for an exciting panel highlighting untold stories of some of the industry's most well-known producers at the Production Nightmares event! Expect a lively evening as big-name producers spin yarns about the worst experiences they've ever had in production. Learn from the best as our panelists retell their production horror stories and help you avoid your own. The evening is the first in an event series hosted and sponsored by our friends at Castifi.
Harvardwood Heads To... The Ivy Plus Society's Summer Social - Thurs., June 28
See for yourself why the House of An dynasty exists when you join The Ivy Plus Society at the 2017 Experts' Choice Award Winner, The District by Hannah An. Viva LA Foodies says this dining destination is an "exquisite culmination of dynamic flavor, invigorating style and tranquil ambiance." This West Hollywood hot spot is so popular it even has a secret entrance for celebrities like Beyonce and Jennifer Lopez. So be like Queen Bey and make your way over to the social mixer of the Summer.
New York, NY
Harvardwood Heads To... TOUCHING THE DRAGON Event feat. author Christian D'Andrea '94 - Wed., June 6
Christian D'Andrea '94 and Jimmy Hatch will be discussing their new book, TOUCHING THE DRAGON (published by Knopf May 15). Jimmy was in the Navy's top counter-terror unit (the famous one) for 15 years, living life at a high frequency and experiencing hidden dimensions of Iraq and Afghanistan.  After he got shot trying to rescue Bergdahl, he was ejected from the unit and the life that he loved.  He despaired, and eventually put a gun in his mouth.  What saved him might help the rest of us, too.  Jimmy's journey through (and out of) darkness is inspiring, because it's shot through with humanity, wit, and, in the end, hope.
Washington, DC
Harvardwood Meet-up at the Blacklist DC Happy Hour - Wed., June 6
The Black List is creating social hubs for writers around the world where they can meet other screenwriters and discuss the craft and the reality of the screenwriter's life. So join your fellow writers at the DC happy hour! Come to enjoy the drinks and the company. You never know who you might meet!
Harvardwood Heads To... DARK CHAPTER Discussion & Signing - Thurs., June 14
Writer, producer, and activist Winnie M Li AB '00 visits from London to share her harrowing debut novel, Dark Chapter. NOMINATED FOR THE EDGAR AWARD FOR BEST FIRST NOVEL-Dark Chapter has been called an essential read for the #MeToo era. Inspired by her own real-life experience of a violent rape and its aftermath, DARK CHAPTER is winner of The Guardian's Not The Booker Prize 2017. The book has received extensive media attention in the UK, covered by The Guardian, The Times, The Mail on Sunday, BBC World News, BBC Radio. In writing the book, Winnie used crime fiction as a means of exploring the same issue that is also the focus of her academic and activist work: narratives around sexual assault. 
Boston/Cambridge, MA
Harvardwood Heads To... TOUCHING THE DRAGON Event feat. author Christian D'Andrea '94 - Tues., June 5
TOUCHING THE DRAGON by Christian D'Andrea AB '94 and Jimmy Hatch (published by Knopf May 15). Jimmy was in the Navy's top counter-terror unit (the famous one) for 15 years, living life at a high frequency and experiencing hidden dimensions of Iraq and Afghanistan. After he got shot trying to rescue Bergdahl, he was ejected from the unit and the life that he loved. He despaired, and eventually put a gun in his mouth. What saved him might help the rest of us, too.  Jimmy's journey through (and out of) darkness is inspiring, because it's shot through with humanity, wit, and, in the end, hope.
Atlanta, GA
Harvardwood Heads To... The PA Academy - Sat., June 2
This two day, bootcamp-style Production Assistant workshop is perfect for those just starting their career in the industry as well as those looking to advance their knowledge of what it takes to succeed as an office or on-set production assistant working on commercials, industrials, music videos, independent films, television series and studio features.
Chicago, IL
Harvardwood Heads To... DARK CHAPTER Discussion & Signing - Tues., June 12
In this exclusive session, Dark Chapter author Winnie M. Li AB '00 will discuss her impetus for transforming a deeply personal experience into a literary suspense novel which has been described as 'gripping,' 'nerve-shredding,' and 'intense.' At the same time, her goal as an activist has always been to reframe the narrative of the rape survivor from a story of weakness and vulnerability to one of resilience, recovery and community.  All are welcome!
Online
Harvardwood Heads To... Writing the Script That Changes Your Life - Sat., June 9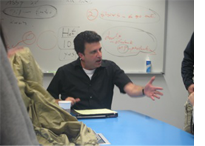 With the current explosion of original TV pilots being bought and produced, and the feature spec market finally starting to show signs of life, there's never been a better time to jump into the writing game. In the past three years, 78 of Corey Mandell's students have sold spec scripts, with dozens more getting staffed on such shows as Community, The Fosters, Bones, Justified, Mozart in the Jungle, Rosewood, Marvel's Agents of S.H.I.E.L.D., Treme, Jane the Virgin, Playing House, Chicago Fire, The Mentalist, The Blacklist, BoJack Horseman, Pretty Little Liars and The Leftovers. If you're serious about launching your career, Corey invites you to attend a free Master Class detailing what kinds of scripts are most in demand in the current marketplace, and a proven game plan for successfully writing them.
Welcoming the Class of 2018 to the Harvardwood fam with a membership discount
Harvardwood heartily extends our congrats to the University's newest graduates!
To celebrate their achievements as they start their post-Harvard adventures, we are thrilled to welcome members of the Class of 2018 to Harvardwood with a $10 discount off their dues. Our annual membership fee is ordinarily $45/year ($3.75/month), but members of the Class of 2018 may join Harvardwood for $35/year. This offer is only valid for new Harvardwood members. To receive your membership gift, email us with your full name, as registered with the College, and we'll send you the special link to become a member. Take advantage of this special opportunity by June 15th!
---
DISCLAIMER
Harvardwood does not represent or endorse the accuracy or reliability of any of the information, content or advertisements (collectively "Materials") contained on, distributed through, or linked, downloaded or accessed from any of the services contained in this e-mail. You hereby acknowledge that any reliance upon any Materials shall be at your sole risk. The materials are provided by Harvardwood on an "AS IS" basis, and Harvardwood expressly disclaims any and all warranties, express or implied.
Do you like this post?