In This Issue:
Director's Notes
Message from Allison
NEWS
Featured Member Posting: Executive Assistant (TV Land) - LA
Join the Harvardwood Summer Internship Program | May 15th housing lottery deadline
Get 1 year of FREE membership by hosting a summer intern
SF/Bay Area Members: Take Harvardwood's membership survey
"Hot town, summer in the city" | Save the dates for our summer group outings
FEATURES
Where Are They Now? Q&A with 101 Alum Felipe Tewes AB '06 (Senior Manager of International Originals, Netflix)
Industry Successes
New Members' Welcome
Alumni Profile: Leonard Chang AB '91 (Novelist, The Lockpicker, & Writer, Snowfall, Justified)
CALENDAR & NOTES
Calendar
Program Spotlight: Harvardwood Writers Program - Features
Get the WriterDuet Discount & Other Member Benefits
---
Director's Notes
I was fortunate enough to attend this past weekend's 25th anniversary of Arts FIRST Weekend, and I loved every second of it! In addition to the fabulous lineup of student performances, John Lithgow '67, Art.D. '05 received the Harvard Arts Medal AND the University organized a wonderful program, A Celebration of Harvard Artists, directed by Diane Paulus AB '88. This very special evening featured actors Courtney Vance AB '82 and Elizabeth Leimkuhler  AB '15, composer Nick Britell AB '03, TV writer (and Harvardwood 101 alum) Alexis Wilkinson AB '15, and many more extraordinary artists from Harvard. A standing ovation for EVERYBODY!
Looking ahead, Spence Porter of the #HarvardwoodNYC Chapter is throwing his seasonal SPRING PARTY for local Harvardwood members. Friends are welcome, and it's a potluck, so bring something to share with old and new friends!
— Dona
Message from Allison
Can you believe classes are over for the semester—actually, for the year! That means that we'll soon be welcoming participants of the Harvardwood Summer Internship Program (HSIP) to LA and NY. Students, if you have an internship in the arts, media, or entertainment, sign up to participate because you'll get special invitations to company visits and speaker events that are only open to HSIPers AND you'll be eligible for the HSIP housing lottery.
Which brings me to... alums in LA/NY, if you have any discounted or free housing options to offer our interns, get in touch! Many internships are unpaid and our students are in need of reasonable housing options, especially in these cities.
And THAT brings me to the city with the most expensive housing! SF/Bay Area members, we're reactivating our local Harvardwood chapter and would love to learn more about our members there. Fill out this super short survey and tell us what you'd be interested in seeing Harvardwood offer!
— Allison
Featured Member Posting: Executive Assistant (TV Land) - LA
Seeking an Executive Assistant to support the President of Development + Production; TV Land & Paramount Network. Duties include but are not limited to:
Coordinate and organize a busy calendar – including but not limited to sending detailed calendar invites, anticipating schedule adjustments, and coordinating internal/external meetings and appointments by managing correspondence with other offices and distributing necessary information/materials
Basic administrative phone skills – answering phones and taking detailed messages, setting up conference calls, maintaining the phone sheet, and keeping a professional and polite demeanor while utilizing discretion at all times
Maintain and distribute (as needed) all submissions and new drafts/cuts of current development projects and give constructive feedback on submissions, new drafts, and cuts to ensure executive is responding on projects in a timely manner, as well as being knowledgeable of development and on-air projects
Coordinate travel and maintain all expenses
 Assist in development process for specific projects
Coordinate and organize some personal travel arrangements
Join the Harvardwood Summer Internship Program | May 15th housing lottery
The 2017 Harvardwood Summer Internship Program (HSIP) list of opportunities is now available!
HSIP provides a list of summer internship opportunities in the arts, media and entertainment to interested Harvard students. In addition, HSIP facilitates career-related activities throughout the summer for participating students and companies in Los Angeles.
Companies will continue to send us their opportunities on a rolling basis throughout this spring, and students are encouraged to apply as soon as possible. You must be logged in to Harvardwood to access the HSIP listings and apply for the internship opportunities through this program! Once you have secured an internship, you can sign up to participate in HSIP this summer.
Participating interns are invited to exclusive company visits and other HSIP-only events. Past program events have included special film screenings, industry panels, and speaker events.
Get 1 year of FREE membership by hosting a summer intern
What's an easy way to get a year of free Harvardwood membership? Host an intern this summer in Los Angeles or New York!
Because many HSIP opportunities are unpaid, HSIP participants are generally in need of free or discounted accommodations to help defray the costs of accepting these opportunities for the summer. If you have a spare couch, futon, sleeping bag, or room(s) you can provide to a student or students (either free or discounted) for an extended period of time this summer (most internships run from mid-June to early August), please let us know! In addition to our undying gratitude, you will receive a free year of Full Membership to Harvardwood and you will be invited to attend special HSIP activities. Hosts are NOT expected to provide transportation, meals, entertainment, etc.
SF/Bay Area Members: Take Harvardwood's membership survey
Aligned with the mission of Harvardwood, the purpose of the SF/Bay Area Chapter of Harvardwood is to bring together Harvard alumni and affiliates working in arts, entertainment, and media to build a community dedicated to the cultural sector.
Now through May 15, 2017, we're administering a short survey (3-5 minutes) for NorCal-based members to inform our events and programming in the upcoming year as we revive the chapter.
"Hot town, summer in the city" | Save the dates for our summer group outings
We know, we know—it's still the middle of spring. But Los Angeles sure has been feeling like summer lately, and in anticipation of all the warm weather ahead, we wanted to make sure you save the dates for the following #HarvardwoodLA events!
Early next month, we're heading to Dodger Stadium to watch the Dodgers versus the Nationals. Tickets are just $15/members and friends, $25/all others. Only 20 seats are available, so snag yours while they're available here!
We'll also be heading to the Hollywood Bowl on the dates below:
Sat., June 24: Sing-A-Long SOUND OF MUSIC
Sun., August 27: Pink Martini feat. China Forbes & Storm Lagre Charo
Tues, Sept. 12: Yo-Yo Ma AB '76, DMU '91 Plays Bach
Everyone is welcome at these family-friendly events, so bring your friends, kids, colleagues—the more the merrier!
Where Are They Now? Q&A with 101 Alum Felipe Tewes AB '06 (Senior Manager of International Originals, Netflix)
by Henry Johnson AB '18
Felipe Tewes AB '06 is currently Senior Manager of International Originals at Netflix and has previously worked at HBO and Focus Features. He began his career in entertainment at William Morris Agency and attended Harvardwood 101 while an undergraduate at Harvard College.
Q. When did you realize you wanted to work in the entertainment industry?
A. I always loved film growing up, and around junior year of college I started to think about what I'd do after graduation. A lot of my friends were doing fellowships abroad, and I remember thinking that I'd do my version of that. I'd try going into entertainment for a year even though it wasn't the "safe" thing to do.
Q. How did you first enter show business?
A. I did Harvardwood 101 and learned how important it was to reach out to people. I did, and ended up meeting someone from William Morris Agency (now William Morris Endeavor). I learned about the agent training programs and how agencies were a great way to break into the industry. I interviewed in New York and was eventually hired for their trainee program.
Q. How did Harvardwood 101 help you achieve your goals in Hollywood?
A. It was incredibly helpful. It showed me that there really are careers in the entertainment industry, and it exposed me to the huge range of careers available. It's so easy for entertainment to seem shrouded in mystery, and actually meeting people who were doing these things helped ground the idea of Hollywood in reality.
Q. What are the major differences between developing domestic and international content?
A. Generally speaking, Hollywood knows what they do, and they know how to do it really well. Internationally, there are industries, but we're really trying to get them to do something they've never done before. In the U.S., there are clearer reference points and high bars to aim for in terms of premium TV series, but that hasn't always happened in the other territories. They just need the resources. That's what's exciting: the prospect of doing something new with all the international talent. 
READ THE COMPLETE Q&A WITH FELIPE
Industry Successes
Jonathan Hamel AB '91 recently released a new game, supporting Giant Sparrow's Ian Dallas on What Remains of Edith Finch as both a game designer and programmer. The game is best described as an anthology of the creepy little short stories all about a cursed family, strongly reminiscent of Borges and Lovecraft. Available for PC and PlayStation, the release is the first game from Annapurna Pictures' new interactive group, Annapurna Interactive. An Xbox version is in the works. View the trailer and read the rave reviews about What Remains of Edith Finch from Time and Polygon!
In Mississippi, Christian D'Andrea AB '94 came across black and white biker clubs doing something surprising… hugging. And blessing each other. He made a short documentary about it—Less Hell, More Angel—and it recently won the 2017 Oxford Film Fest. Less Hell, More Angel will air on PBS this fall.
After critically acclaimed productions in Seattle, New Jersey and Boston, Ernest Shackleton Loves Me, the epic musical adventure hailed as "A MUST SEE MULTIMEDIA EXTRAVAGANZA!" (Examiner) opens at Second Stage in NYC in a strictly limited engagement April 14 – June 11. Written by Tony Award-winner Joe DiPietro and produced by Matthew Kwatinetz AB '99, this innovative, high-tech adventure tells the story of a sleep-deprived single mom who is unexpectedly contacted across time by the famous polar explorer, Ernest Shackleton. Experience why "Antarctica has never felt so warm!" (Boston Globe). Use code "EFRIEND" to get discounted tickets now through May 7th.
At last month's VRTL Summit in Los Angeles, David Alpert AB '97 (Executive Producer, The Walking Dead) and Jon Goldman AB '87 of Skybound Entertainment announced that the company has started working on The Walking Dead VR experience. Skybound currently offers VR experiences "Gone" and "Lies Within" (upcoming). Stay tuned for more details about TWD VR project!
Congratulations to Harvardwood Co-Founder Adam Fratto AB '90, Executive Producer of Australian TV series Cleverman, which was nominated for a Peabody Award! Cleverman was a finalist in the Entertainment category, which recognizes compelling and empowering stories in television, radio, and digital media. 
Also in Peabody Award news, hit HBO comedy series Veep, helmed by showrunner David Mandel AB '92, was among this year's Entertainment programming winners!
Wonderland (starring Joan Chen and debuting her daughter Audrey Hui), the latest short film by Tiffanie Hsu AB '09, premieres on HBO Zone May 1st at 9pm and will be playing on HBO Now/Go/On Demand throughout the month of May as a winner of the HBO APA Visionaries Competition. Check out the 30-sec or 1-min trailers!
New Members' Welcome
Harvardwood warmly welcomes all members who joined the organization over the past month, including:
Alana Biden, Other U.S., College
Geoffrey Binney, Boston/On-Campus, College
Athena Bowe, LA, College
Tse-Sheng Chang, Boston/On-Campus, College
Christian D'Andrea, Other U.S., College
Tess Davison, NY, College
Colby Devitt, LA, HDS
Lauri Donahue, INTL, HLS
Beau Feeny, CHI, College
Romina Filippou, LA, HLS
Alexander Hively, Boston/On-Campus, College
Jaspreet Kaur, Boston/On-Campus, College
Denise Maratos, LA, GSE
Max-Joseph Montel, LA, College
Stephanie Ng, LA, Ext.
Monika Robbins, NY, College
Sorah Seong, INTL, College
Barbara Wasserman, NY, College
Karoline Xu, Boston/On-Campus, College
Stuart Young, UK, HLS
Jumai Yusuf, Boston/On-Campus, College
Alumni Profile: Leonard Chang AB '91 (Novelist, The Lockpicker, & Writer, Snowfall, Justified)
By Nicole Torres AB '11
Born in New York City and raised in Long Island, Leonard Chang largely credits his love of literature to his mother. Growing up, Chang read a majority of her English and American novel collections which she had brought with her from Seoul to America.
While his amateur writing career began at the age of seven writing long letters to camp friends, his 'aha' moment, the moment he knew he wanted to be a writer, came in high school during a memorable interaction with his best friend Joe. Perhaps during a conversation about their futures, Joe remarked that he wanted to be a writer and a lightbulb went off in Leonard's head. He thought, "You can do that?" and from that point on the seed of desire to become a writer was planted in his brain. During high school, the two of them embarked on a mission to co-write a novel together, and while Leonard remembers it as "youthful, ambitious, and terrible," he also remembers it as "damn fun to write."
After studying at Dartmouth and interning with the Peace Corps, the next stop on his professional journey was Harvard. Leonard notes that the best thing about Harvard for his writing career was the time and space it provided him to work on his writing. He lived off-campus, recalls spending more of his time in cafes and bookstores than in classes, and impressively completed his first novel while he was still an undergraduate. This freshman effort he also remembers as "youthful, ambitious, and terrible, but damn fun to write."
After Harvard, Leonard received a scholarship to attend the MFA program at University of California Irvine. Although the program was incredibly competitive, Leonard remembers his time there fondly as a great growing and learning experience that provided him with access to and the ability to learn from world-renowned writers. Not quite ready to leave at the program's end, Leonard elected to remain an extra year and worked as a teacher while completing what would become his novel The Fruit 'N Food, which won the Black Heron Press Award for Social Fiction and is taught at universities around the globe. Not too shabby for a first novel.
The Fruit 'N Food was just the beginning of an impressive array of award-winning novels that would follow, including Dispatches from the Cold, a popular and critically-acclaimed noir trilogy, Crossings, and Triplines. Many of his books have been translated into several languages and are taught in courses throughout the world.
In addition to his accomplishments in literature, Leonard has also made a name for himself in television. His initial foray into television was largely inspired by the television revolution brought about by shows like The Sopranos, The Wire, and The Shield— just a sampling of the many shows he watched while he was living and writing in Oakland. Inspired by the great content and writing on these shows, his decision to break into Hollywood was almost impulsive.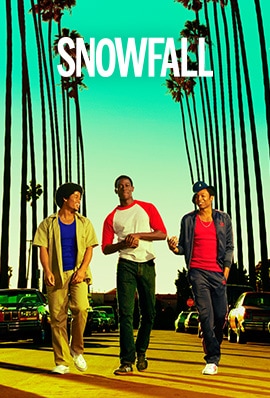 He recalls, "I made the decision very quickly, literally giving away everything in my apartment, loading my trusty Honda Civic with my computer and rock-climbing gear, and driving down to Los Angeles to housesit for a friend while I began writing TV pilots."
Soon after arriving in Hollywood, Leonard searched for communities of like-minded individuals. He quickly came across Harvardwood and the Harvardwood Writers Program. At the time, the program had just begun and he jumped on board immediately, participating in its second workshop. It was certainly time well spent, as one of the pilots he wrote during the workshop ended up becoming his main writing sample and was eventually optioned by Fox. As Leonard puts it, that was the beginning of his career in television.
Since breaking into Hollywood, Leonard has worked on shows such as Awake and Justified, and has written several screenplays. The latest show for which he is both writing and producing is Snowfall, which centers around the birth of the crack cocaine epidemic in Los Angeles. The show takes the perspective of a varied assortment of Los Angeles characters and Leonard explains, "It's our attempt to personalize and reveal stories about Los Angeles that haven't been fully explored before, and despite the content, we tried very hard to focus on the characters and their real or constructed families—we looked for authentic people beyond some of the hackneyed stories about this world."
But despite all his success in the television arena, Leonard has not left his novel writing days behind him. He also has a new novel coming out, The Lockpicker, which is a crime thriller that centers around two brothers. He spent a great deal of time researching the criminal elements of the novel, speaking to a number of professional criminals, and learning the ins and outs of burglaries and lockpicking. It was an effort that paid off, as early reviews of the novel are heralding its attention to detail and realistic criminal elements.
Asked about whether he has a preference for television or novels, Leonard maintains that he does not. To him, they are very different experiences and he explains, "Novels are very much a singular and personal experience, whereas TV is more collaborat[ive] and almost familial; some of the friends I've made in TV will be life-long. When you spend 8 to 10 hours a day with writers working on a show, a natural camaraderie develops, and I'm grateful for some of the friends I've made. This is what a lot of new writers don't necessarily understand about TV—it's not just the writing; there's a communal aspect to making TV that requires more than just being a great writer: you need to be a part of a family."
At least for the immediate future, Leonard seems to be focusing on television and film, and he is working on a multitude of different projects. When asked what is up next for him he replies, "I'm still a part of Snowfall (we're done shooting the first season but are still editing), and I'm working on a few different TV projects in various stages. Some projects I'll pitch; others I'll write on spec; others I'll work with directors or producers. At this very moment (literally today): I prepped a pitch based on a memoir about a stripper and sex worker; I met with comic book creators about adapting their comic book for TV; I read a draft of a feature screenplay which I was hired to do a revision for and which the first writer did another great draft; I worked on a spec pilot; and I'm prepping for a meeting with a director who wants to direct a TV version of a feature, which I hope to adapt. So I move from project to project, which is fun."  Just a simple day in the office.
The number of projects on his plate might seem overwhelming to some, but hearing him describe his work ethic it comes as no surprise. Aspiring writers often hear the advice, 'write every day', and he certainly takes that adage to heart. Leonard writes every day, and he has been doing so since high school. These days, a typical day for him starts very early, around 4:00 or 5:00 a.m. If he's on a show he heads straight to the office, and if he's not on a show it's gym first and then off to write. And he keeps at it all day, with the occasional meetings and calls interspersed between. As Leonard acknowledges, such discipline might seem "punishing" to some, but not if one enjoys the process of writing as much as he does.
That does not mean that everything he writes is publisher or screen-ready. Rather, Leonard emphasizes how often much of what he writes he ends up throwing away immediately afterward. He explains, "Then I look at what I've written and usually throw it out. But each draft gets honed and crafted, and the more I write and throw out, the closer I get to finding the jewel amidst the choss."
He recommends the same process to aspiring writers, "If you want to write, you should be writing—and writing every day. No excuses. I know everyone has busy and full lives, but if you really want to write and have a creative life, then you must prioritize it. Forget about the Muse and being inspired to write—it's a skill, a craft, a muscle, a way to see the world, and the more you do it the better you get. Here's where you start: give yourself a daily goal. Write one page a day. It doesn't have to be good. In fact it will probably suck, but that's okay. Because if you write one page a day, then in 30 days you have a half-hour script; 60 days you have a hour pilot; four months you have a feature; nine months you have a novel. Then you throw it out and start over. And guess what, in another few months you have a better version. But more importantly you find your rhythm, your routine, and you begin to understand how important writing is to your life, and then the product becomes less vital than the process, and everything from there is gravy."
This final statement gets at the core of Leonard's motivation and writing philosophy. His own personal motivation for writing is that he enjoys the process so much, and he does not place as much emphasis on the finished product. Of course he wants his work to be genuine and authentic and resonate with the reader, but at the end of the day he writes for himself. His test? The following question: "Will I work on something even if no one but me will read it? If the answer is yes, then I do it. Writing is not just a job or a profession—it is very much a way of life for me; it helps me assimilate and process the world around me."
This philosophy is something he shares with some of his favorite writers. In reading their biographies Leonard noticed a theme: "What struck me about many of my favorite writers is that even if they suspected they would never be successful or famous or rich, they couldn't not write."
He continues on to recall a particularly memorable anecdote. "When Faulkner was in his 30s he was getting rejected by everyone. He thought his career was over. He literally thought he would never be published again. His previous novels [had] failed, either commercially or creatively. But rather than demoralizing him, it liberated him. He wrote: 'One day I seemed to shut a door between me and all publishers' addresses and book lists. I said to myself, Now I can write. Now I can make myself a vase like that which the old Roman kept at his bedside and wore the rim slowly away with kissing it.' And he then went on to write one of his greatest novels, The Sound and the Fury. That always struck me as the key. Now I can write. That's the feeling you should always aspire to. F— everyone else. Now I can write."
The Lockpicker will be published May 18th—follow Leonard on Twitter @leonardchang for updates!
Nicole Torres is an attorney, actor, and writer living in Los Angeles.
Calendar
FEATURED EVENT | The Harvardwood NYC Sexy, Spectacular Spring Party - Friday, May 12 (NY)
It's Spring! It's Spring!! It's SPRING!!! And that means—it's time for a PARTY!!! And this will be a great one, and a wonderful opportunity for you to meet more of our smart, sexy, scintillating, and, most of all, vernal Harvardwood members!
Major FUN alert! Admission is free, but you must bring something to eat or drink! Wine, beer, salad, chicken, cheese, pizza, pasta, brownies—everything will be welcome! Things that are real FOOD (as opposed to chips and such) will be especially appreciated! Harvardwood members are HUNGRY people! RSVP here.
Los Angeles
Harvardwood Heads To... Prof. Thomas Forrest Kelley - The First Night of Don Giovanni - Sun., May 7
This talk hosted by the Harvard Club of Southern California, with music and pictures, takes us to Prague for the premiere of Mozart's new Don Juan opera, written for a company of singers that he knew and admired. It was a fascinating beginning to what became a timeless favorite.
Thomas Forrest Kelly is Morton B. Knafel Professor of Music at Harvard University, where he served as Chair of the Music Department from 1999 to 2004. In 2005 he was named a Harvard College Professor in recognition of his teaching of undergraduates. Thomas Kelly is an engaging and provocative speaker. He talks mostly about classical music, in a fascinating and entertaining way. His lectures, filled with images and music and his enthusiastic energy, have earned him invitations worldwide.
Leadership in the Arts – An evening with Professor Rohit Deshpande - Wed., May 10

Co-hosted by the HBS Association of Southern California, Harvardwood, and the Harvard Club of Southern California:
Rockstar HBS Marketing and Leadership Professor Rohit Deshpande comes to town on Wednesday, May 10, to advise one of the brightest institutions in the music world, the LA Phil. Those of you who've seen the Emmy and Golden Globe-winning hit show Mozart in the Jungle may know that our very own LA Phil maestro, Gustavo Dudamel, is no-doubt the inspiration behind the lead.
Come mingle with leaders from art and business at the Sony Pictures Studio Lot in Culver City and participate in Professor Deshpande's interactive case on Jazz at Lincoln Center. Stay for what promises to be a lively discussion afterwards on LA's rising cultural institutions, changing leadership at the LA Phil and what that means for LA's place on the world stage.
Harvardwood Heads To... Realities of the Casting Process - Sat., May 13
A can't-miss opportunity for actors, directors, producers, agents, and executives! Come join IVY Entertainment for a comprehensive review of the electronic casting process, with a live, behind-the-scenes look at how casting directors use Breakdown Express and Actors Access to cast film, TV and theatre projects.
This 2-hour seminar will shed light on how auditions are scheduled and why certain submissions stand out (or are skipped over). Topics will include how headshots and demo clips are evolving in the digital world, practical strategies talent agents use to get their clients seen in a competitive market, and helpful marketing tips for working actors to foster long-term relationships with the casting community. Featuring special guest casting director Lauren Bass.
Harvardwood Heads To... The Ivy Plus Society's Beverly Hills Party - Thurs., May 18
It's been 3 years since we've been to Sofitel and it's only become more fantastic. Join The Ivy Plus Society as we head back to the stunning Riviera 31 Lounge at Sofitel Hotel in Beverly Hills. This sophisticated cocktail lounge brings out L.A.'s most discerning clientele and recently just got a fabulous makeover. Be the first to see this newly renovated lounge that is recommended on TripAdvisor and was also 2016's runner-up in Time Out LA's Love Los Angeles Bar Awards. Harvardwood members receive a 20% discount with code ALUMNI20.
Harvardwood Heads To... LA LA LAND at the Hollywood Bowl - Fri., May 26 & Sat., May 27
From Libby Hill of the LA Times:
"Big news for fans of "La La Land." The film that would be best picture... is taking its show on the road, and soon citizens of the City of Stars will be able to listen to "City of Stars" while sitting under a sky full of stars.

"Lionsgate announced "La La Land in Concert: A Live-to-Film Celebration" on Monday, a stage spectacular featuring a viewing of the film with Oscar-winning composer Justin Hurwitz conducting the score with a 100-piece symphony orchestra, choir and jazz ensemble.

"La La Land in Concert will debut in Los Angeles on Memorial Day weekend, May 26 and 27, at the iconic Hollywood Bowl."
Tickets are available directly from the Hollywood Bowl website here (May 26th) and here (May 27th).
Washington, DC
Harvardwood Meet-up at the Black List DC Happy Hour - Wed., May 3
The Black List is creating social hubs for writers around the world where they can meet other screenwriters and discuss the craft and the reality of the screenwriter's life. So join your fellow writers at the DC happy hour! Come to enjoy the drinks and the company. You never know who you might meet! This event is free and open to the public (cash bar).
Program Spotlight: Harvardwood Writers Program - Features
The Harvardwood Writers Program - Features provides writing groups to Harvard alumni and affiliates in several major cities nationwide. Currently active in Los Angeles, Boston and New York, these writing groups offer an atmosphere of community and support to those looking to get involved in film writing as well as those already working in the field. Groups meet regularly throughout the year and allow writers of all experience and skill levels to share ideas, discuss projects, and develop stories into feature screenplays. Some finish full scripts within the program's annual cycle (which usually ends just before the Harvardwood Writers Competition's summer application period), and others focus more on honing their ideas into preliminary outlines and treatments before moving on to scripts in subsequent cycles.
Regardless of what pace or approach a writer might choose, the central goal of the program remains the same: to foster an environment of trust and cooperation in which writers young and old, new and veteran, paid and amateur feel both comfortable and committed to sharing and critiquing each other's work, so that they can learn from one another in a positive and constructive way. As with the Harvardwood Writers Program - TV Modules, the Features Program also includes (depending on location) guest speaker roundtables, pitch practice opportunities, and live reading events. Keep an eye out for Fall 2017 start dates!
More about Nick Baker AB '07 and Adam Wolman AB '88, Directors of the HWP-Features Program:
Nick proudly hails from Boston, Massachusetts. He graduated from Harvard in 2007 with a degree in History before eventually transitioning from fact to fiction (thanks to Harvardwood's Boston-based features group) and moving to Los Angeles in 2013 to become a screenwriter. During the years in between, he worked in the nonprofit and renewable energy sectors, and also trained as an Olympic Hopeful in the sport of rowing. Upon arriving in Los Angeles, he interned at Lin Pictures (THE LEGO MOVIE), became a script reader for United Talent Agency, and even found his way back onto the water by coaching rowing in Marina del Rey in the wee hours of weekday mornings. He currently works as an assistant to TV writer and executive producer Chip Johannessen (HOMELAND) and lives in Venice with his fiancee, Maren.
Adam consults for companies and individuals creating content for all media. Comedy, drama, reality, documentary -- name the format and Adam's tried to be of service in helping tell a compelling story. Sometimes this turns out great and other times meh, but so far, happily, nothing he's worked on has been a total disaster.
In his first outing as a documentarian, Adam recently produced and co-wrote Tested, a film about the controversy over diversity at NYC's specialized high schools (Stuyvesant, Bronx Science, Brooklyn Tech). The film premiered at DOC NYC and was named one of the best of the fest by the Village Voice, then screened at the White House. Unfortunately the screening did not convince our then-president to ignore the 22nd Amendment and run for a third term, so here we are.
As the #2 exec at HBO Digital, Adam developed short-form series for HBO's digital platforms. As Executive Consultant, Disney/ABC Television Group, he was brought on to help launch ABC's award-winning Micro-Mini Series; the position was expanded to include sharing oversight of the Disney/ABC Writing and Directing Fellowships and other programs designed to find and mentor diverse talent. Previously, Adam was VP, Original Series, Current and Development for MTV, where he was exec in charge of production on several series. He also served at ABC Entertainment as Director, Comedy Series Programming, and as Program Analyst at CBS Productions despite his childhood fear, still simmering today, of the CBS eye logo.
Before moving to L.A., Adam worked as an independent producer in Boston and in Massachusetts politics as a lobbyist and speechwriter for Mass Citizen Action. At Harvard he was a WHRB radio news editor/anchor who sometimes got to partner with the far-more-talented Scott Horsley, now NPR's White House correspondent. Adam sang in the Glee Club and with the Din & Tonics. He also acted in a couple of shows, including that Hasty Pudding thing, before exiting stage left with a degree in Linguistics and Psychology.
Back to the future: These days Adam still sings, tries to fight the power as VP Communications for the Pali Dem Club, serves on the UNICEF Speakers Series Committee, and lives more or less harmoniously with his TV writer/producer wife Eileen Heisler and their twin boys and their two cats.
Get the WriterDuet Discount & Other Member Benefits
WriterDuet is professional screenwriting software that features real-time collaboration, seamless online/offline writing, and infinite revision tracking—it's especially great for writing partners! And guess what's even better? Harvardwood members get a 30% discount code off the software.
"WriterDuet is the most intuitive, most user-friendly scriptwriting software I've ever used."
– Ed Solomon (Men in Black, Bill & Ted's Excellent Adventure)
In fact, Harvardwood members can take advantage of many member-only benefits and discounts. If you're not already a Harvardwood member, join here or renew your membership. 
---
DISCLAIMER
Harvardwood does not represent or endorse the accuracy or reliability of any of the information, content or advertisements (collectively "Materials") contained on, distributed through, or linked, downloaded or accessed from any of the services contained in this e-mail. You hereby acknowledge that any reliance upon any Materials shall be at your sole risk. The materials are provided by Harvardwood on an "AS IS" basis, and Harvardwood expressly disclaims any and all warranties, express or implied.
Do you like this post?