In This Issue:
Director's Notes
Message from Allison
NEWS
Featured Member Posting: Literary Intern (Anonymous Content) - LA
2017 Harvardwood Summer Internship Program listings now available
Get 1 year of FREE membership by hosting a summer intern
Apply for a $500 community service grant | Harvardwood Heroes
FEATURES
Exclusive Q&A with Photographer & Documentarian Lauren Greenfield AB '87 (Generation Wealth)
Industry Successes
New Members' Welcome
Alumni Profile: Monica Beletsky AB '99 (Writer & Producer, Fargo, Parenthood)
CALENDAR & NOTES
Calendar
Program Spotlight: Harvardwood Seminars & Salons
Leverage the Harvardwood community of 8,000+
---
Director's Notes
We're branching out! This month's masterclass features veteran game designer Jonathan Hamel AB '91 (Tomb Raider, Rise of the Tomb Raider). Looking at game design through three lenses—mechanics, dynamics, and aesthetics—we'll learn strategies to make gameplay more fun, as taught by one of the pioneers of MDA. RSVP here!
At the end of this month, I'm psyched to be back in Boston/Cambridge for the 25th Anniversary of ArtsFIRST weekend. Harvardwood is organizing an informal ArtsFIRST meet-and-greet at John Harvard's in the Square on Friday, April 28th, and I hope to see/meet many College students and alums who are in town for the festivities!
— Dona
Message from Allison
It's Harvardwood Heroes time again! If you or anyone you know is doing exceptional community service—we want to support it! Deadline is Saturday, April 22, 2017.
And also coming up on Saturday, April 22nd is our most popular annual volunteer event, The Great LA River Cleanup. Come join us for a beautiful day outdoors along the banks of the LA river. I look forward to seeing you there!
— Allison
Featured Member Posting: Literary Intern (Anonymous Content) - LA
Anonymous Content is looking to hire a literary department intern to start immediately. Paid position with a 2 to 3 day commitment each week. Job consists of mainly script coverage and development work with light administrative duties.
2017 Harvardwood Summer Internship Program listings now available
The 2017 Harvardwood Summer Internship Program (HSIP) list of opportunities is now available!
HSIP provides a list of summer internship opportunities in the arts, media and entertainment to interested Harvard students. In addition, HSIP facilitates career-related activities throughout the summer for participating students and companies in Los Angeles.
Companies will continue to send us their opportunities on a rolling basis throughout this spring, and students are encouraged to apply as soon as possible. You must be logged in to Harvardwood to access the HSIP listings and apply for the internship opportunities through this program! Once you have secured an internship, you can sign up to participate in HSIP this summer.
Participating interns are invited to exclusive company visits and other HSIP-only events. Past program events have included special film screenings, industry panels, and speaker events.
Upcoming in Cambridge: Harvardwood is hosting an informal meet-and-greet / mixer over ArtsFIRST Weekend at John Harvard's in Harvard Square. Executive Director Dona Le AB '05 will be in attendance, so students who have questions about Harvardwood or Harvardwood programs are encouraged to attend.
Get 1 year of FREE membership by hosting a summer intern
What's an easy way to get a year of free Harvardwood membership? Host an intern this summer in Los Angeles or New York!
Because many HSIP opportunities are unpaid, HSIP participants are generally in need of free or discounted accommodations to help defray the costs of accepting these opportunities for the summer. If you have a spare couch, futon, sleeping bag, or room(s) you can provide to a student or students (either free or discounted) for an extended period of time this summer (most internships run from mid-June to early August), please let us know! In addition to our undying gratitude, you will receive a free year of Full Membership to Harvardwood and you will be invited to attend special HSIP activities. Hosts are NOT expected to provide transportation, meals, entertainment, etc.
Apply for a $500 community service grant | Harvardwood Heroes
This April, apply to become a 2017 Harvardwood Heroes and receive a $500 unrestricted grant! The deadline to submit your grant proposal is Saturday, April 22, 2017.
Launched in 2013, the Harvardwood Heroes grant program aims to spotlight and support Harvard students, alumni, faculty, and staff who have made an exceptional contribution to the community. These Heroes exemplify the mission of Harvardwood by demonstrating the power and purpose of the arts, media, and entertainment in the betterment of our communities. We award $500 grants* to applicants who have demonstrated a distinguished level of service to their organizations of choice. Every year, grant winners will be determined by the strength of their proposal. They will receive the first $250 upon announcement of the winners and the balance of the grant upon submission of a final essay six months later. 
You do not need to be a Harvardwood member to receive a Harvardwood Heroes grant (applicants must be current students, alums, staff, or faculty), although Harvardwood members and/or applicants whose service project is arts-related will receive priority consideration.
Exclusive Q&A with Photographer & Documentarian Lauren Greenfield AB '87 (Generation Wealth, The Queen of Versailles)
by Terence O'Toole Murnin
On the eve of publishing Generation Wealth, the highly anticipated book and accompanying mid-career retrospective exhibition from acclaimed photographer and documentary filmmaker Lauren Greenfield AB '87, Harvardwood zooms in close for the inside scoop.
Q. What can you tell us about Generation Wealth?
A. The book will be released on May 15, and its creation has really dominated the last eight years of my life. It's certainly a document of our consumerism, and how we exported these values, especially after the financial crash of 2008. I traveled the world—from California, to Iceland and Dubai—and on to China where in a post-communist era, I witnessed a mad dash for wealth and luxury.
This clash of values where everyone now desires to be a part of the aristocracy also led to gender and body issues. Girls are commodified and the "Princess Myth" has led to an acceptance of prostitution as a way to obtain money and success. Brooke Taylor and the acceptance of high-end brothels as potential career tracks are signs of a cultural shift where fame is now a value.
Unfortunately, being "rich and famous" is really not a job as many kids have indicated as their career preference in recent surveys, and it often leads to depression. Aspirations to wealth is an addiction with no satisfaction—and it's unsustainable both morally and in our communities worldwide. I think my role in this book has been to connect the dots and look at things that we no longer even see.
Q. And did the accompanying exhibition grow out of the book?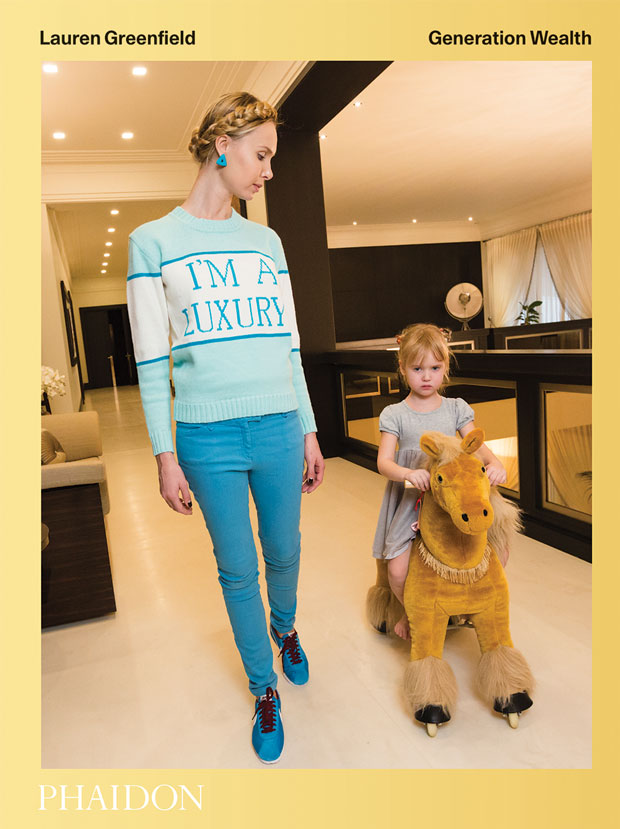 A. The cool thing about the exhibition at the Annenberg Space for Photography opening on April 8 is that the space was guaranteed before the book came out. It's truly an amazing space that will house my solo show, capturing in multi-media my journey from using my camera and Kodachrome slide film, to incorporating a recorder and ultimately, beginning in 2004, creating documentary films.
The stories are told in sections with very large prints—some 180 of them—and voices and storytelling utilizing big monitors and short films play an important role in the exhibit.
Q. Is Trump in the White House the ultimate expression of Generation Wealth?
A. It's uncanny, and I was as surprised as many people were on election eve when the results were announced. Trump is the apotheosis of what I've been documenting for the past 25 years. I think we've really seen fictional characters like Gordon Gekko become the anti-heroes to real-life characters like Donald Trump and it's really an expression of our moral values that in a short space of time, we've gone from American values such as thrift and frugality to an age of bling and narcissism.
Even Trump's aesthetic preferences are foretelling—a taste for gold and columns, and a man who owns beauty pageants is a precursor to the commodification and glorification of women. And much like David Siegel who I documented in Queen of Versailles, Trump's continuing narrative is certainly tied to the central position that real estate booms (and busts like in 2008) play in our country...
READ THE COMPLETE Q&A WITH LAUREN
Industry Successes
In an unusual Vermont chapel, the "Word of Dog" shines from seven stained-glass windows: Friend, Play, Joy, Trust, Faith, Peace, Love. These words and countless others, written on notes left by chapel visitors in memory of their dogs, weave their way through Dog Church, a memoir of love, faith, devotion between dogs and their people, and letting go, by Gail Gilmore, Assistant Director at the Harvard Office of Career Services.
This year, Skybound Entertainment (David Alpert AB '97, Partner and President) is partnering with WriteGirl, a creative writing and mentoring organization that spotlights the power of girls. WriteGirl hosts monthly mentorship events for girls from underserved communities and have limited resources within their school systems and homes.
Last month, Dr. Wendy Lesser AB '74 published a new biography on late architect Louis Kahn, You Say to Brick: The Life of Louis. Lesser is also the founder and editor of literary magazine The Threepenny Review.
Glenn Berger and Jonathan Aibel AB '91 (Trolls, Kung Fu Panda trilogy) will write and produce Luck, one of two inaugural productions of Skydance's new animation division. According to Skydance, Luck is a comedy that "pulls back the curtain on the millennia-old battle between the organizations of good luck and bad luck that secretly affects our daily lives."
Children's book author Natasha Tarpley AB '93 recently released an action-packed mystery, The Harlem Charade (Scholastic, Feb 2017). Set in contemporary Harlem NYC, this book features three 7th-grade protagonists who must solve an art-related mystery in order to stop a plan by an ambitious politician to turn Harlem into a history-themed amusement park.
Megan Brotherton AB '11 and Elizabeth Bates AB '13 have a short film making the rounds on the festival circuit! Catch them next at The Cleveland International Film Festival with "Buttercup" on April 5 & 6th. Megan directed/wrote/acted/produced, and Elizabeth is producer/actress on the film.
The work of Peter Lawson Jones AB '75, JD '80 can presently be seen on the small screen, big screen and stage. He is prominently featured in a national Kia/LeBron James commercial. He has also been cast as a principal in the films, White Boy Rick (starring Matthew McConaughey, Jennifer Jason Leigh, Bruce Dern and Piper Laurie) and Legacy (starring Justin Chatwin and Peter Stormare). Finally, in addition to a successful full production last October at Ensemble Theatre in Cleveland Heights, Ohio, his full-length political drama, The Bloodless Jungle, has received staged readings at the Kennedy Center, Dallas Convention Center and in Harlem.
Now through April 8th, catch a performance of Assassins, a musical production by James Bundy AB '81 at the Yale Repertory Theatre. Bundy is Dean of the Yale School of Drama and Artistic Director of the Y.R.T.
New Members' Welcome
Harvardwood warmly welcomes all members who joined the organization over the past month, including:
Jhanelle Bisasor, NY, College
Giselle Cheung, SF/Bay Area, College
Jeffrey Cott, Boston/On-Campus, College
Jeremy Fassler, NY, A.R.T.
Elizabeth Greer, LA, FOH
Kellee Kim, LA, College
Oliver Kim, NY, College
Matthew Kwatinetz, NY, College
Arthur Kyriazis, Other U.S., College
Cassandra Kyriazis, NY, FOH
Cora La, Boston/On-Campus, College
Max Lesser, NY, College
Margot Liebman, NY, GSE
Dahianna Lopez, Boston/On-Campus, GSAS
Alexander More, NY, GSAS
Maxon Moulton, Boston/On-Campus, College
Matthew Primm, LA, College
David Richey, Boston/On-Campus, College
Randy Rosenthal, LA, HDS
Charlie Sapadin, LA, FOH
Janet Savage, LA, HLS
Victoria Schmidt, LA, Ext.
Yael Swerdlow, LA, FOH
Alec Wilson, LA, A.R.T.
Sue Young Wilson, LA, College
Connie Zhao, Boston/On-Campus, College
*FOH = Friend of Harvardwood
Alumni Profile: Monica Beletsky AB '99 (Writer & Producer, Fargo, Parenthood)
By Sara Lynne Wright
Growing up with an African American dad and a Jewish mom in a diverse neighborhood of Philadelphia, Monica Beletsky AB '99 cultivated the empathy she now uses as a TV writer to step into different characters' points of view. "People who are different from me aren't just an abstract idea. I was lucky to grow up in a unique neighborhood of ethnic, religious and economic diversity."
This multiplicity of viewpoints is reflected in the wide range of shows on which she's been a writer-producer, including Parenthood, Friday Night Lights, The Leftovers, and Fargo. 
"The decade before my parents moved to Philadelphia, Black people and Jewish people were being prohibited from getting mortgages. But there were these special twin sister realtors in my neighborhood, West Mount Airy, who found a way to get mortgages for would-be homeowners who were discriminated against." So by the time Monica was born, her parents' neighborhood consisted of African-Americans, Jews, Protestants, Catholics, Muslims, Hindus, interracial and (later) gay families who were all homeowners or renters in the same neighborhood.
"We lived on my parents' modest teacher and artist salaries, but I lived around the corner from what you'd consider mansions. I also lived around the corner from single moms who lived in apartments. I went to a magnet public school that drew a lot of the best students from around the city. My classmates were 60% black, 50% eligible for school lunch and achieving the top scores in the state. After school and on weekends, I'd go to Hebrew school with wealthy, white suburban kids. Our teachers were mostly lesbians studying to be rabbis. In some ways, where I grew up is so unique that it's a bubble, but in other ways it exposed me to a wonderful variety of people.
"Those personal connections make it impossible for me to see negative images on TV or in movies and believe that those images or characterizations represent a group. I wish that for everyone. And I'm doing what I can so that there are more three-dimensional representations of women and minorities on TV. I believe strongly that the lack of protagonists who are women, people of color, undereducated and/or working class has detrimentally affected our culture. Roger Ebert said the movies are 'an empathy machine.' So TV writers need to understand that it matters who we root for, who we understand and whose shoes we're able to put ourselves in. For pocket money, I babysat for over twenty different families from ages twelve to eighteen. I think those experiences helped me write about different family dynamics and individual characters. Friday Night Lights and Parenthood were both, to a certain extent, about surrogate parenting."  
In Philly, Monica's dad had a woodworking shop in a neighborhood besieged by crack. He would hire and mentor neighborhood teen boys. Her mom started a tutoring program for the basketball team at the inner city high school where she taught for 30 years. "My parents are a lot like Coach and Tami. They mentored many young men and women over the years. On Mother's Day, my mom's phone rings off the hook."
At Harvard, Monica continued to delve into others' experiences by diving into the theatre scene, co-founding the Hyperion Shakespeare Company under the mentorship of Professor Jennifer Carrell. Eric Engel of Memorial Hall was another significant source of influence and support. "I had a couple work study jobs; one was working in Sanders Theatre, booking acts for the café, everything from spoken word to singer-songwriters and comedy. Senior year, we produced Hamlet in Sanders Theatre with Shakespeare & Co. directing our Hyperion ensemble. It was gratifying to say goodbye to Harvard that way, with a company we created from scratch freshman year."
After getting a grant to study acting Shakespeare at the Royal Academy of Dramatic Arts in London and graduating from Harvard, Monica assisted some of New York's top theatre directors and playwrights. "I was exposed to an incredible community of the American theatre, first during a year-long internship at McCarter Theatre in Princeton, where I was mentored by the brilliant playwright/director Emily Mann AB '74, a fellow Harvard alum. Many of the artists I got to work with were about to win Pulitzer Prizes, including Lynn Nottage, Doug Wright & Nilo Cruz." She directed an all-male production of Romeo and Juliet at the Theatre Royale in Scotland and got fellowships from Second Stage, the Roundabout and New York Theatre Workshop before making the decision to switch gears from directing to writing.
"It's hard not to absorb story, character and structure when your job is listening closely to plays over and over again."
Eventually, Monica says, "I loved directing, but I started to want to write my own scripts—so I didn't have to wait to fall in love with a play to get to work. I also had the desire to reach a wide audience who didn't necessarily have a lot of money."
To make ends meet after moving to LA, Monica got two jobs, one as a personal assistant for a computer programmer and one conducting research for the Annenberg Foundation. She reached out to Harvardwood members and was invited to have coffee, ask questions about being a TV writer, and tour TV offices.
In the two years it took for her to land a job in TV, Monica honed her writing. "I basically buckled down and had no life. All I did in my spare time was watch TV, write and rewrite." She often describes this time to people she mentors, because she believes it was crucial. "Many writers early in their careers will be so excited to have a draft of a script, they'll go through it once or twice, polish it, and then think they're done. But there are very few people who are first draft writers like that. One of my own mentors, American Repertory Theatre alumnus Deborah Cahn A.R.T. '98 (The West Wing, Grey's Anatomy) would tell me to remember readers each have a huge stack of scripts on their desks, and a lot of people can write a B+ or a B script. That's most of the stack. To write a script 'you can bounce a quarter off,' to be in that small percent at the top, you have to really work at it. At the time, I was panicking a little. My resume was all theatre and—since I wasn't doing theatre—that experience seemed useless. Meanwhile, my friends were getting medical degrees, practicing law. It clicked that if I wanted to be a screenwriter, that I'd need to commit to practicing and learning with the same commitment as that of my medical school friends working their asses off in residency." 
Eventually, she saw a Harvardwood job posting for a writers' assistant position on "a hit ABC show." She had a hunch that show was Lost, her favorite show at the time. She was right.
"At the meeting, Damon [Lindelof] and Carlton [Cuse AB '81] told me it was between me and another candidate who had been in the FBI. So I figured I'd never land the gig. But then they revealed the other candidate was extremely loyal to the FBI privacy agreement and wouldn't tell them anything about what it's like to be in the FBI. Wherever that guy is now, I'm grateful for his patriotism. Without it, I wouldn't have gotten the job."
It proved to be an invaluable experience. "Being in the Lost writers room for all of season four was like my graduate school or residency." She's been working on character-driven dramas since 2007. Monica honed her flexibility as a writer with two female British writer friends, Deborah Frances-White and Philippa Waller, with whom she wrote features with in her twenties while doing theatre in London.
"They taught me an improv mantra: 'Trust your obvious.' In a workshop, they taught an exercise where we each had to come up with a sentence about a lighthouse. We went around the room, and everyone had such a different reference point for this one object. That taught me that ideas that are obvious to me might not be obvious to other people. I use that knowledge every day in a writers' room coming up with ideas and pitches.
"I remember years ago in the Parenthood room, when we were arguing in circles about whether a character was going to be a working mom or a stay-at-home mom or another kind of mom. Jason [Katims] finally said something like, 'Eight writers are never going to agree on what a mom is.' And that's so true. An improv sensibility gives writers a sense of play, a willingness to let go and try again, that is important to embrace in a writers' room and when taking notes from producers and executives. One of the traits that makes you vital on staff is being able to adapt yourself to a showrunner's instincts. Developing your own material and figuring out who you are, what your own voice is—that's a different skill and takes a different kind of courage."
Monica is currently developing a limited series pilot with FX. Watch for Monica's work on the third season of Fargo on FX when it premieres on April 19, 2017.
Sara Lynne Wright writes, acts and produces in Los Angeles and Seattle.
Calendar
FEATURED EVENT | Harvardwood Masterclass: Game Design with Jonathan Hamel AB '91 - Thurs., April 20 (LA)
Explore the craft of game design in a sampling of content from the intensive Game Design Workshop, taught every year at the Game Developer's Conference in San Francisco. Looking at game design through three lenses—mechanics, dynamics, and aesthetics—you'll learn strategies behind an iterative approach to analyzing, critiquing, and improving games called the MDA Framework. In other words, you'll learn how designers make gameplay more fun, as taught by one of the pioneers of MDA, Jonathan Hamel AB '91 (Tomb Raider, Rise of the Tomb Raider).
Jonathan Hamel is a veteran game designer with over 20 years of experience in entertainment and software development. He helped reinvent one of the most recognizable and commercially-successful game franchises in the world with his design leadership on the Tomb Raider reboot (2013) and its sequel, Rise of the Tomb Raider (2015). He has made children smile, launching over 100 games on SesameStreet.com. And he gave players new battle strategies to explore in The Lord of the Rings: The Battle for Middle-earth II: The Rise of the Witch-king. He recently worked as a Designer/Programmer on What Remains of Edith Finch, soon to be released from Giant Sparrow and Annapurna Interactive. He now works full time as Chief Game Designer at a VR company, EON Reality, Inc. With Jennifer L. Holm, Jonathan is also the co-author of The Stink Files series: The Postman Always Brings Mice, To Scratch a Thief, and You Only Have Nine Lives, three novels about a cat who is a spy (published by HarperCollins).
Los Angeles
Harvardwood Heads To... HBSASC Book Signing with Jeetendr Sehdev MBA '04 - Wed., April 5
Join the HBSASC as we welcome Jeetendr Sehdev MBA '04, who reveals how social media stars attract such obsessive attention–even more than the Hollywood A-list. And what they can teach us about making our own ideas, products, and services break through. Jeetendr Sehdev is the world's leading celebrity expert. A trailblazer in pop culture insights, he has become one of the most prominent figures in celebrity news and a sought-after advisor to top international companies. Jeetendr's research on the power of YouTube stars continues to make global headlines and has gained him influencer status and over a million subscribers on social media. A graduate of Oxford University and Harvard Business School, Jeetendr works with the United Nations helping to raise awareness and promote efforts to combat modern-day slavery. He is British national who now lives in sunny Los Angeles where he teaches at the University of Southern California.
Harvardwood Heads To... Annual Spring Fling presented by The Ivy Plus Society - Thurs., April 6
Have a fling with The Ivy Plus Society at the place The LA Times calls "the best kept secret in Santa Monica," The Viceroy. This luxurious outdoor hot spot is the perfect venue to mix, mingle, and flirt with the finest and brightest alumni Los Angeles has to offer. Enjoy delicious cocktails under pristine white cabanas surrounded by lush foliage in the heart of Santa Monica. Cocktail attire.
Harvardwood Heads To... Generation Wealth by Lauren Greenfield AB '87 - Sat., April 8 - Thurs., April 13
GENERATION WEALTH by Lauren Greenfield examines the influence of affluence over the last 25 years, illustrating the globalization of materialism, celebrity culture and social status. This timely, thought-provoking collection explores how "keeping up with the Joneses" has become Keeping Up with the Kardashians, magnifying the aspirational gap between what we want and what we can afford. The exhibit is not about the rich, but the pervasive desire for more. Complete exhibition details can be found here.
Harvardwood Helps at the Great LA River Cleanup - Sat., April 22
This fun outdoor event is attended by A TON of volunteers! After you RSVP to us, Harvardwood Helps Director Stacy Cohen will get in touch with you so you can find her the day of the event and meet with other Harvardwood volunteers. Volunteers will receive a FoLAR t-shirt and reusable grocery tote at the CleanUp. Note: supplies may be limited and are distributed on a first-come-first-serve basis.
Harvardwood Heads To... Earth Day Family Story Time! - Sat., April 22
EARTH DAY STORY TIME! Bring your families and friends to BARNES & NOBLE to celebrate Earth Day with The Adventures of Camellia N. The environmentally-focused book series not only educates and entertains, but helps create pint-size global ambassadors who will change our planet!
Harvardwood Heads To... American Youth Symphony Presents: GALA Concert - Sat., April 22
We commemorate our annual gala with a joyous celebration of classic masterworks and rising talent. Concerto Competition winner Rachel Ostler joins the orchestra for Korngold's virtuosic Violin Concerto, in an evening also featuring the spirited Overture from Mozart's Marriage of Figaro, and Rachmaninoff's beloved Symphonic Dances.
Carlos Izcaray, conductor
Rachel Ostler, violin
Mozart: Overture from The Marriage of Figaro
Korngold: Violin Concerto, Op. 35, D major
Rachmaninoff: Symphonic Dances
Harvardwood Heads To... The Ivy Plus Society's Happy Hour Mixer - Sat., April 29
The Ivy Plus Society is going back to the hottest spot in Santa Monica, Bodega Wine Bar. Join us for an inter-alumni networking mixer while enjoying Bodega's delicious happy hour, exclusive for our members. Specials include $4 beer, $6 wine and $6 appetizers. This fan favorite lounge has limited space, this event is expected to sell out.
New York
Harvardwood Heads To... Albany, NY Screening of Multi-Award-winning Is Anybody Listening - Tues., April 4
Screening will be followed by discussion kicked off by two veterans but open to all. Co-sponsored by Heroes at Home; the Capitol District Women Veterans Program, Inc.; and the Albany Chapter of Veterans for Peace!
Harvardwood Heads To... Tribeca: CASUAL Screening + Q&A - Sat., April 29
Season 3 returns with everyone's favorite co-dependent siblings Valerie and Alex. They continue to live deep in each others emotional lives as they raise Valerie's daughter Laura. Following dramatic life changes at the end of the last season, Valerie and Alex are adjusting to a new normal while continuing to struggle to maintain boundaries with each other. After the episode: A conversation with creator and executive producer Zander Lehmann, executive producers, Liz Tigelaar, Helen Estabrook AB '03, and cast members Michaela Watkins, Tommy Dewey, and Tara Lynne Barr. Moderated by editor for New York Magazine and Vulture, Stacey Wilson Hunt.
Harvardwood Heads To... Tribeca Talks: Slate's Trumpcast - Sun., April 30
Get a dose of politics and comedy with Slate's Trumpcast Live. Host Jacob Weisberg is joined by Slate Chief Political Correspondent Jamelle Bouie, author Virginia Heffernan AM '96, PhD '02, and more for a frank conversation on the first 100 days of the Trump administration. More info here.
Boston/Cambridge
Harvardwood Arts First Mixer - Fri., April 28
Members of the Harvardwood Boston/On-Campus chapter are invited to help us celebrate the 25th anniversary of Arts First Weekend at Harvard and the students who make it happen! Please join us at John Harvard's from 5-7pm on Friday, April 28th. Harvardwood's Executive Director, Dona Le, will be in attendance to answer any questions you might have about Harvardwood and our events and programs. RSVP so that we know you're coming! Friends are welcome; cash bar.
Washington, DC
Harvardwood Meet-up at the Black List DC Happy Hour - Wed., April 5
The Black List is creating social hubs for writers around the world where they can meet other screenwriters and discuss the craft and the reality of the screenwriter's life. So join your fellow writers at the DC happy hour! Come to enjoy the drinks and the company. You never know who you might meet! This event is free and open to the public (cash bar).
Cleveland, OH
Harvardwood Heads To... The Cleveland International Film Festival with "Buttercup", Megan Brotherton AB '11 & Elizabeth Bates AB '13 - Thurs., April 6
"Buttercup" is a narrative dramatic short written/directed (and starring) Megan Brotherton AB '11. Her classmate Elizabeth Bates AB '13 produced and co-starred. They will both be in attendance and would love support from any Cleveland-based alumni! ** THERE ARE 2 SCREENINGS: April 6th at 5:35 PM AND April 7th at 11:45 AM (same location)
Florence, Italy
Harvardwood Heads To... The G7 of Culture in Florence Italy. Featuring the sculpture of Romolo Del Deo '82 - Now through April 19, 2017
The G7 of Culture in Florence Italy. See the sculpture of Romolo Del Deo '82 representing the United States in the exhibition celebrating the G7 summit at Santa Croce in Florence. Part of the Italian Ministry of Culture's celebration of the G7 Summit, hosted in Italy this year. Save artists who have won the Lorenzo Il Magnifico Medal from the Biennale have been chosen to represent the respective countries. The exhibition is open every day, during regular visiting hours at the Basilica, through April 17th. Photo by Eric Roth
Program Spotlight: Harvardwood Seminars & Salons
The Harvardwood Seminars and Salons are some of the best opportunities for people of all career levels to learn from those a little more experienced. Generally small, intimate events, often centered around a meal, they allow for all guests to ask questions, get answers, and share anecdotes with the best and the brightest in the industry. Get to know your idols, as well as some peers interested in the same things—whether it's producing, acting, writing, or anything else—check out the next Harvardwood salon and give it a shot!
More about Daniel Gale-Rosen and Mark Wooster, Directors of Harvardwood Salons & Seminars:
Transplanted from the Boston area, Daniel has somehow managed to adapt (mostly) to the Californian climate of warm weather and, you know, being nice to other people. He currently works in digital marketing, telling people how to use Facebook, and gets his creative fix by participating in writers' groups, which was his real introduction into the Harvardwood community. He's usually working on a few writing projects at once, mostly based on source materials that were written a while ago and are thankfully in the public domain so no one can sue him. Also, he eats brunch a lot. He graduated from Harvard College in 2010 with a degree in History and Science, mainly because he couldn't decide.
Mark Wooster is a graduate of Harvard Law School and has practiced law way too long, including 10 years as head of litigation for Universal Studios. He also teaches legal Continuing Legal Education courses in a comedy format, and has written a novel and some screenplays that you will see some day.
Leverage the Harvardwood community of 8,000+
It's incredibly exciting to see all the projects Harvardwood members have in the works, ranging from short films and debut albums to visual arts exhibitions and book publications! For many emerging artists, part of the battle is spreading the word about your work so you can build an audience, viewers, listeners, readers—your future fans and supporters! That's where Harvardwood can help.
Harvardwood members can leverage our Harvard network of folks working in the arts, media, and entertainment to share their projects and achievements with 8,000+ people! Browse the opportunities available to members and join Harvardwood today!
---
DISCLAIMER
Harvardwood does not represent or endorse the accuracy or reliability of any of the information, content or advertisements (collectively "Materials") contained on, distributed through, or linked, downloaded or accessed from any of the services contained in this e-mail. You hereby acknowledge that any reliance upon any Materials shall be at your sole risk. The materials are provided by Harvardwood on an "AS IS" basis, and Harvardwood expressly disclaims any and all warranties, express or implied.
Do you like this post?