In This Issue:
Director's Notes
Message from Allison
NEWS
Featured Member Posting: Executive Assistant, Original Series (Netflix) - LA
Get on BOARD: Apply to join the Harvardwood Board of Directors | Deadline Jan. 20th
TV Writers, apply to the Spring 2017 Harvardwood Writers Program - TV Modules | Deadline Jan. 31st
Recruit Harvard students to intern at your company this summer | Deadline Feb. 15th
Let us know if your film will be featured at Sundance or Slamdance
FEATURES
Where Are They Now? Q&A with Jamie Mayer AB '90 (Screenwriter & Author, Painless)
Announcing the winners of the Harvardwood Writers Competition & Most Staffable TV Writers List
Industry Successes
New Members' Welcome
Alumni Profile: Dean Norris AB '85 (Actor, The Book of Henry, Breaking Bad)
CALENDAR & NOTES
Calendar
*NEW* Program Spotlight: Harvardwood 101
Make Harvardwood the NPO fiscal sponsor of your next film project!
---
Director's Notes
Happy New Year! As we usher in 2017, we're also pleased to extend a warm welcome to 27 Harvard College students, who will begin the 101 bootcamp tomorrow. Be sure to read our first program spotlight on Harvardwood 101 and the dedicated program directors who run it below!
And if you're feeling inspired by the winners' announcement for the Writers Competition & Most Staffable List, apply this month to participate in a Spring 2017 TV Module in Los Angeles! Writers may also be interested in our Jan. 17th masterclass with Chip Johannessen AB '77 (Homeland, Dexter, 24). In New York City, members are in for a lavish dinner—seats at the table are limited, so RSVP soon for Harvardwood's Brazilian Wine Dinner & Seminar at Fogo de Chao!
Onwards and upwards in 2017!
— Dona
Message from Allison
We're psyched the new year is FINALLY here, and we're wasting no time leaving 2016 behind. This month, apply to become a Harvardwood Board member and join our team of dedicated volunteers and program leaders. Together, we'll make 2017 a year of even more growth and success for Harvardwood as a whole AND for our individual members!
Which brings me to... the winners of the Harvardwood Writers Competition and the Writers Program alums named to the Most Staffable List! Join me in congratulating these extremely talented writers, whose success in our annual Writers Competition was announced by Deadline.
This is just the beginning of a year of successes for our writers, actors, musicians, directors, novelists, poets, and more—all of YOU, the artists who make Harvardwood what it is! Here's to 2017!
— Allison
Featured Member Posting: Executive Assistant, Original Series (Netflix) - LA
Netflix is seeking an experienced Executive Assistant to provide support for our Content Acquisition group encompassing Original Comedy, Drama, and Family & Young Adult content in Beverly Hills. The successful candidate will be self-motivated, quick-thinking, flexible, and able to juggle multiple and diverse responsibilities with a strong emphasis on organization and an unwavering attention to detail at all times. This is a demanding and fast moving position that requires someone who is able to exercise good judgment and significant initiative.
Get on BOARD: Apply to join the Harvardwood Board of Directors | Deadline Jan. 20th
The Harvardwood Board of Directors is coming up on elections for its next term, and we are looking for some energetic individuals to fill a few great positions! The Harvardwood BOD is the managing body that oversees the volunteer efforts of Harvardwood members worldwide and has worked to create an impressive array of events, programs, and online resources over the past fifteen years. As a member of this dynamic team, you will play a large role in determining the priorities and setting the course for the entire organization.
This year's openings include: Director of Membership Experience and Director of Social Media. Find out more about these Board positions and how to apply.
TV Writers, apply to the Spring 2017 Harvardwood Writers Program - TV Modules | Deadline Jan. 31st
Harvardwood is pleased to announce the Spring 2017 Harvardwood TV Writing Modules! The modules will use peer review, guest speakers and workshops to foster a motivating and supportive environment for participating television writers. We anticipate having LA modules for Original Drama Pilot, Original Comedy Pilot, Spec TV Episodes, and Original Pilot Rewrites.
The application period for the Spring 2017 TV Modules is January 15 - 31, 2017. TV Module participants MUST be Full Members of Harvardwood (writing partners can be Friends of Harvardwood but must also be dues-current members).
Get additional details and application instructions.
Recruit Harvard students to intern at your company this summer | Deadline Feb. 15th
If your arts, media, or entertainment company offers summer internships and would like to recruit applications from current Harvard College students, we invite you to participate in the 2017 Harvardwood Summer Internship Program (HSIP)! Companies can recruit current Harvard students directly by posting their internship opportunities to Harvardwood FOR FREE.
HSIP provides a list of internship opportunities in the arts, media and entertainment to Harvard undergraduates and also coordinates career-related events over the summer for program participants in LA, NYC and other cities. If your company would like to list an internship via HSIP, please fill out our brief participant form by February 15th to reach the largest number of potential candidates.
Let us know if your film will be featured at Sundance or Slamdance
Calling all Harvard-affiliated films and filmmakers traveling to Sundance or Slamdance this month! Are you heading to Park City and will one of your films be presented? Share the good news with us so that the Harvardwood community can support you and your work. Just email Harvardwood with information about your film, screening times, etc.
Where Are They Now? Q&A with Jamie Mayer AB '90 (Screenwriter & Author, Painless)
by Dayna Wilkinson
Jamie Mayer AB '90 previously won the Harvardwood Writers Competition for her TV pilot Tomorrowland. She was one of eight television writers recently selected for the Women In Film/Black List Episodic Lab, and a short film she directed based on her feature script Crowbar Smile will be released this year by Conde Nast Entertainment. Her debut YA novel Painless will be published on February 14th.
"Always be writing. Make things, even on a small scale, because it keeps you agile and can lead to unexpected things."


Q. When did you know you wanted to be a writer?
A. I grew up wanting to be a veterinarian, and that stuck pretty much until halfway through Harvard when I realized "hey, if I don't take Organic Chemistry now, it'll be too late!"  So I decided I should probably major in the things I was really being drawn to, which were photography and film.
I wrote and directed several short films and left Harvard with a degree in Visual and Environmental Studies. I was inspired growing up by writer/directors like Steven Soderbergh, Spike Lee and the Coen Brothers—filmmakers who generate their own material and have a voice.
Q. How did you get started in the business?
A. I was the assistant to several producers and a director, where I got development and production experience. I finally saved up enough so I could stop working and write for six months. The result was my first feature script, Painless, which got me my first agent and into the Sundance Screenwriters and Directors Labs. Since then I've sold and optioned features to studios and independent producers, and have written original and adapted scripts on assignment.
Q. How did participating in Harvardwood impact your career?
A. I had been writing feature scripts for a while, and had relationships with feature executives, representatives and so on. But the industry had shifted and like a lot of feature writers, I decided I wanted to write for television, which involves a different group of relationships. It meant starting over in a sense, but it's also been energizing. Winning the Harvardwood Writers Competition helped with that transition, opening some doors on the television side and got me my first television agent.
READ THE COMPLETE Q&A WITH JAMIE
Announcing the winners of the Harvardwood Writers Competition & Most Staffable TV Writers List
After working through over 100 scripts and multiple judging rounds, we're excited to announce the winners of the 2016 Harvardwood Writers Competition and the Most Staffable TV Writers List! Congratulations to all FINALISTS as well—choosing among the best scripts was difficult in every category. Once again, the quality of your writing speaks for itself.
We are also incredibly grateful to all of our judges—industry professionals, including literary managers, agents, development professionals, and working writers—for lending us their invaluable time, reading eyes, and expertise.
Competition winners receive a cash prize, and all writers receive a one-on-one mentorship. This year's mentors include:
Tracey Bing - Executive Producer (Southside with You), Producer (Nappily Ever After (upcoming)), and Executive (March of the Penguins)
Jonathan Collier - Writer & Executive Producer (Bones, Monk, King of the Hill, The Simpsons)
Nancy Cotton - President, Heyday TV
Marjorie David - Writer, Producer, & Showrunner (90210, Brothers and Sisters, Life, Wildfire, Shadowhunters, Taken)
Mark Goffman - Writer, Producer, & Showrunner (Bull, Limitless, Sleepy Hollow)
Adam R. Perlman - Writer & Producer (Billions, The Good Wife, The Newsroom)
Michael Roiff - Executive Producer (Burn Country), Producer (Waitress, In Your Eyes)
Jeff Schaffer - Writer, Producer, & Showrunner (The League, Curb Your Enthusiasm, Seinfeld)
Sam Shaw - Writer, Producer, and Showrunner (Manhattan, Masters of Sex)
Jonathan E. Steinberg - Writer, Producer, & Showrunner (Black Sails, Human Target)
Without further ado, please join us in congratulating:
Features Winner: Jill Bayor - Hesse (Drama)

Runner Up: Richard Nguyen* - The Grove (Drama)

TV Pilots Winner: Garrett Schabb - Charged (One-Hour Drama)

Runner Up: Nicholas Nardini & Jess Brownell - Power House (One-Hour Drama)

Shorts Winner: Sam Johnson - Pandas! (Animated Short)
Additionally, writers of outstanding TV pilots incubated in the ongoing Harvardwood Writers Program are selected for the Most Staffable TV Writers list each year. The 2016 Most Staffable TV Writers are:
Jess Brownell & Nicholas Nardini - Power House (Pilot / One-Hour Drama)

Perry Jackson* - Liberation (Pilot / One-Hour Drama)

Joey Siara - Your New Favorite Band (Pilot / Half-Hour Comedy)
* Eligible for diversity consideration
Industry Successes
Alum Sara Lynne Wright associate produced documentary BIG SONIA, which won the Audience Award and Best Documentary Award at the Napa Valley Film Festival, played at HBO's DOCFEST in NYC, and is nominated for Best Documentary in AARP's Movies For Grownups Awards.
Ginger McKnight-Chavers JD '88 completed her debut novel, In the Heart of Texas, which was recently released by She Writes Press. This satirical look at race, pop culture and politics has been praised by USA Today, BuzzFeed, PopSugar, Resbook, Parade, Bustle, among others, and recently won the USA Best Book Award in the category of African American Fiction.
Kelly Shapiro JD '05 was featured on a WEtv docuseries, Money.Power.Respect, which follows 6 female entertainment attorneys in New York City. The Harvard Law Bulletin featured a piece on Kelly and her experience with the show.  
Poison Ivy made the Best Comics of 2016 list! This is the first appearance by Amy Chu MBA '99 on a "best of" list, and she's also been announced as the new writer for the Red Sonja series.
Valerie Weiss MMS '97, PhD '01 booked her first episodic TV directing job on Chicago Med, which will air on April 6, 2017. Amazon also released an American Girl Special directed by Valerie, Maryellen 1955: Extraordinary Christmas. Valerie's feature film, A Light Beneath Their Feet, a drama about a mother struggling with bipolar disorder and her daughter struggling with being her sole support, was just released on Netflix after a 19-city theatrical release this summer. Finally, Valerie directed an action film called The Archer that will premiere in film festivals in 2017. 
The sequel to An Inconvenient Truth, the 2006 documentary featuring former Vice President of the United States Al Gore AB '69, LLD '94 and his campaign to raise awareness for global warming, premieres at the 2017 Sundance Film Festival this month. Paramount Pictures will release the film, produced through Participant Media.

Another Harvardian-made feature documentary will have its world premiere at the 2017 Sundance Film Festival! Unrest (formerly Canary in a Coalmine) is directed by Harvard PhD student Jennifer Brea and follows her own experience suffering from Myalgic Encephalomyelitis.
Frank & Lola, the debut feature written and directed by Matt Ross AB '98, was released theatrically and on digital platforms last month. Read an in-depth interview with him here by Filmmaker Magazine, where Matt was formerly Managing Editor. Frank & Lola stars Michael Shannon, Imogen Poots, Michael Nyqvist, and Justin Long.
On January 10th, PBS will release Black America Since MLK: And Still I Rise on DVD, Blu-ray, and digital download. The series—hosted, executive produced, and written by Harvard Professor Henry Louis Gates, Jr.—examines the last 50 years of African American history, starting around the civil rights movement.
Hit musical feature La La Land, written and directed by Damien Chazelle AB '07-'08 (Whiplash) and scored by Justin Hurwitz AB '07-'08, won eight Critics' Choice Awards last month, including Best Picture and Best Director. La La Land has been nominated for 7 Golden Globe Awards: Best Picture, Best Actress, Best Actor, Best Director, Best Screenplay, Best Original Score,and Best Original Song.
Also at last month's Critics' Choice Awards: Natalie Portman AB '03 won Best Actress for her iconic performance in Jackie, written by Noah Oppenheim AB '00. Courtney B. Vance AB '82 took home the award for Best Actor in a Movie Made for Television or Limited Series for his role in The People v. O.J. Simpson as Johnnie Cochran.

Keep your fingers crossed for all of this year's Golden Globe nominees involving Harvard folks in TV and film, including: 20th Century Women (composer Roger Neill AM '90, PhD '94), La La Land (writer-director Damien Chazelle and composer Justin Hurwitz), Jackie (actress Natalie Portman and writer-director Noah Oppenheim), Moonlight (producer Jeremy Kleiner AB '98 and composer Nicholas Britell AB '03), Manchester by the Sea (producer Matt Damon), Westworld (co-creator and executive producer Lisa Joy Nolan JD '07), Veep (showrunner David Mandel AB '92), The People v. O.J. Simpson: American Crime Story (actor Courtney B. Vance), and The Crown (actor John Lithgow AB '67, Ar.D. '05).

New Members' Welcome
Harvardwood warmly welcomes all members who joined the organization over the past month, including:
Kathryn Andersen, NY, College
JP Gillmeister, Boston/On-Campus, College
Frances Jin, NY, College
David Lynch, Boston/On-Campus, College
Arturo Navarro, NY, KSG
Eric Rhee, NY, FOH
Lindsey Ruggles, NY, College
Vivian Tian, Boston/On-Campus, College
*FOH = Friend of Harvardwood
Alumni Profile: Dean Norris AB '85 (Actor, The Book of Henry, Breaking Bad)
By Nicole Torres AB '11
Dean Norris AB '85 humorously recalls his earliest experience with acting as a young boy in Indiana: "I think my very first play was Richard III. I played the young prince, so I had to learn Shakespeare at age 7 or 8."
At Harvard, Norris was heavily involved in theater, participating in at least two plays per semester, and often more. He comments, "I did so many productions I can't even remember them all." At that time, the American Repertory Theater (ART), now one of the country's great regional theaters, had just moved to Cambridge. The ART served as a fantastic resource, where he could watch and learn from the professional actors there. He spent a lot of time as an understudy, and would also play small parts in the professional plays.
He recalls his time at Harvard and the ART fondly, where he was surrounded by a great group of people, some of whom also incidentally found success in Hollywood, such as Bill Rauch AB '84 and RJ Cutler AB '83.
Soon after graduating, Norris was accepted to the Royal Academy of Dramatic Art in London, and spent a year studying there while traveling around Europe in his free time. Although the program was meant to last three years, Norris ended up returning to Cambridge after only a year, when Robert Brustein (famous for turning the Yale School of Drama into what it is) at the ART called and asked him to return for the new advanced acting program.
Throughout this time, Norris grappled with the question of whether to pursue acting professionally or to pursue a more traditional career. He remembers turning to professional actors at the ART for advice.
"I certainly took a really hard look at whether or not I had a chance of doing it as a professional. I talked to some of the actors again who were at the ART and I got encouragement from them. I got encouragement from the fact that I was able to get some of my initial jobs and auditions. In my mind I had set a couple years of giving it a shot, to see whether or not I could support myself, and as it turned out I did. So I'm not sure what would've happened if I hadn't gotten early success. I don't know how long I would've kept trying."
And success did come quickly. A few months after returning to the ART, Norris found himself a manager and moved to New York to start going on auditions.
He recalls, "Managers would come up from New York to see their professional actors at the ART, and I remember asking one actor, 'Hey, when your manager comes up, can I meet with him?' I did, he said he'd represent me, he was in New York, so I went down to New York. I think I was paying $200 to sleep on somebody's couch—that was my first apartment in New York." The original Airbnb.
Shortly after arriving in New York City, Norris went out on an audition for a show called The Equalizer and booked it. With the money he earned from that job, he decided to take the plunge and move out to Los Angeles. Although he knew no one, his New York manager had a partner in Los Angeles, so he was represented and able to go out on auditions.
Once again, luck was on his side, and he booked his very first audition in Los Angeles for HBO. There was a brief dry spell due to a writer's strike, but several months later, Norris auditioned for and booked a role in Lethal Weapon 2, after which his career as a professional actor took off.
 "A slew of action films in the late '80s and early '90s set me on the path to at least being financially self-sufficient as an actor, and that was really my main goal at first. Right in a row, I did Lethal Weapon 2, Hard to Kill with Steven Segal, Total Recall with Arnold Schwarzenegger, Desperate Hours with Anthony Hopkins, and that was it. I made enough money to then do only acting and just kept getting jobs. So it was fantastic— 'Wow, I get to play cops and robbers and get paid for it.' And then it was just a matter of hoping to get some good-quality stuff, and then a little show called Breaking Bad came along and that certainly helped in that regard."
Most of us have heard of Breaking Bad. Some critics have even heralded it as one of the best television shows ever made. Norris, like his fellow cast mates, knew the script was incredible when he signed on, but was not sure whether audiences would also appreciate the show. And it turns out that they did not, for the first three or four years. Luckily, AMC kept the show on, its brilliance was discovered, and the rest is, as they say, history.
Although Norris was no stranger to Hollywood blockbusters, being a part of Breaking Bad was a turning point. He jokes, "I always describe it, it wasn't like going from 0 to 60 because I was already kind of cruising along at about 30, but it certainly accelerated [my career] to a different level."
On a personal level, he is glad fame happened later in life when he was more grounded.
"You can appreciate the fact that people love what you do, and I'm glad when they express it. But it definitely affects how you act in public. You know that people are always kind of keeping an eye on you, and most people are very nice about it, but I don't stay out past 10:30 too much anymore because people get drunk and things get a little crazier."
Professionally, one manner in which his career has transformed since the success of Breaking Bad is the creative freedom the show has provided. Norris now has the opportunity to collaborate with prominent writers and directors to develop projects from the ground up, and it's no longer a matter of passively waiting for that amazing project to come along. But with the added flexibility and power of creative freedom comes the downside of lengthiness, as the completion of projects from conception to conclusion often takes a long time.
Despite the extended timelines, Norris enjoys this new creative territory. "It's fun. It's a little more intellectually challenging, which is nice, and provides me a chance to be a little more active and involved in how a project's going to get made."
While those developing projects are brewing in the background, Norris has kept himself busy. At the time of our interview, he was in Montreal filming Death Wish with Bruce Willis and directed by Eli Roth. Other films featuring Norris that will be released in the coming year include Fist Fight with Ice Cube, The Book of Henry with Naomi Watts (written by Gregg Hurwitz AB '95), and High Wire Act with Jon Hamm. Each of his upcoming films spans a wide range of comedy, action, and drama, and that's exactly what Norris likes to do: shake it up.
His philosophy: "You just never know what movie turns into the one that becomes a festival darling and people like, so you just find scripts that you like to do and work with people you like to work with and have fun doing it and leave the rest to fate and whatever happens. And now it's just a fantastic time to be working because you have some really interesting options."
And he certainly has fun doing it. Listening to him speak about acting and being an actor, you really get a sense of his love for it.
Norris explains, "Any day on a set is a good day for me. It's a great drug—it really is. You get out of real life for a while, and you get to pretend you're this other person, and there's something magical about these moments between action and cut that are fun to be in. And sometimes it's fun in a way that's really kind of painful. I don't really need a whole lot of therapy because I get to be in scenes where I'm really dealing with emotional stuff; and sometimes you get out of that and you're just worn out, but you feel kind of revived in a way, like, 'Wow, okay, dealt with that," he says with a chuckle.
His advice to aspiring actors is the following. "I would say really focus on being a good actor, and the other stuff will come along. The key is to keep your head in the game and keep working on what you do, and eventually you will find a place for what you do."
That is pretty good advice regardless of your career path. So to all aspiring artists and achievers out there: work hard, keep at it, and maybe take a break somewhere in between to check out one of Norris's upcoming films for inspiration.
Nicole Torres is an attorney, actor, and writer living in Los Angeles.
Calendar
FEATURED EVENT | Harvardwood Food & Wine: Brazilian Wine Dinner & Seminar - Fri., Jan. 20 (New York)
In this private Harvardwood dinner at midtown's Fogo de Chao, attendees will explore the wines of family-owned Brazilian winery Vinicola Salton and hear from a special guest, wine importer Wagner Alberti! Fogo de Chao is a superb Brazilian churrascaria, and the dinner will include antipasti, an extraordinary salad bar (filled with much more than what we ordinarily think of as salad!), Brazilian "barbecue", and dessert, coffee and tea, served family style. Each course will be paired with a Brazilian wine by Vinicola Salton, for a total of five wines: a brut sparkling wine, a Chardonnay, a Merlot, a Tannat, and a Moscato.
Cost: $60 per person complete (special Fogo de Chao dinner with 5 carefully chosen wines, including tax and gratuity) for dues-paying Harvardwood members and their guests // $85 per person for all others. Early registration is strongly recommended—seats are limited at this special dinner, and the event WILL sell out!
New York
Harvardwood Heads To... DR. FEELGOOD: DEALER OR HEALER? Screening + Q&A with Director Eve Marson '04 - Mon., Jan. 2
From Dec. 30th - Jan. 5th, Cinema Village in NYC will be screening documentary Dr. Feelgood: Dealer or Healer? Visit https://www.cinemavillage.com/ for exact screening times and tickets. And if you can make it to a screening on Jan. 2nd, the 7:15pm showing of the documentary will be followed by a special Q&A with Director Eve Marson '04.
Harvardwood Presents: Harvard Professor Richard F. Thomas on WHY DYLAN MATTERS - Tues, Jan. 10
When this year's Nobel Prize for Literature was awarded to Bob Dylan, the first time ever that a songwriter has been honored by the Prize, you may have noticed that the New York Times published an article about Harvard Professor Richard F. Thomas, who has received a certain amount of gentle teasing from his colleagues for teaching a course at Harvard on the work of Bob Dylan. (You can see the article here.) Professor Thomas is convinced that Dylan is one of the most important artists of our time, and in this talk he'll tell you why.
Los Angeles
Harvard Global Networking Night - LOS ANGELES - Wed., Jan. 11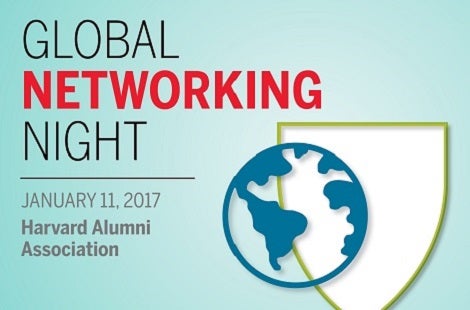 Twice a year, thousands of Harvard alumni make new connections at Global Networking Night (GNN) events in cities across the globe. The last GNN drew more than 5,000 alumni in 85 cities worldwide! The next opportunity to tap into your Harvard Network is on Wednesday, January 11th. Cash bar, and FREE to attend.
Harvardwood Heads To... DR. FEELGOOD: DEALER OR HEALER? Screening + Q&A with Director Eve Marson '04 - Wed., Jan. 11
Attend a special LA screening of DR. FEELGOOD: DEALER OR HEALER?, a documentary directed by Eve Marson '04, followed by a Q&A with Eve and producer Sara Goldblatt. Dr. Feelgood: Dealer or Healer? is the story of Dr. William Hurwitz, a preeminent pain specialist sentenced to 25 years in prison for drug trafficking, providing a window into the ethical dilemma of opioid prescriptions. The film traces Dr. Hurwitz's trial and eventual appeal, detailing the events that lead to his arrest.
Harvardwood Heads To... The Ivy Plus Society's 2017 Kickoff - Thurs., Jan. 12
It's time to meet the finest and brightest Los Angeles has to offer. The Ivy Plus Society is kicking off the New Year with a classic networking event at what the LA Times calls a "huge success," Wurstküche! Discover why The Restless Runner says Wurtküche is "worth the hype." Mix and mingle with professionals from tech, entertainment, marketing, education, and more to start 2017 off right!
Harvardwood Masterclass with Chip Johannessen AB '77 (HOMELAND, DEXTER, 24) - Tues., Jan. 17
Learn what it takes to work on and run an award-winning TV drama with writer, producer, and showrunner Chip Johannessen AB '77! Chip will share his insights on how to write, produce, and show-run hit drama series for cable OR network.
Chip Johannessen was born in Detroit and educated at Harvard University, where he wrote for The Harvard Lampoon. He later embarked on a short-lived career as a rock guitarist before turning his attention to television. His past writer-producer credits include Beverly Hills 90210, The X-Files and 24. He also served as showrunner for Millennium, Moonlight, and Dexter.
Chip recently completed a J.D. at UCLA's School of Law and passed the California bar before joining Homeland as Executive Producer. At Homeland he's been honored to share in an Emmy, two Golden Globes and a WGA award. Just this year he picked up another WGA award, this time in long form, for Saints and Strangers. Chip sits on the board of the Writers Guild of America, West and is co-chair for the 2017 negotiating committee.
Masterclasses are only open to dues-current Harvardwood Full Members. You must be logged in to the site to access the RSVP link below. Join or renew your membership.
Washington, DC
Harvardwood Meet-up at the Black List DC Happy Hour - Wed., Jan. 4
The Black List is creating social hubs for writers around the world where they can meet other screenwriters and discuss the craft and the reality of the screenwriter's life. So join your fellow writers at the DC happy hour! Come to enjoy the drinks and the company. You never know who you might meet! This event is free and open to the public (cash bar).
Harvardwood Heads To... Screening + Q&A of DR. FEELGOOD: DEALER OR HEALER? - Thurs., Jan. 5
Attend a special DC screening of DR. FEELGOOD: DEALER OR HEALER? (directed by Eve Marson '04), followed by a Q&A with producer Sara Goldblatt.
SF/Bay Area
C.L.A. invites Harvardwood to Create Your Art, Create Your Brand - Tues, Jan. 17
This practical program will provide an overview of trademark and other intellectual property considerations important to creative artists, and will address such questions as: When should you register your work and how do you do so? What specific issues are involved in using trademarks in music, theater, visual art, etc. without permission? How much use is "fair use?" and many other important intellectual property issues specific to the creative community. The program will feature helpful practice tips and an informal, interactive question and answer session.
*NEW* Program Spotlight: Harvardwood 101
In 2003, Harvardwood co-founder Mia Riverton Alpert planned the first Harvardwood 101 Bootcamp. Fast forward to 2017, and Harvardwood 101 now guides about two dozen students through a structured entertainment career exploration program with the goal of demystifying a city and an industry that are often glamorized and misrepresented.
The weeklong 101 bootcamp includes company visits, speaker panels, and networking mixers, as well as a "behind the scenes" look at studios, working film sets, talent agencies, production companies, and music labels. In addition to the bootcamp week, students now have the option of participating in an additional two-week internship. After our 101 program directors review students' applications and conduct phone interviews, the 101ers are matched with a curated internship to give them the maximum experience in a limited amount of time.
101 participants have described the trip, the access, and the breadth of experiences packed into the bootcamp week alone as "the Holy Grail of winter break opportunities" where "I received advice I didn't know I needed." As another 101 alum described, "What stood out the most for me during the trip was the willingness of the industry representatives to share their stories and impart advice."
Many students have gone on to work for the companies that they have visited/interned at during 101, including Creative Artists Agency, Amblin Partners, Anonymous Content, and Interscope Records.
Once again, with the generosity of the host companies, the alums, Harvard's Office of Career Services and Office for the Arts, and the Harvardwood Board of Directors, Harvardwood 101 looks forward to welcoming the next generation of Harvard students to Los Angeles this month!
More about the Harvardwood 101 program directors:
101 Director Amit Samuel started in entertainment in both Motion Picture Talent and Motion Picture Literary Management. He is now a film/TV producer. His TV projects include a drama set in an inner-city medical clinic and a comedy set in an Ivy League preschool. His feature film projects include a biopic of a frontier woman who changed the world, and the real story of Sirhan Sirhan and the failure of American justice. Amit has been a Harvardwood Board member since 2006.
101 Associate Director Ansley Rubinstein is an artist, traveler, and educator. She has starred as action leads and comedic characters in television and film, and she has been featured as a contemporary soloist in LA dance festivals. Having spent three of her undergraduate summers writing for the travel guide Let's Go, Ansley continues to travel professionally. Most recently, she worked with the School of International Training on a semester-long program in San Francisco, Brazil, India, and Uganda, focusing on social entrepreneurship and environmental sustainability. Now back in LA, Ansley is eager to explore ways of using art for social change and for addressing global issues of our time.
Make Harvardwood the NPO fiscal sponsor of your next film project!
Member filmmakers, looking for a nonprofit fiscal sponsor? Harvardwood can help! If you're a Harvardwood member and a filmmaker with a non-commercial project seeking funding from an organization that requires you to be a tax-exempt NPO, Harvardwood can serve as your NPO fiscal sponsor. This makes your project eligible for funding from many foundations, corporations, government agencies, and even individuals. Filmmakers must be Harvardwood members to avail of this opportunity.
---
DISCLAIMER
Harvardwood does not represent or endorse the accuracy or reliability of any of the information, content or advertisements (collectively "Materials") contained on, distributed through, or linked, downloaded or accessed from any of the services contained in this e-mail. You hereby acknowledge that any reliance upon any Materials shall be at your sole risk. The materials are provided by Harvardwood on an "AS IS" basis, and Harvardwood expressly disclaims any and all warranties, express or implied.
Do you like this post?