Two-Day Online Class Starts Next Saturday, May 14!
FREE preview and chat on Thursday, May 12th at 1 PM PT on Twitter Spaces.
As a writer/creator for TV and Film, there's nothing more essential than knowing how to effectively PITCH your ideas. Whether your goal is to sell a show, talk about a script you've written or participate in a writers' room, mastering the art of sharing your ideas is something that every scribe needs for success.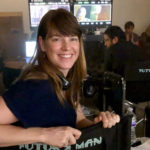 Steve Harper and Allison Kiessling have combined their years of professional experience and skill to create this dynamic class. In two days, over 6 hours, they'll lay out some fundamentals that will super-charge your understanding of pitching and give you essential tools to do it well. This class will incorporate instruction, exercises and Q & A, to break down pitching and offer a methodology that works.
Saturday, May 14th and May 21st  / Noon – 3 pm PT on Zoom
$130 for Full Members of Harvardwood, $150 for Non-Members