Five more Harvard folks and Harvardwood program alumni—Helen Estabrook AB '03, Stephanie Ferrarie AB '18, Allison Kiessling EdM '05, Emily Oliveira AB '18, and Eli Russell AB '20—have thoughtfully shared their experiences in the arts, media, and entertainment with us. We hope you enjoy reading these as much as we did!
It took me a while to finally figure out (or admit to myself?) that I wanted to be a writer. But that was a great day because someone immediately wrote me a check and my career was launched!
No wait. In fact, what I quickly discovered was that a career in the arts can be lonely and shitty. It's an endurance game. And what keeps you in the game is community—a place where you belong, where you can learn, and commiserate, and connect, and grow with other people who are trudging that same, long path. For me, that community was Harvardwood. My first internship, learning from mentors, workshopping my first script, the first time I heard actors read my work—all of that happened with Harvardwood. Even now, almost every day, I talk to a friend that I met in the writing modules, or get advice from a Harvardwood mentor, or a colleague that I served with on the board.
After I started to write, a few years went by, and then a few more, and then, a couple more after that. Until, finally, someone did write me a check for my writing. And I, of course, immediately took a picture and sent it to my mom. (She was very proud.)
The Harvardwood community helped me sustain long enough to make my dream a reality. I have been so proud to serve on the board and as the president. This group of thoughtful, creative and hard-working people is an ongoing, amazing part of my life and I am really looking forward to taking 20 shots for 20 years with Mia and Dona at our upcoming 20th anniversary celebration on September 28th. (Mia and Dona don't know about the shots yet. The shots are not optional.) Can't wait to see you all there!
- Allison Kiessling (Harvardwood President & TV Writer, Future Man)
If I hadn't gone to Harvardwood 101 in January of my senior year, I would not have thought to move to LA after graduating. After the three weeks of 101, I felt like I knew what was what out in Los Angeles and that I could rely on the Harvard network to help me along the way. I moved in August without a job (to my parents' dismay) and relied on networking and reconnecting with the people I already knew through Harvardwood. After going to a Harvardwood networking event in September, I met Gene Pao MBA '97, who hired me as an intern at Shout! Factory, where I have since been promoted to be a producer of promotional content and programming stunts. Every part of my life in LA is due in some part to being a part of Harvardwood and the greater Harvard community, from my career to my social life (I spend a lot of time with my fellow 101 friends and alums). In the past year, I've crowdfunded for a short film (The Letter), worked as an assistant on a feature documentary (SUBLIME, which premiered at Tribeca Film Festival in April 2019), and had the opportunity to own projects as a producer at Shout! Factory. This past year has been challenging, but I've gotten a breadth of experiences in the entertainment industry to take the next step.
- Stephanie Ferrarie (Producer, Shout! Factory)
The most challenging aspect of entering the entertainment industry was figuring out how to make a living while also being at a job where I could learn what was necessary for the career I wanted. I think it may be even harder to accomplish that now. When I first started in this business in 2003, there was a lot more structure to how things got made, especially in film. Every recent college graduate was told the same thing: go work at an agency, get an assistantship at a production company or studio, work your way up. In some ways, there was also more structure to the way movies were made (e.g. spec scripts went out on Tuesdays, they attached producers and then went into the studios for the weekend). It's different now, and while I think there are ways to still follow the assistant-to-exec model, I'm not sure there are as clear paths for other creatives (though starting as an assistant at an agency or management company is still a pretty good bet).
 I think the most important thing Harvardwood can do, especially for those just starting out, is to help people find other like-minded individuals. This business is all about taste, and it's often hard to remember that other people may be successful doing things that you don't like, but that doesn't mean you can't be successful doing things you do like: you just need to find the other people who also like those things. Finding people you can and want to work with is so important—but finding people who may just support you in your work in other ways is equally so. This business can look like it's just about competition, but it's always best in the moments when it feels like a community. 
I've been lucky enough to work with many fellow alumni—in both official and unofficial capacities. I'm grateful to Franklin Leonard AB '00, who is one of the reasons I first got promoted from assistant to executive (he sent me a book for adaptation that my then-boss liked; we didn't end up making that movie, but the ability to find and identify such material made it so that I didn't have to answer phones anymore). I'm incredibly grateful to Couper Samuelson AB '02, who gave me the script for Whiplash by another alum, Damien Chazelle AB '07/'08. And I'm also forever grateful to *Nicholas Britell AB '03, whose collaboration made that movie possible.
- Helen Estabrook (Producer, Whiplash, Up in the Air, Casual)
*Nicholas Britell was the generous sponsor of the 2019 Harvardwood Summer Internship Program (HSIP) transportation stipend for participating students. Thanks to Nicholas, all of our interns were able to travel to and from the summer events, company visits, and speaker panels organized by HSIP program director Marie Kim AB '04.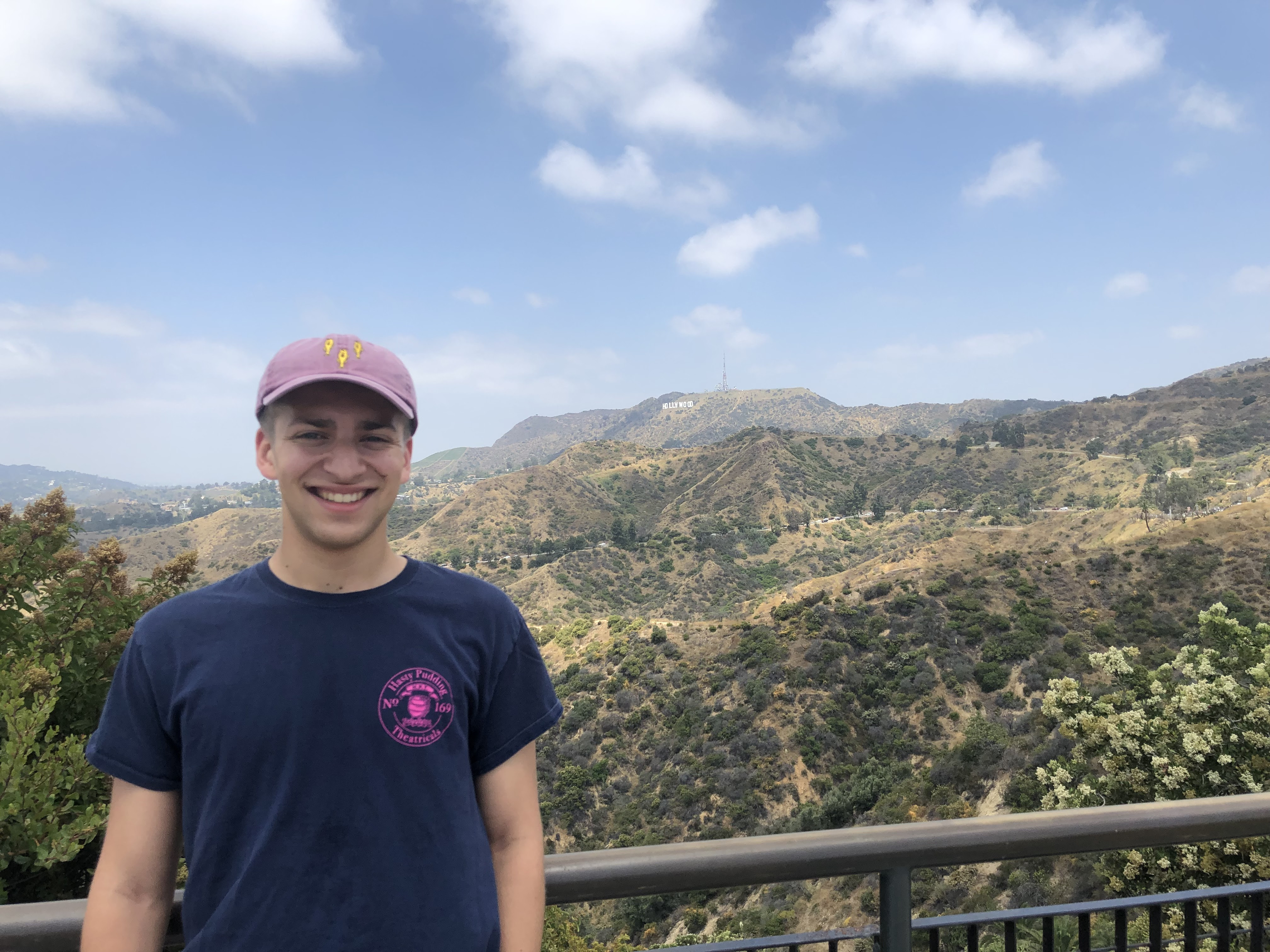 I loved participating in HSIP this year! Marie [Kim] was a great coordinator and helped us get exclusive access to top industry professionals. Thanks to HSIP, I was able to learn about wide-ranging aspects of the entertainment industry alongside an exciting cohort of my peers.
- Eli Russell (Rising senior at Harvard College, 2019 HSIP Participant)
I participated in Harvardwood 101 during winter break of my senior year, feeling like my degree in Comparative Literature could lead to a host of different careers. The program gave a hands-on look at what living and working in L.A. would be like, and what would entail finding the first industry job. I really enjoyed interning for a writer/showrunner who genuinely took stock in us college-age interns' opinions on material he was seriously evaluating. Native to New Jersey, I was pretty sold on the novelty of mountains next to city, ocean, and palm trees, so I found an internship at Heyday Films through the Harvardwood Summer Internship Program and moved out a month after graduation.
All of the alumni I met with were gracious with their time and energy, most of them meeting with me in the middle of a busy work day. Some referred me to other people I should get to know; others passed along my resume and helped me get an interview.... Ultimately, Adam Pachter AB '92, the chapter head of Harvardwood in Boston (who I'd initially met at a campus event prior to graduation), introduced me to a friend of his whose boss from years ago, now a literary manager based out of the Manhattan Beach Studios lot, was looking for an assistant. I started my first job about 6 months after the day I moved to the wild west.
Having other recent grads here in Los Angeles has been a great source of advice, empathy, and general support as we all figure out the first couple of years after graduation. In the midst of getting on our feet, it's been centering to sit down over a weekend lunch or go for a hike together. Many of us are far from our hometowns and families, so having familiar faces with a common thread of experience makes the city feel less sprawling. As of last week, the next leg of the journey has me working at Verve Talent & Literary Agency. Just as one starts to feel settled in L.A., the Next Big Thing is nearly on the horizon.
- Emily Oliveira (Assistant, Verve Talent & Literary Agency)
The above is excerpted from Emily's member update. Read her full blog post on the #HWire!
Do you like this post?